Thelon River Trek 2017
From Tom's Camp on the Western Edge of Whitefish Lake to Barren Land Trapper Gus Daoust's Log Cabin on Double Barrel Lake
In the North West Territories of Canada
In August of 2017 I returned to the Barren Grounds once more, for the fifth time. Something about it keeps pulling me back. I decided to the do the upper portion of the Thelon this time. I wanted to get a better sense of how the topography changed with the drop of elevation. Whitefish Lake is almost at the height of land between Great Slave Lake and Hudson's Bay. I wanted to canoe the lake and then traverse the large and complex Lynx Lake before finding the headwaters of the Thelon, so very far away from its ultimate destination, Chesterfield Inlet on Hudson's Bay. The portion of the trip from Whitefish Lake to the Thelon's confluence with the Elk River just past Thelon Falls would be new to me. I had canoed the Elk River a couple of times before and you can see the write up and pictures on the home page of this site. We had a very interesting crew on this trip. My oldest brother Wolodymyr joined me for a second time and my good friend Roman for a fourth time. We were breaking in 3 newbies to the Barren Lands. Mychajlo, an old friend, is a seasoned canoeist and explorer in his own right, and his son, Zachar, has proven himself to be physical and mentally very tough doing the Canadian Ski Marathon a couple of times. Rounding off the crew was Fedir Kurkchi, an artist from Donetsk is Eastern Ukraine that I had met a few years ago who expressed a very strong interest in going having done his own river trekking in the vast wilds of Russia many years ago. Fedir was very knowledgeable in all things plant and fungus related, so he was a perfect addition. Below are a series of pictures in chronological order and a thin narrative that chronicles our trek. The pictures were taken by Wolodymyr and myself using 5 different cameras.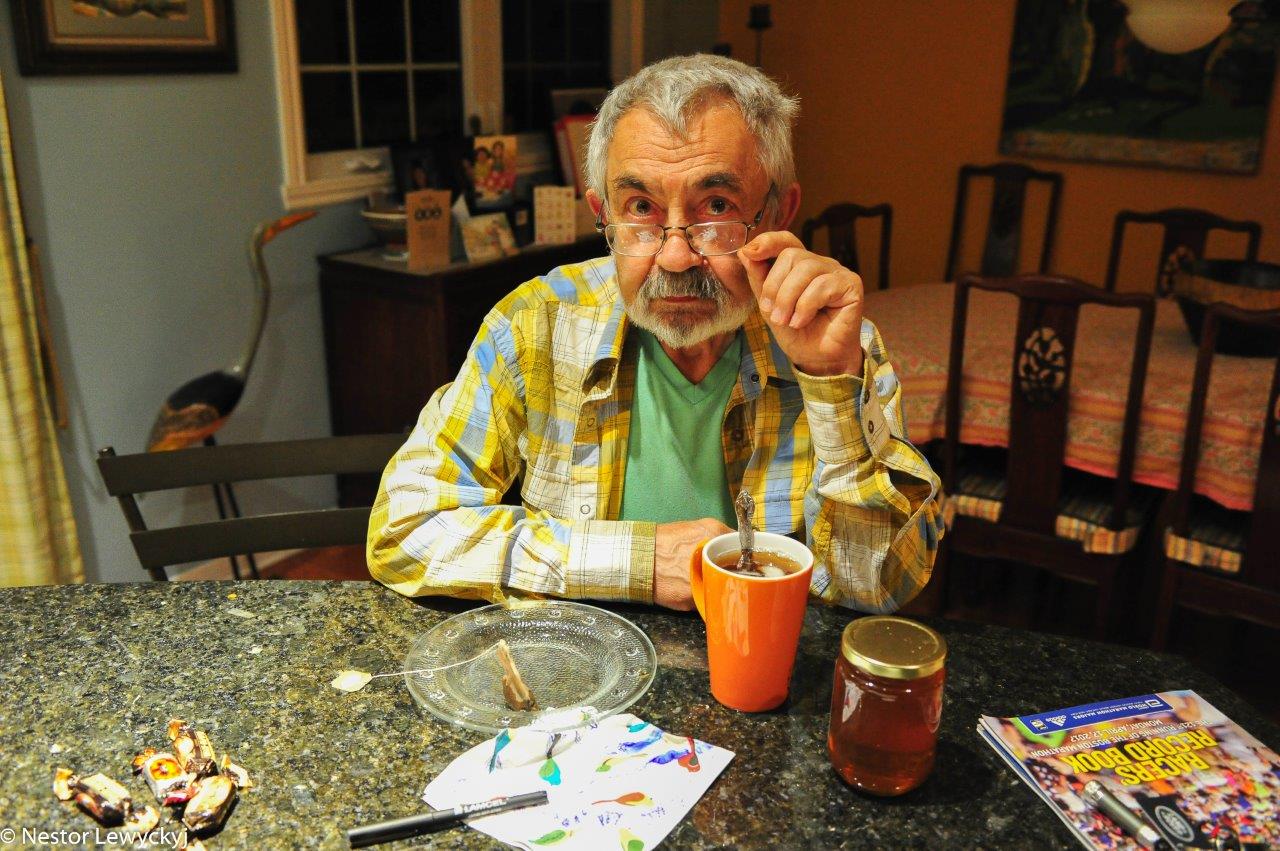 We had an early morning flight to Yellowknife through Calgary so Fedir stayed at my place the night before. Tea and honey to wake up!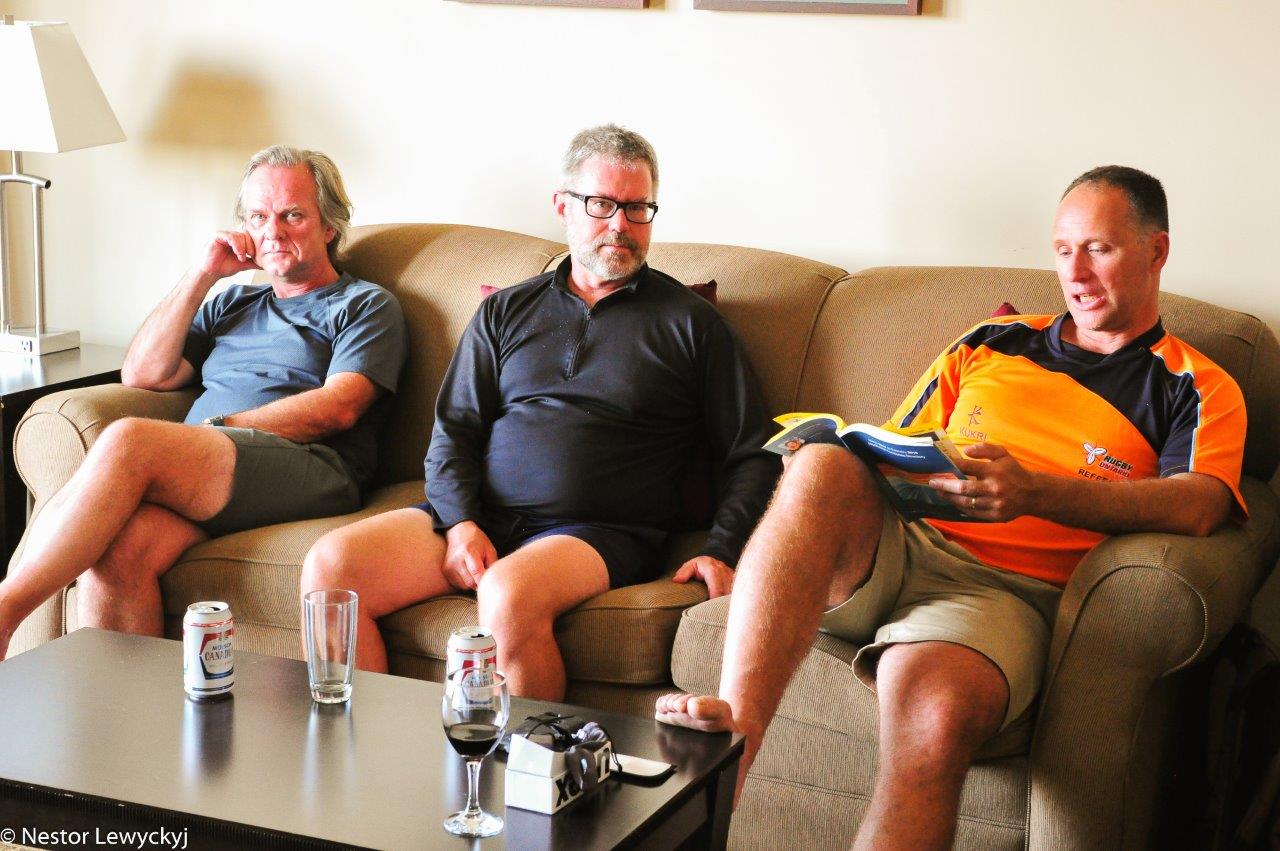 Wolodymyr, Roman, and Mychajlo in our room at the Coast Fraser Tower Hotel, where we stayed 2 years ago. Its the biggest hotel in town, they have large rooms, and the staff is very courteous and accommodating.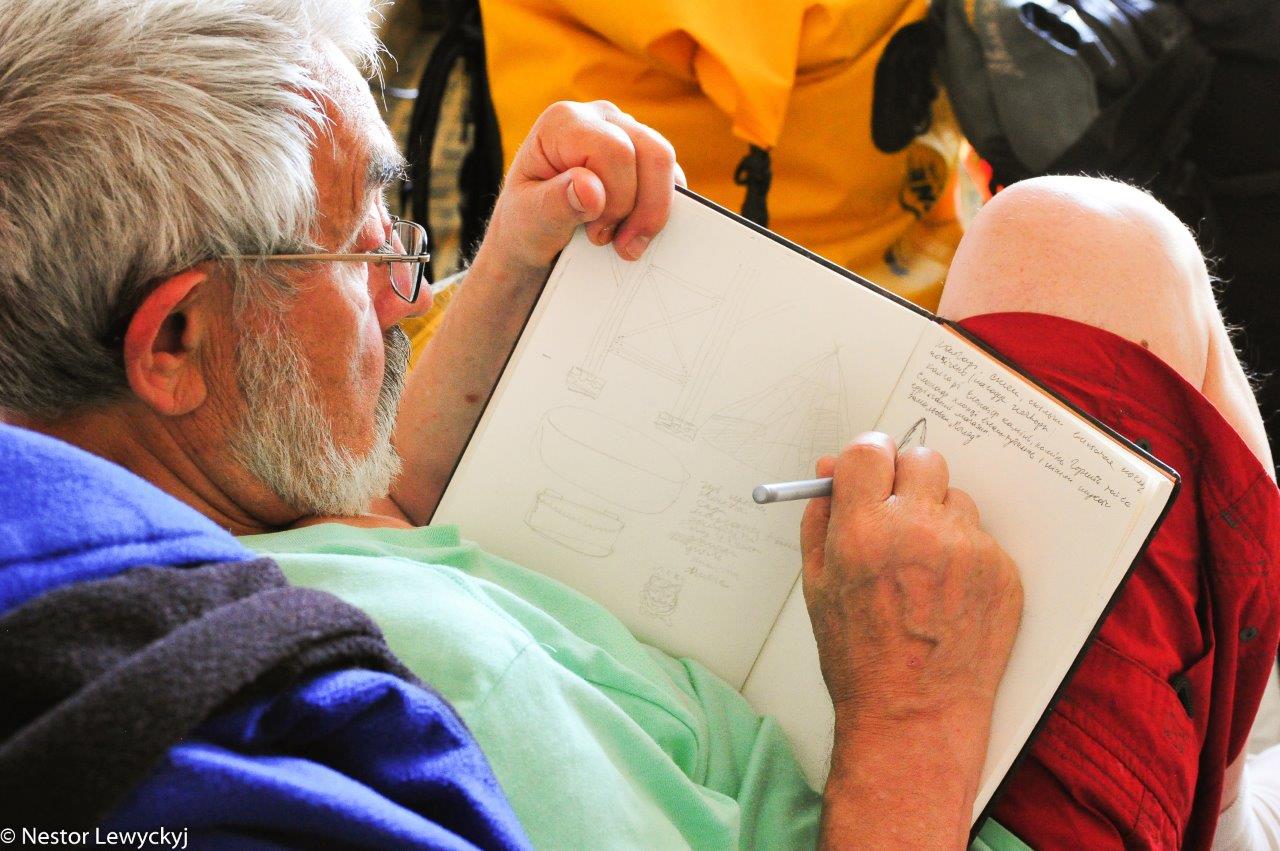 Fedir is always very curious and his mind is always working on something. Here I got a peek into his note book with various sketches, notes, ideas.
Fedir was appalled at the idea that an expedition of this nature with three canoes would be paddling without an official expedition flag. So he made one, and called us Lions.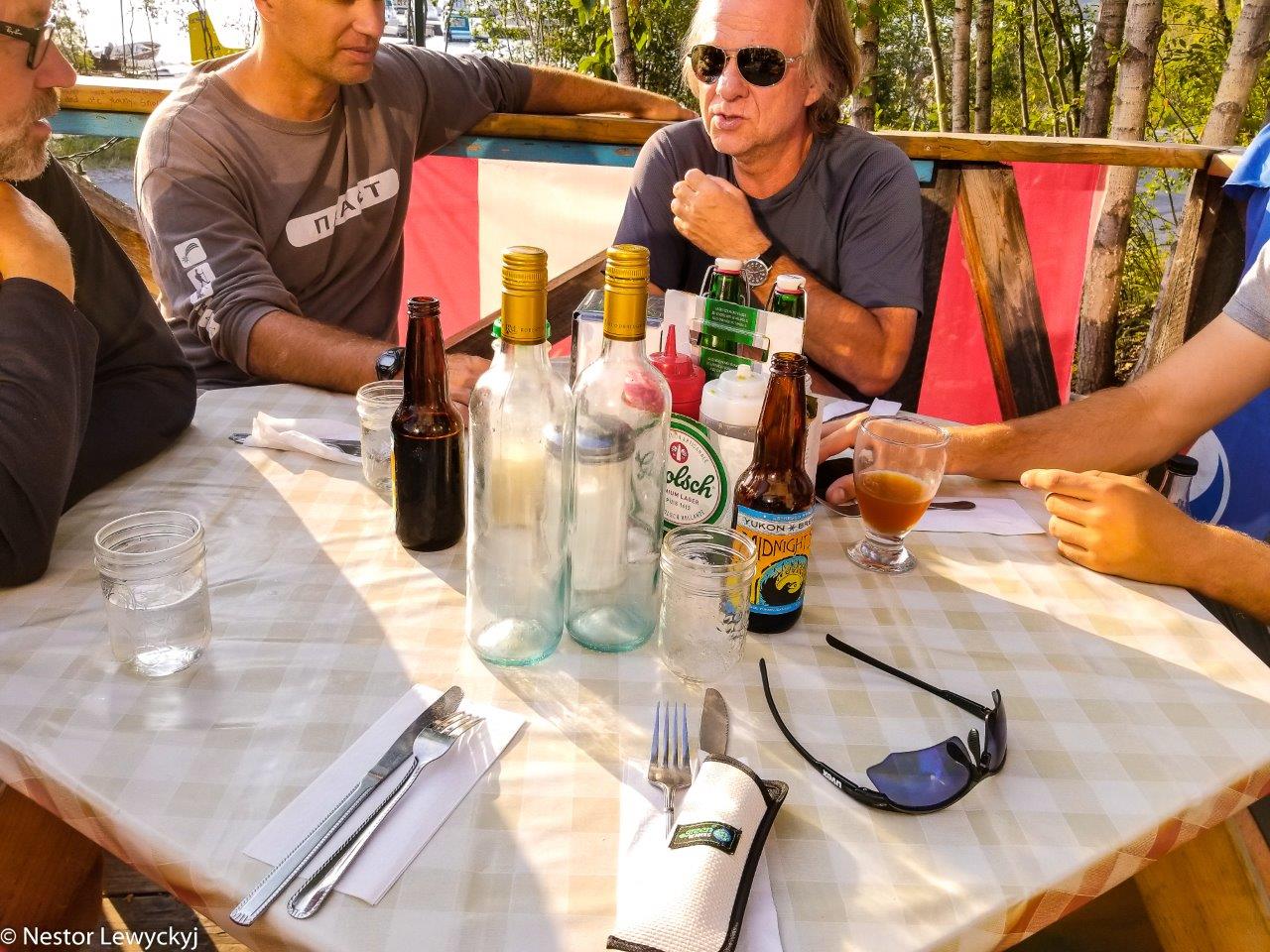 Our plans included 2 nights in Yellowknife so that we would have time to organize our gear, buy last minute items, check on all aspects of the trip. We had lunch at the Bullocks Bistro in Old Town by the water, a good spot for grub and beer.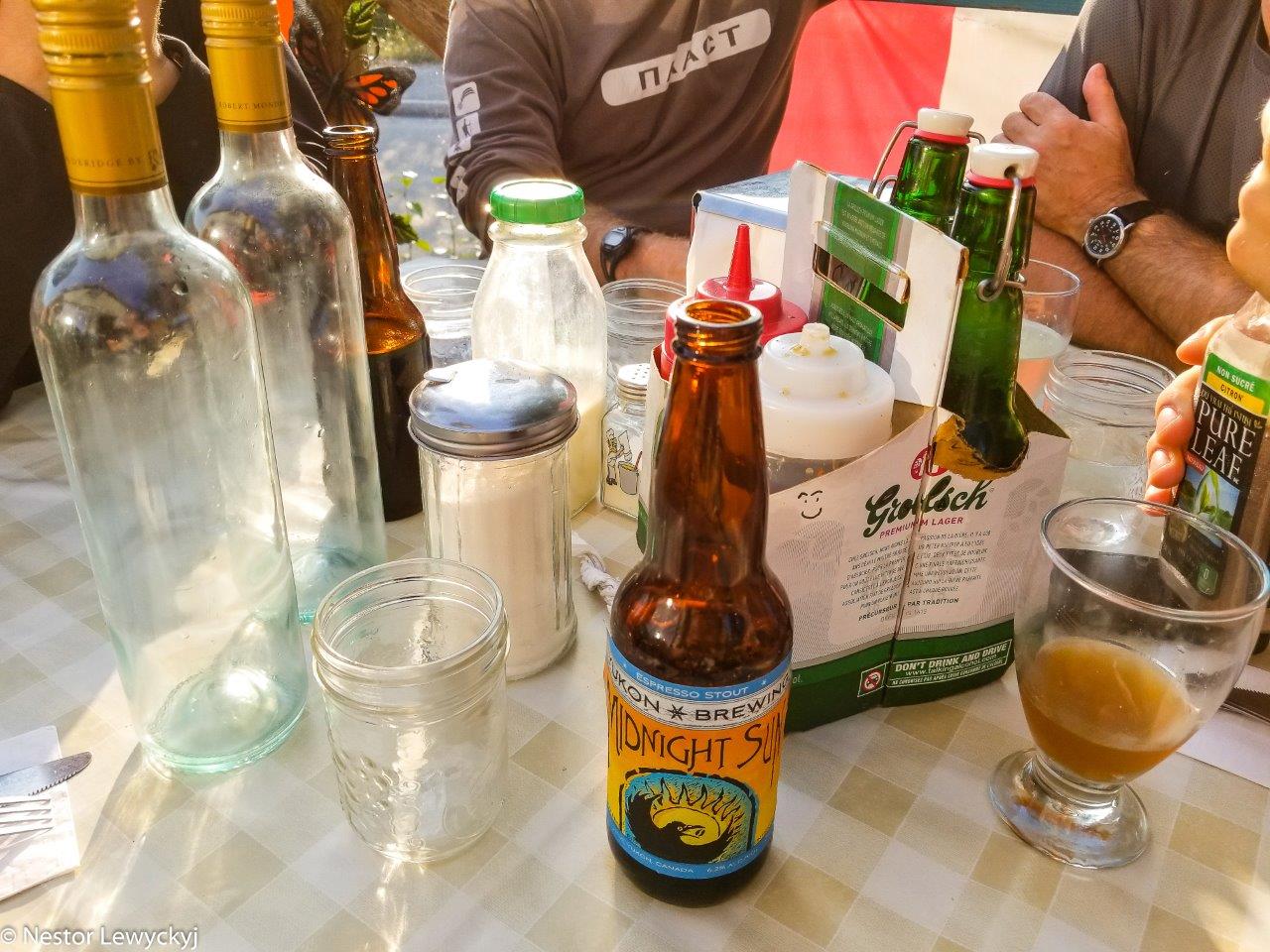 Midnight Sun by Yukon Brewing was a VERY hardy stout!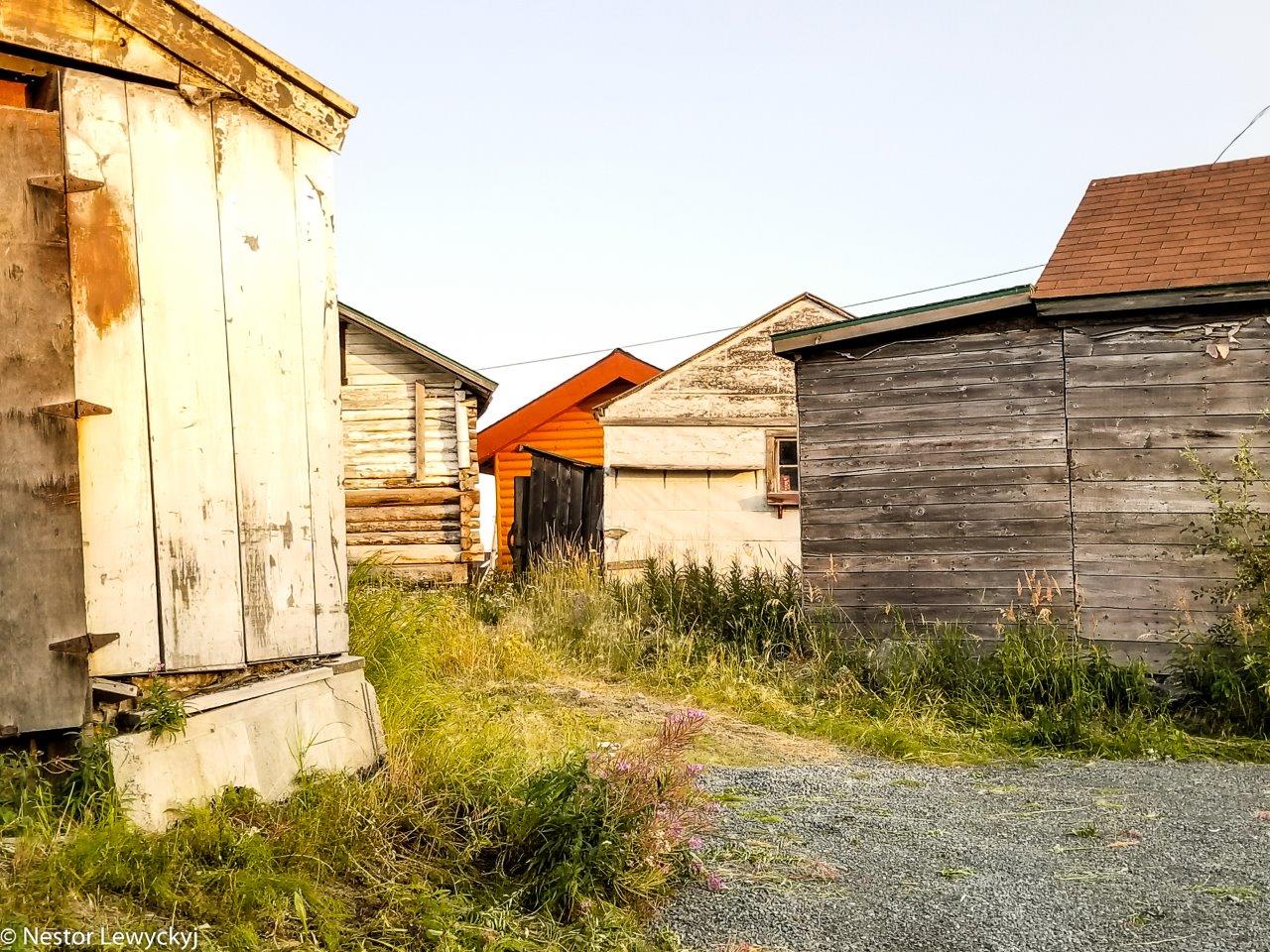 Some of the old, old buildings in Old Town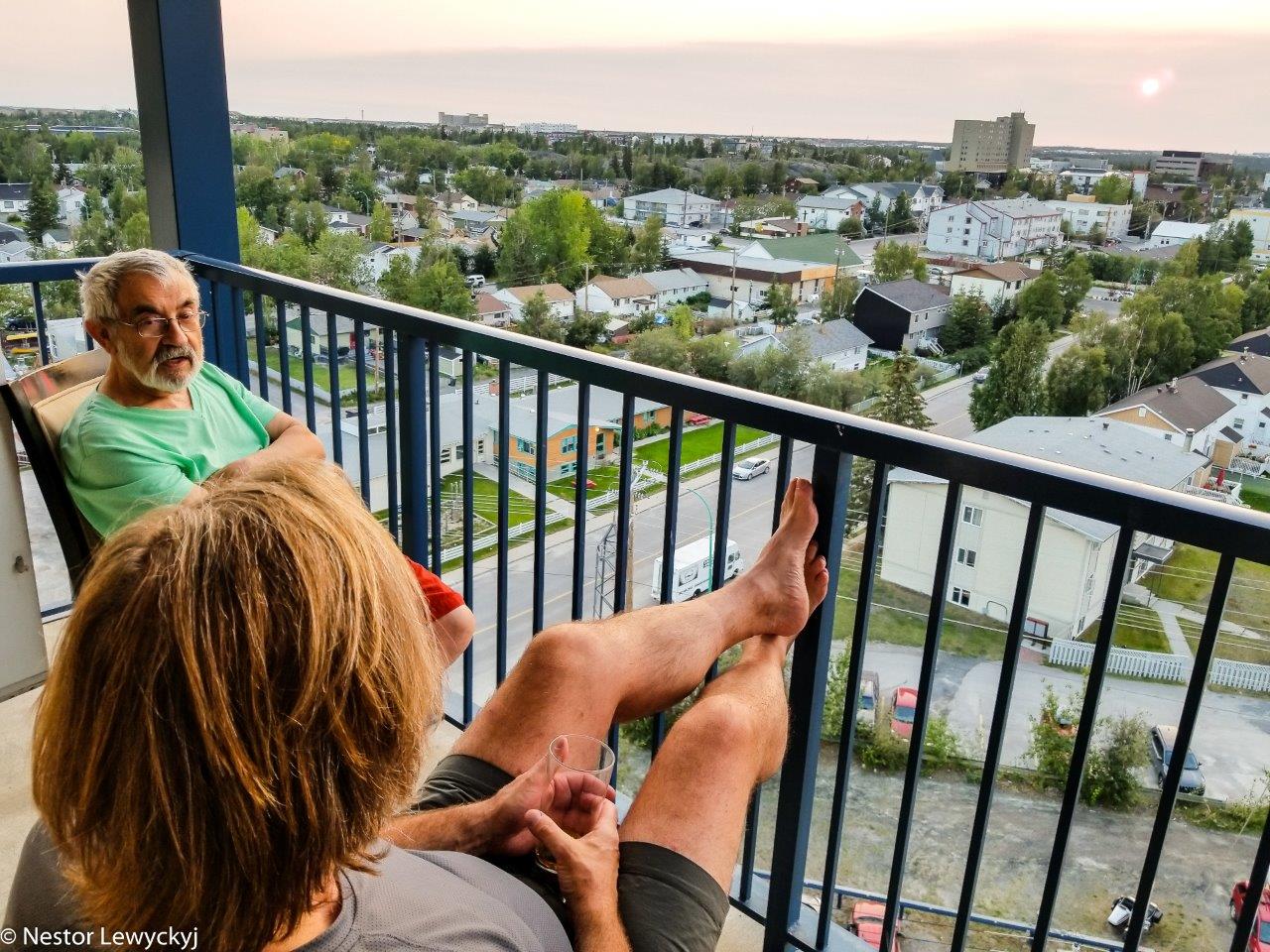 Fedir and Wolodymyr chatting on the balcony of the hotel looking at the setting sun. This being August, there was a lot of smoke from distant forest fires. That is what is partially blocking the sun. In fact, the forest fires are so prevalent in the summer, that the north always smells of that smoke, and it is a very particular smell. Just looking at this picture my brain is bringing up the smell that it knows is there.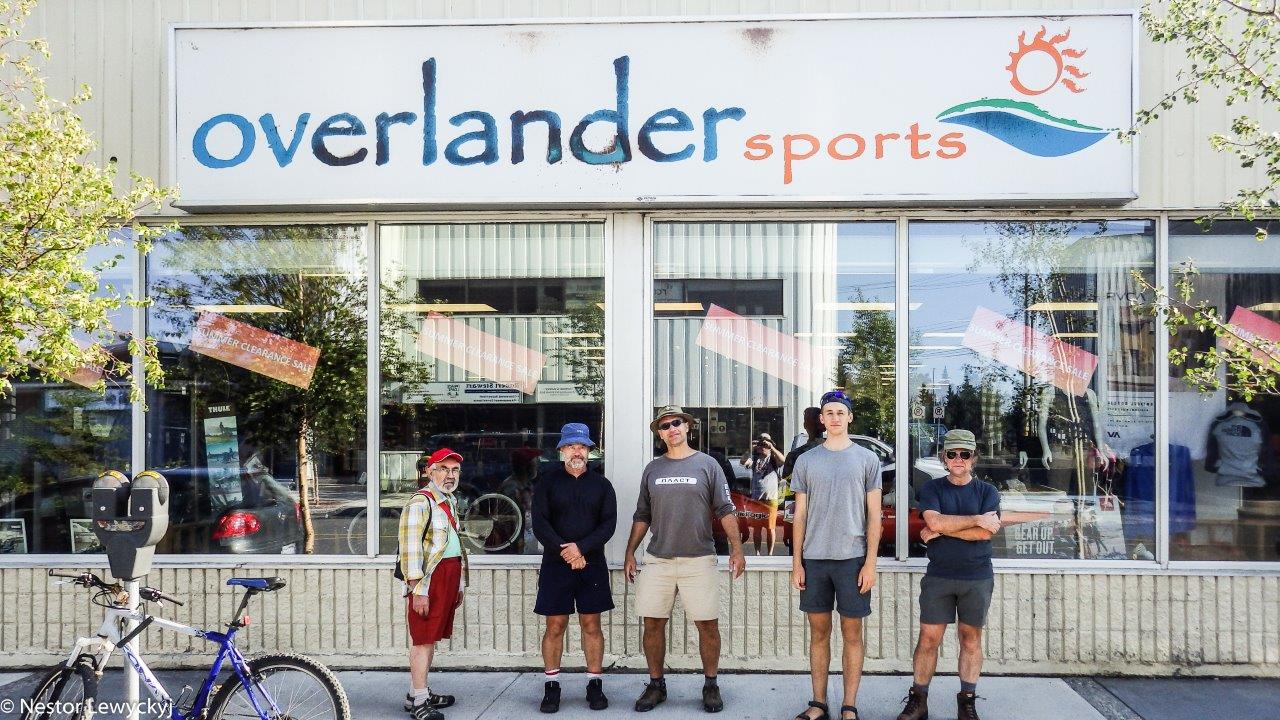 Overlander Sports is where we rented our canoes for the last 2 trips. We also picked up some final gear, like stove fuel, etc. It is a full store where you can even buy very nice canoes, clothing, all manner of outdoor equipment. The staff are super, super friendly and helpful. I ordered everything by phone and email many months before. Although we checked in with them when we were there, they had the canoes and all the gear we purchased delivered to the Air Tindi water port the following morning. Don't we look suave!!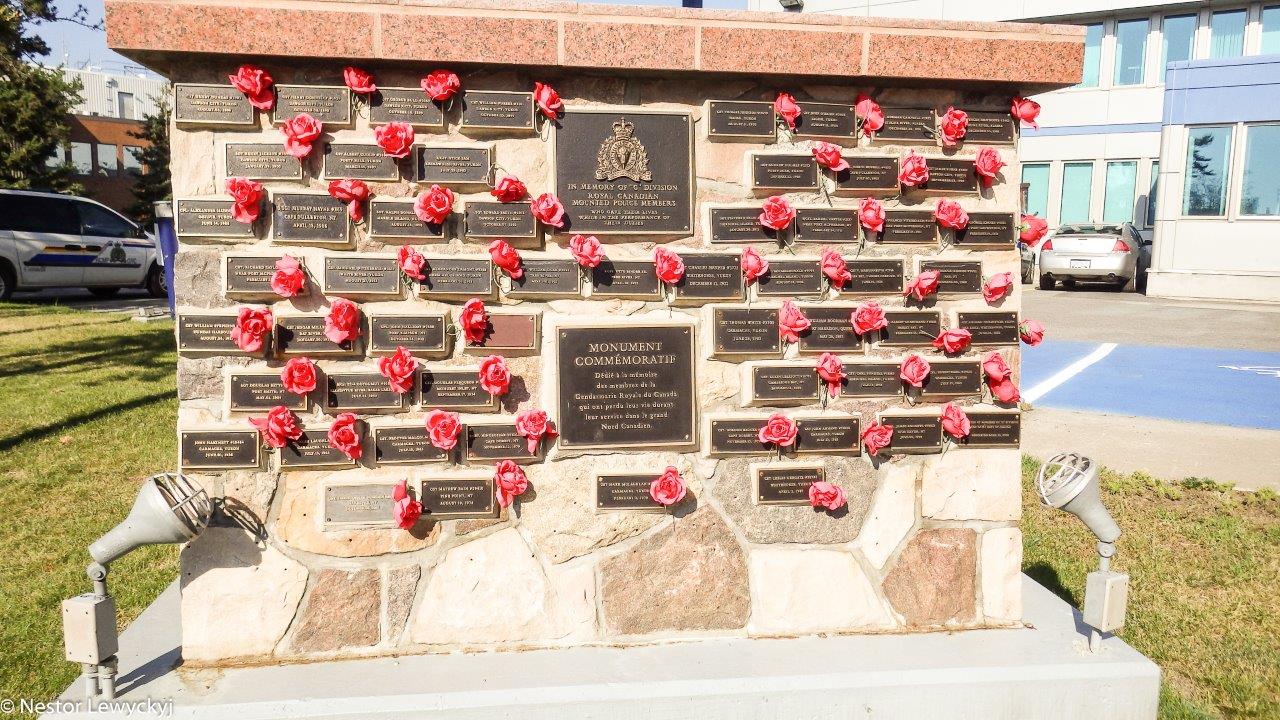 A memorial to the RCMP officers who died on duty in the area over the years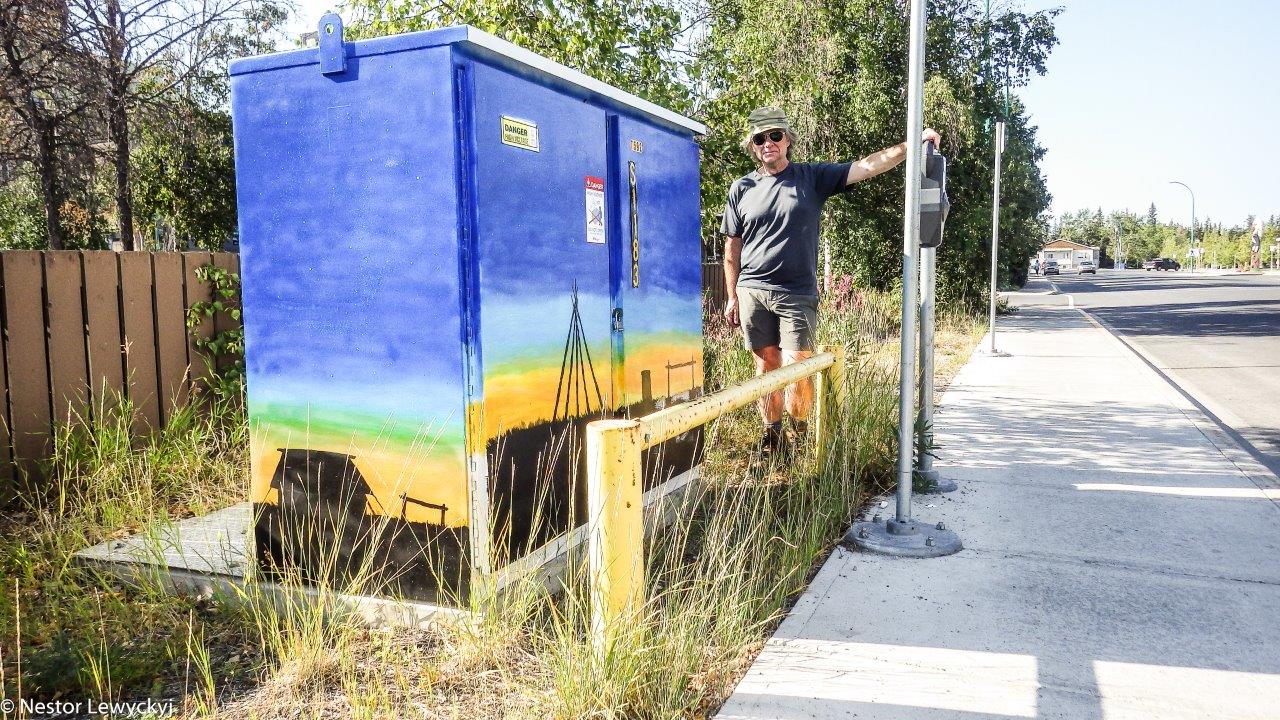 This electrical cabinet caught my eye!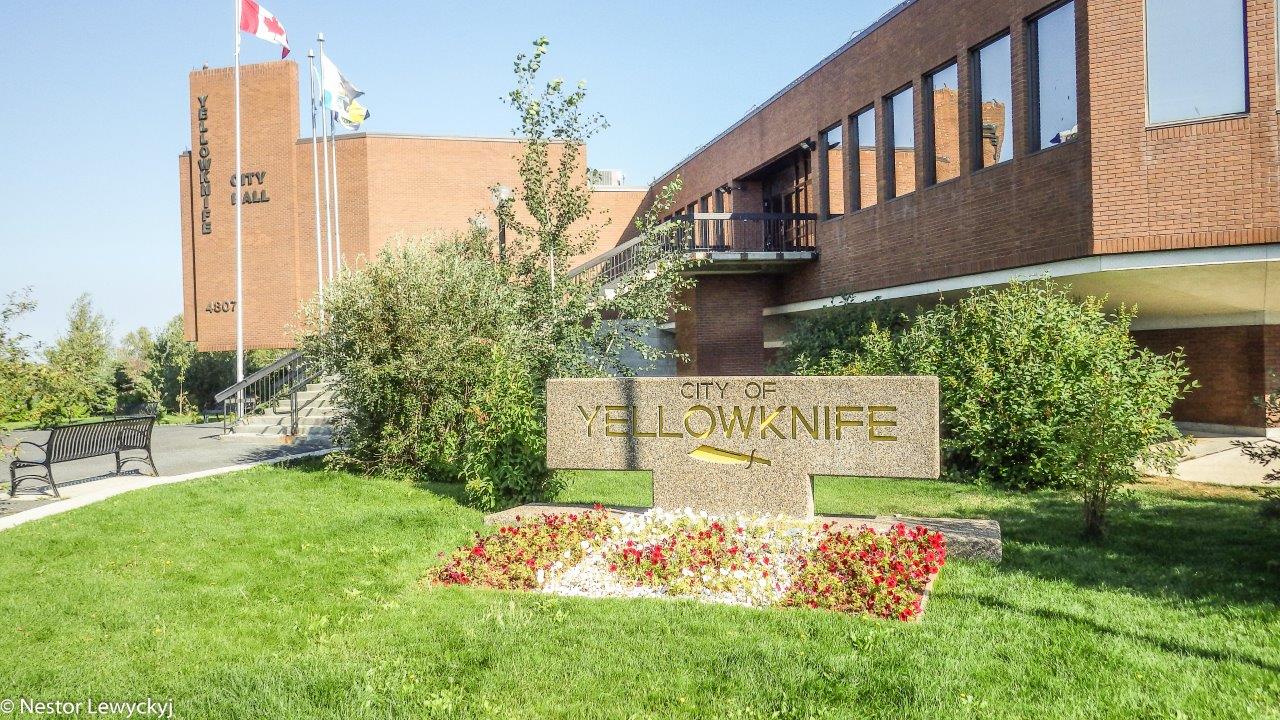 City Hall. Yellowknife is the capital of the North West Territories, so it has a lot of government buildings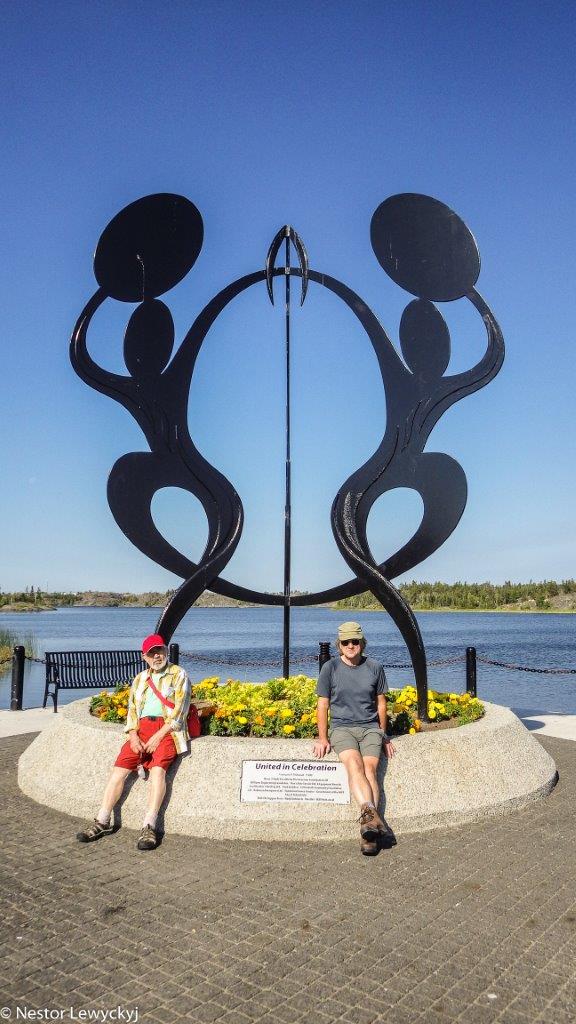 They have fixed up the area by the water near City Hall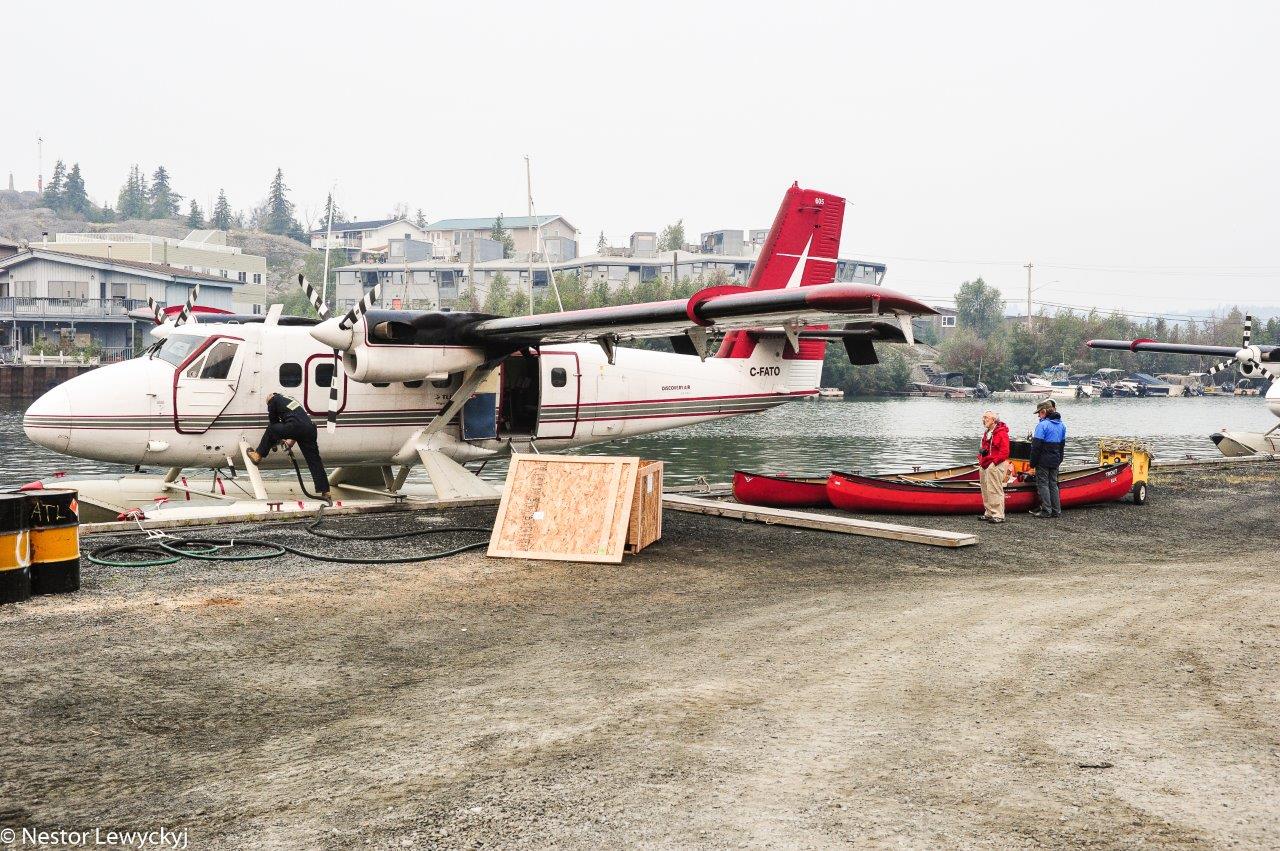 Finally that morning came! We again used Air Tindi to fly us out and to bring us (hopefully) back. As before, they were great and very accommodating. People in the north tend to be very friendly and helpful. That is the deHavilland Twin Otter that would be bringing us out.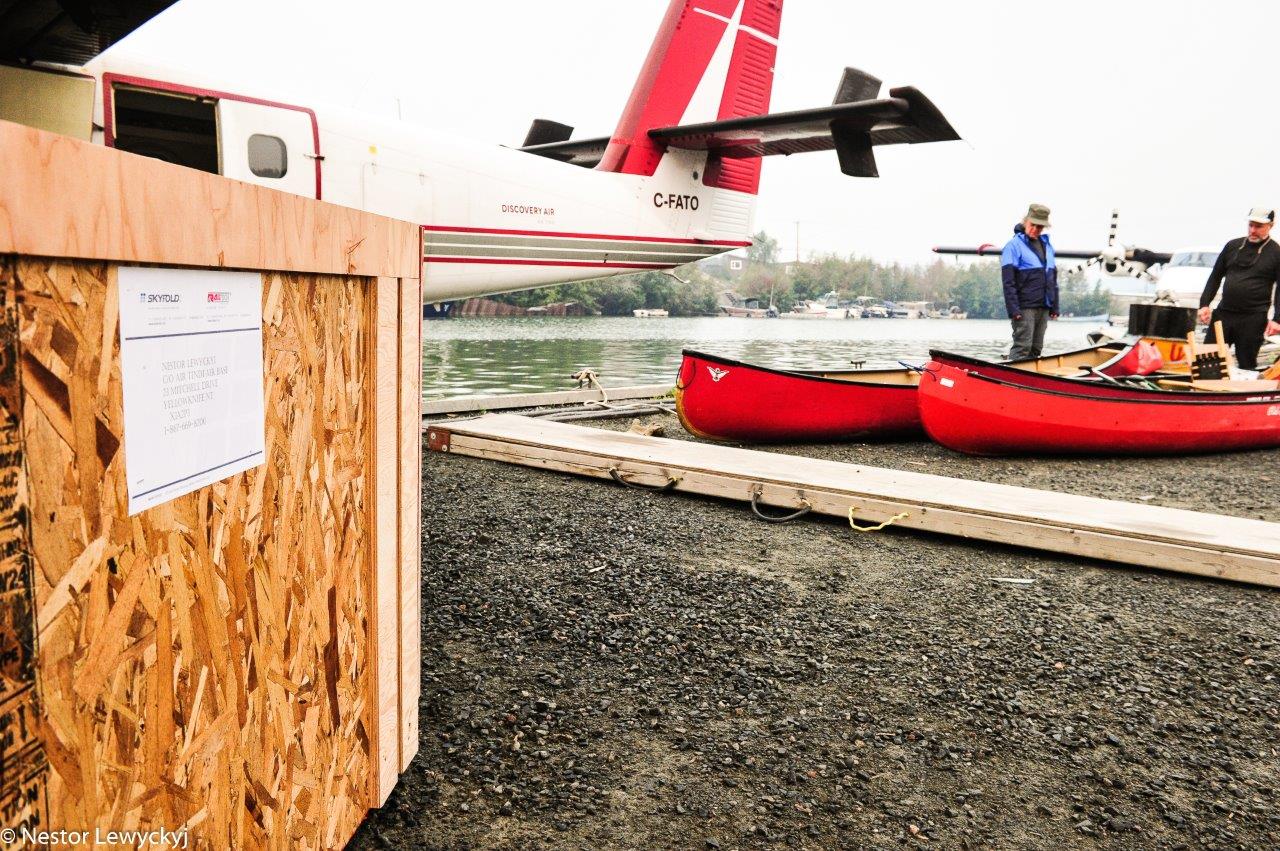 In order to make things simpler, I had sent a crate containing much of our gear a couple weeks in advance and Air Tindi held it for us in their warehouse. It avoided the complications of registering firearms and ammunition with the airline, plus stove fuel and lighters, and knives, etc. We used the crate to bring a lot of our gear back home.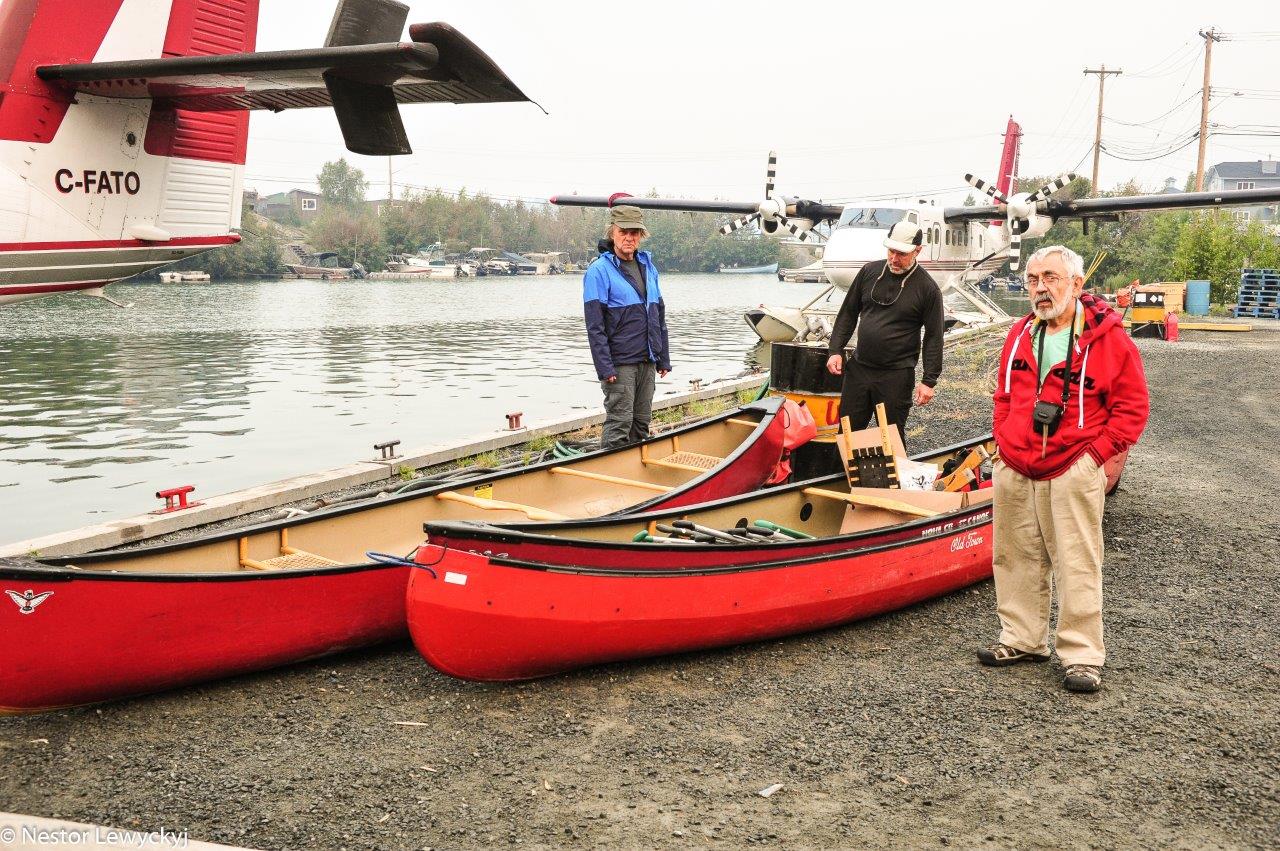 In order to save space, canoe sizes are carefully chosen if you want to fit 3 of them into the Twin Otter. One of them has to be about 6" shorter. All of the gear inside, like the seats, have to be removed from one of the larger canoes, and the smaller one is nested within. This requires some assembly work once we reach our destination. Overlander Sports prepared it all for us, with the screws and bolts in separate baggies, etc.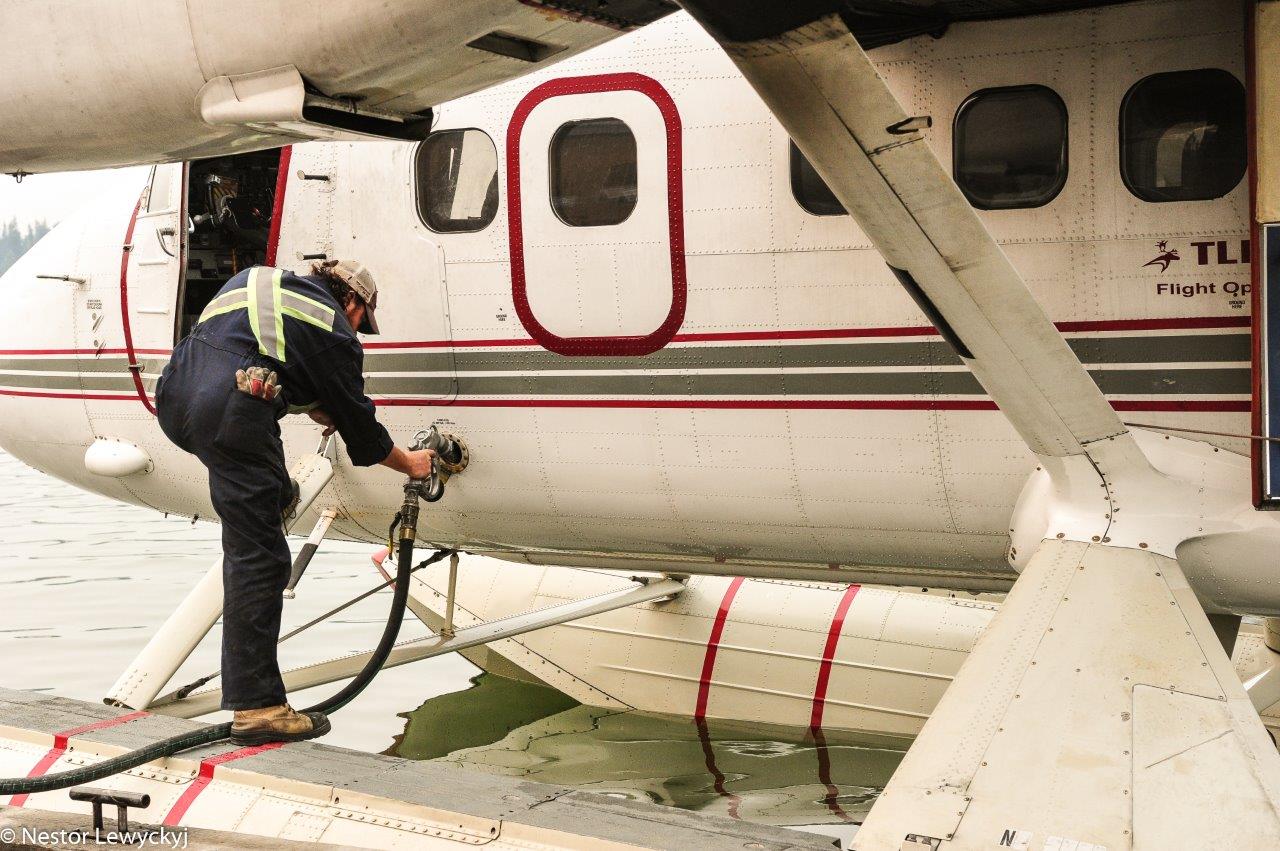 Having enough fuel is important! We were going where there were no gas stations. Although refuelling in Fort Reliance, an old RCMP outpost, was always an option. We did that back in 2004 on our first trip to the Barren Lands.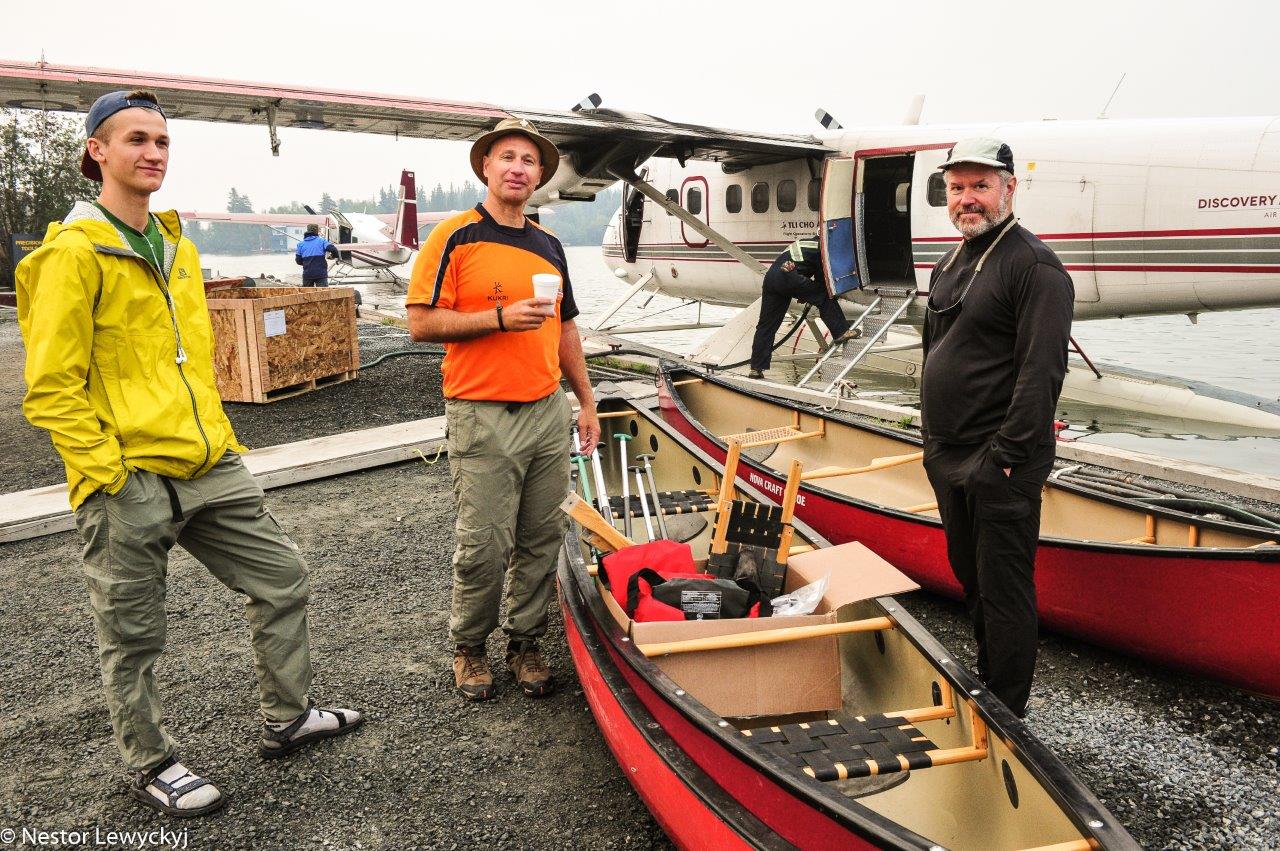 Standing around waiting for the plane to finish loading. The box in the canoe holds the seats and various pieces that were removed from the longer canoe to allow the shorter one to nest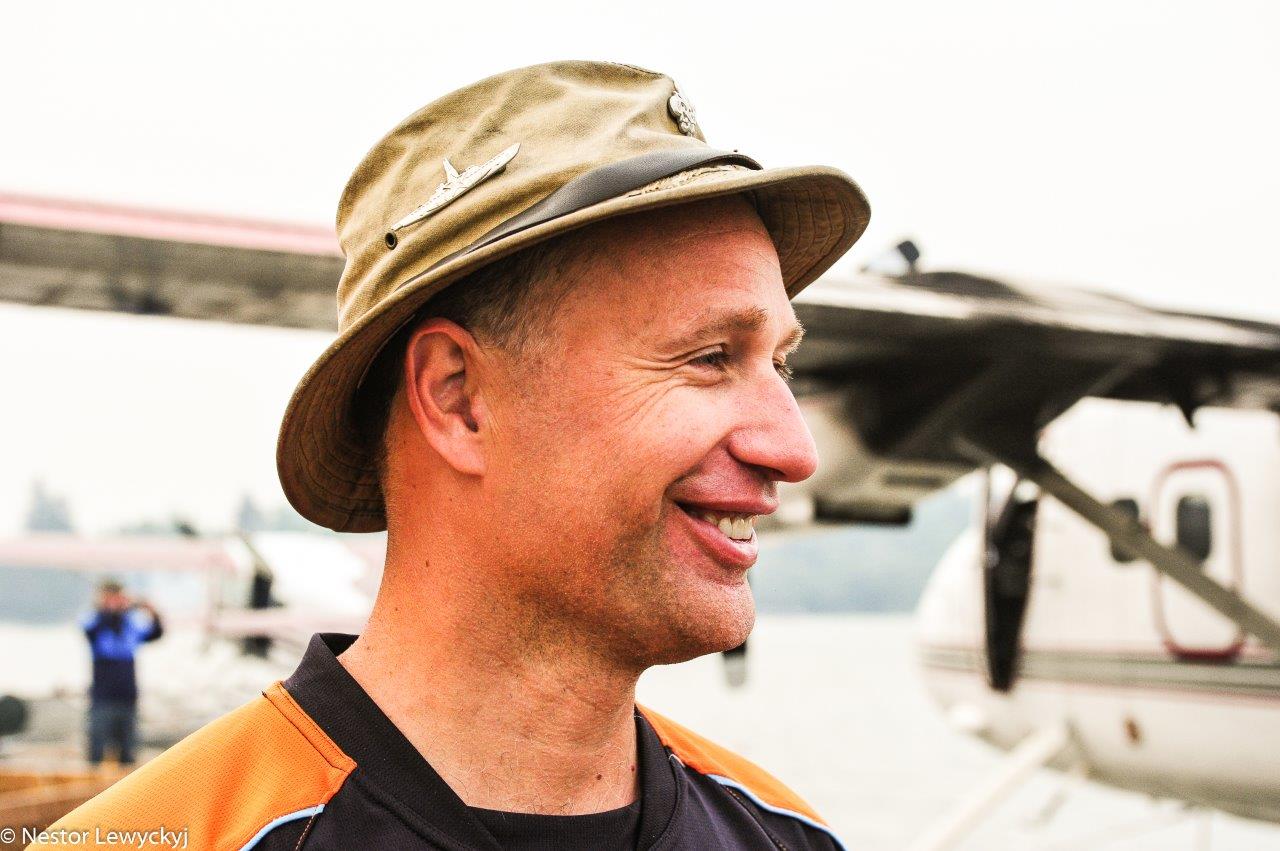 Mychajlo is almost always in a good mood. I dare say that he was getting a bit excited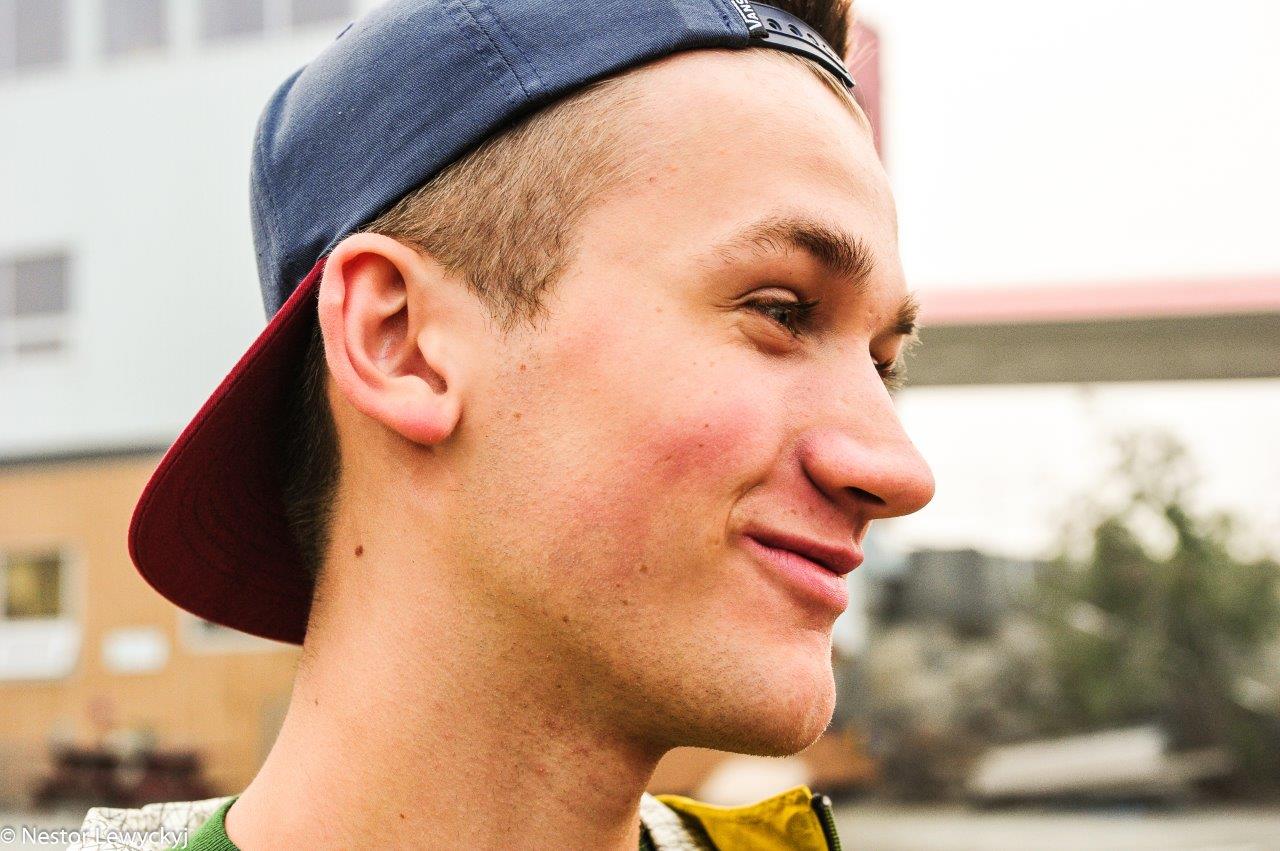 Mychajlo's son Zachar. He would prove to be an extremely skilled canoeist in the rapids, especially at the bow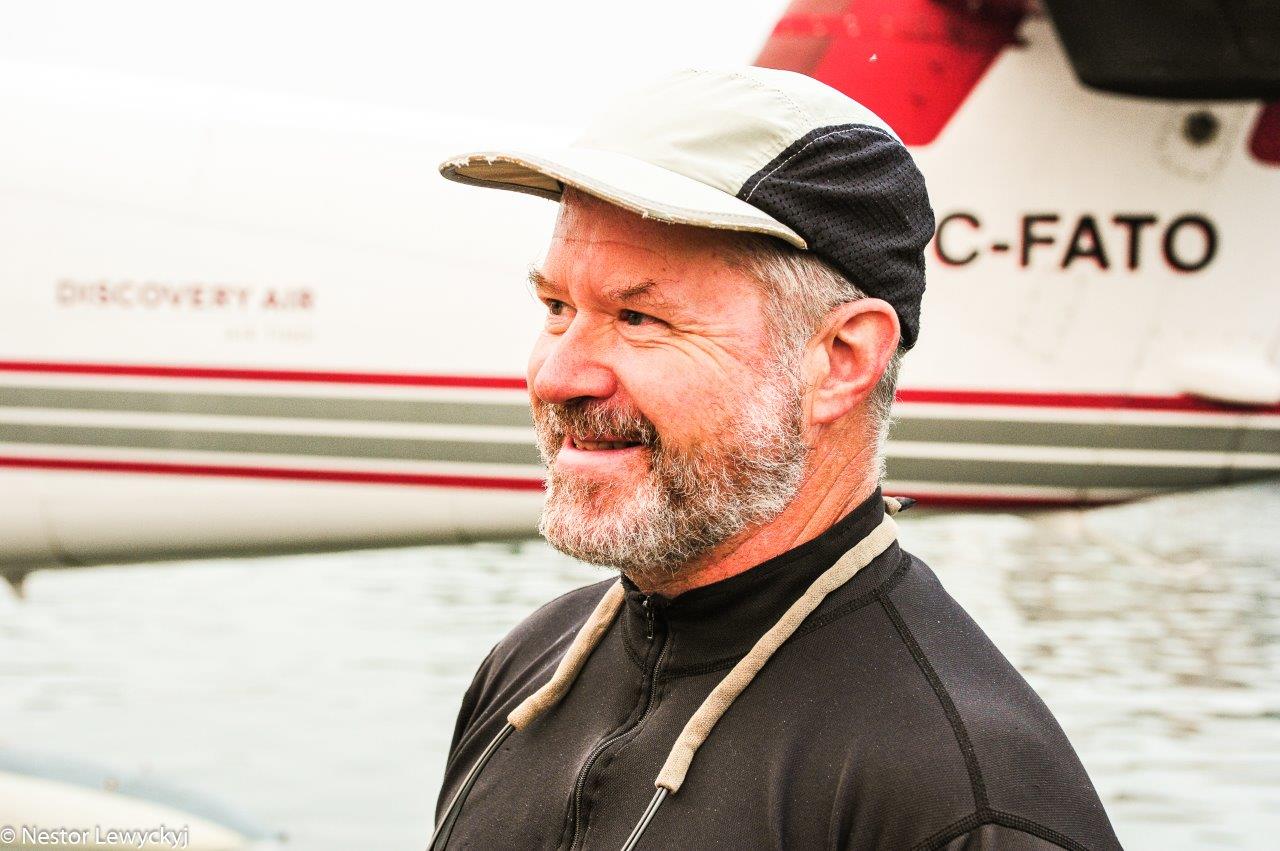 This was Roman's 4th trip to the Barren Grounds so he knew exactly what to expect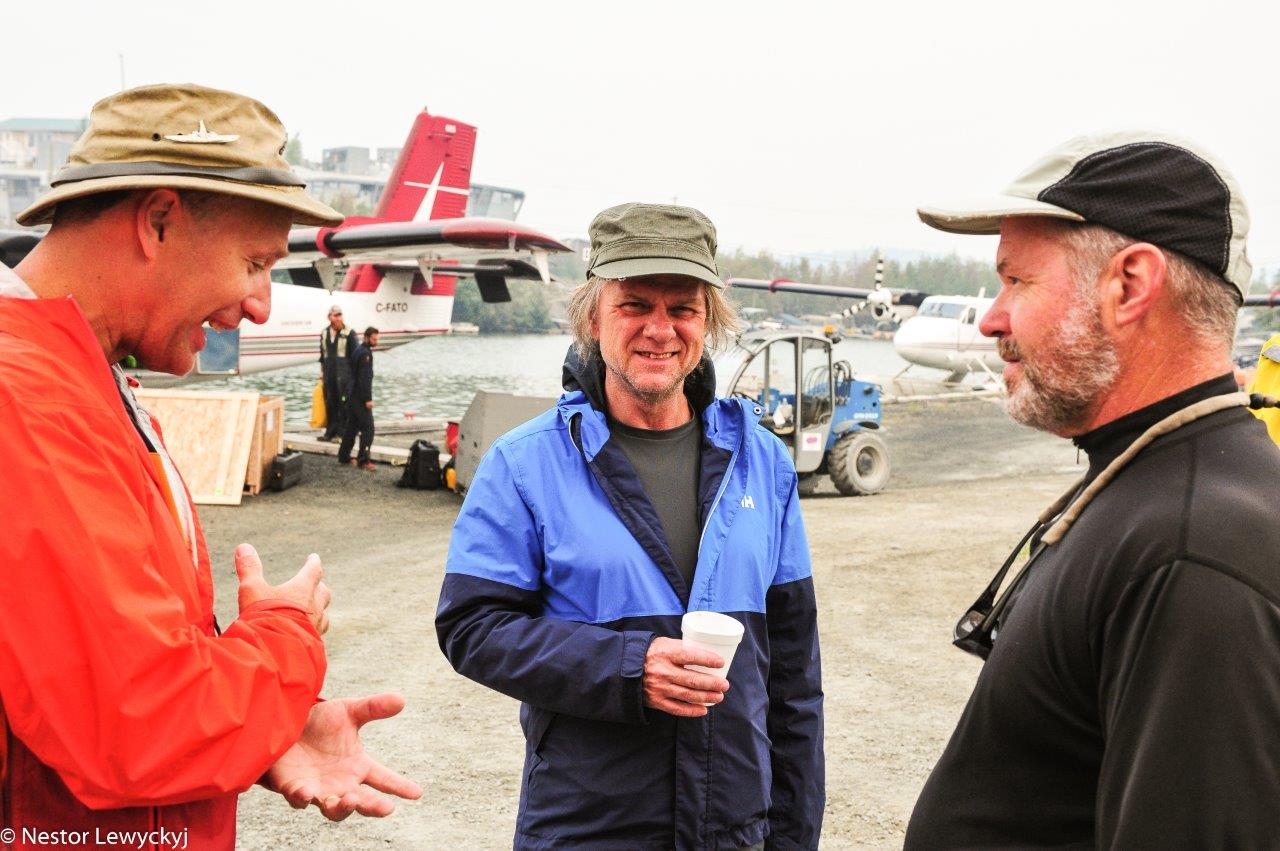 Lots of great banter early on settled our nerves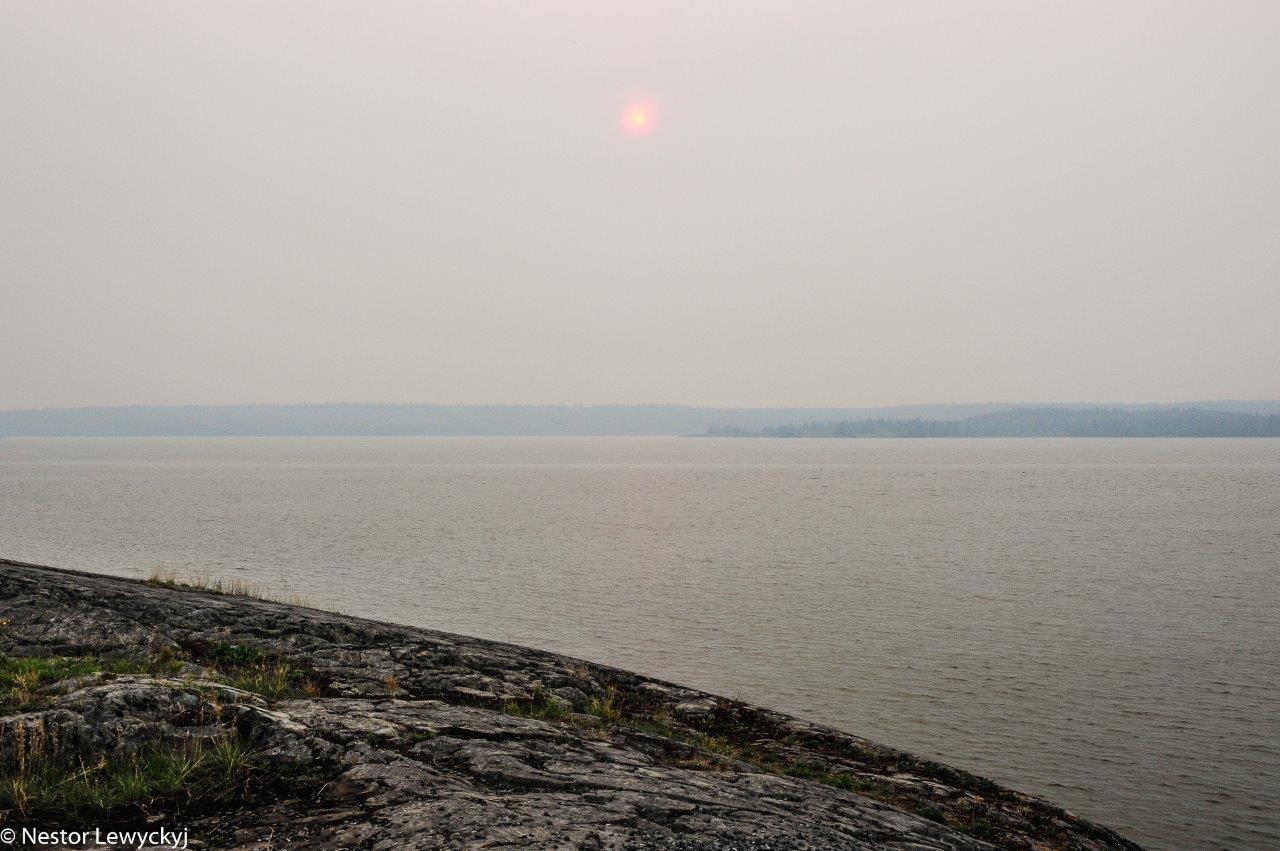 The air in Yellowknife was full of smoke from forest fires. The sun shone a ruddy red colour and the smoke kept the day looking like dusk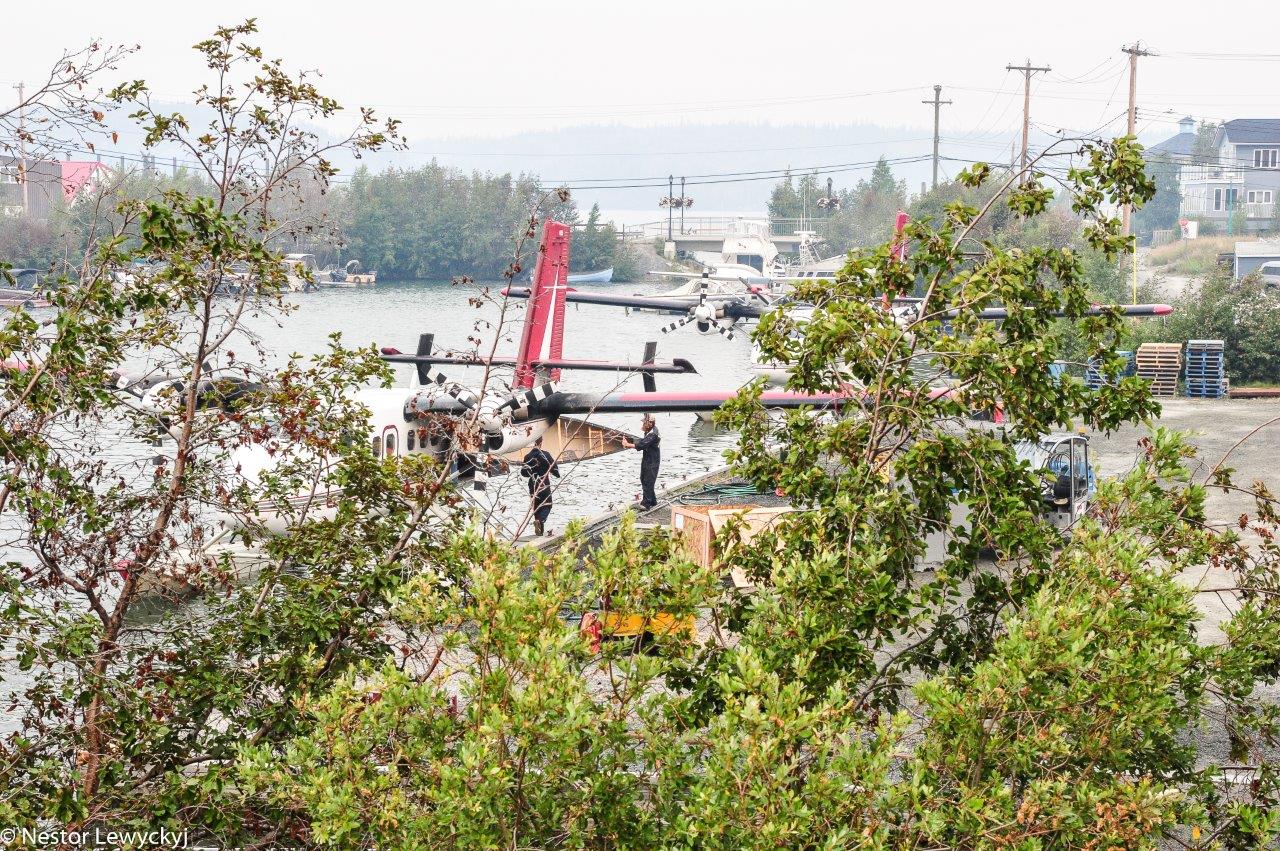 Slipping the canoes into the Twin Otter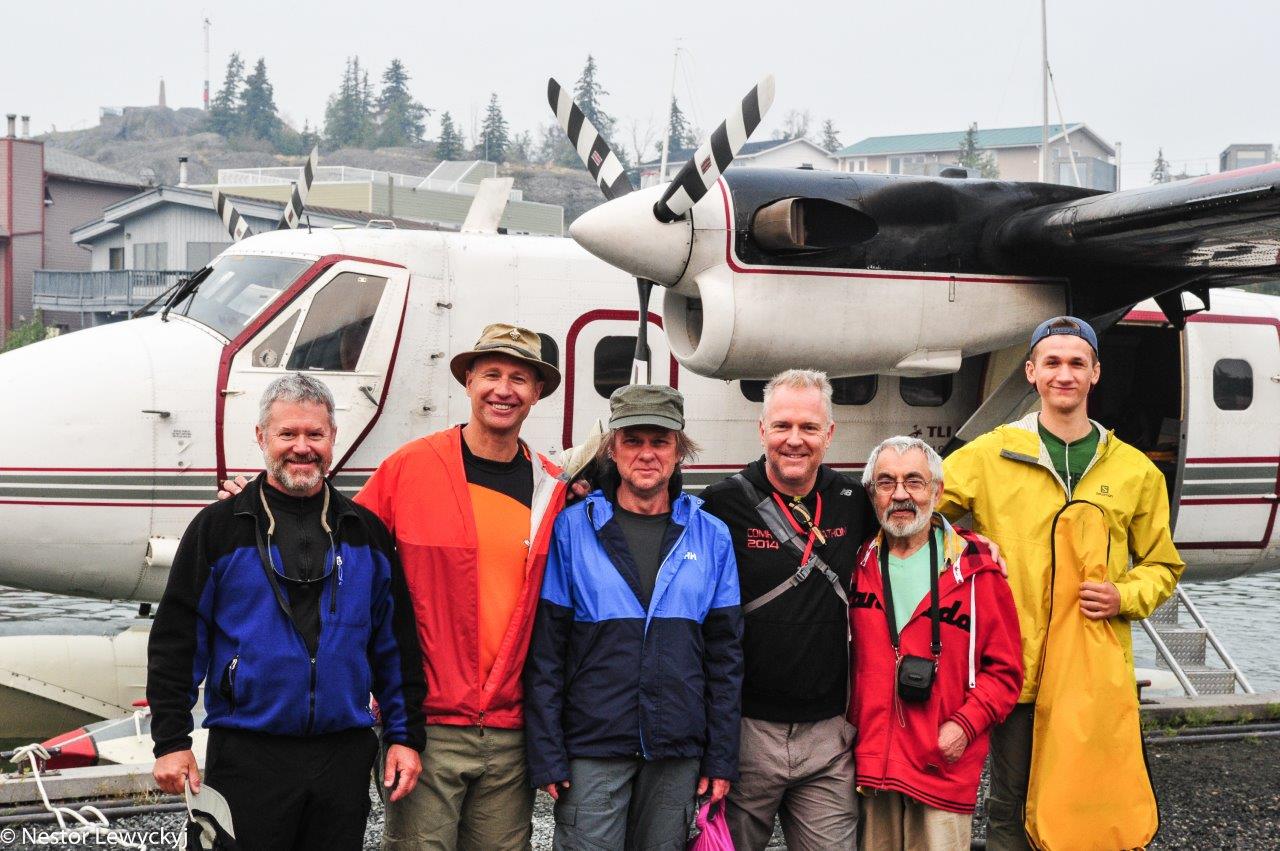 Our official Yellowknife departing shot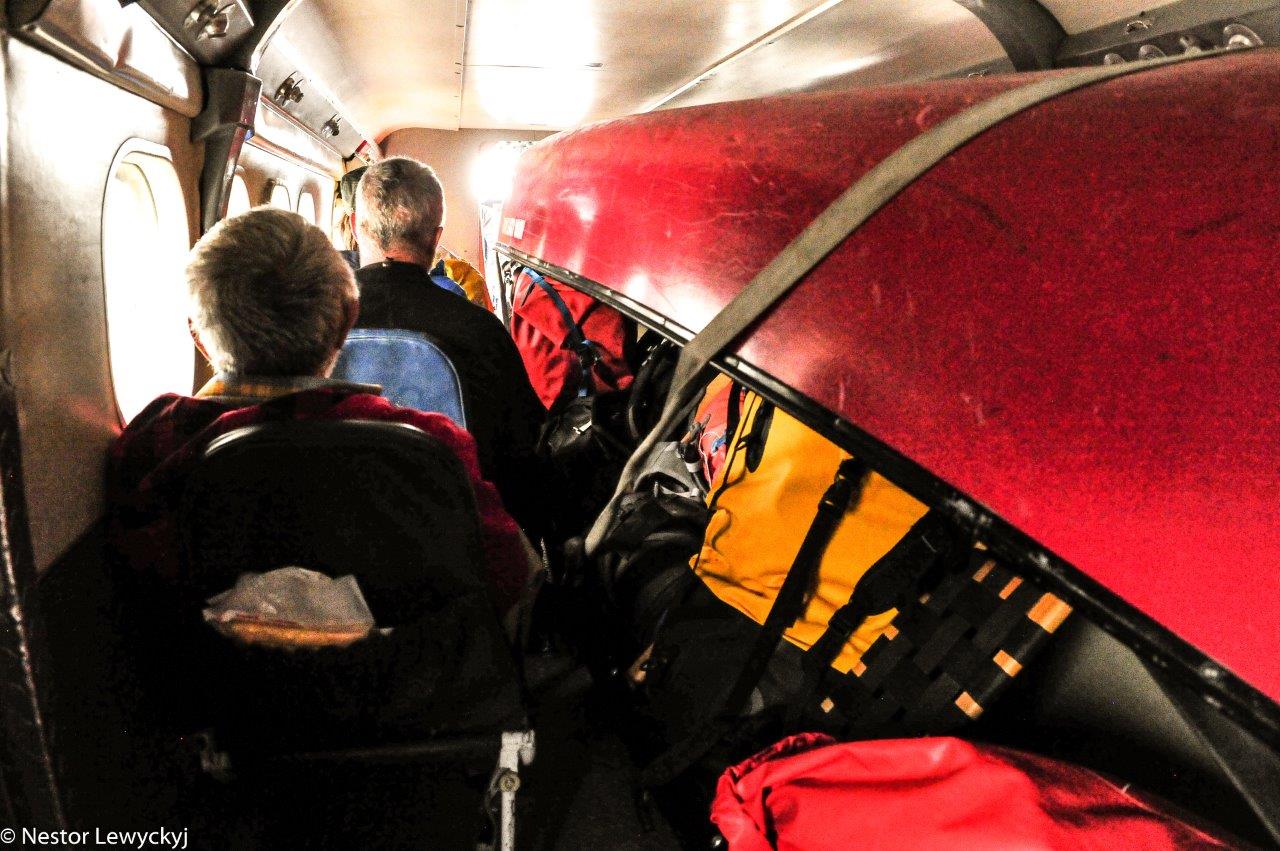 6 people and three canoes with gear is about all the Twin Otter can carry.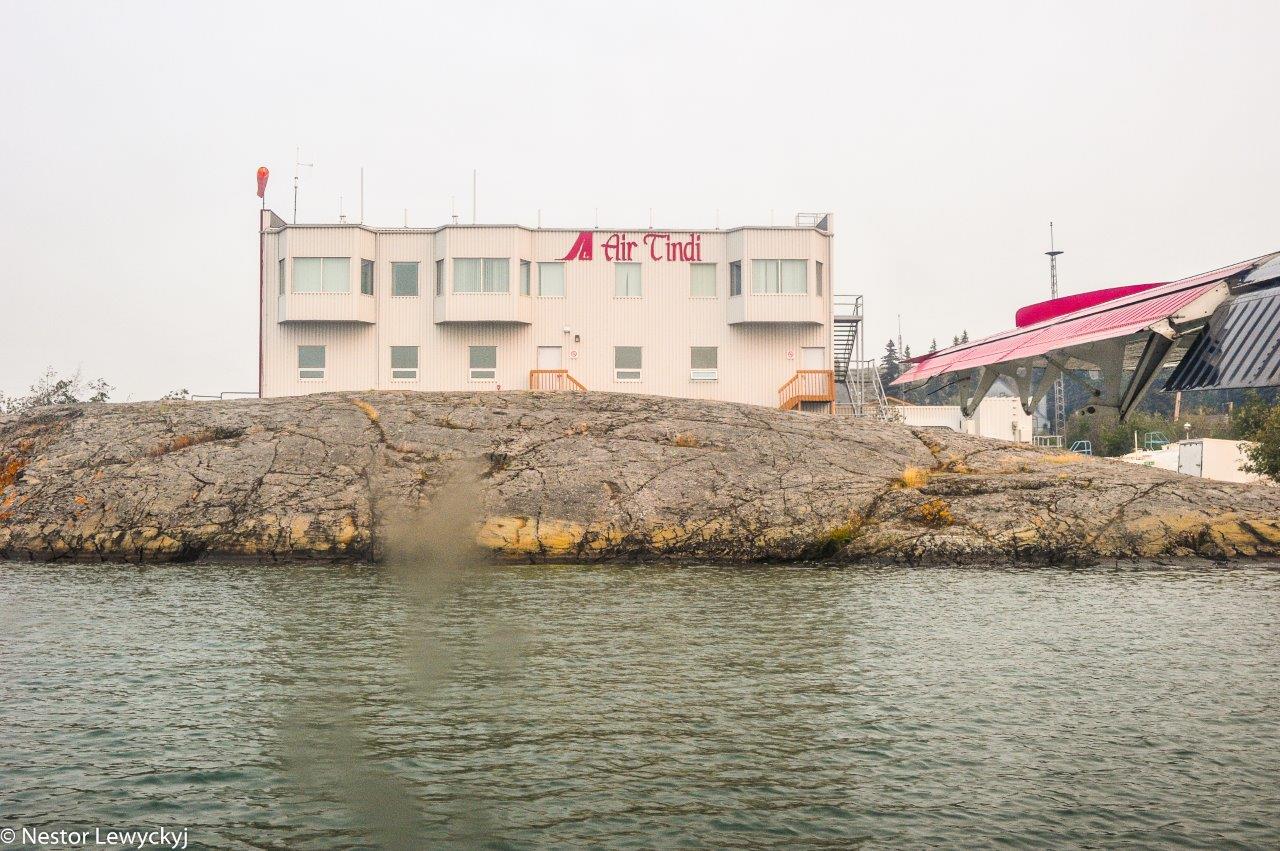 The Air Tindi water port building
Getting ready to power up. This was probably about 09:00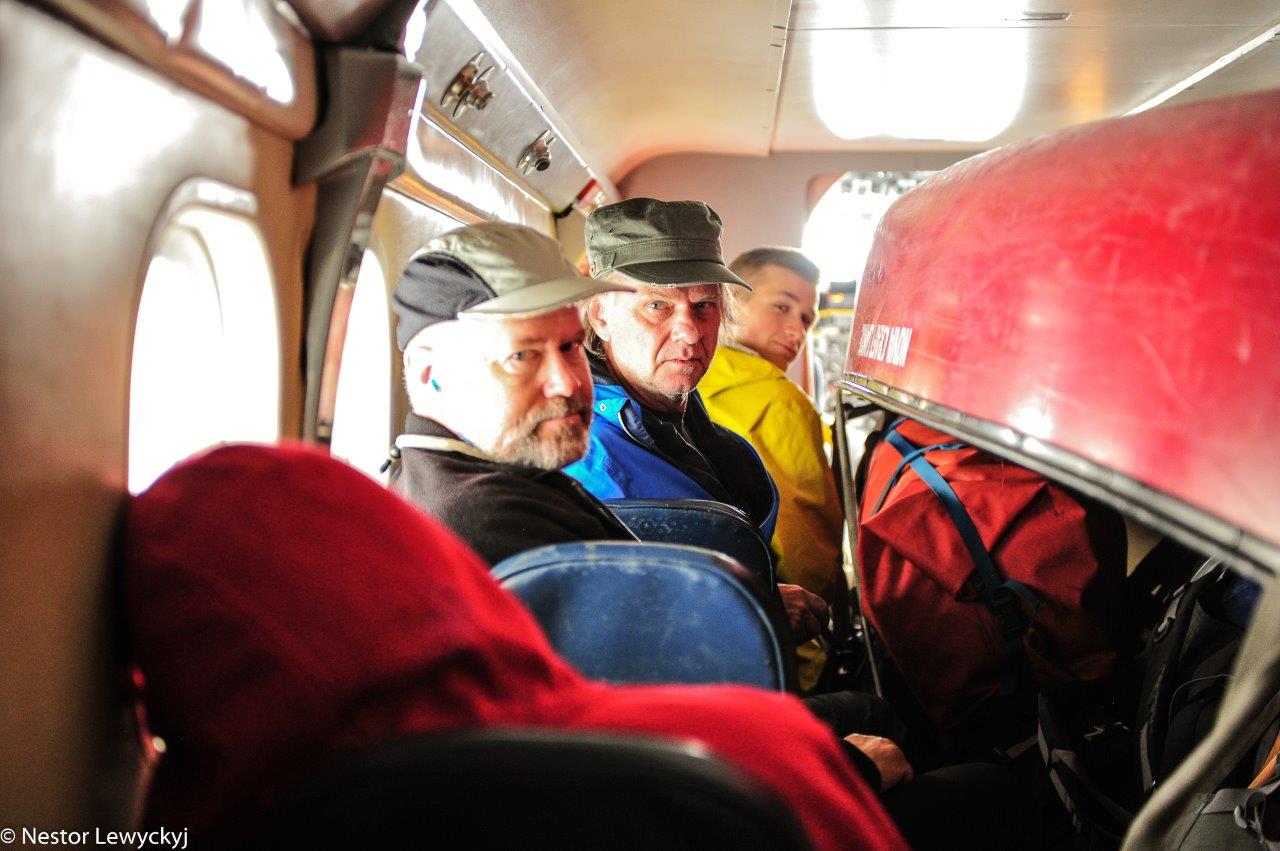 Fedir was taking a nap but everyone else stayed alert during the flight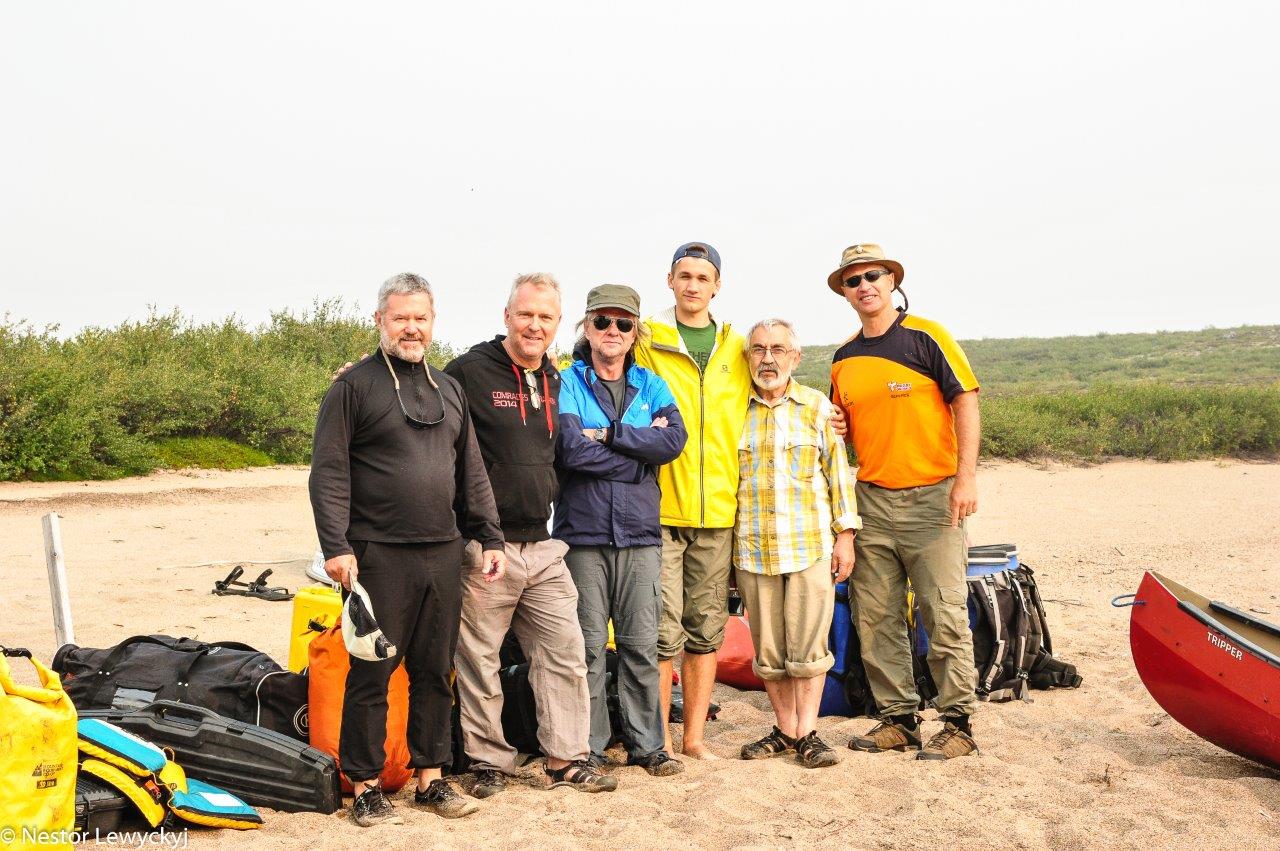 Our official arrival shot, at Tom Faess' camp on the western edge of Whitefish Lake. Tom operated this camp in the 2000's. When we came up the first time, we refueled here on our way from Yellowknife to Warden's Grove on the Thelon River
All of the gear ended up being dumped onto the beach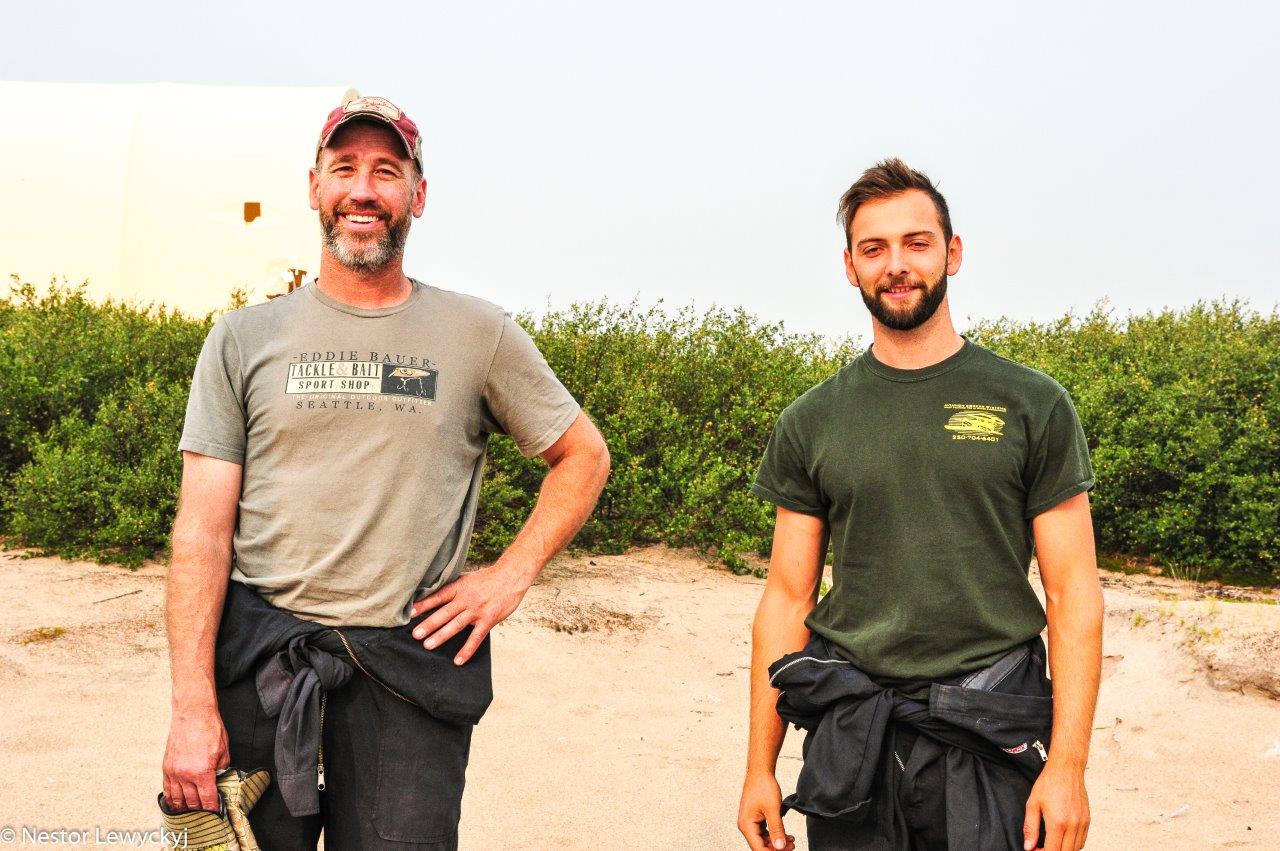 Our fight crew. They were excellent! That is Tom's old Quonset hut in the back to the left. It had a couple of large tears in it and grizzlies have been wandering in and out over the years.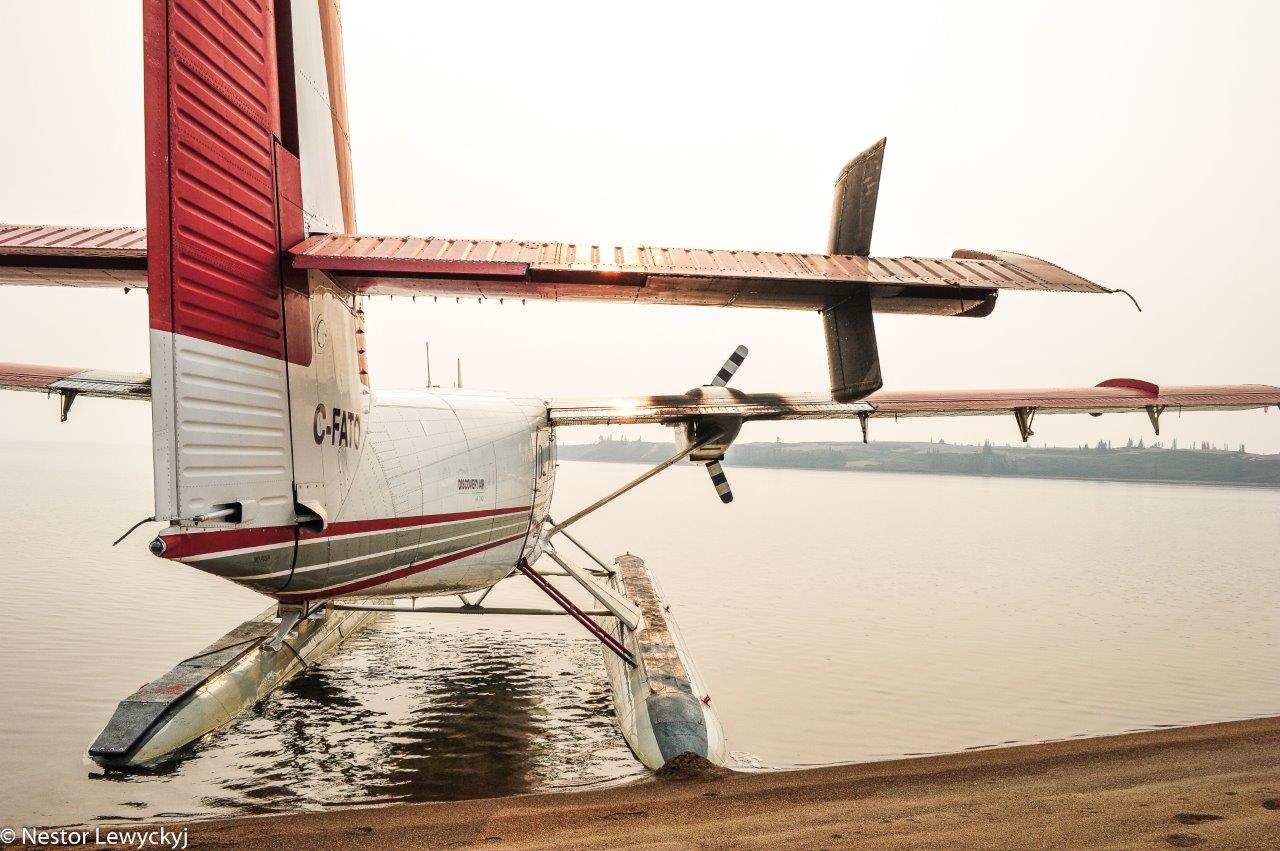 Getting ready to push off. You can tell from the haze that there was still a lot of smoke in the air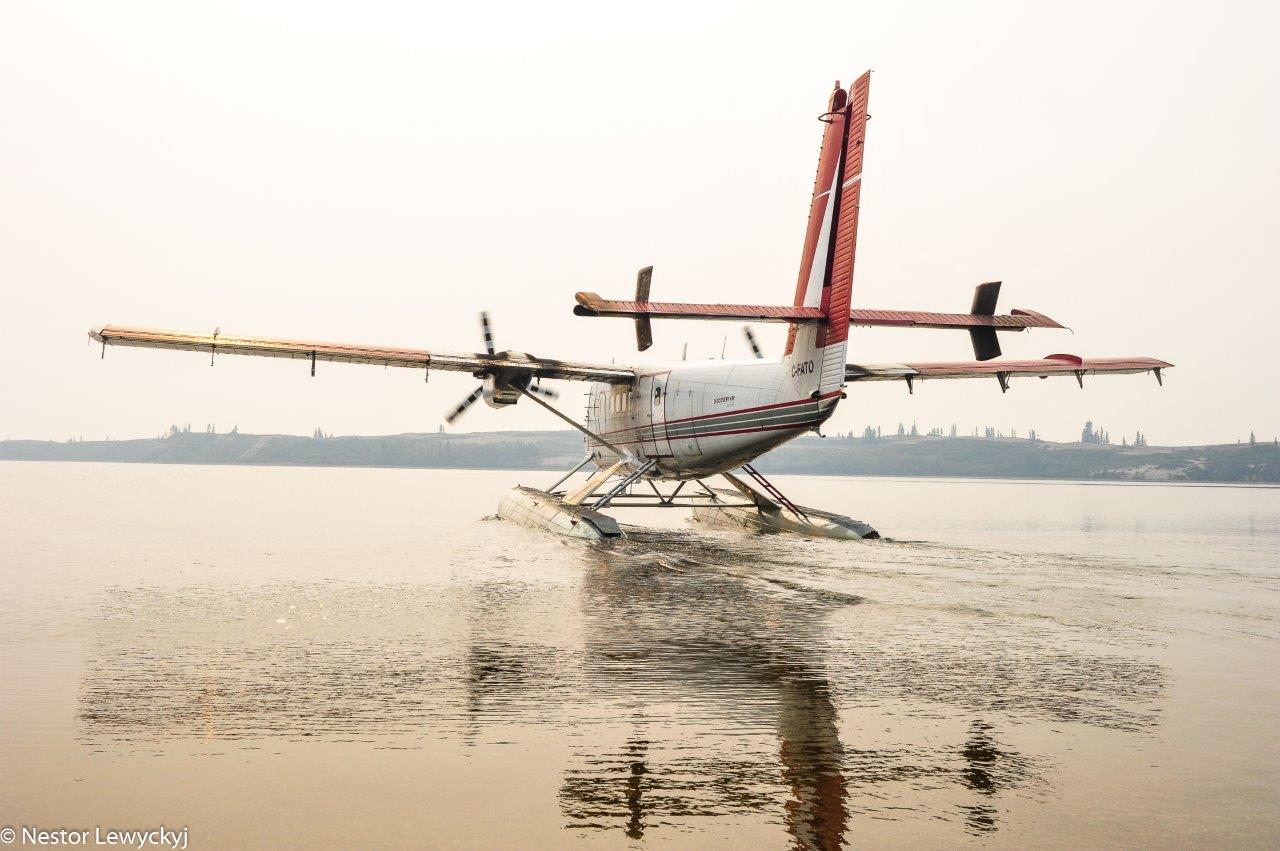 There goes our lifeline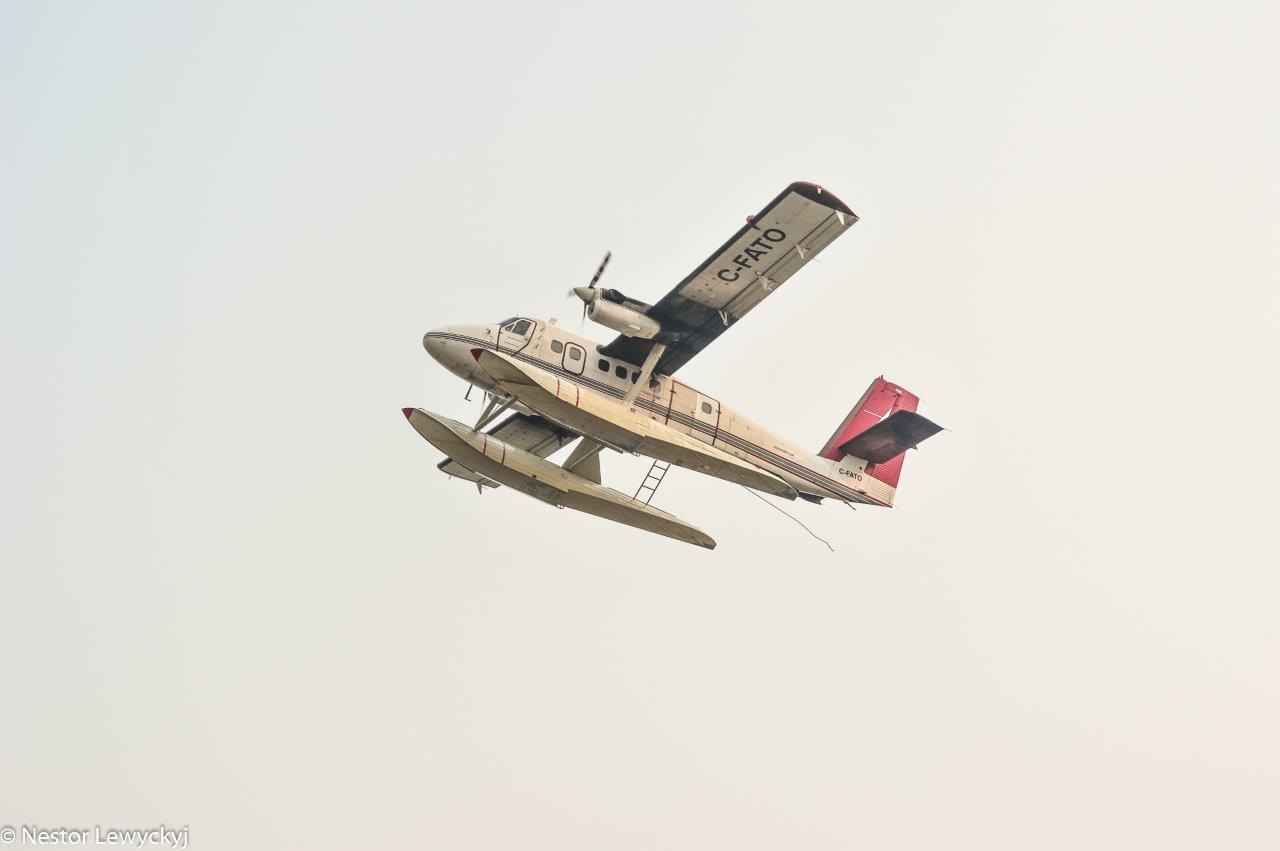 I find that it is an amazingly liberating feeling when the plane flies off leaving you alone to figure out how to survive the next 2 weeks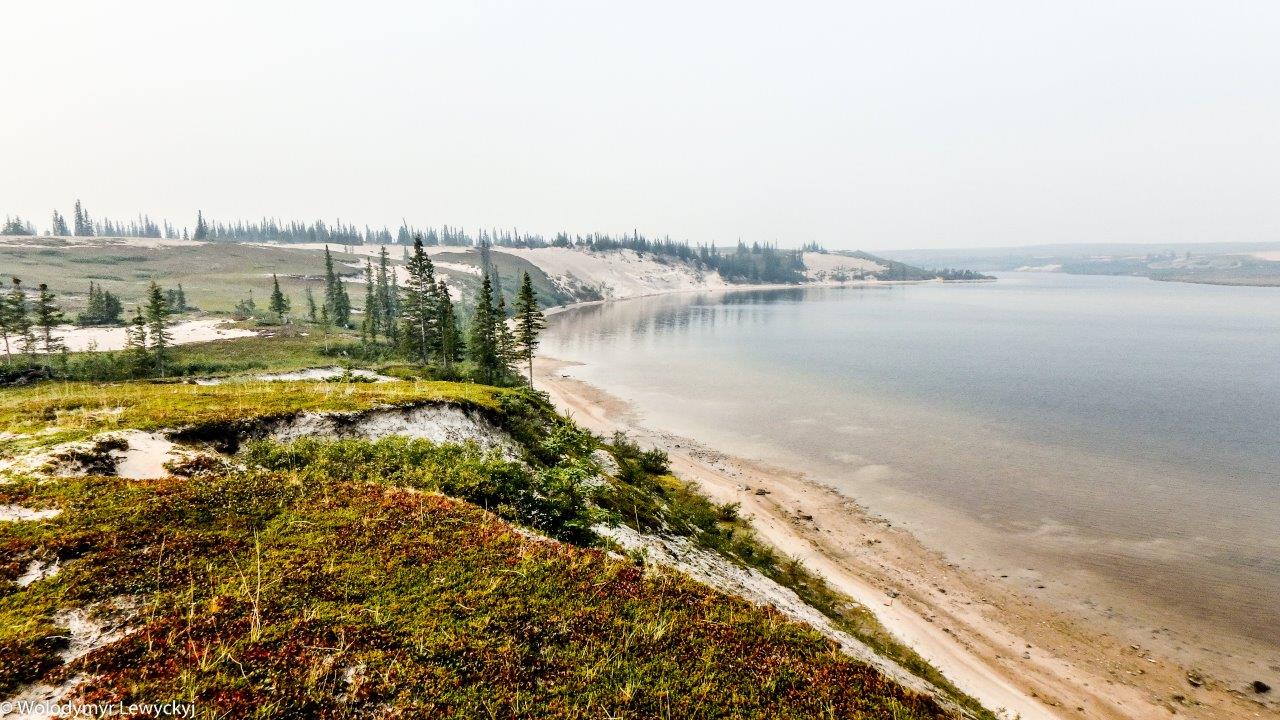 This is a shot facing westward, as Whitefish Lake narrows down with Sandy Lake beyond (not visible)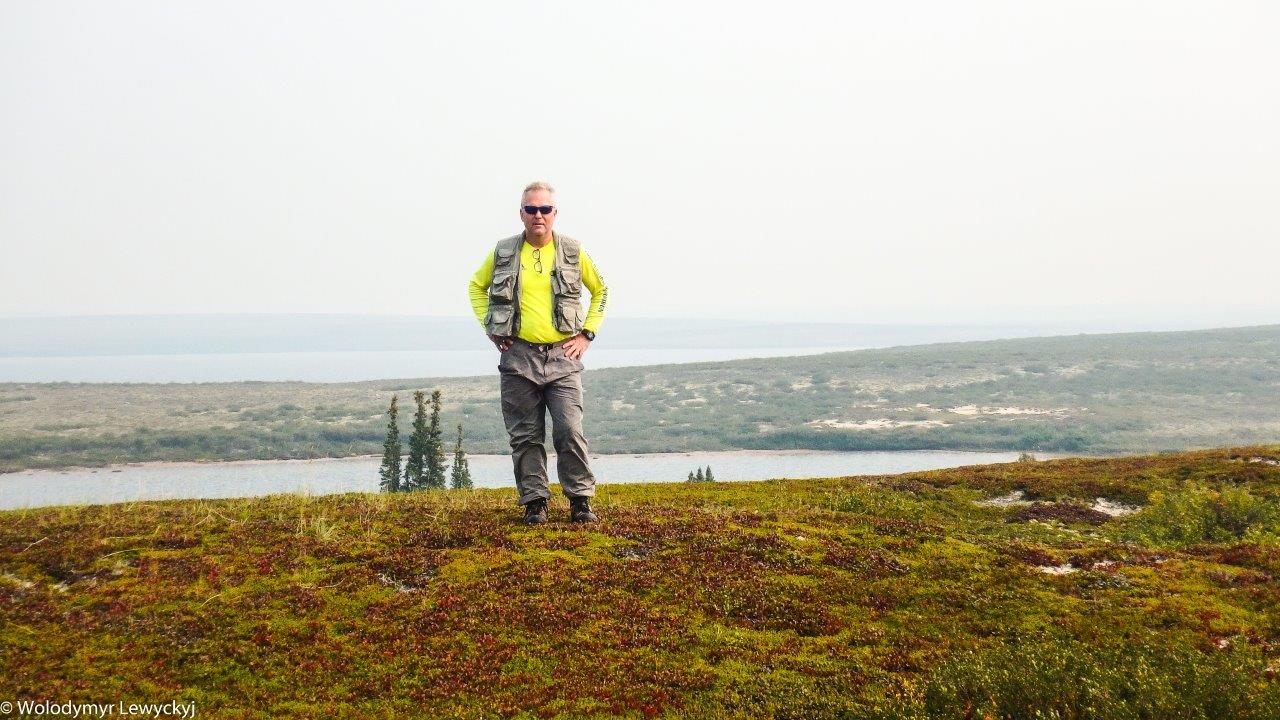 Ok, so now what?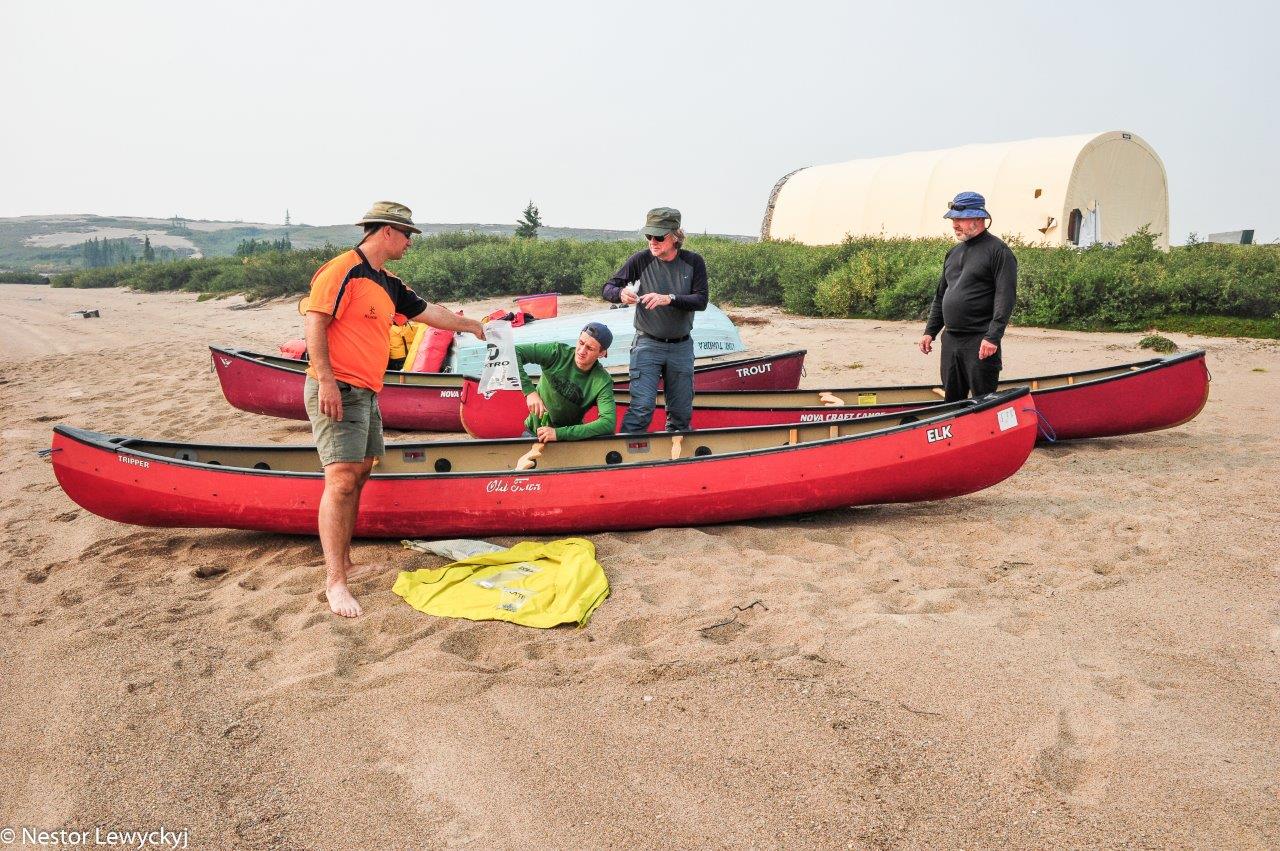 First order of business is to assemble that canoe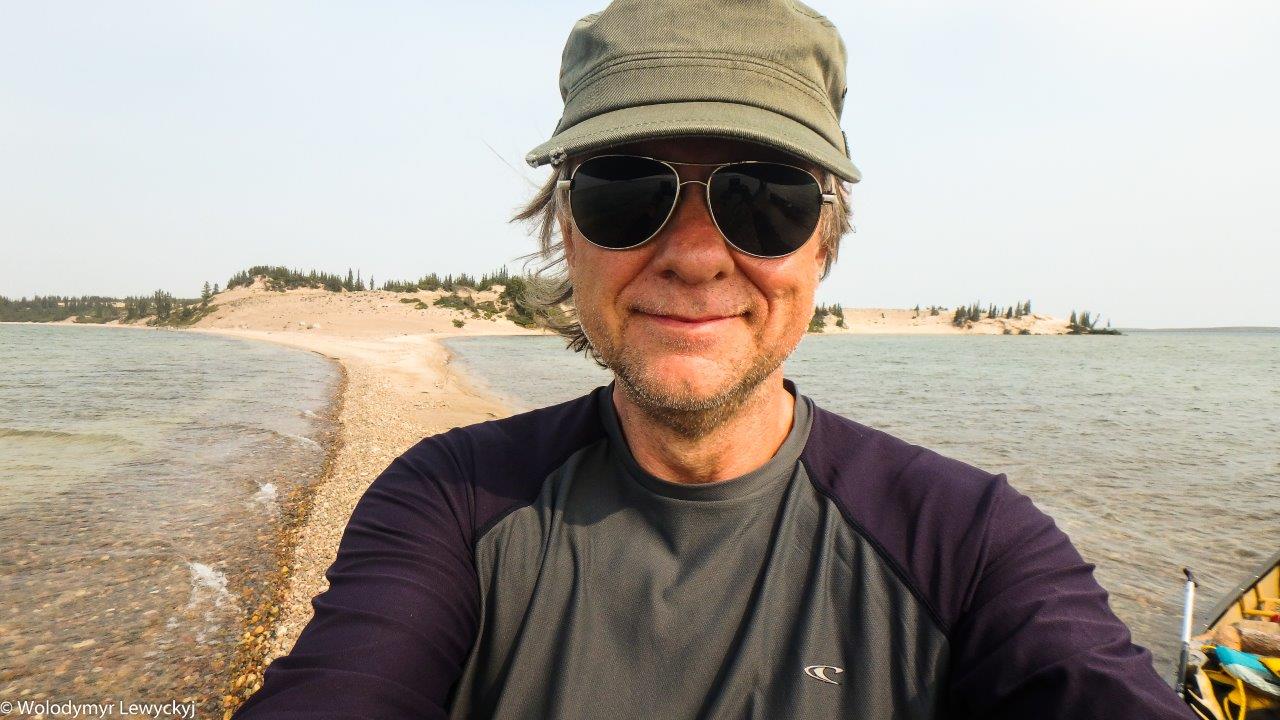 It was quite breezy that day on Whitefish Lake and Wolodymyr took a selfie when we stopped for a break. Tom had asked me to pick something up for him on the northern shore of the lake, but the winds were not helping and we would probably lose a whole day so we made the tactical decision to head south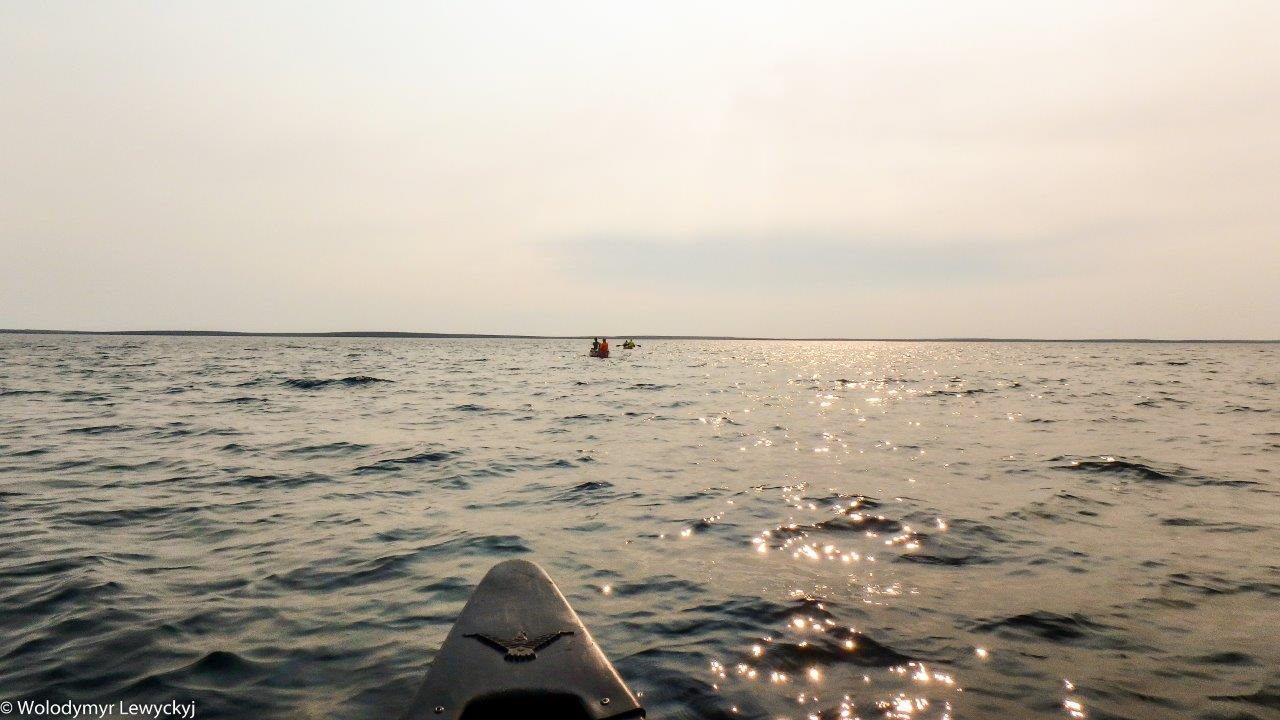 Heading south on Whitefish Lake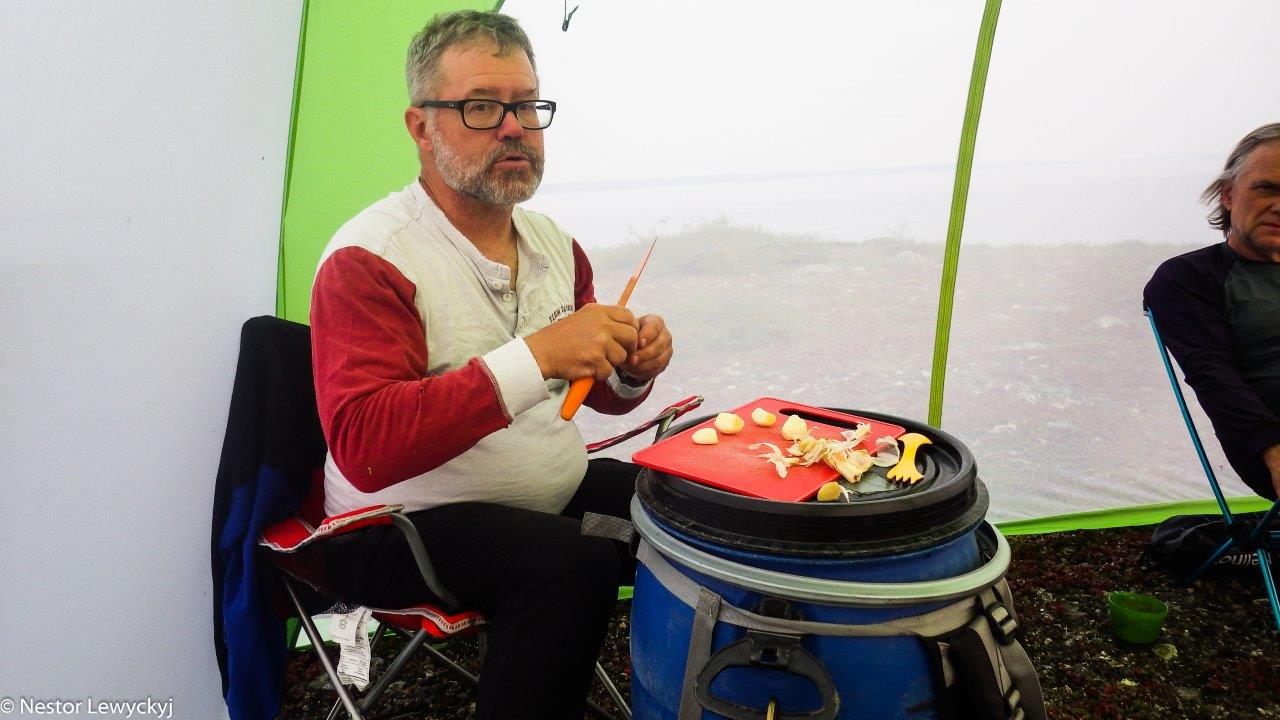 Roman cleaning the garlic to be used with supper. We brought much less food with us this time, wanting to rely mainly on fishing for protein. I find that there are some things you can bring that last well for at least 2 weeks. This includes garlic, onions, ginger root. These ingredients can make any meal better, especially fresh fish!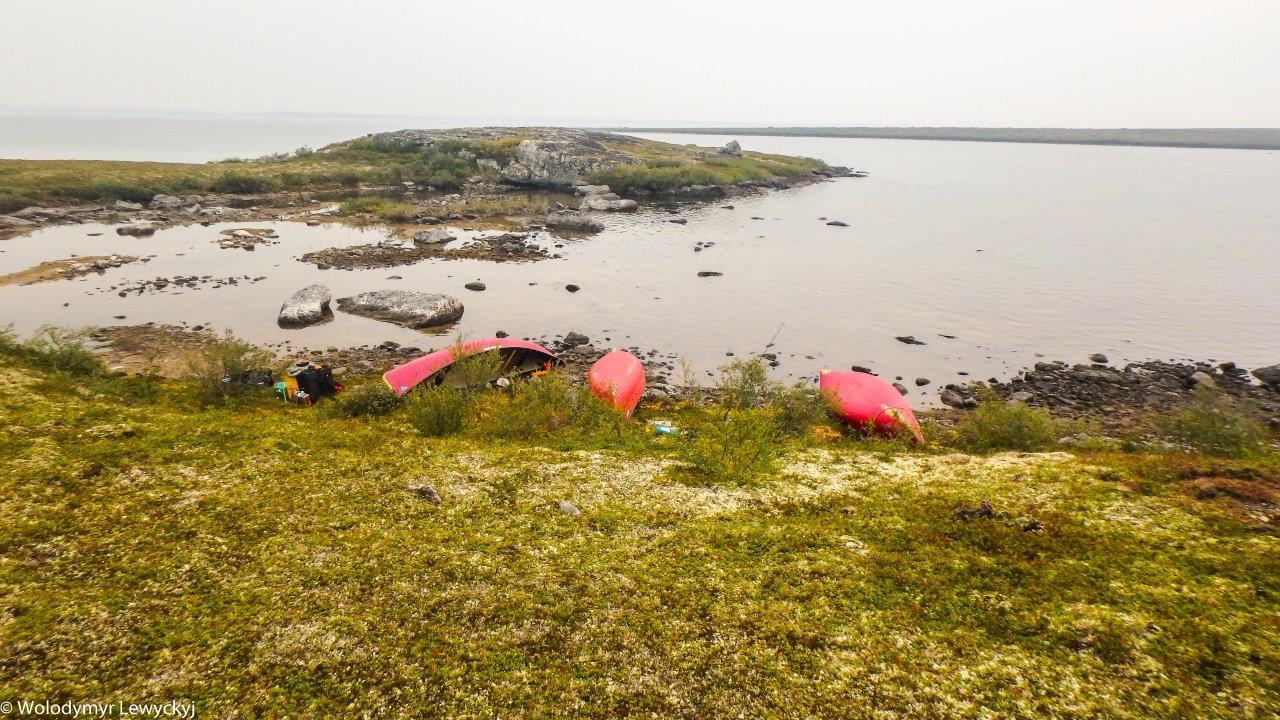 We spent the first night on a peninsula on the western shore of Whitefish Lake
Here is a link to a YouTube video taken by my Orel III drone of this camp site area click here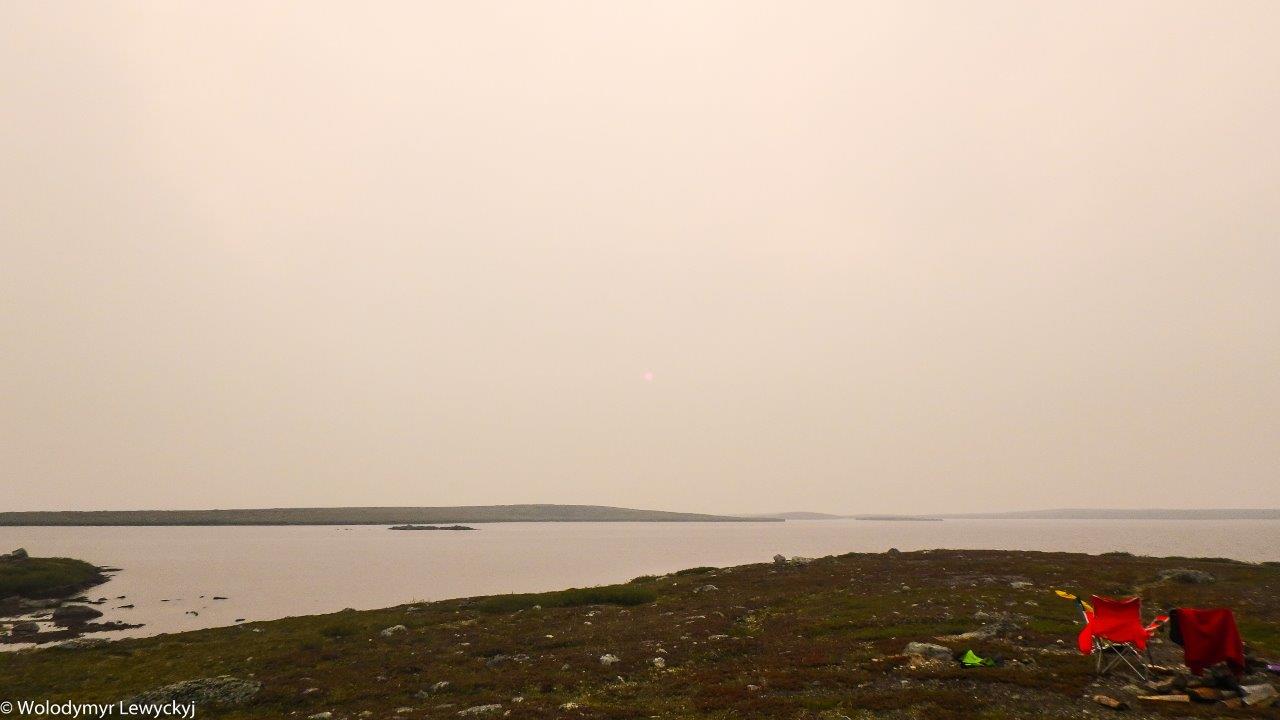 You can barely make out the sun in the center of the photograph due to the smoke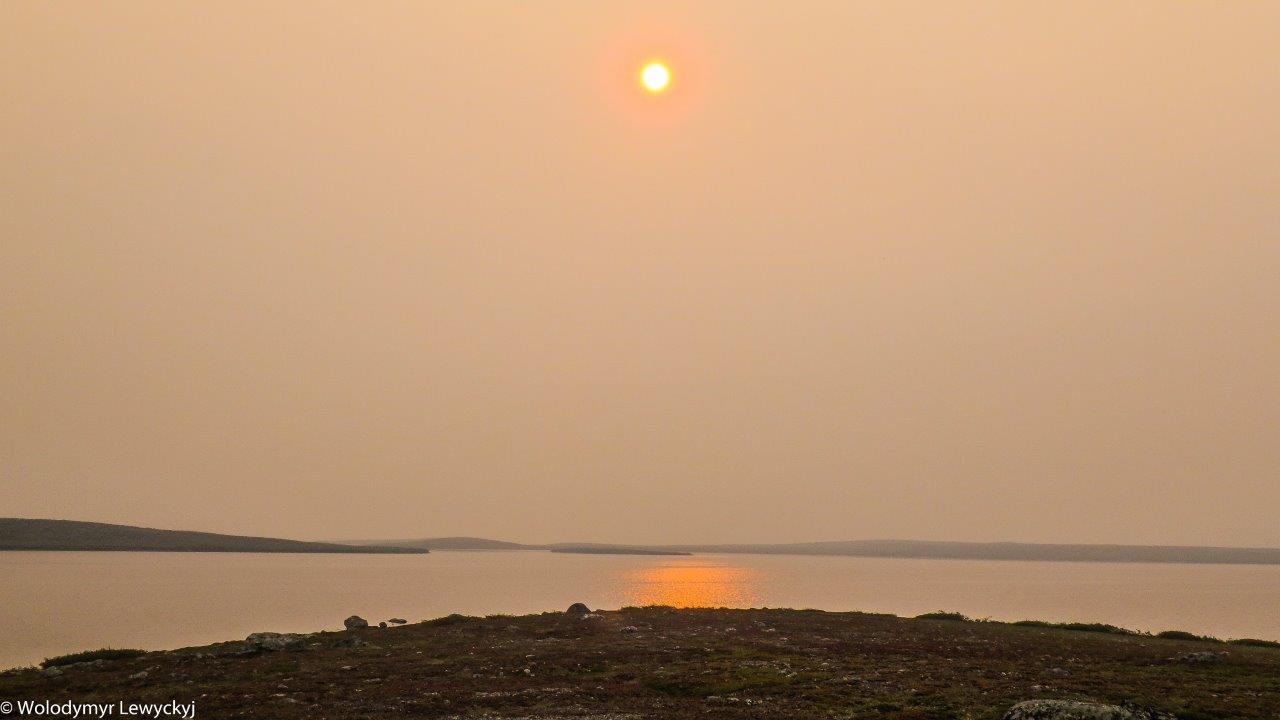 But the smoke did give us some interesting sunsets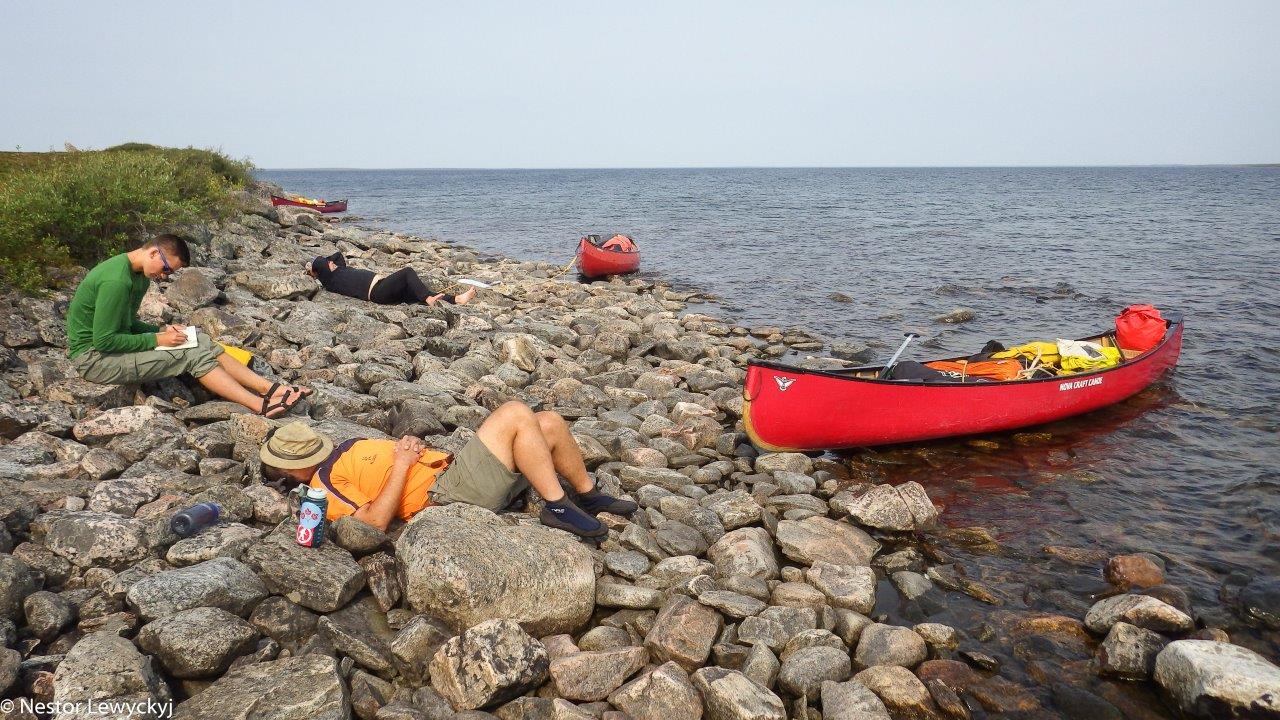 Taking a break from paddling. You get used to taking quick naps when you have a chance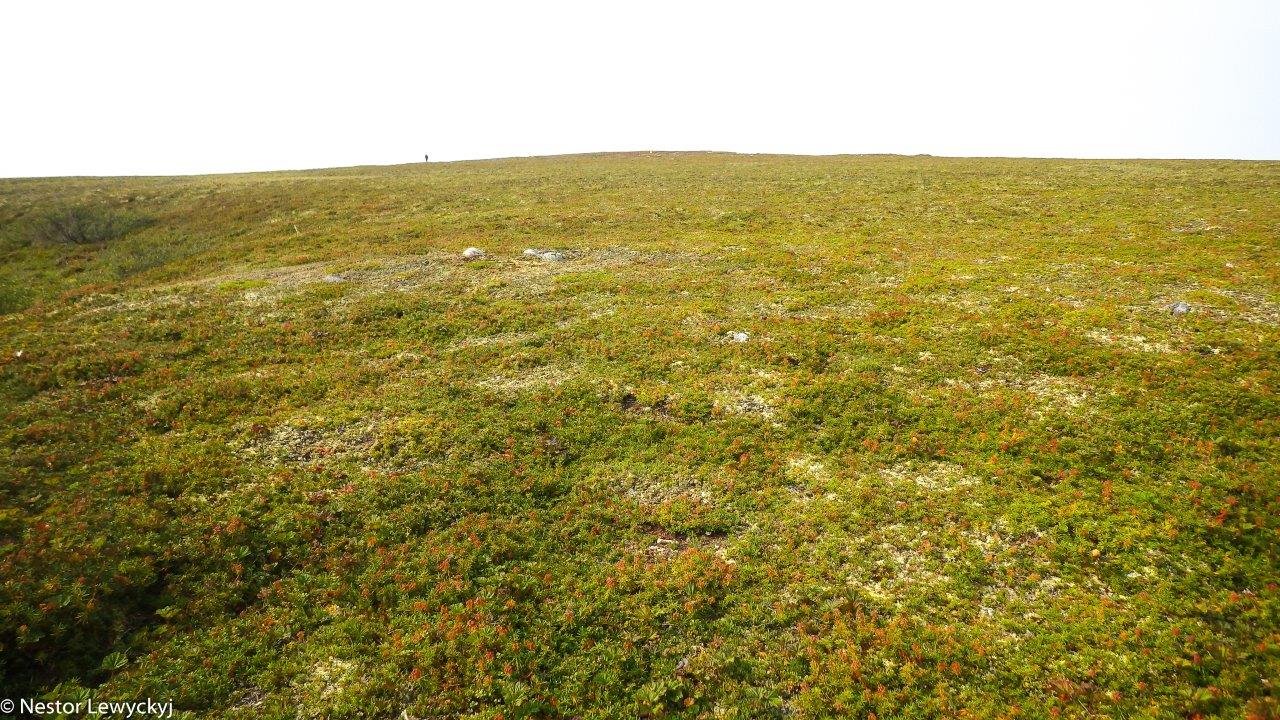 We were already north of the official Arctic tree line. The Thelon Sanctuary, sometimes called the Thelon Oasis, was quite a bit north of us and it supports significant stands of trees by the river due to local geographical conditions, we were not seeing a lot of trees. This is the tundra, and below us was permafrost. The tent pegs pulled out of the ground in the morning were very cold.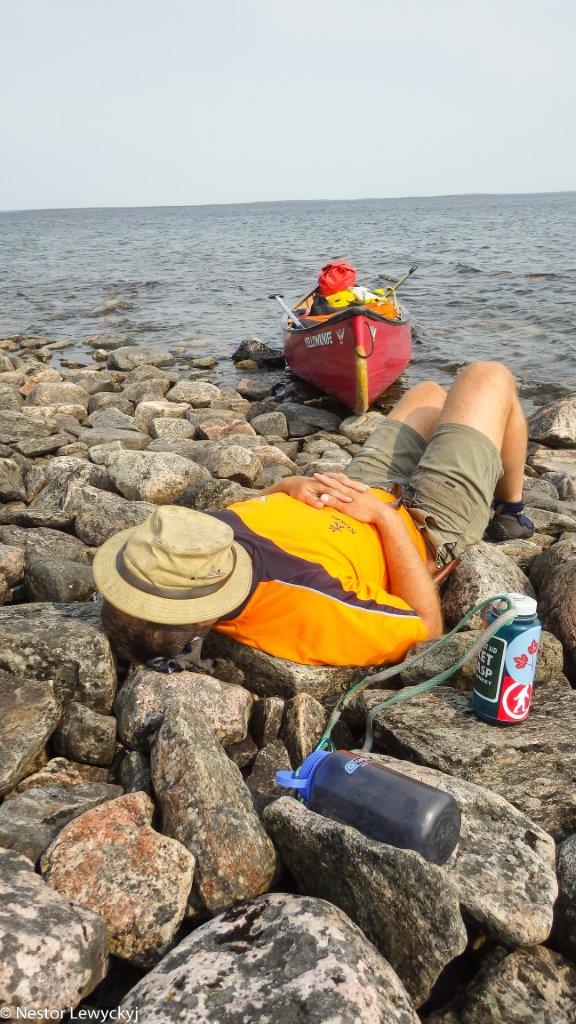 Anytime, anywhere. Part of a seasoned traveller's tool kit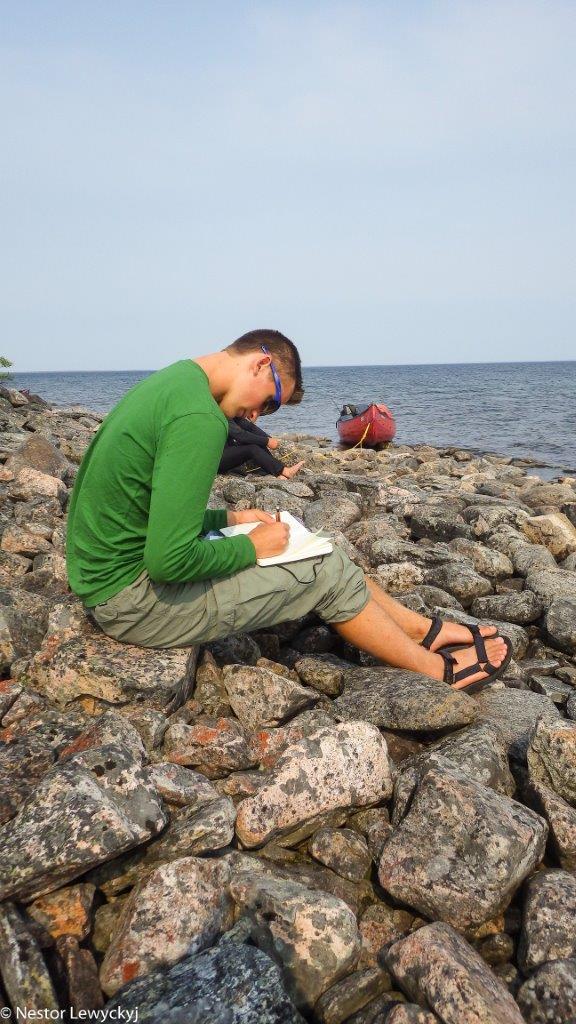 Zachar kept a log of his experiences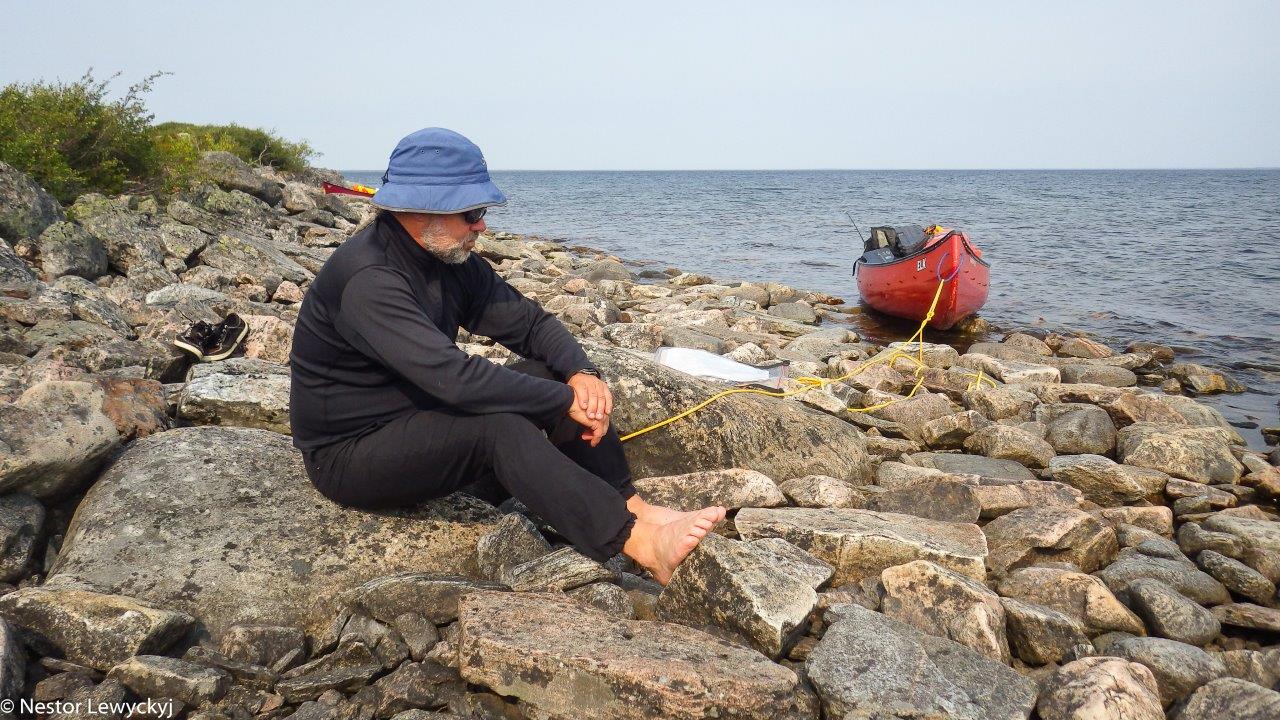 Deep in thought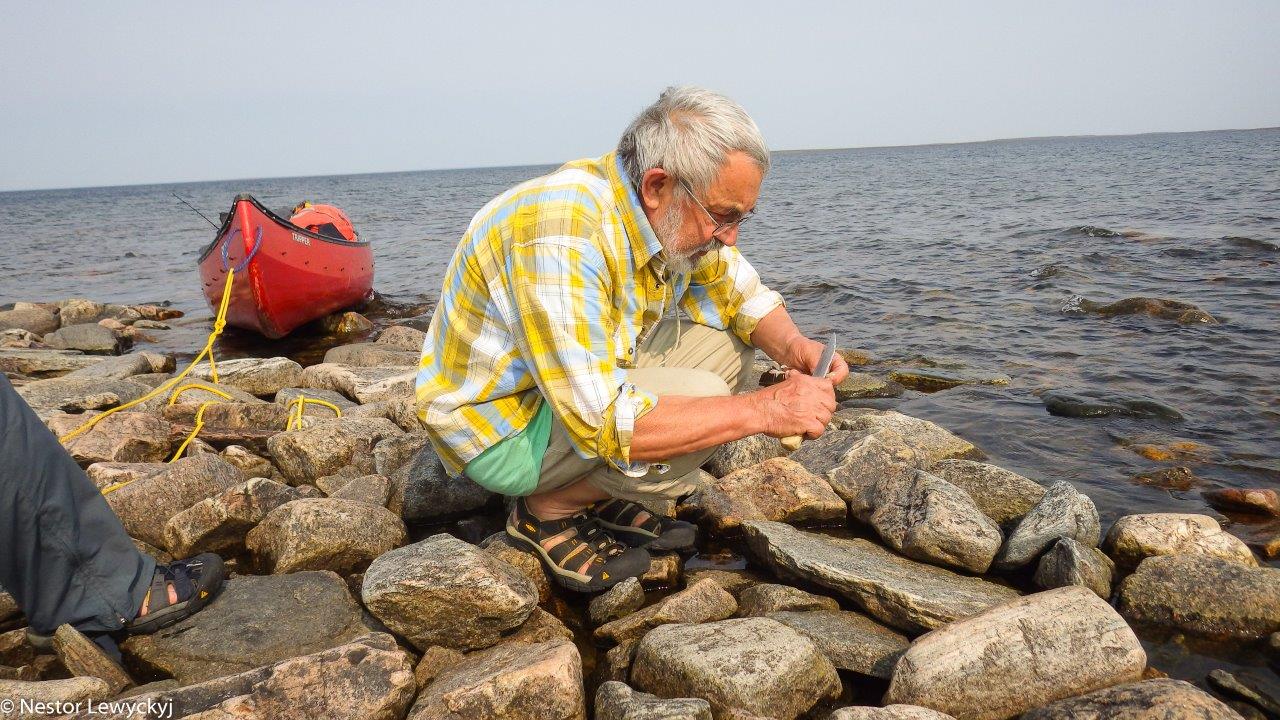 Fedir would always go exploring whenever we hit the shore, and he would find things and always try to do something with them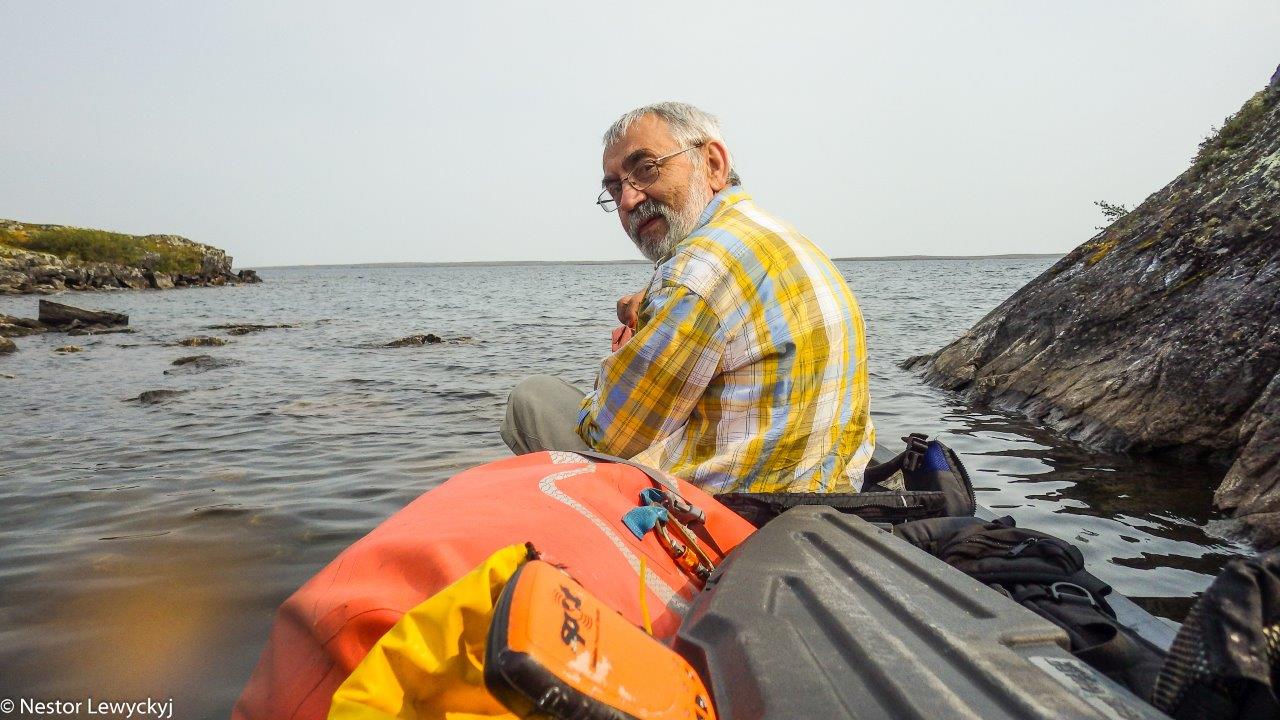 It was quite windy that day heading south on Whitefish Lake. Here we are waiting for the other two canoes in the shelter of a small bay. So far the weather was holding. Note the GPS SPOT device in the foreground. I have been using it for years. It allows people to follow our progress in real time, and it allows me to send a distress signal if one was warranted, for extraction.
August 14th was Wolodymyr's birthday and Fedir fretted for 2 days how we were going to celebrate and what we would give him. He made the wreath from the plants he found and he used some copper wire on a very pretty rock to create a type of a plaque. Wolodymyr loved the attention to detail, I think.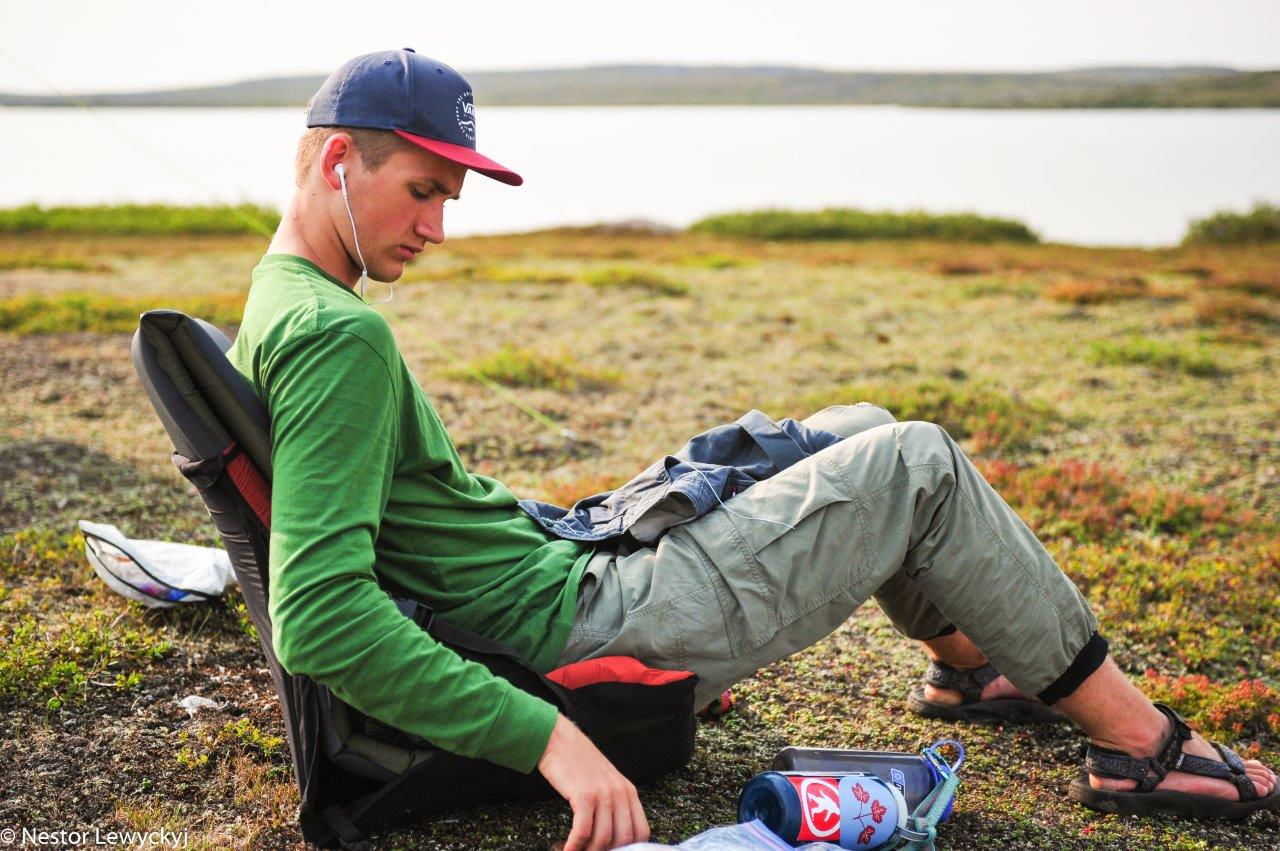 Ah yes, the millenials. They can never be away from their music. I gave Zachar some of my spare battery power to keep him going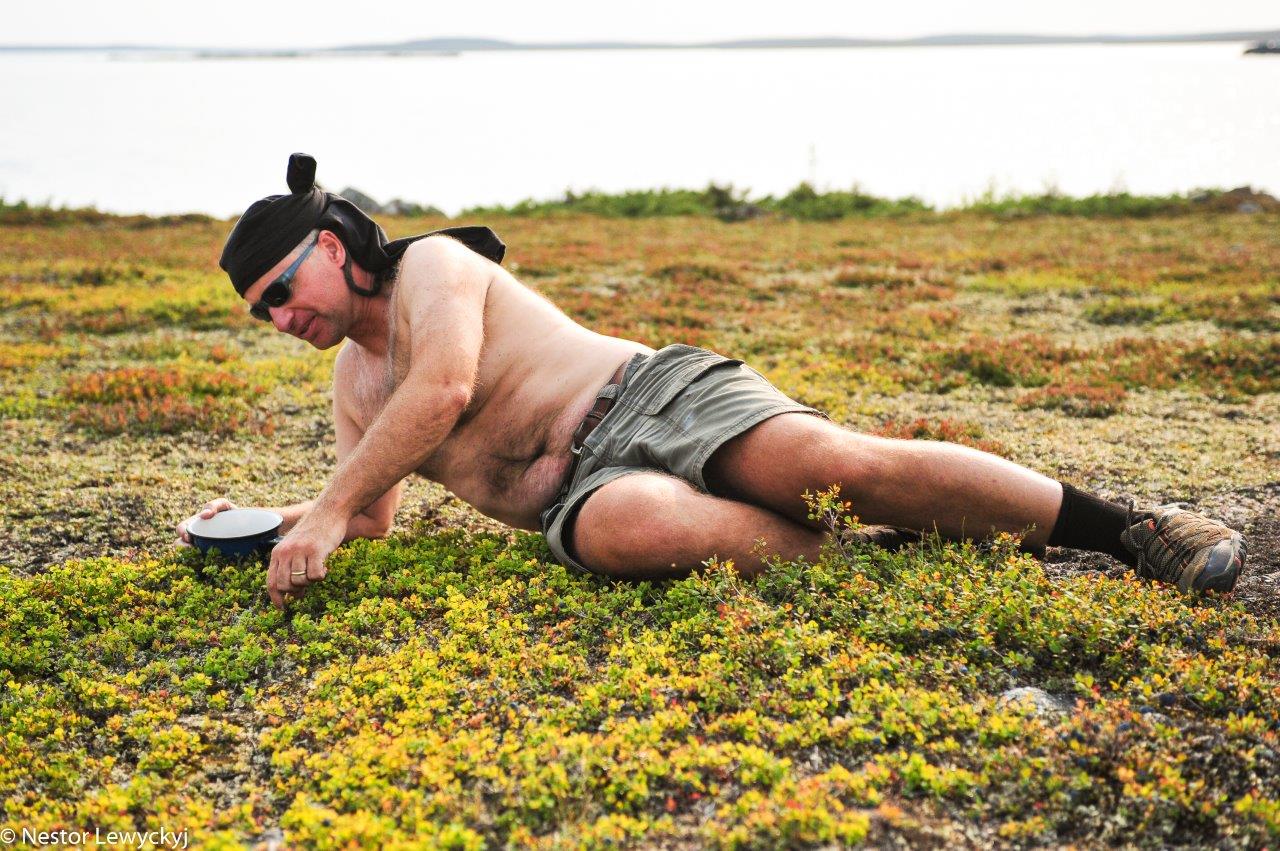 This being August, the blueberry crop was ripening before our eyes. There were blueberries everywhere and we ate them virtually every day
Windbreak for our fire and stove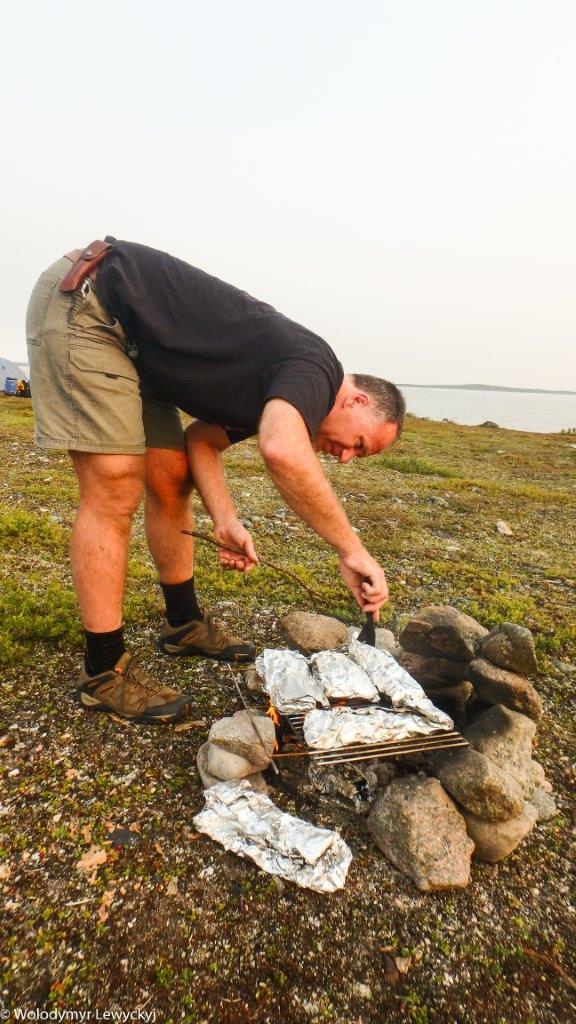 Fresh lake trout roasting on the grill. The fishing was excellent. When traversing the lakes, I would just cast out with a lure and troll. I would get at least a hit an hour, and the chance of bring a hit into the boat was probably 90%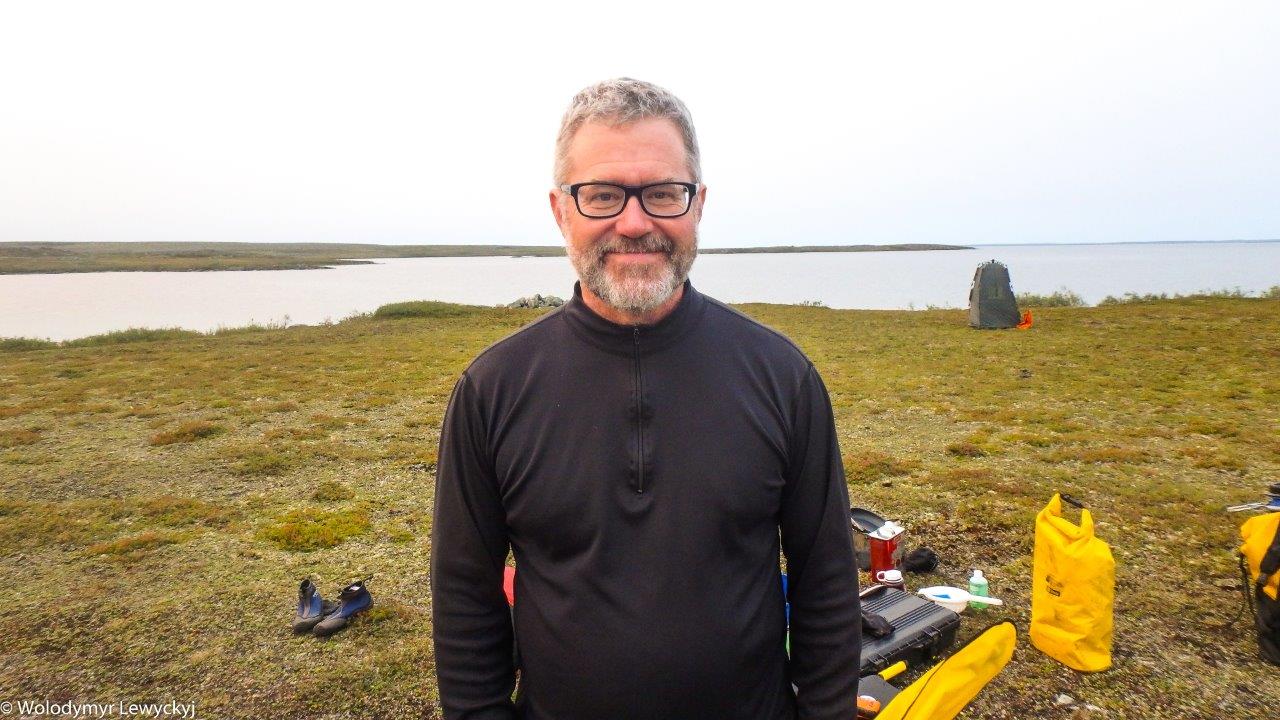 Waiting for yummy dinner. You get hungry paddling all day, eating only gorp and bars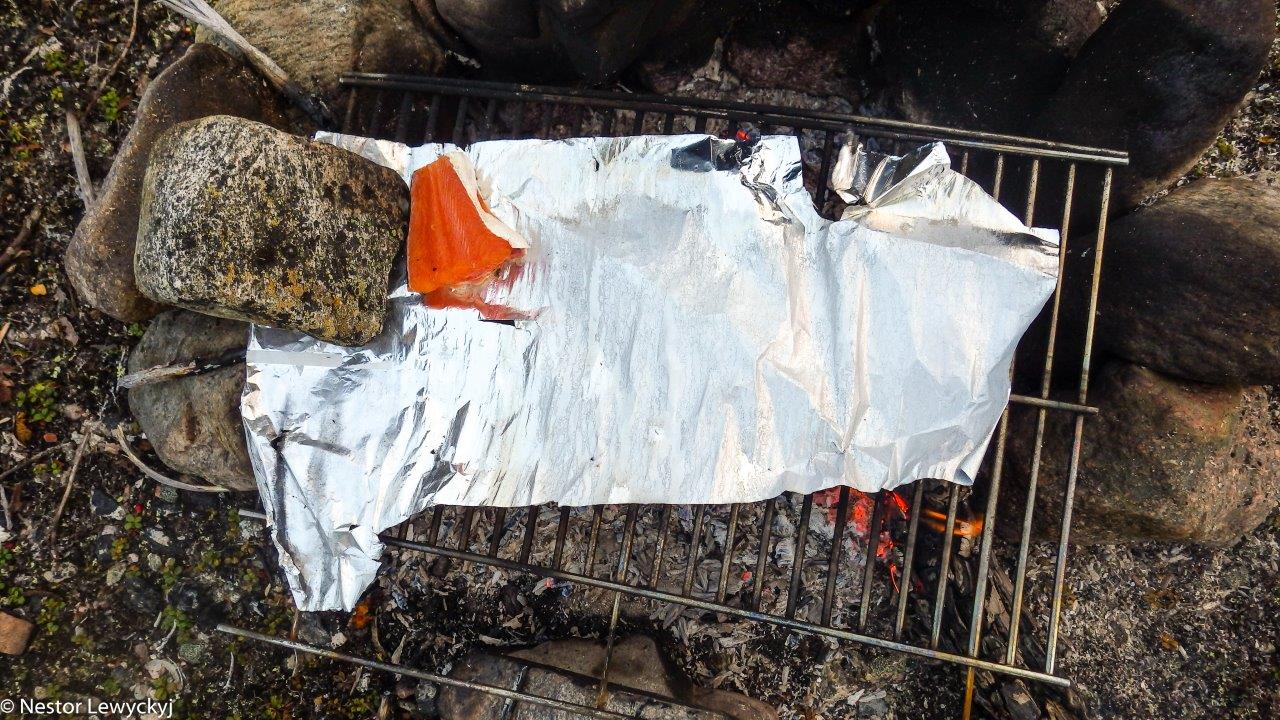 A grill and aluminum foil comes in very handy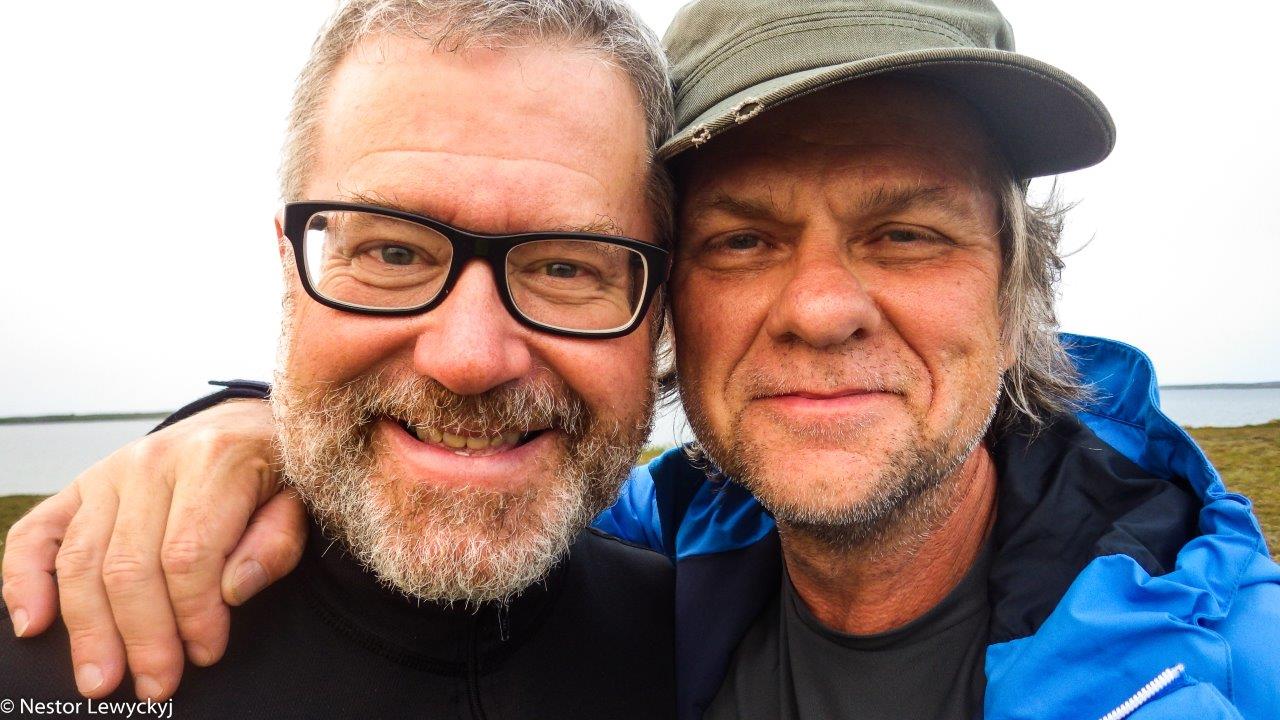 I love this shot, hamming it up for the camera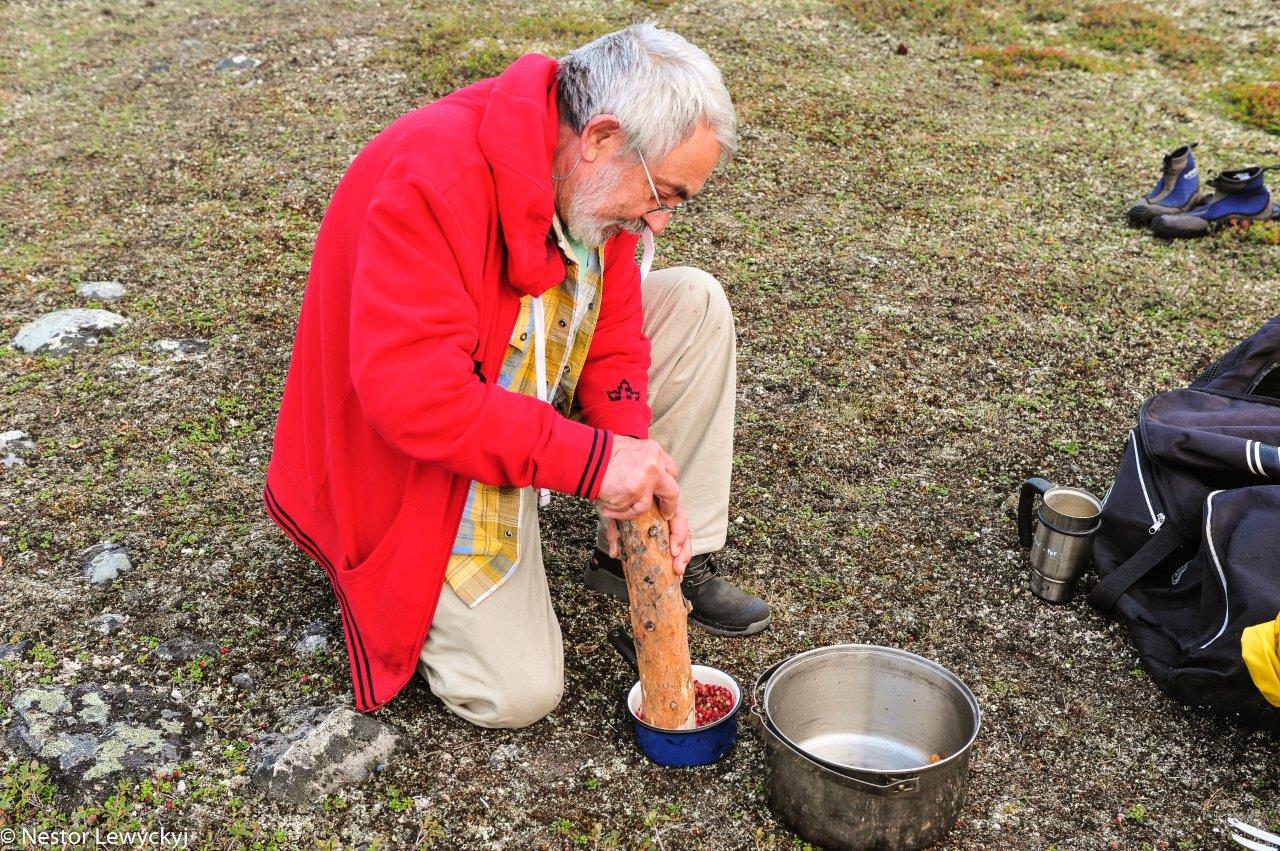 Fedir had picked some berries that may have been arctic cranberries and he mashed them and cooked them into a jam. They were very sour but good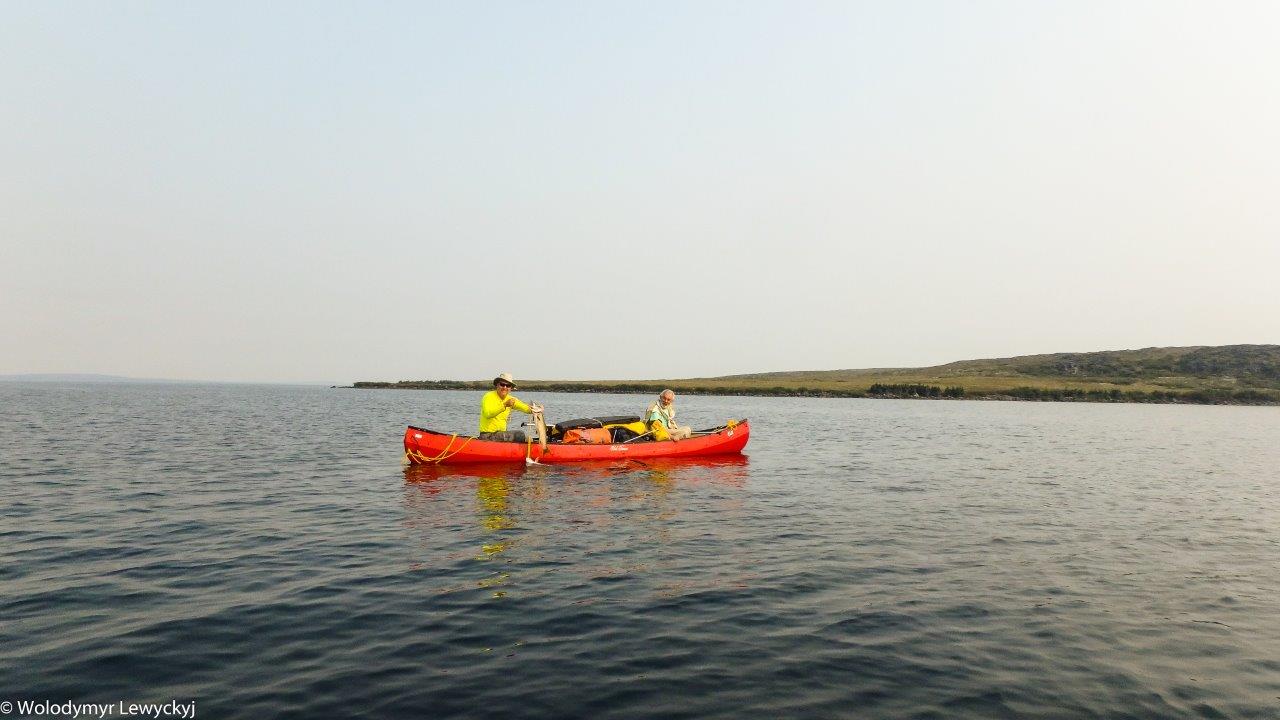 Lake trout caught along the way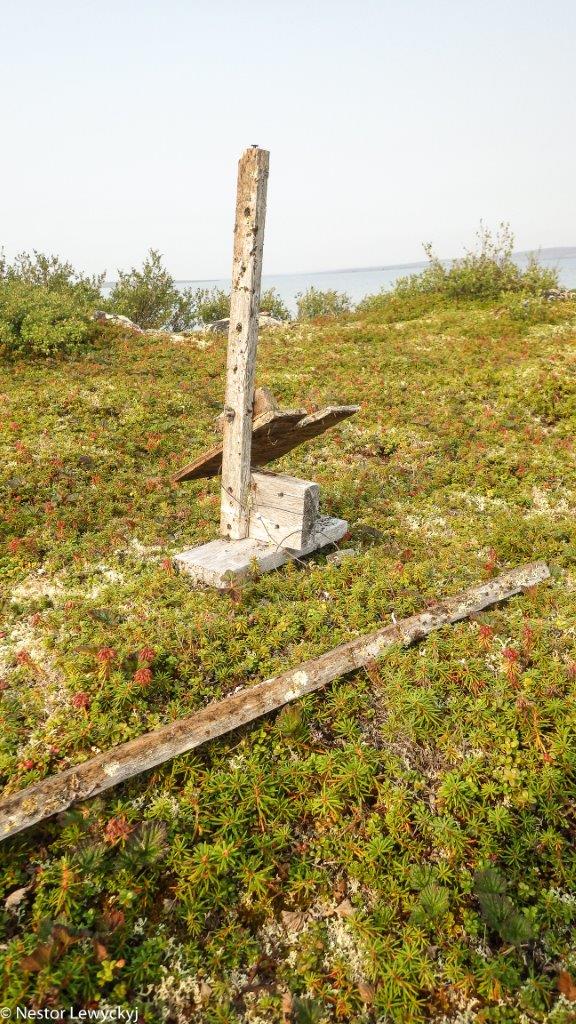 It's easy to forget that it was hunting and trapping that drew Europeans into the Barren Grounds in the mid 1800's. Although most of that has disappeared, there are still some trap lines that are operating, and many were still operating only a few decades ago. Here is the remnants of a very old trap.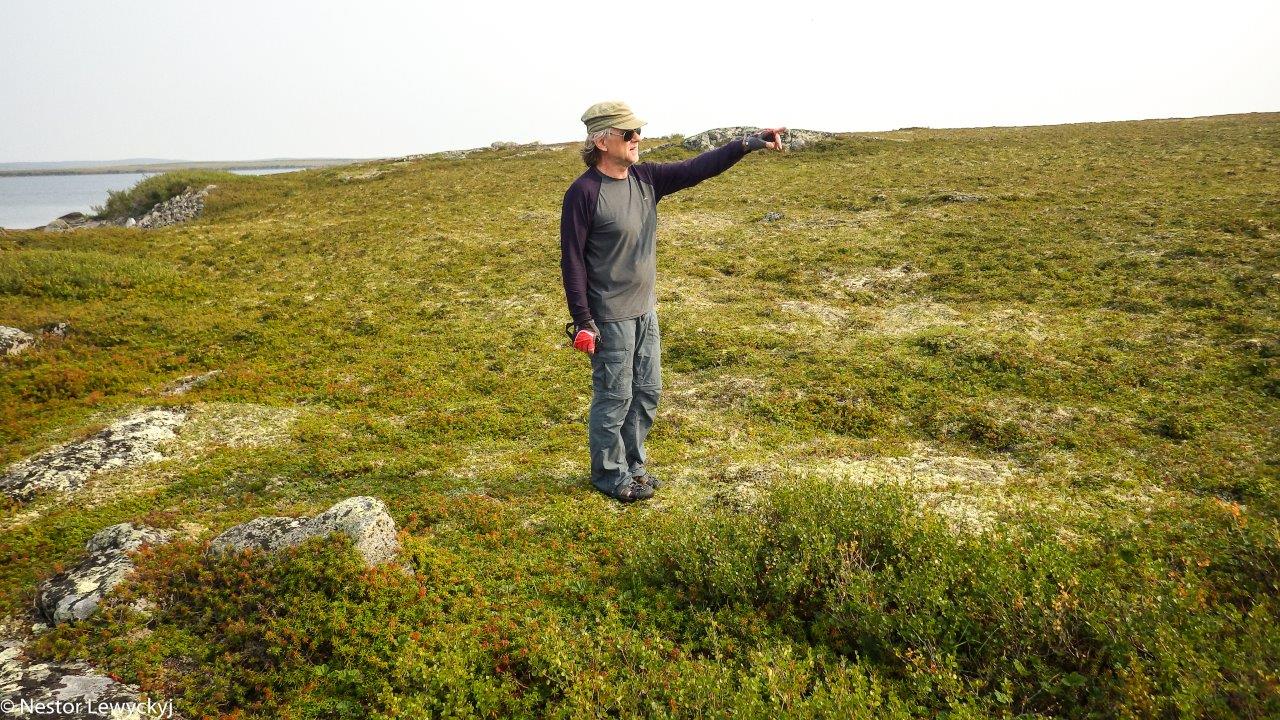 Wolodymyr always knew the way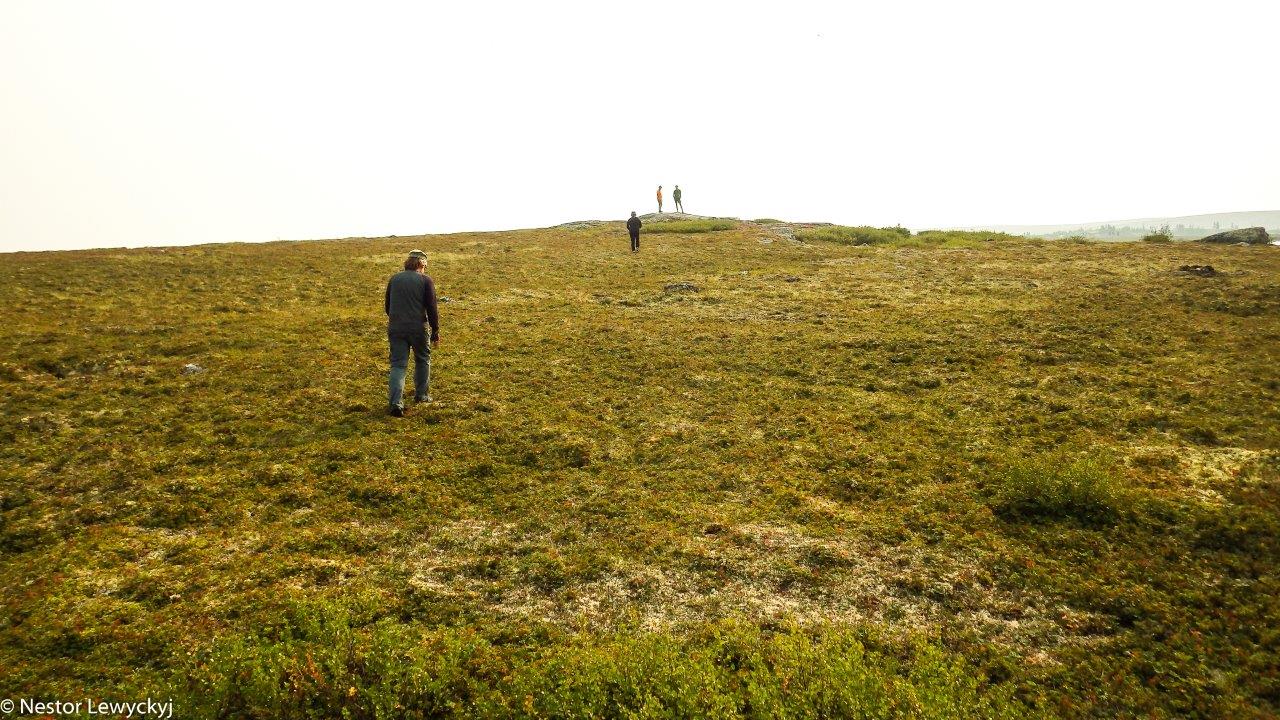 Walking up to some higher ground for a better view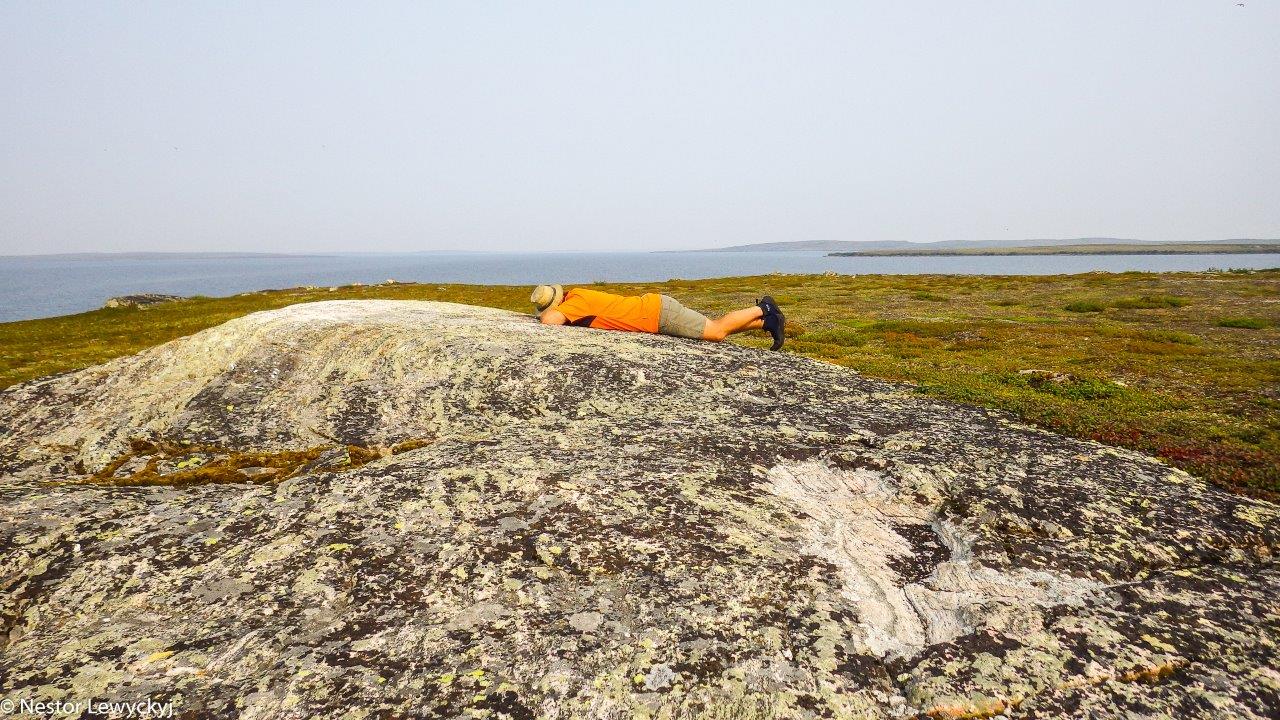 It was warm during the day, easily in the mid 20's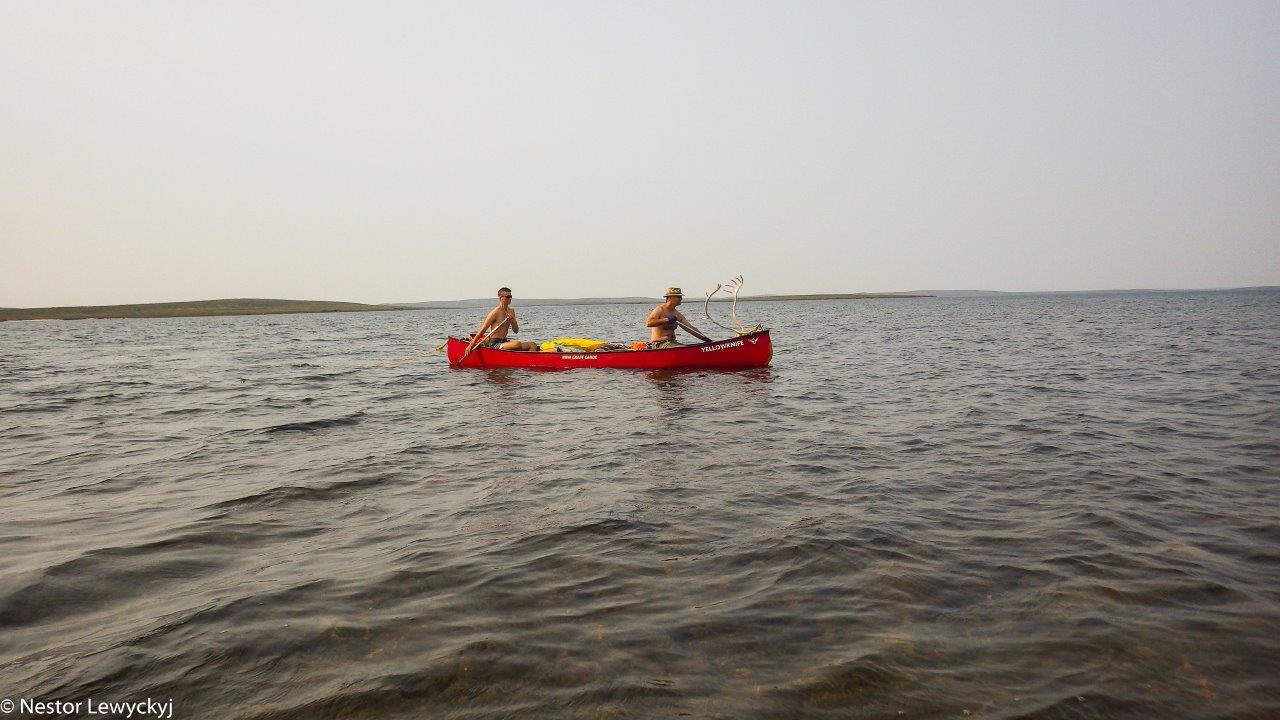 So warm that the boys took their shirts off. They had found an impressive rack of caribou antlers and adorned their canoe with it. I think it looks really good!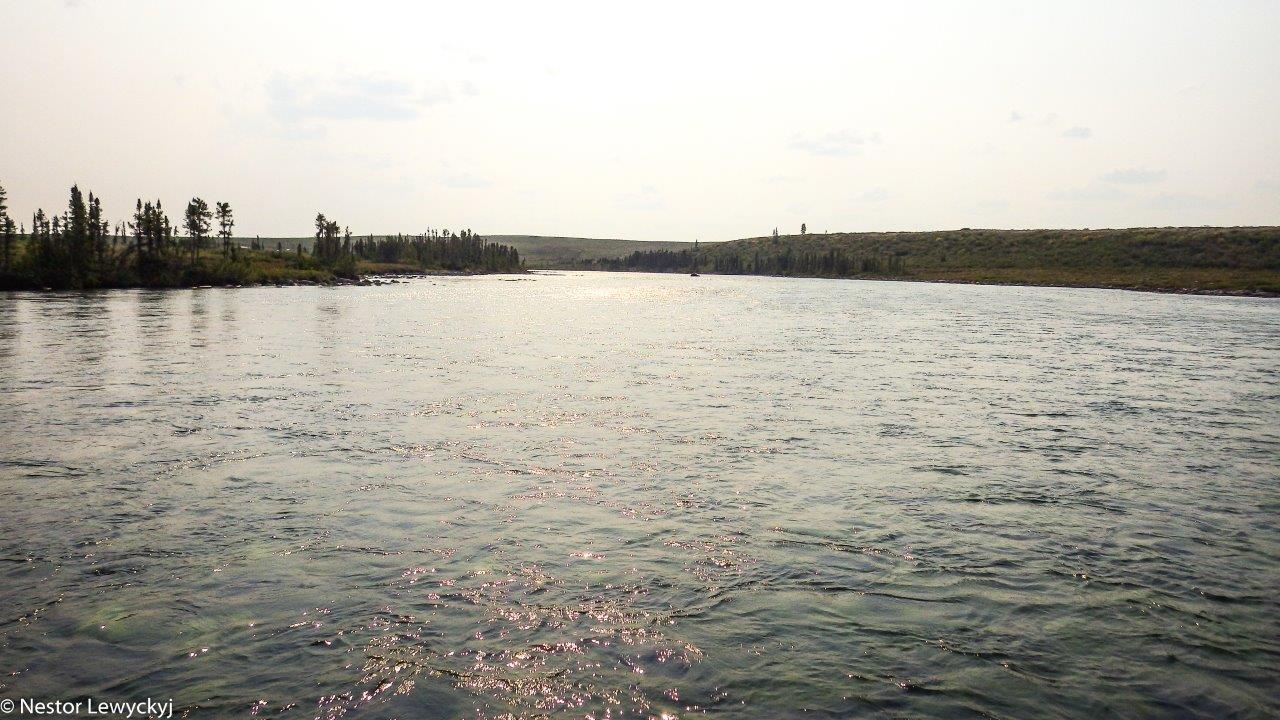 This was a very interesting spot. This is Lynx Creek, the waterway linking Whitefish Lake with Lynx Lake. I do not know if that is an official name but that is what Tom called it. Its a short river that runs like a swift. A few minutes earlier, as we were just heading into Lynx Creek, we saw an animal trotting down the left shore. I at first thought it was a wolf, then a small grizzly. My binoculars told me that it was a wolverine! I had never seen one before. He was too far for my small camera but he seemed to be unperturbed by us. We floated by and had a chance to observe him for several minutes. By all accounts, they are very shy but very tough animals. I hear that between a wolverine and a grizzly, its a rather even match. Up ahead in the water appears to be a large rock but it is actually a female muskox walking across the river. I first saw two weird "rocks" on the right shore before my eyes were drawn to the muskox crossing the river. Fedir later told me that what I had seen were two juvenile muskox on the shore. I am assuming the mother was crossing the river to draw attention away from them. By the time my gaze wandered back to the right shore, they were gone. The mother hid in the thicket on the left shore as we slid past.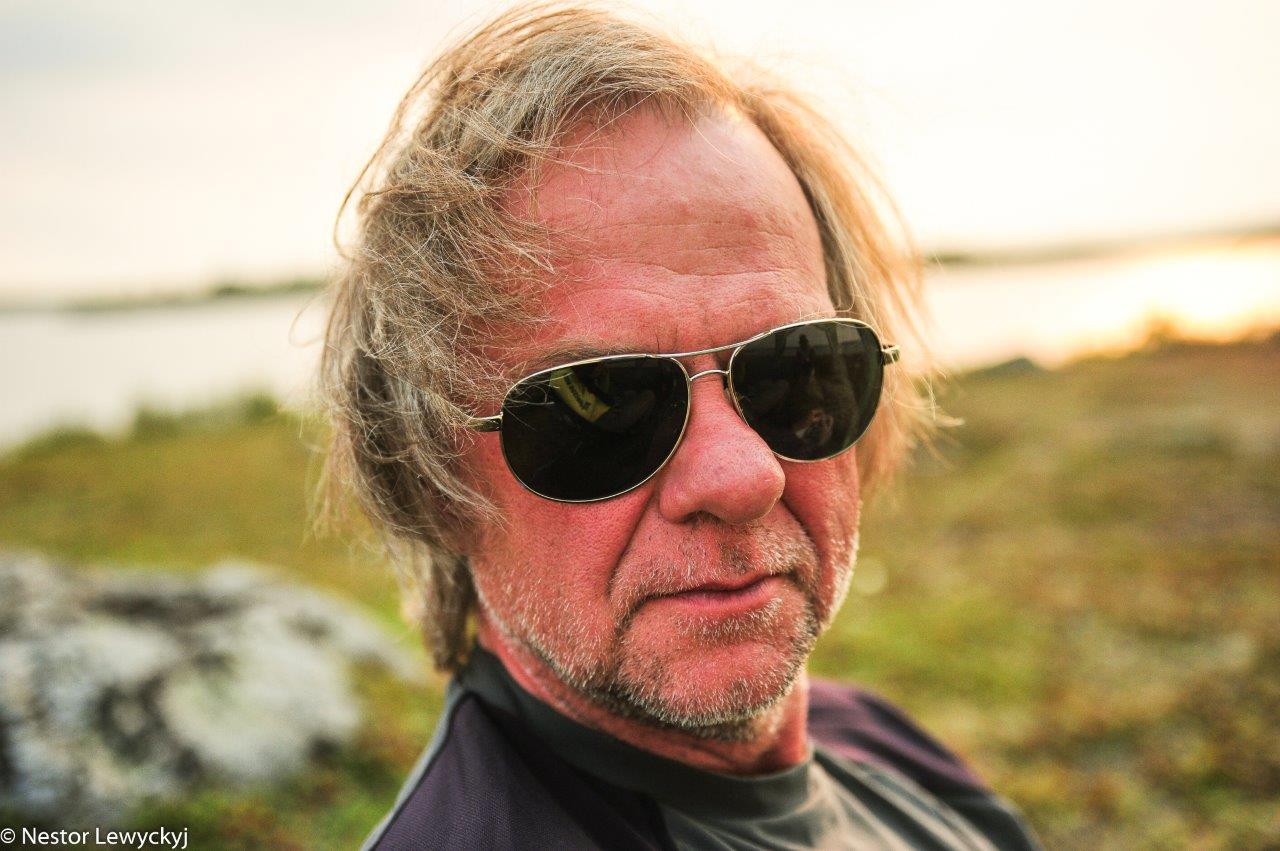 We were all getting a bit of sun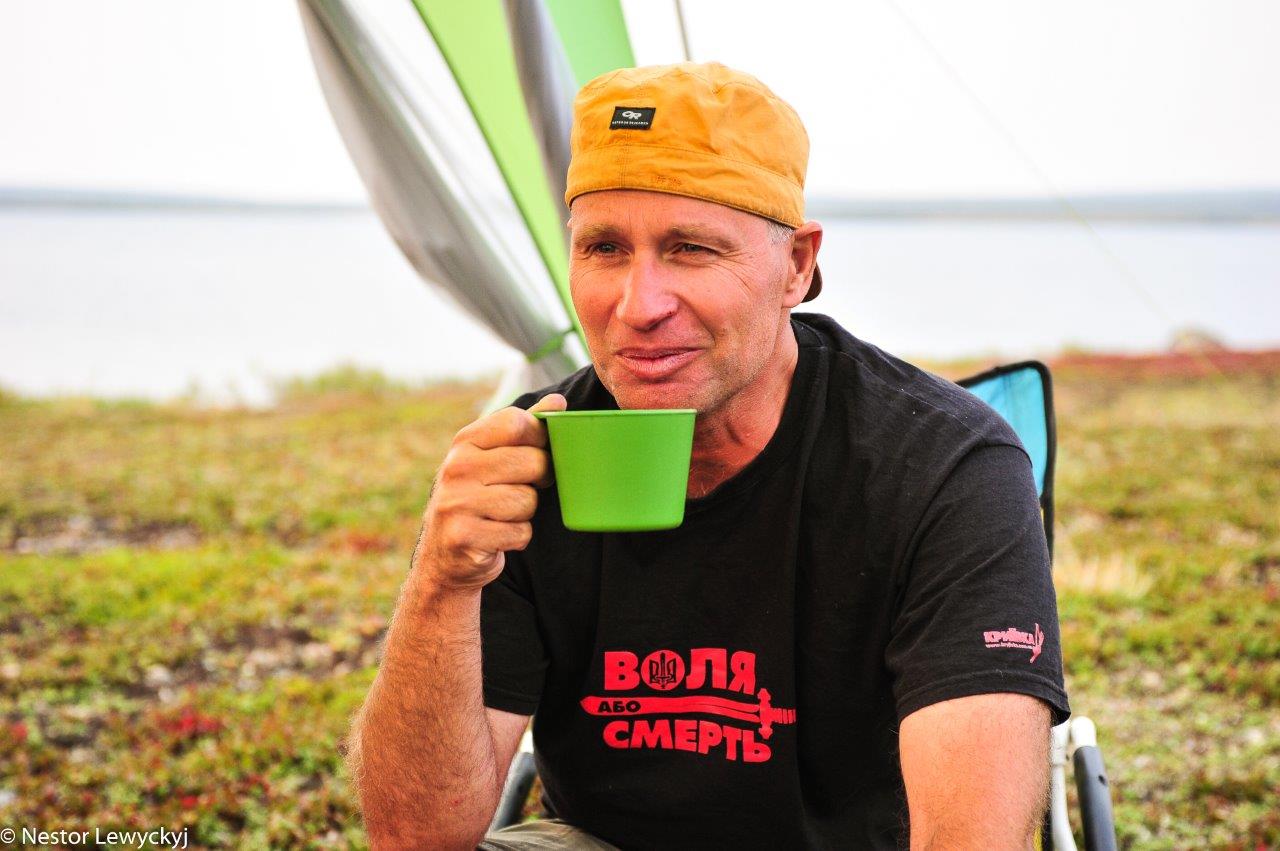 Mychajlo's shirt says "freedom or death", and with that look I do not doubt him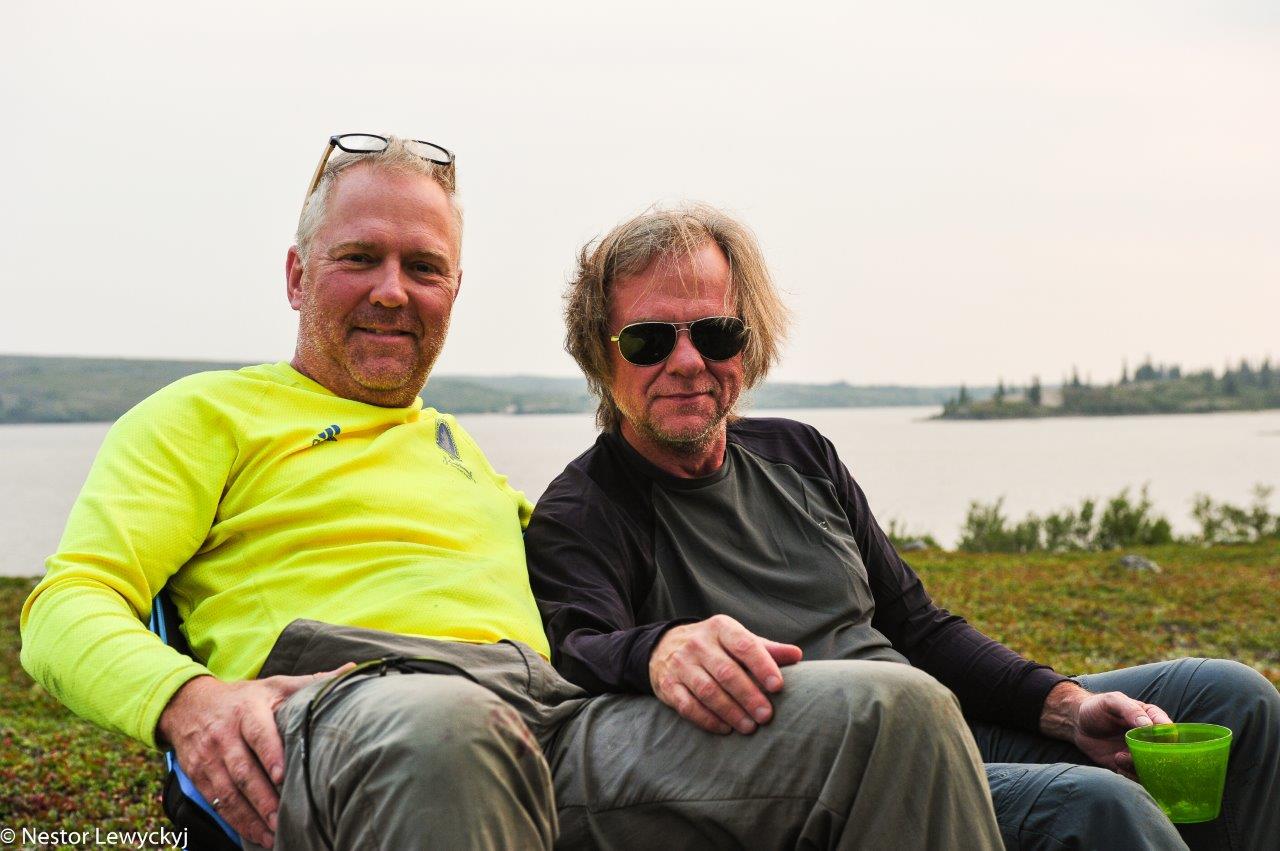 Having a pre-dinner drink. Note the purple stains on my knee from the blueberries. They were everywhere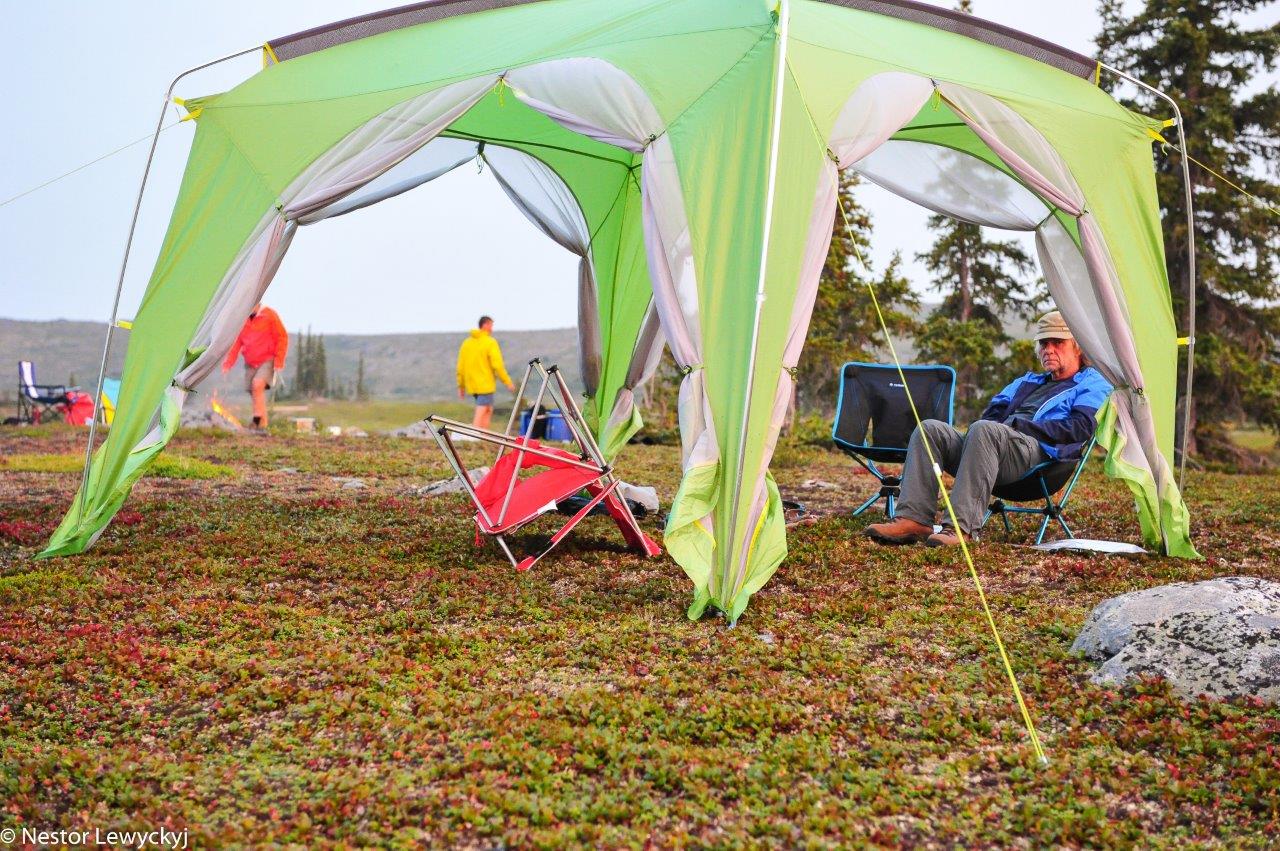 We made camp just where Lynx Creek turns east before emptying into Lynx Lake, a large sprawling lake with tons of islands and inlets. I think it would be tough to navigate there without a GPS. This was an absolutely beautiful place to camp.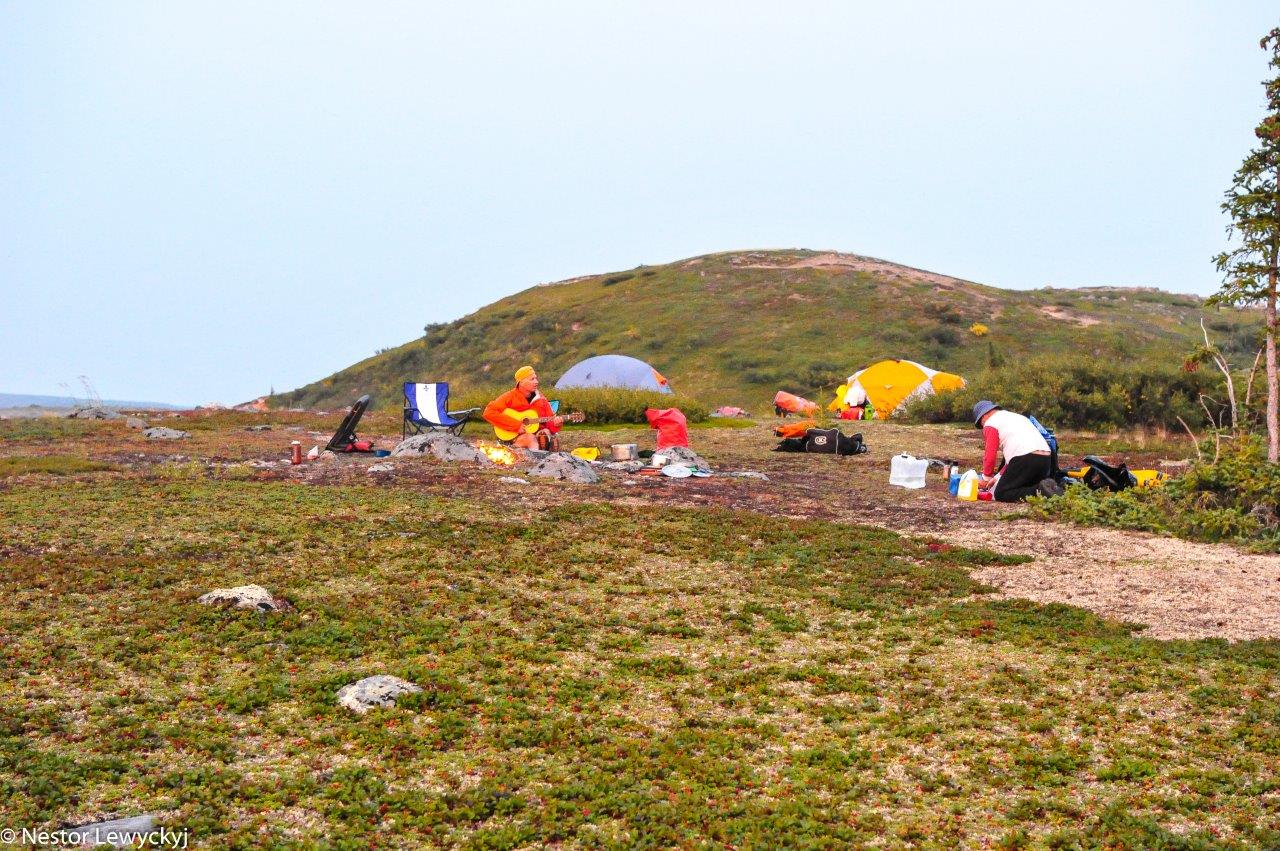 With good weather you can be a bit messy with your gear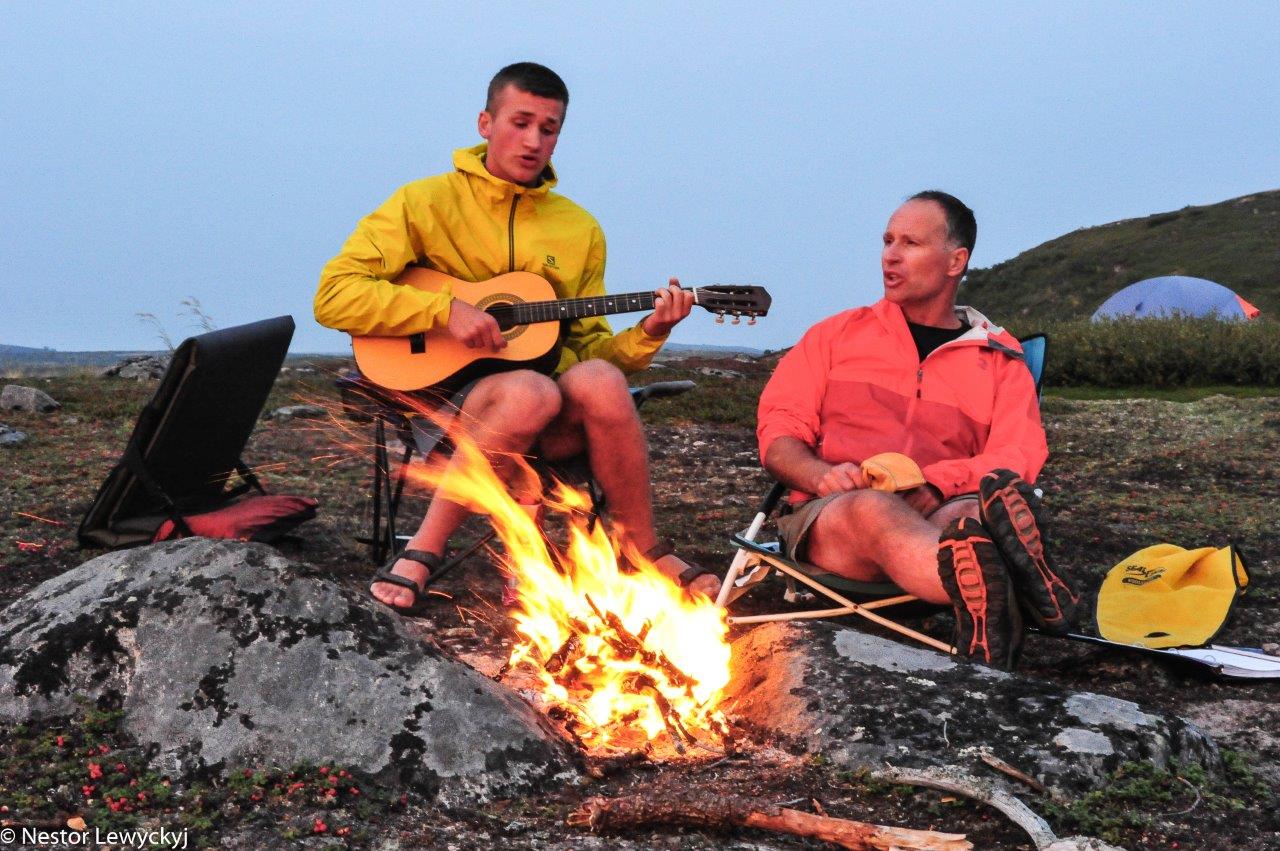 It was great that Mychajlo brought his half guitar. He brought it out almost every evening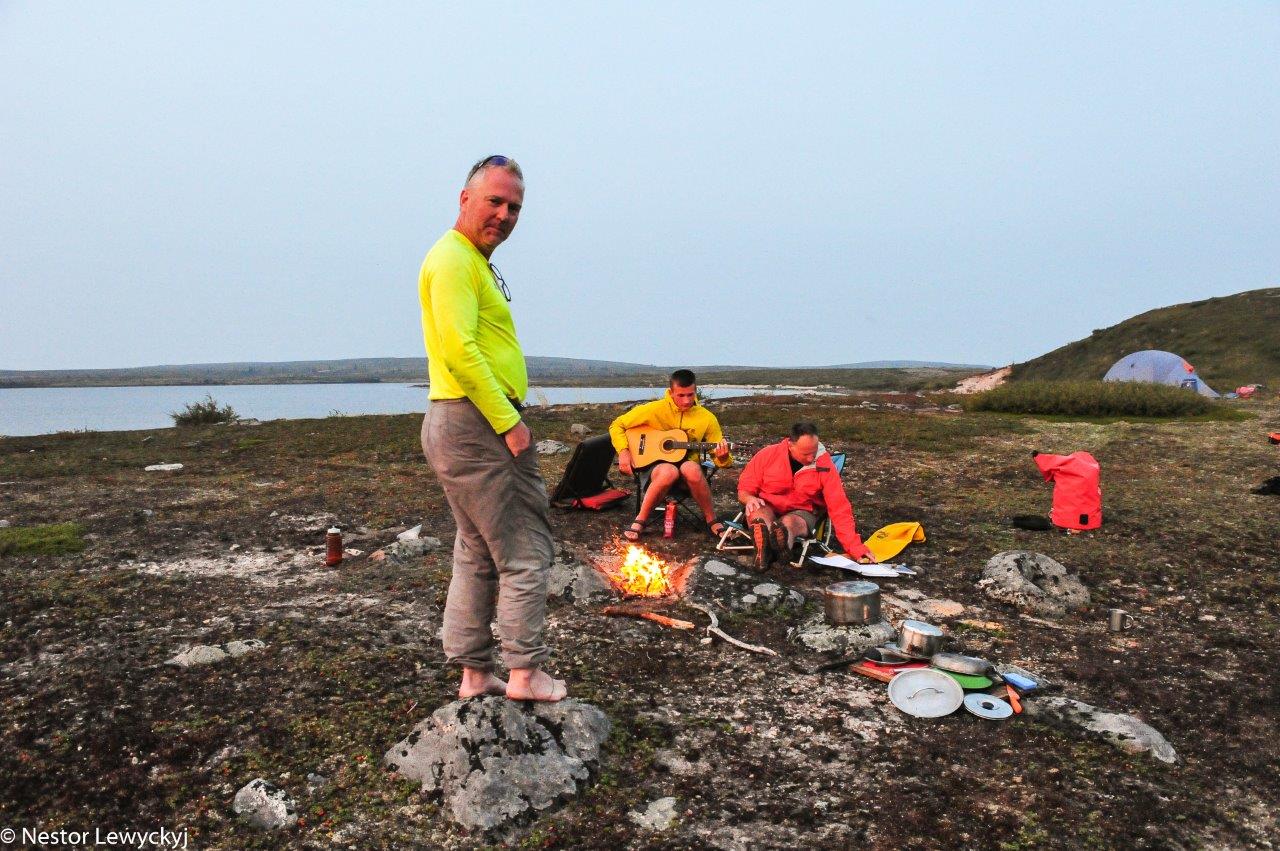 There were very few bugs in August and it was warm, which made walking around barefoot a real treat!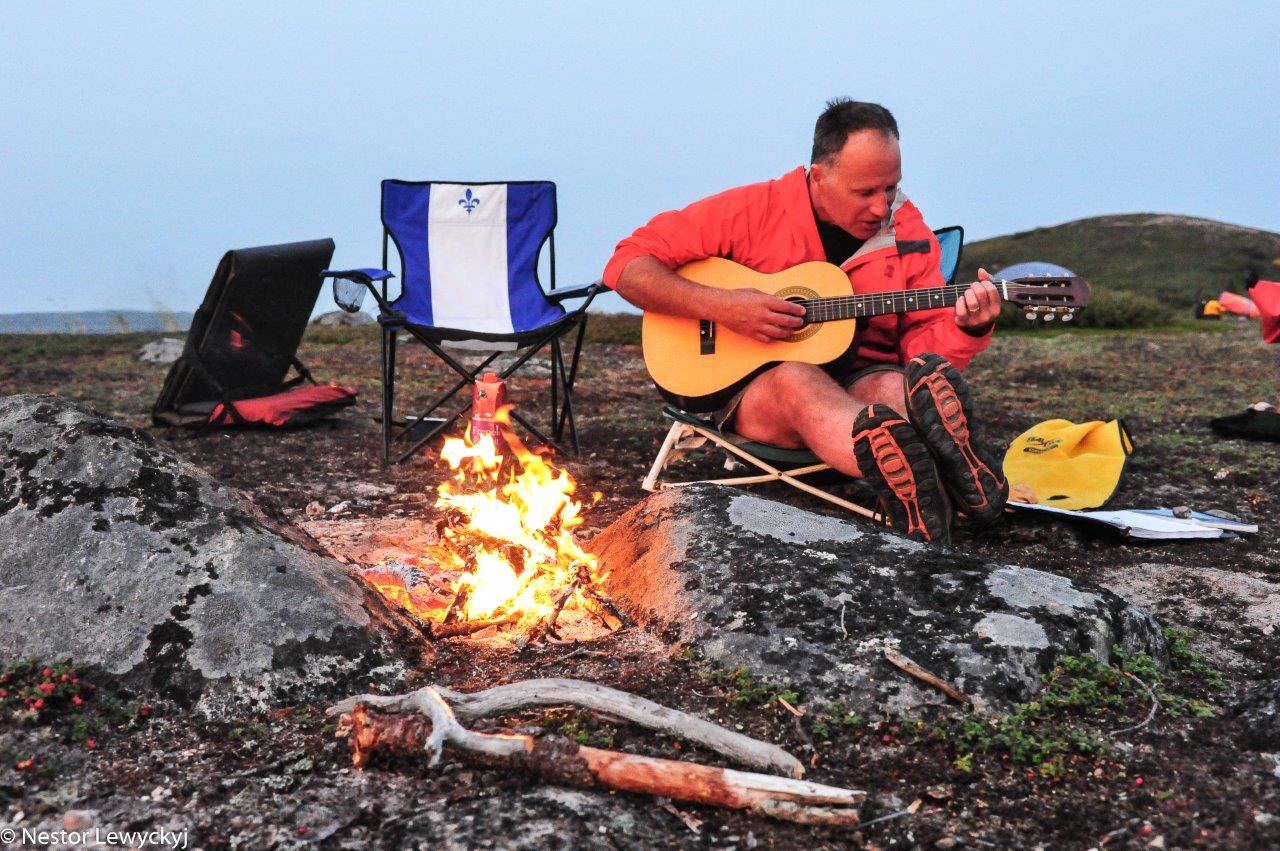 There is enough drift wood around that you can always make a fire.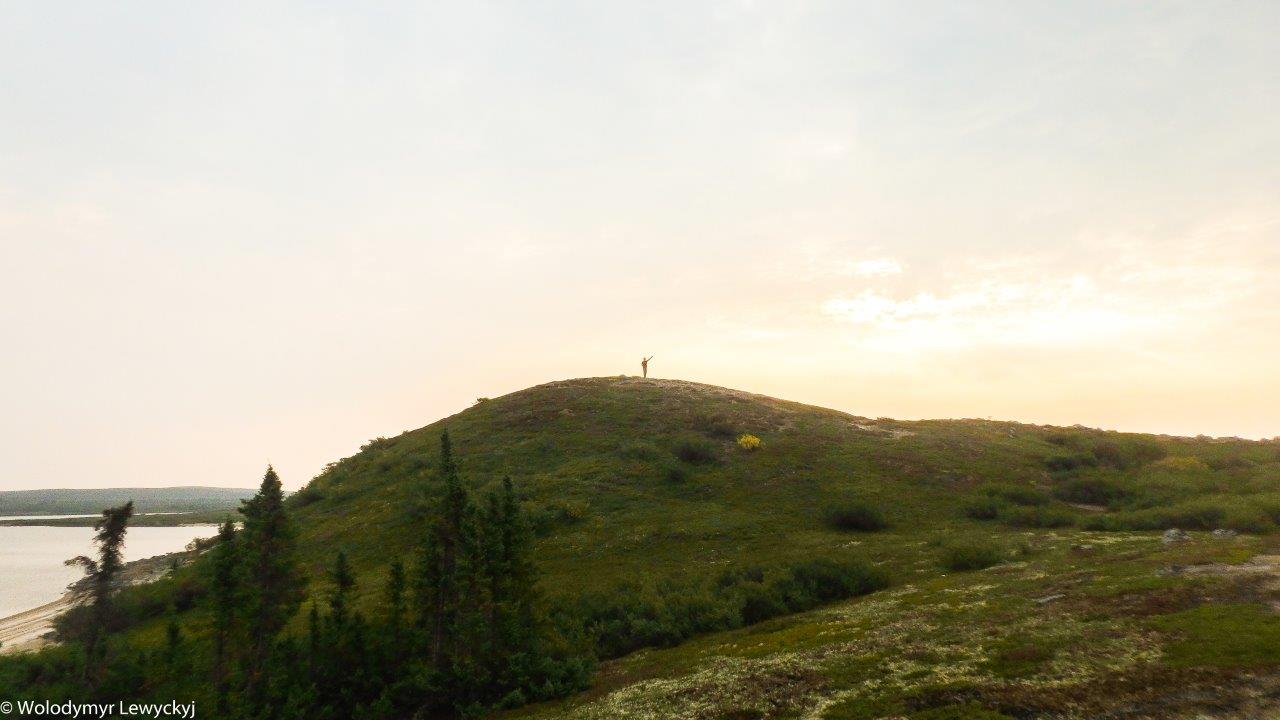 Ahoy there!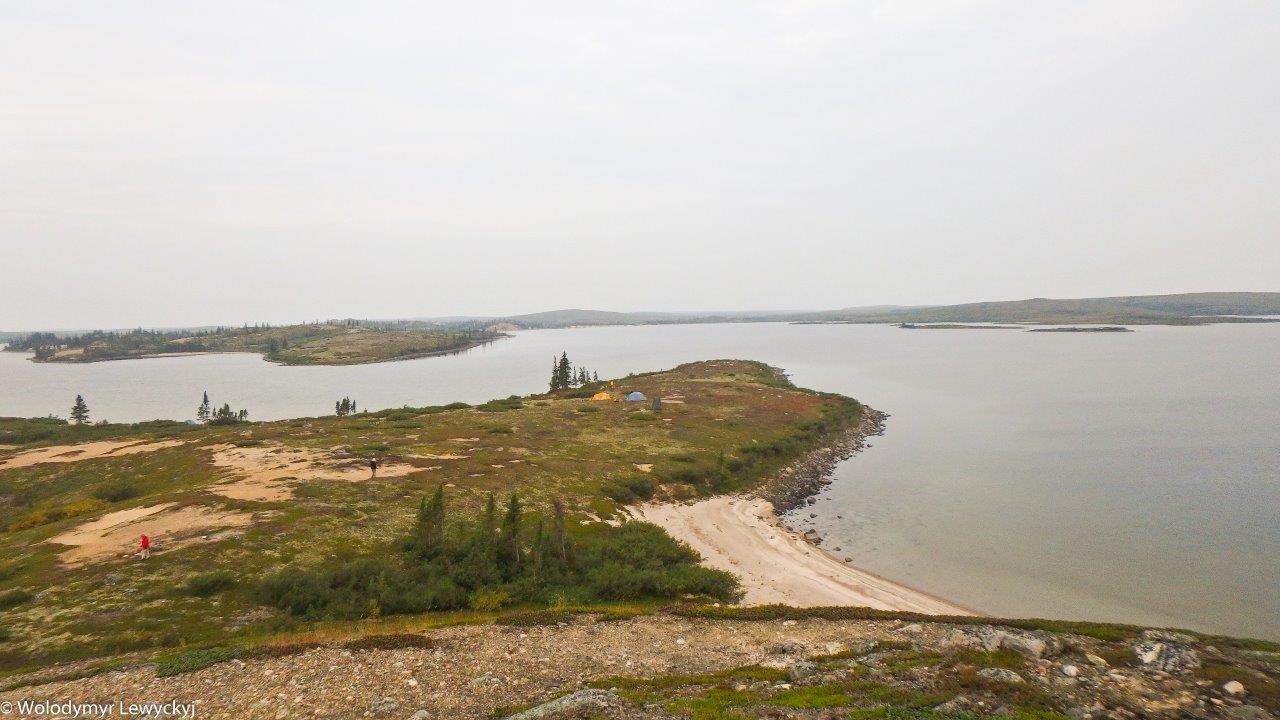 A view from the hill of our camp. Lynx Creek flows in from the right and flows left and turns 90 degrees left off picture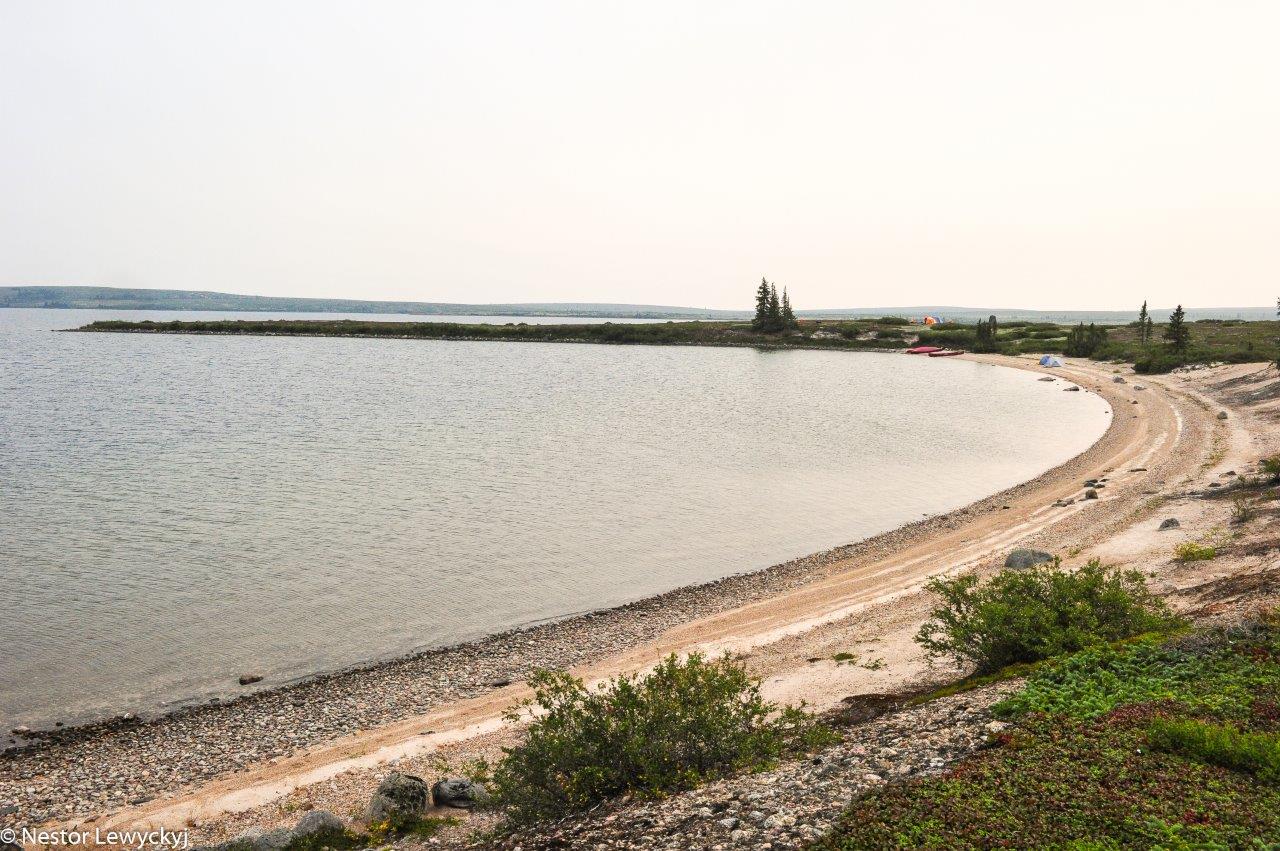 The bay even had a nice beach!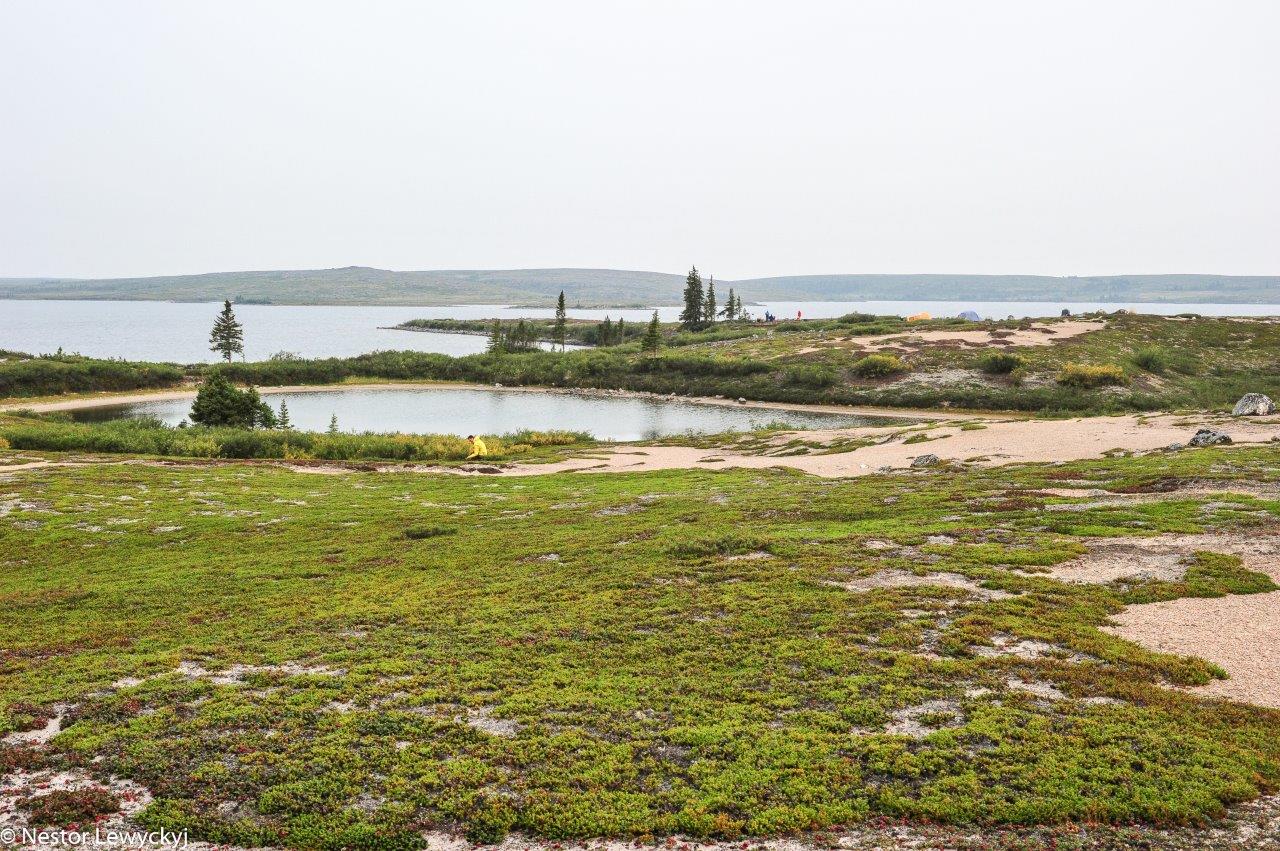 As Zachar picked blueberries, I went exploring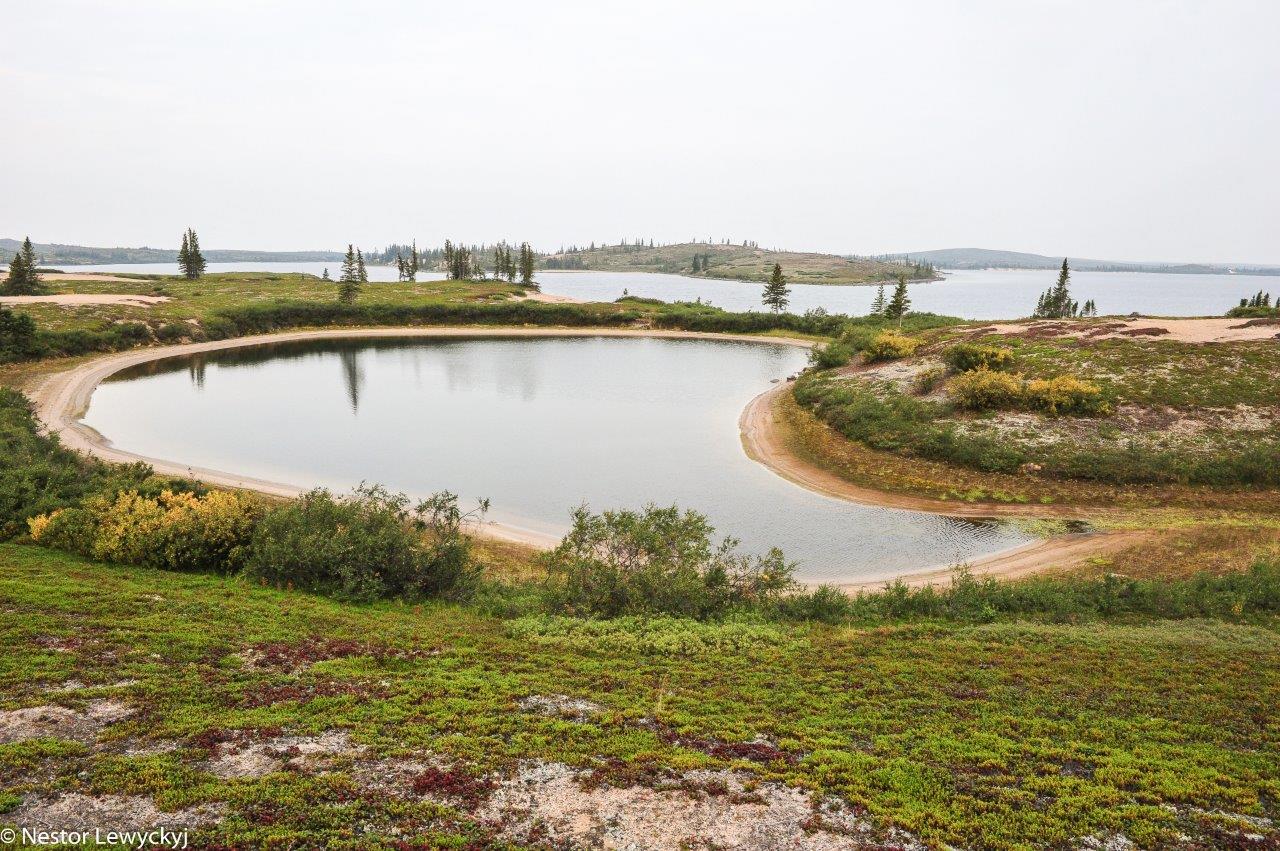 You find such small pools of water often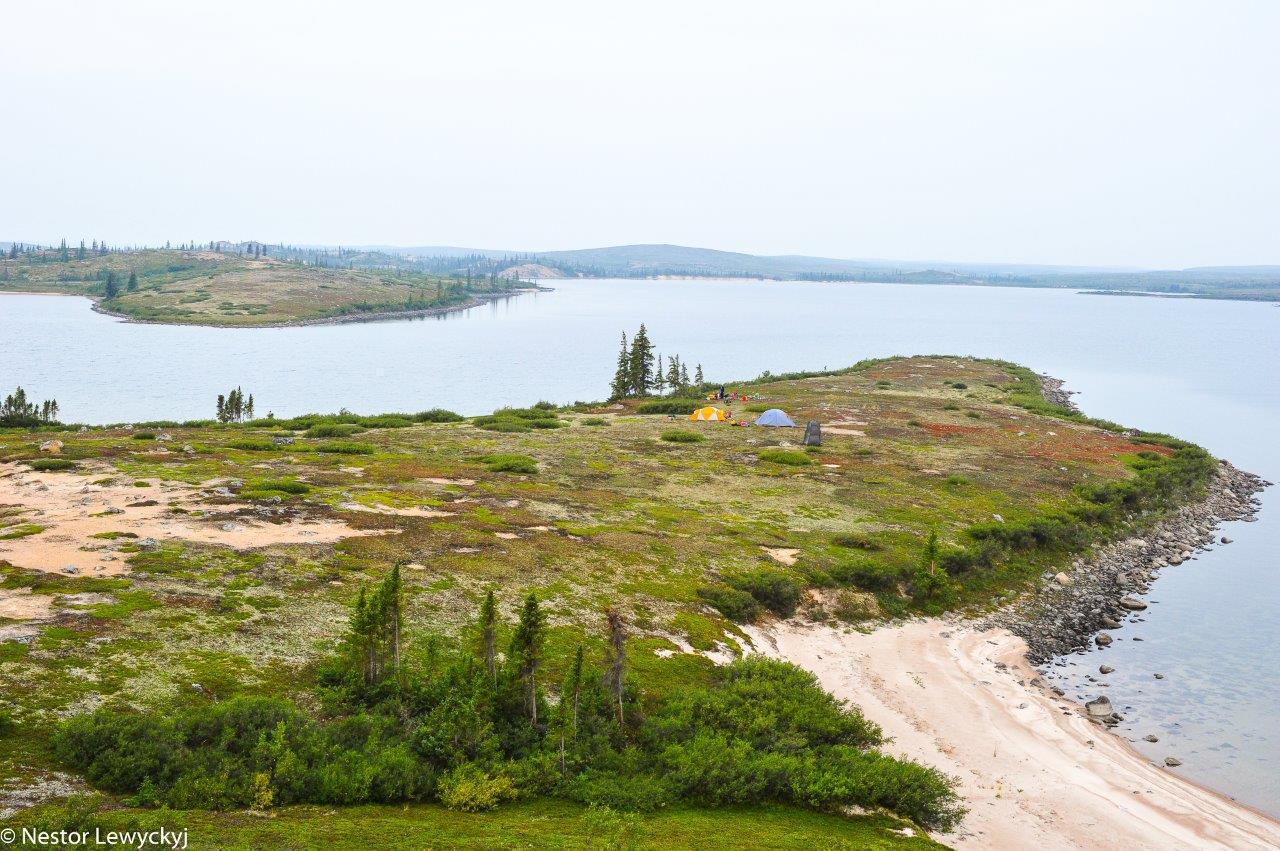 If not for the smoke in the air, you would be able to see for many miles from the hill. The relief of the land up there is very low, very flat. It makes for huge skies.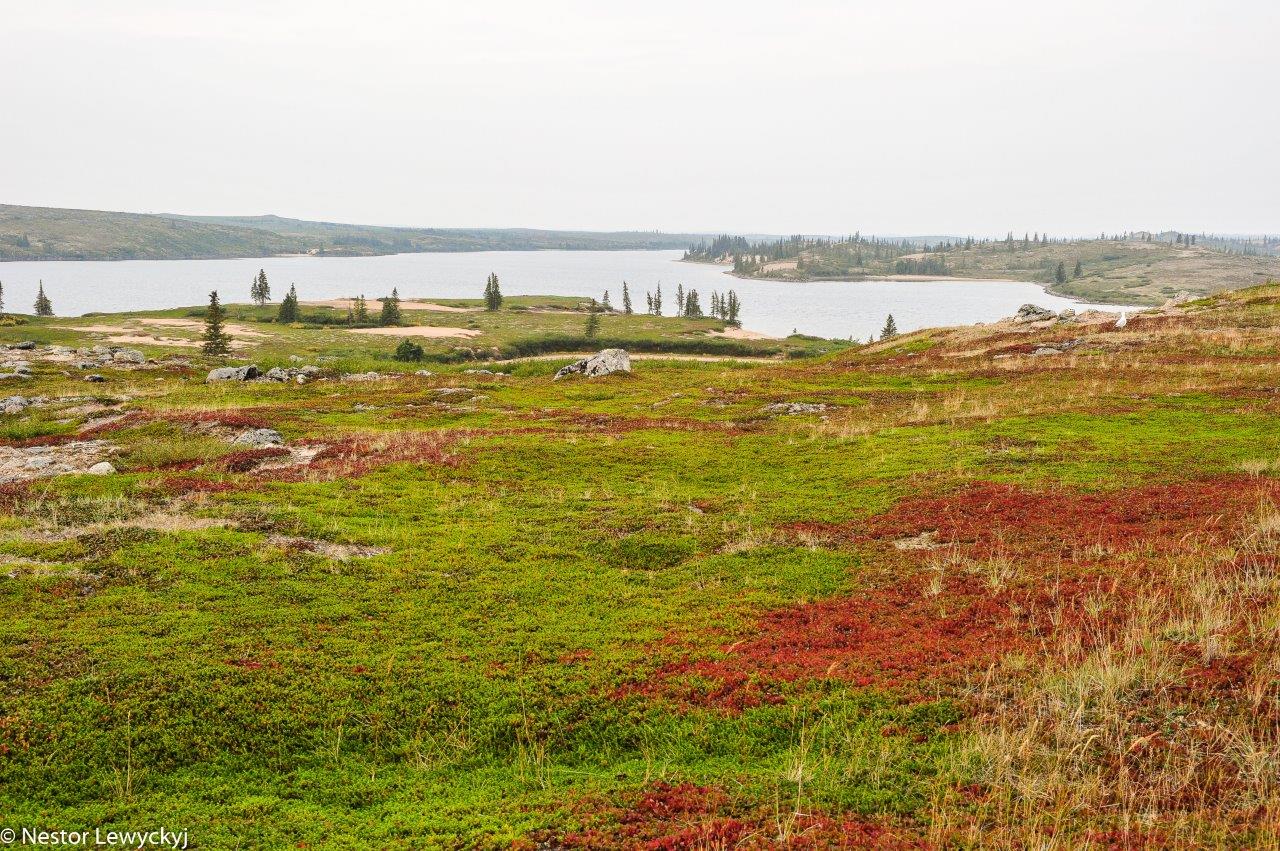 It was mid-August already and some of the tundra was starting to turn red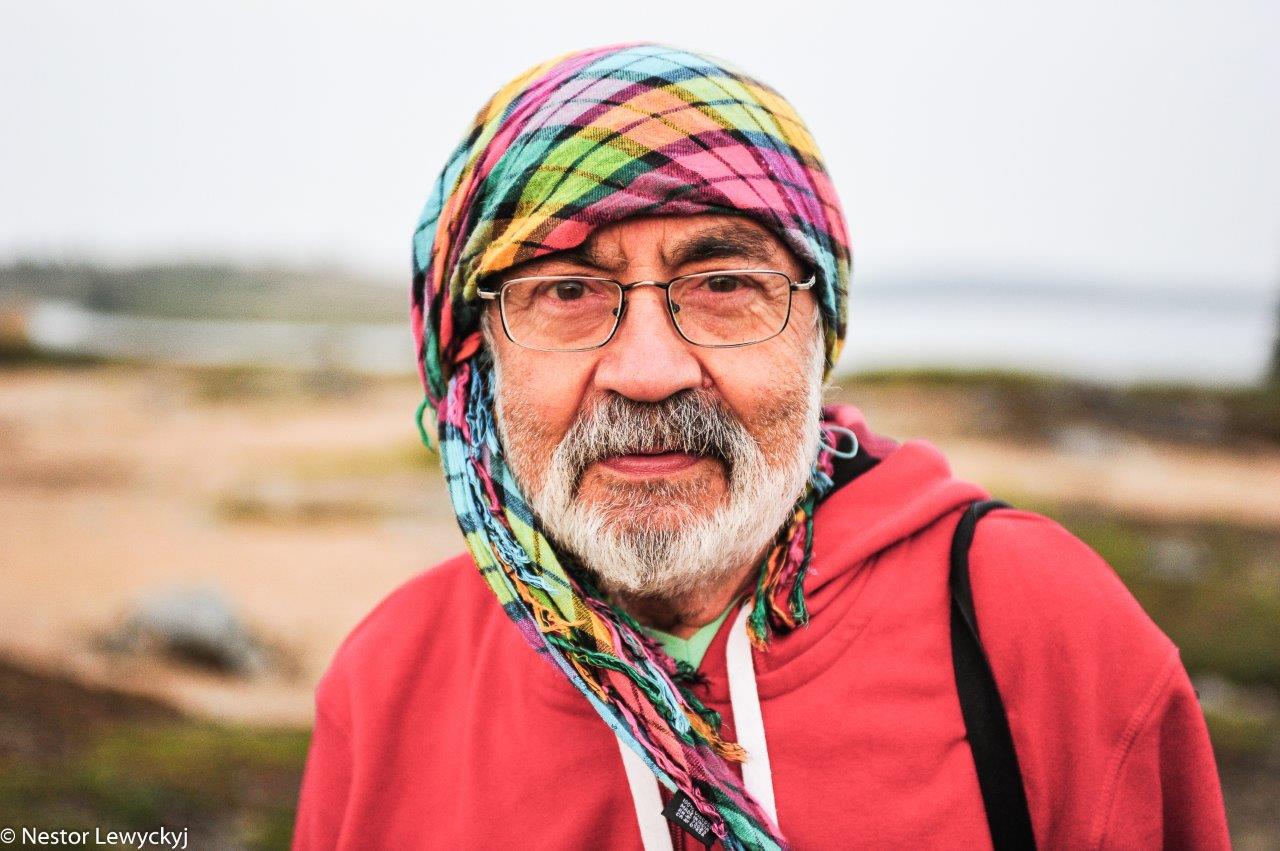 Fedir the pirate, buccaneer, explorer!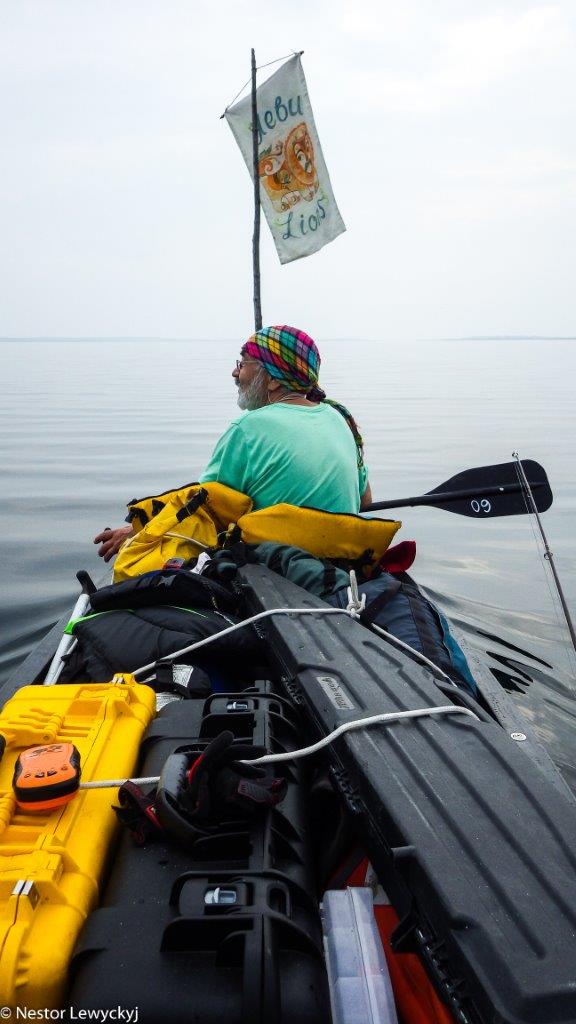 Hitting the doldrums on Lynx Lake. The wind had died down, the sun was strong, and smoke hung heavy in the air. When the wind was not too strong Fedir would always insist on flying our expeditionary flag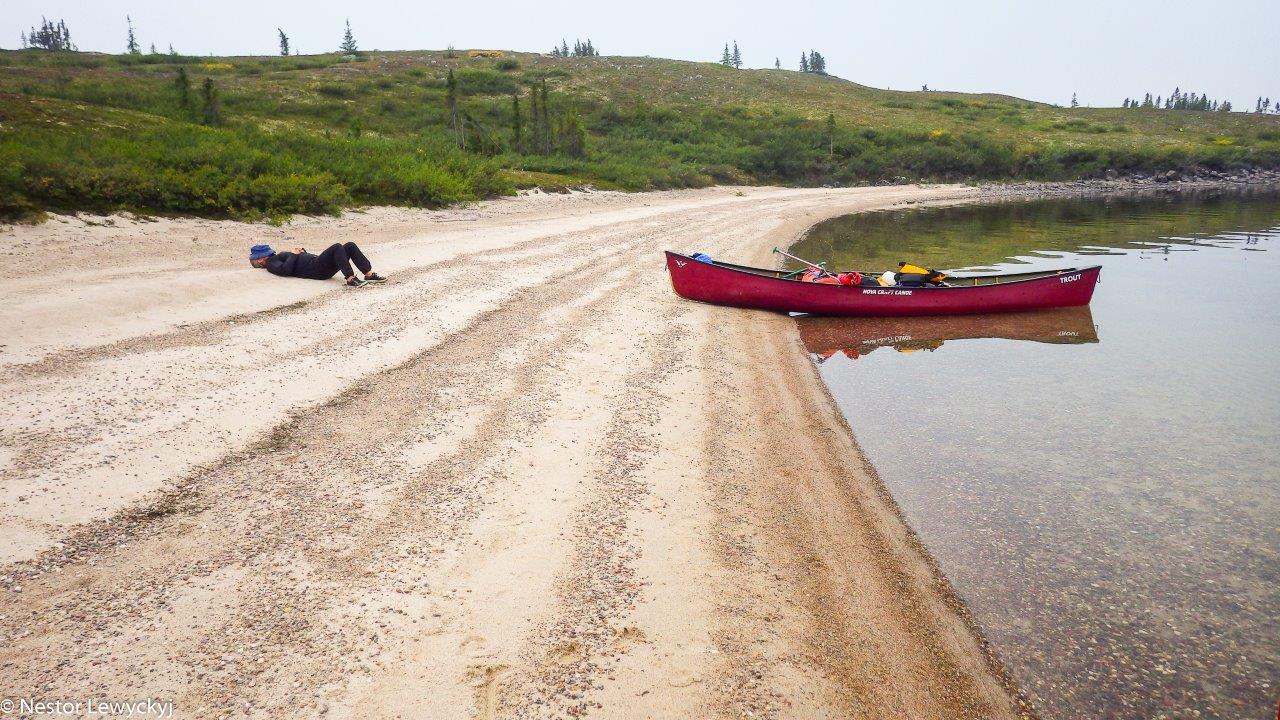 Soft beaches make for excellent break naps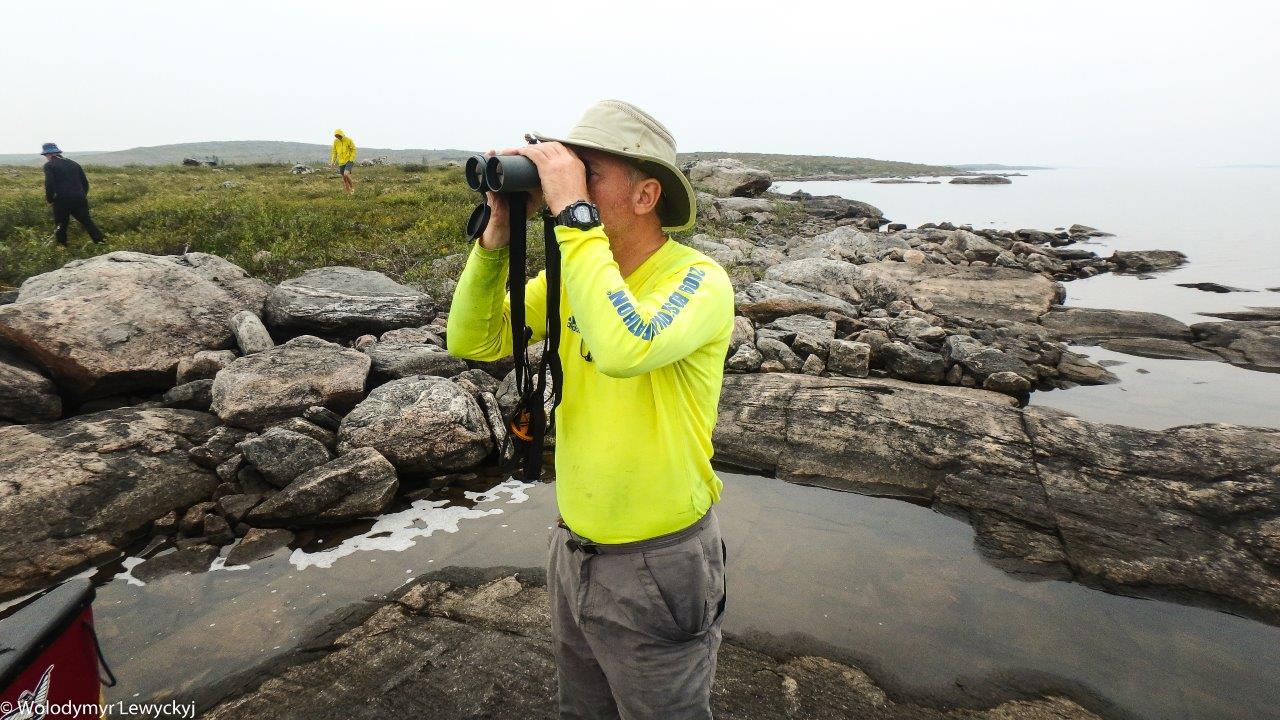 Trying to spot the route forward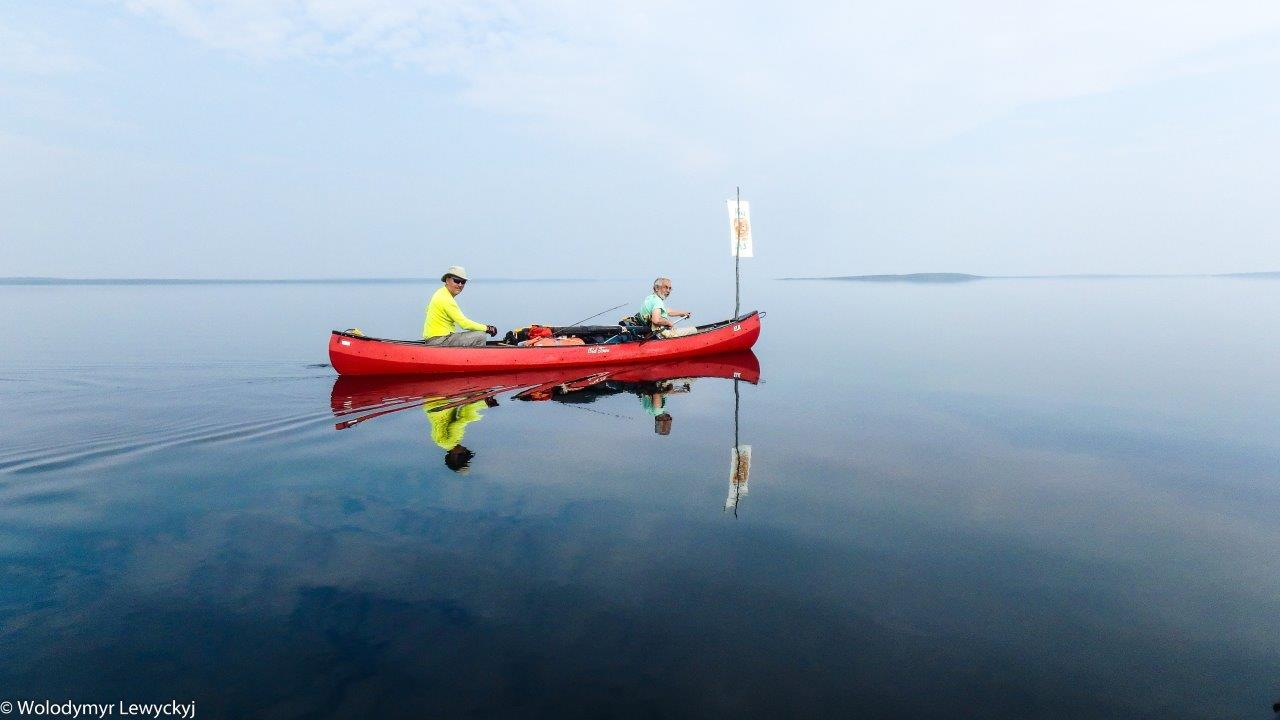 The good weather gave us a chance to pose for some canoe portraits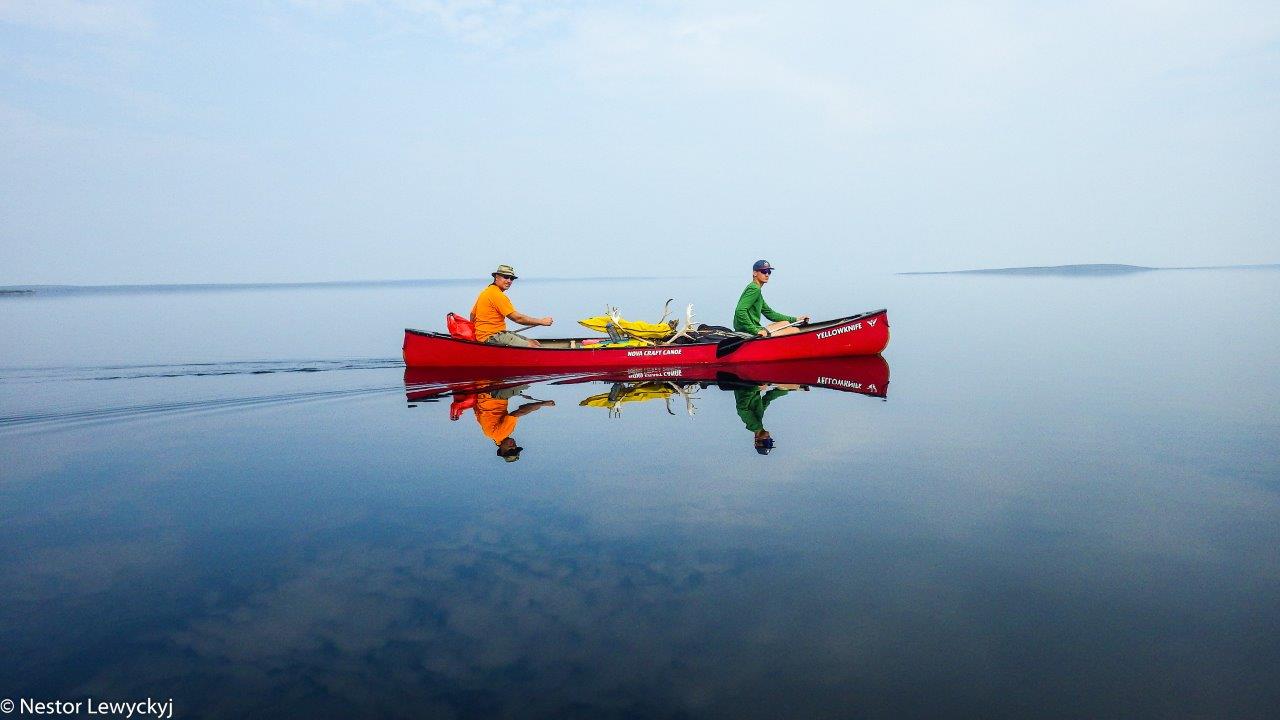 They now had 2 sets of caribou antlers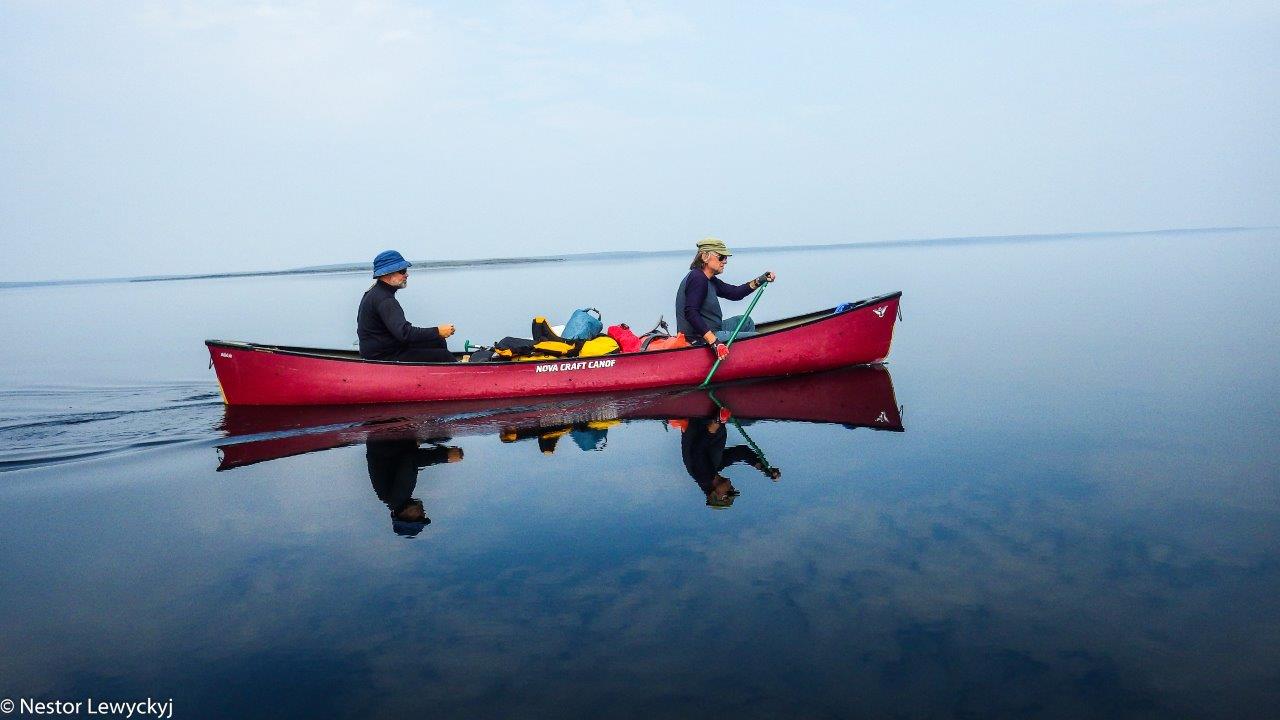 Wolodymyr and Roman made for a good paddling team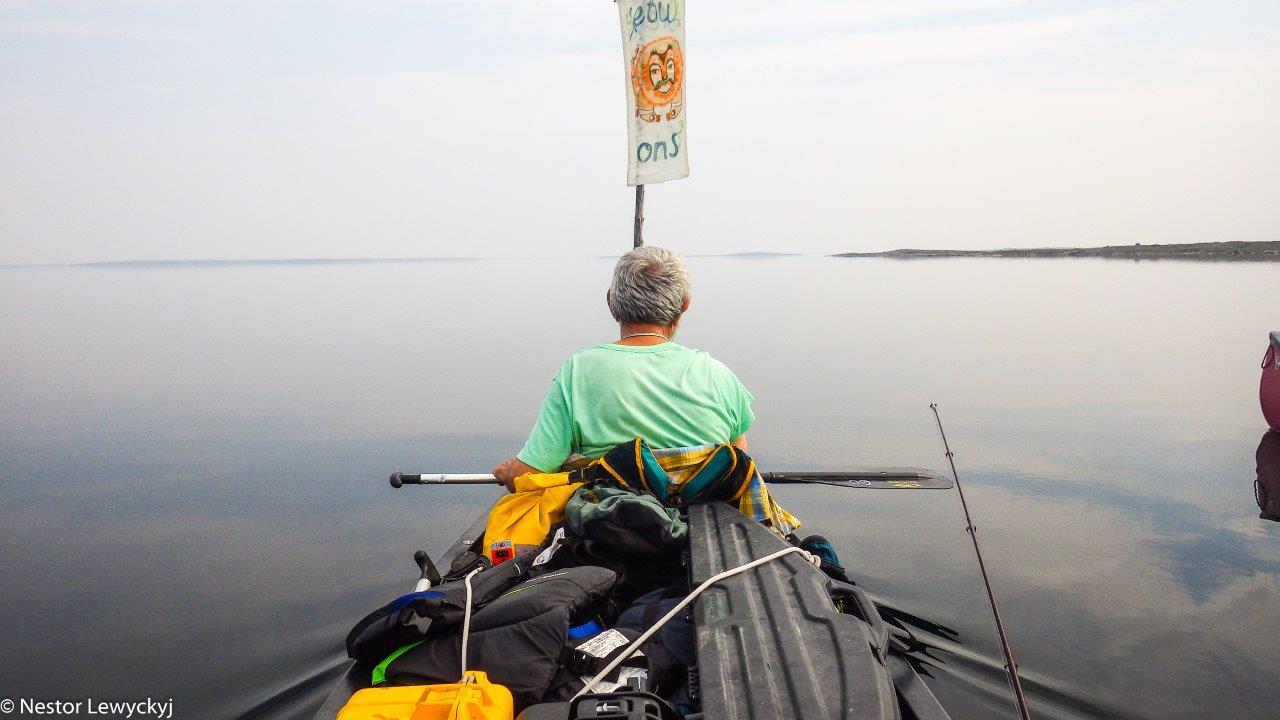 And then the wind died completely and the lake turned to glass. There were spots on the lake that due to the low relief and the smoke, we would lose sight of land altogether. It looked and felt like we were floating in the air, suspended somehow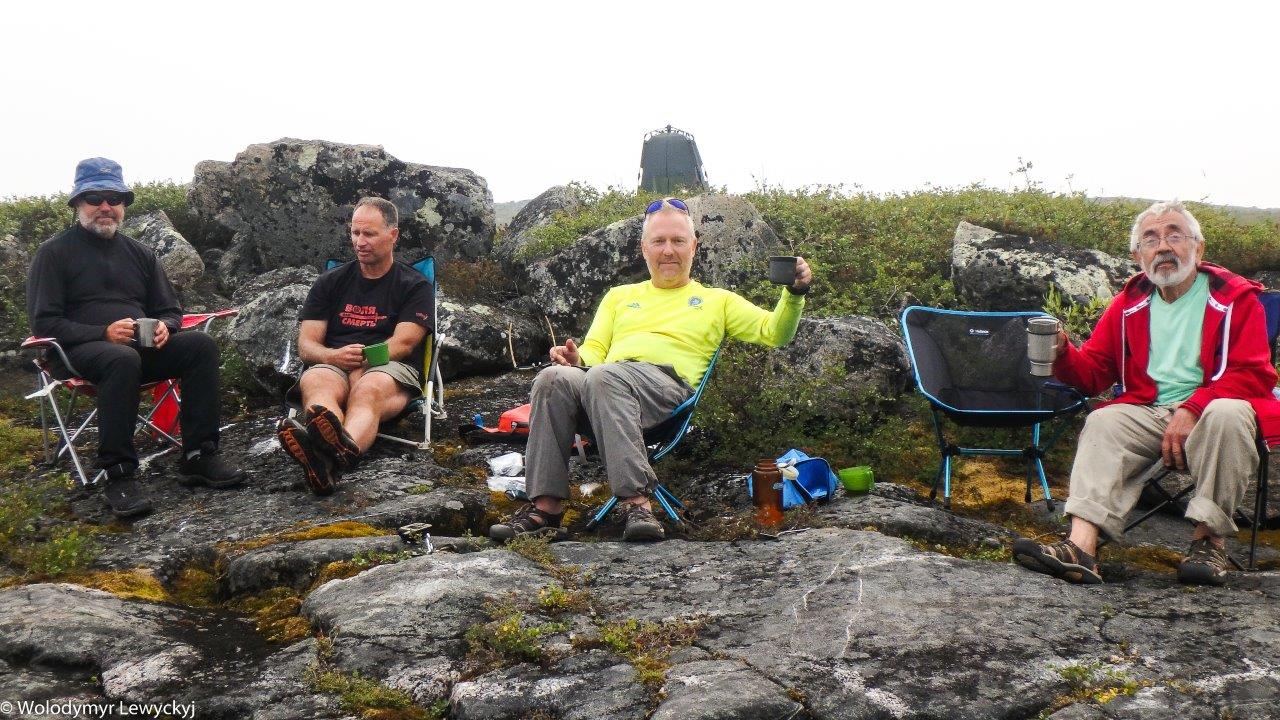 And at the end of every hard earned day, a cocktail!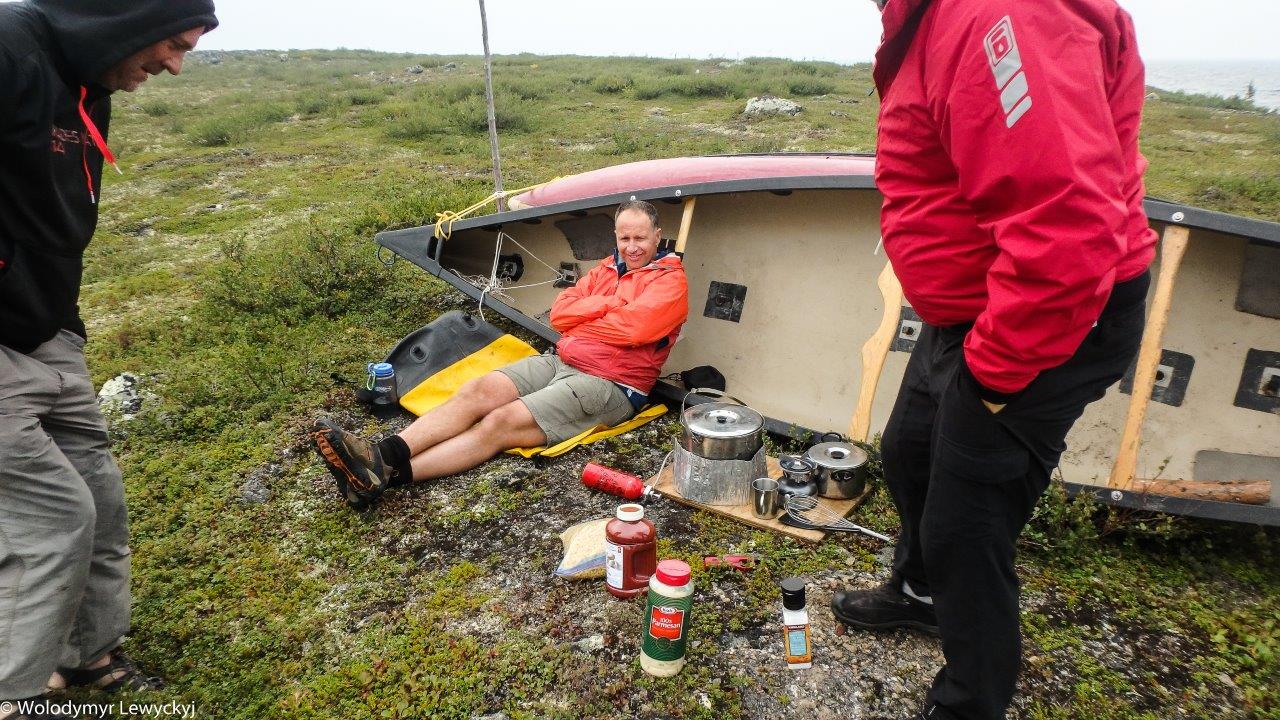 Mychajlo had a clever way of setting up the canoes to break the wind for our kitchen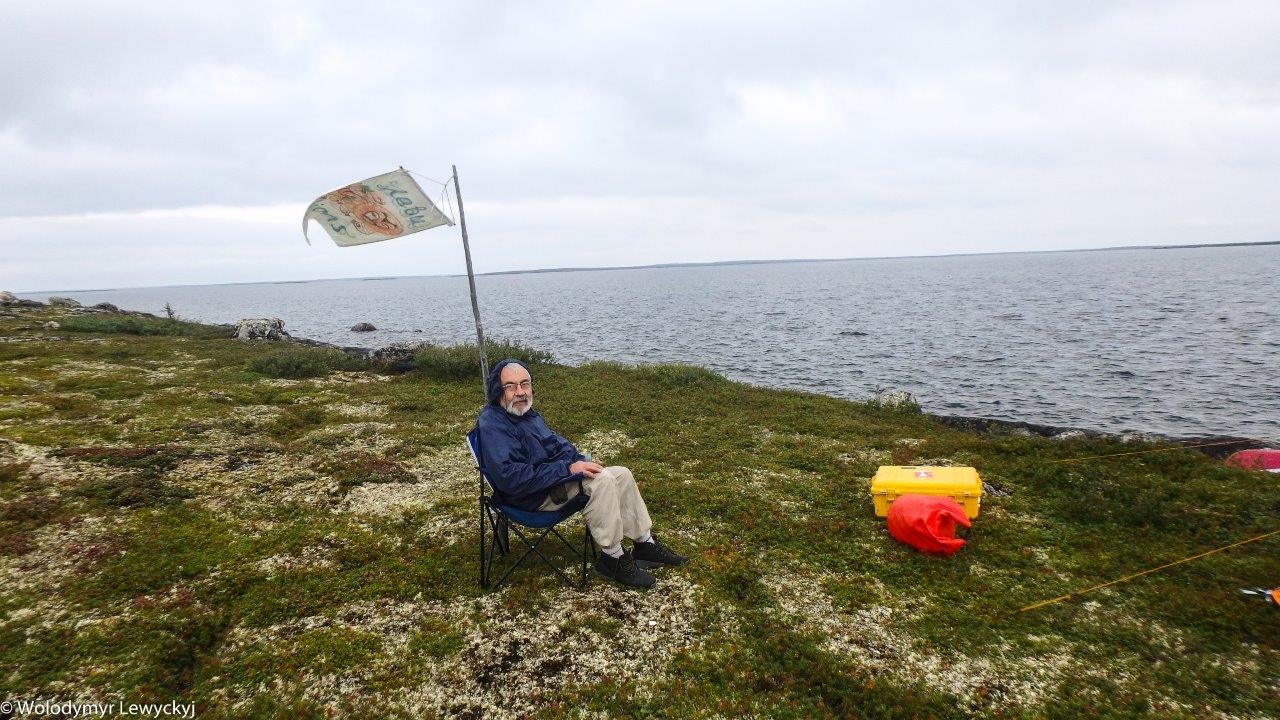 You have to bring a folding chair when you go up there. It makes a HUGE difference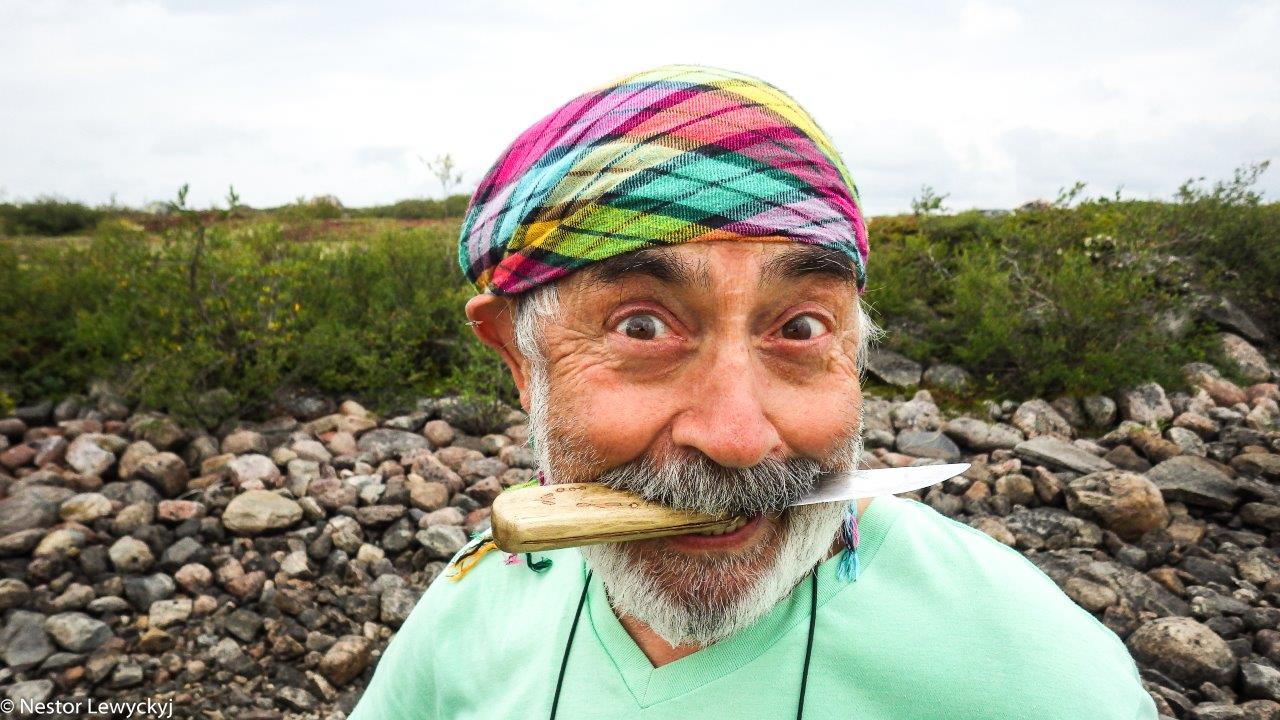 This would be the pirate side of Fedir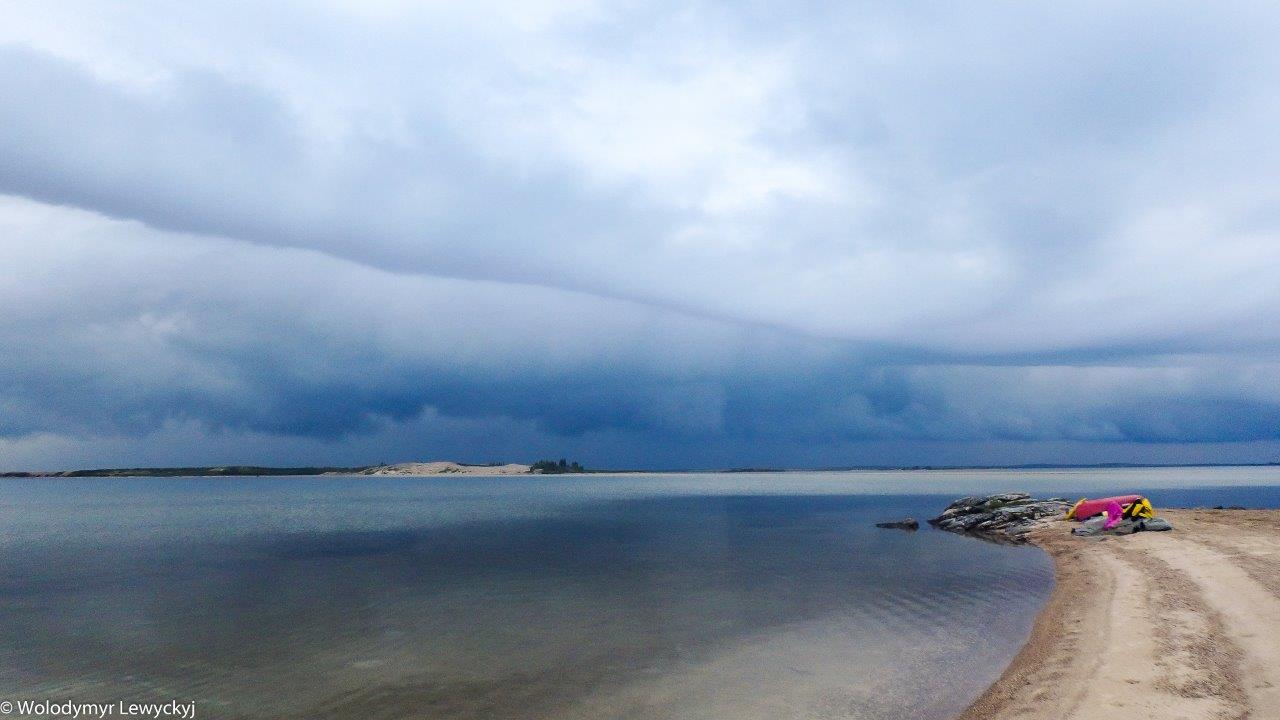 This is at the every end of Lynx Lake. The Thelon starts just a few kilometres west of here. The group got separated on this part of the lake and I got worried because there was a serious thunderstorm brewing off to the Northeast. I kept waiting for the other two canoes, hoping they would see our canoe perched up on the beach. The storm looked big and mean with a fair bit of lighting but it never got closer than about 1.5 kilometres. Fedir and I then realized that the storm was not moving in a straight line but it seemed to be swirling on a big arc. The other two canoes came and the storm never hit. But in the Barren Grounds where everything is so flat, you do not want to get caught out in the middle of a lake or out on the flat tundra when lighting hits. You want to find a place to squirrel down and wait it out. Thunderstorms used to be rare up there. I have now seen serious ones on both of my last two trips. Climate change or just weather cycles?
Fire is always the focal point of camp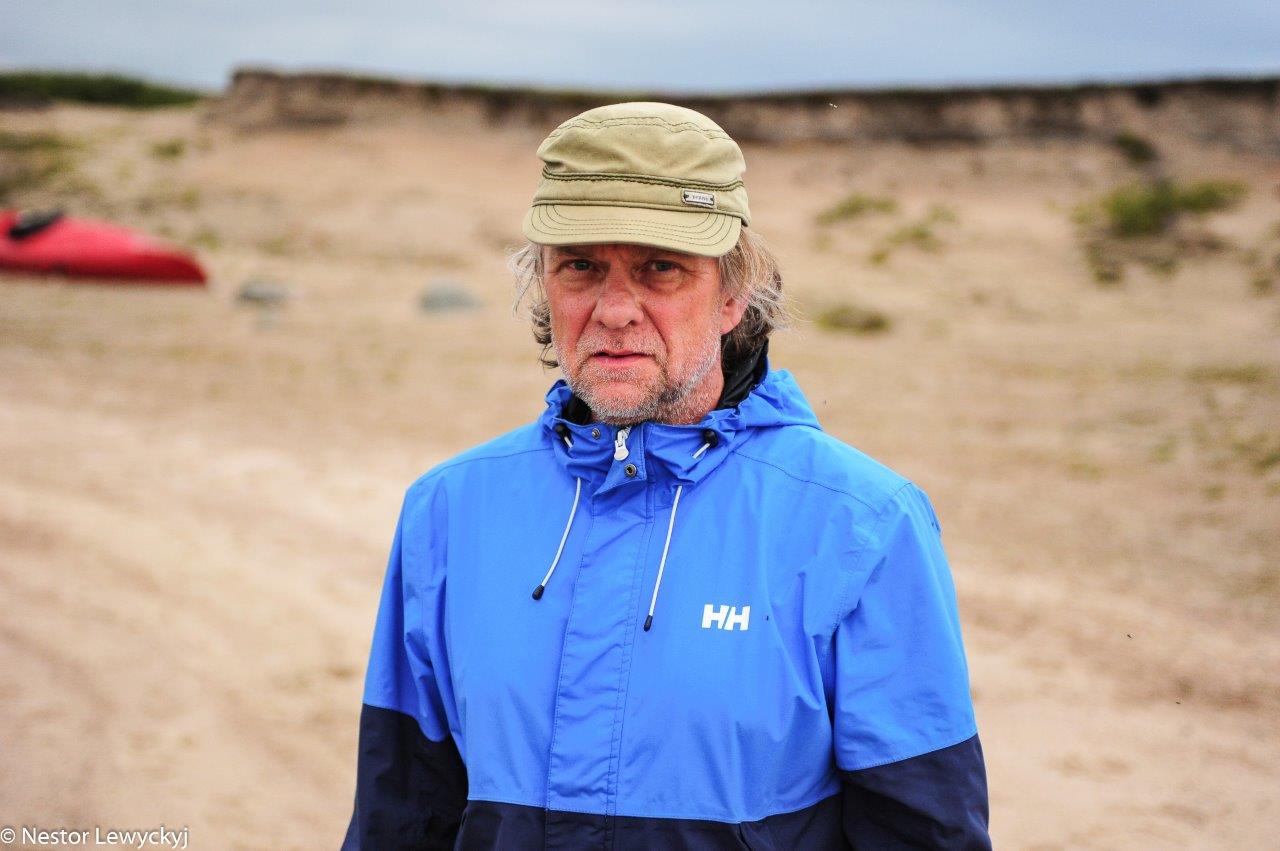 The sand cliff behind Wolodymyr is where I had been planning to hide from the lightning if the storm had hit us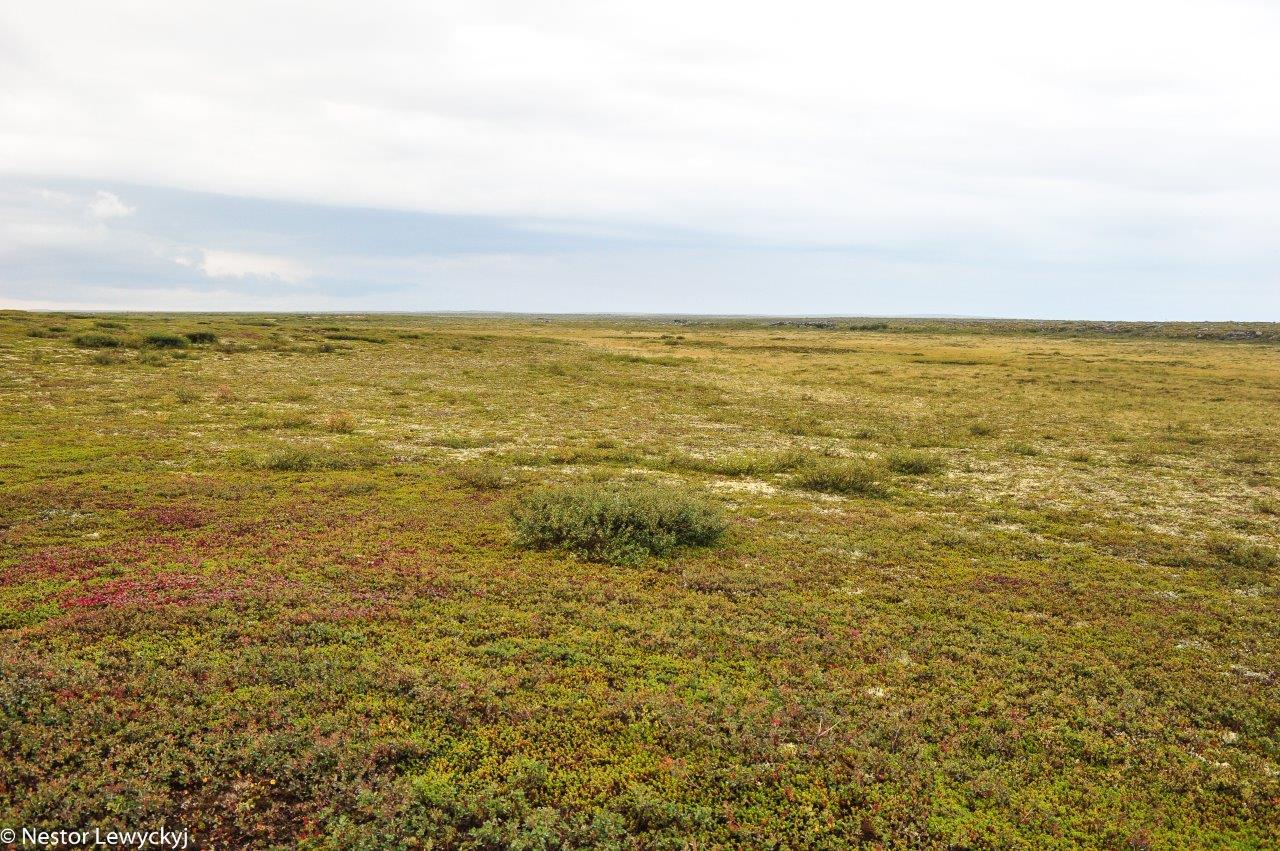 Flat, flat, flat. Its hard to sneak up on something in the Barren Grounds. You also see weather for many many kilometres. I don't care what they say about Montana. To me, this is truly big sky country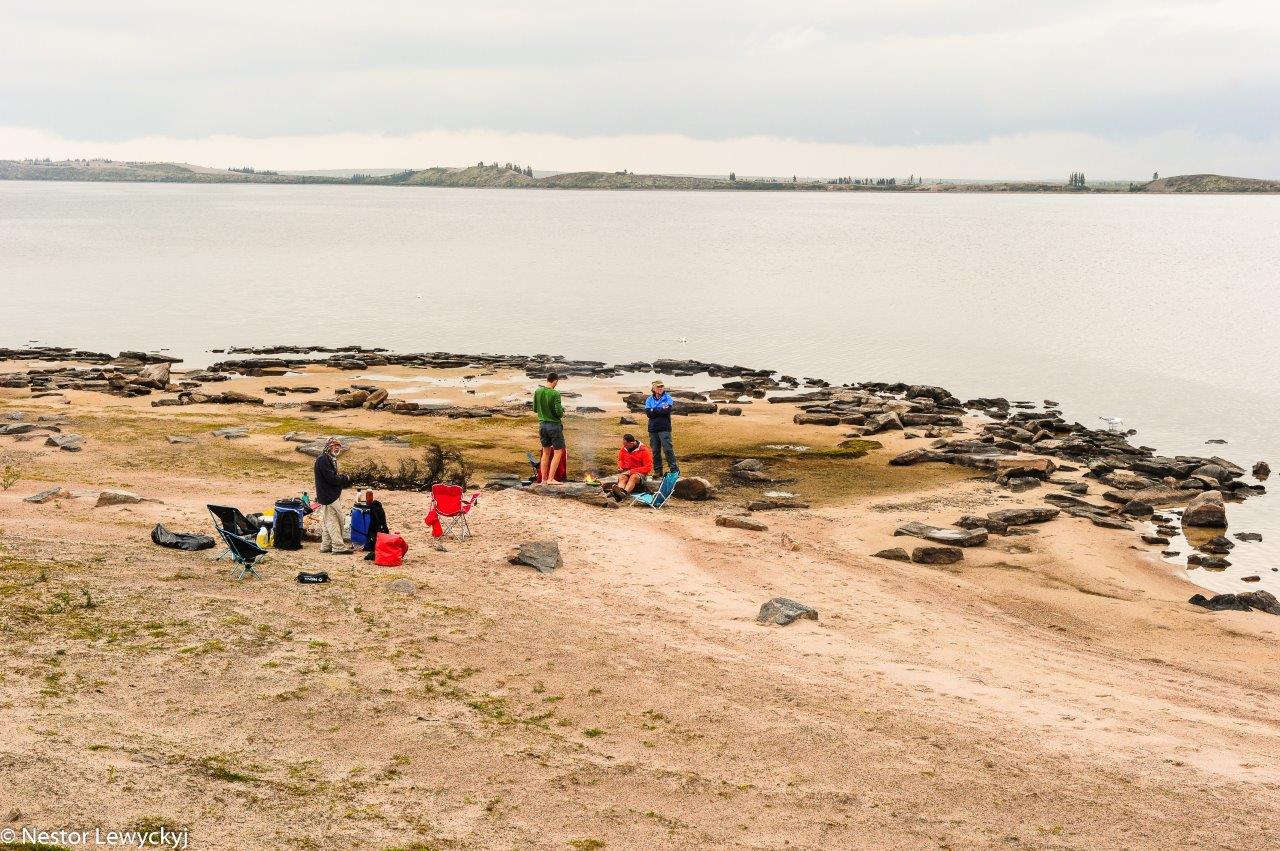 There was still some smoke with us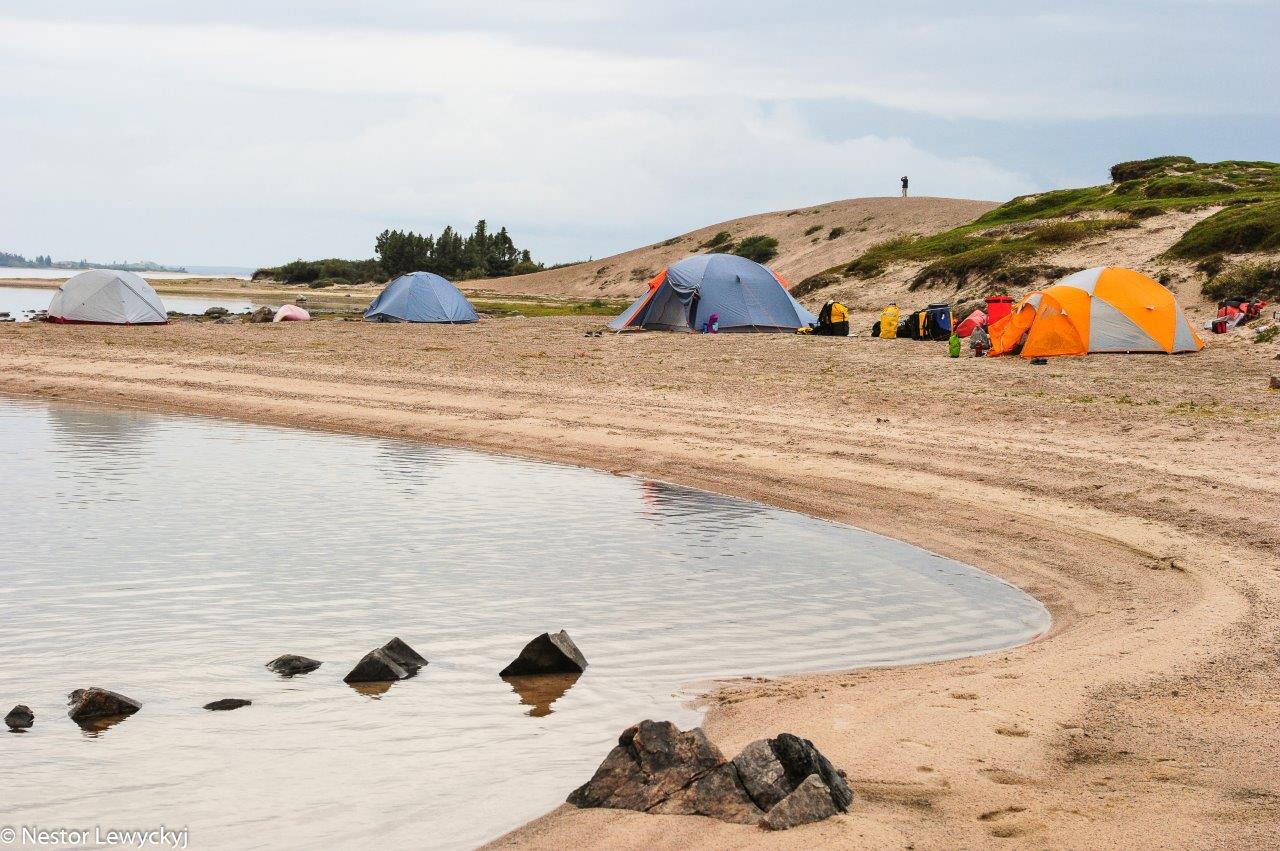 Not a bad beach for camp, as these things go...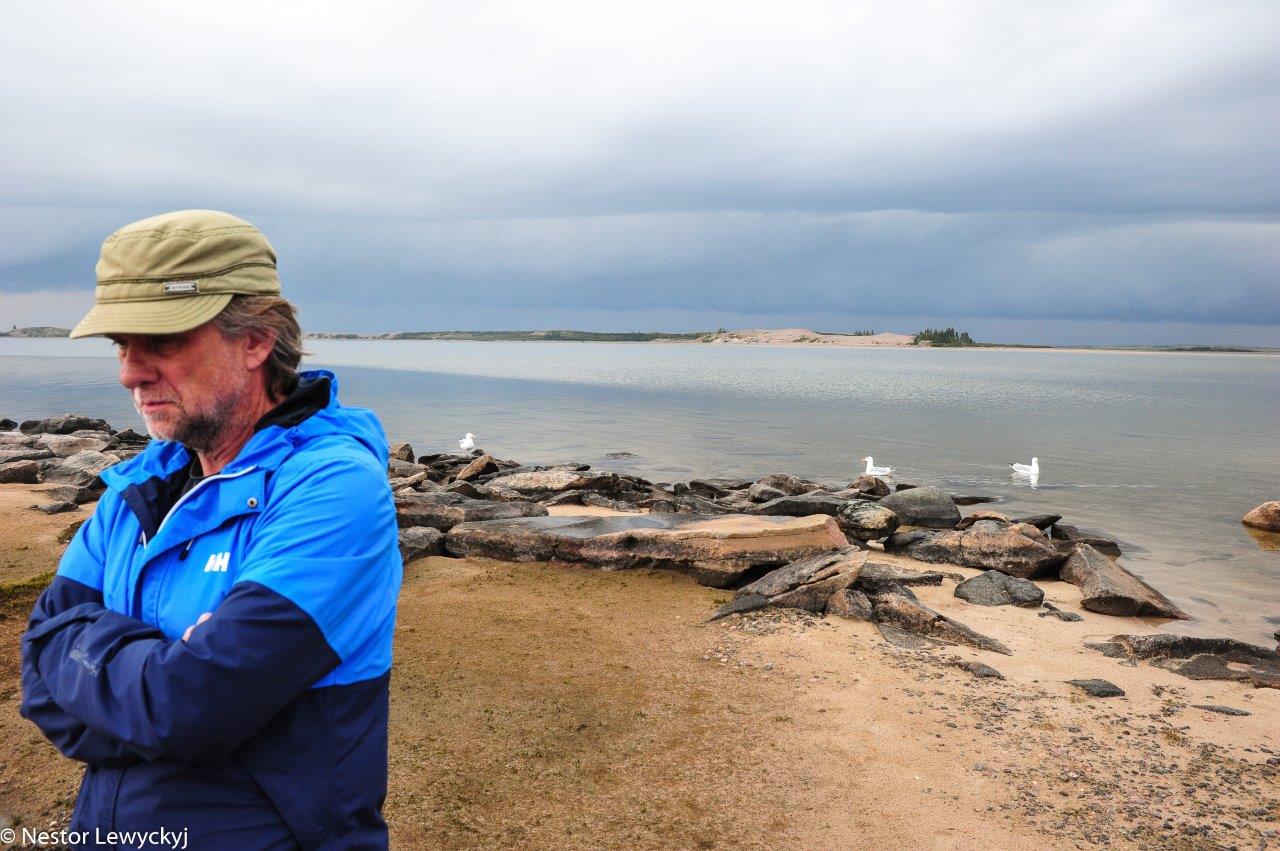 The seagulls were always hanging around to see if they could get anything to eat. We would give them the fish entrails which they would devour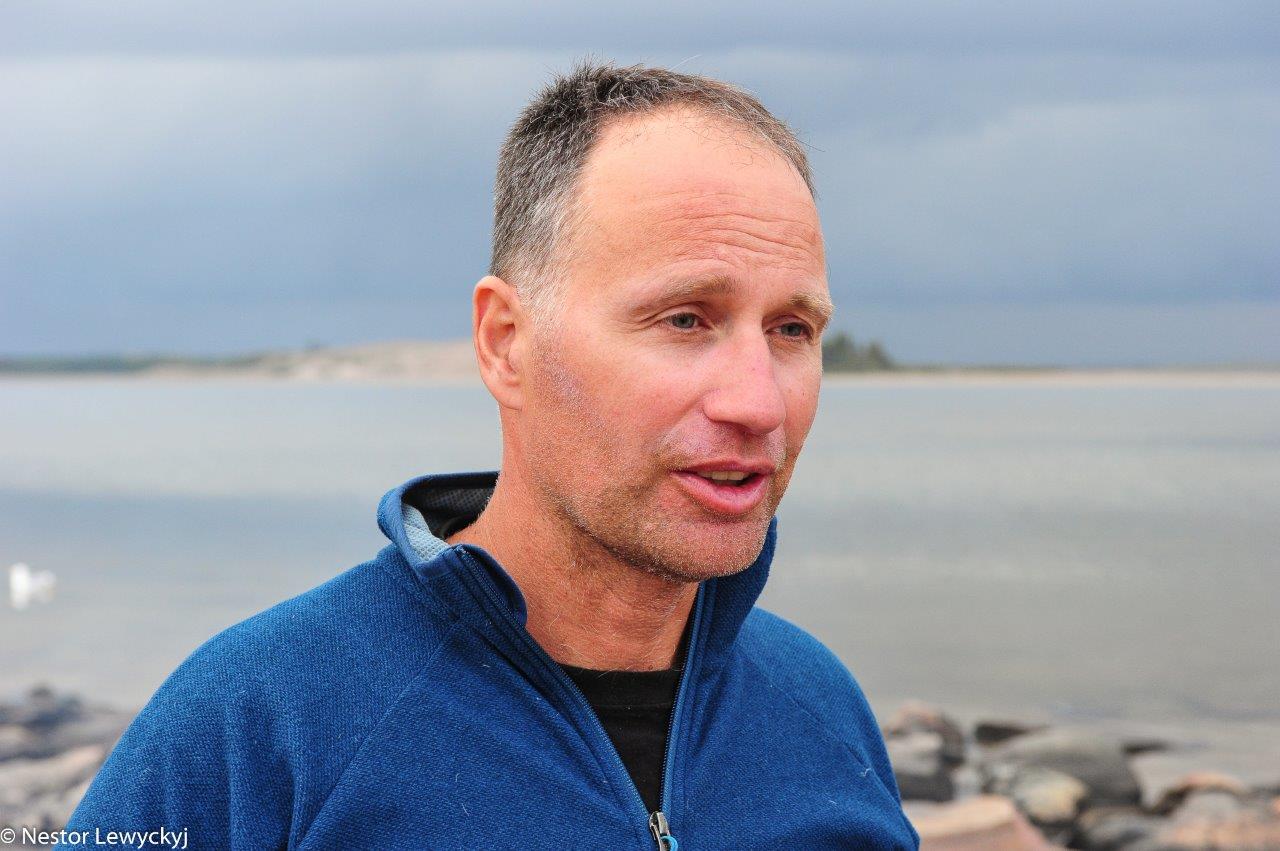 The soft light of the cloudy sky makes Mychajlo look a bit like a young Mark Knopfler.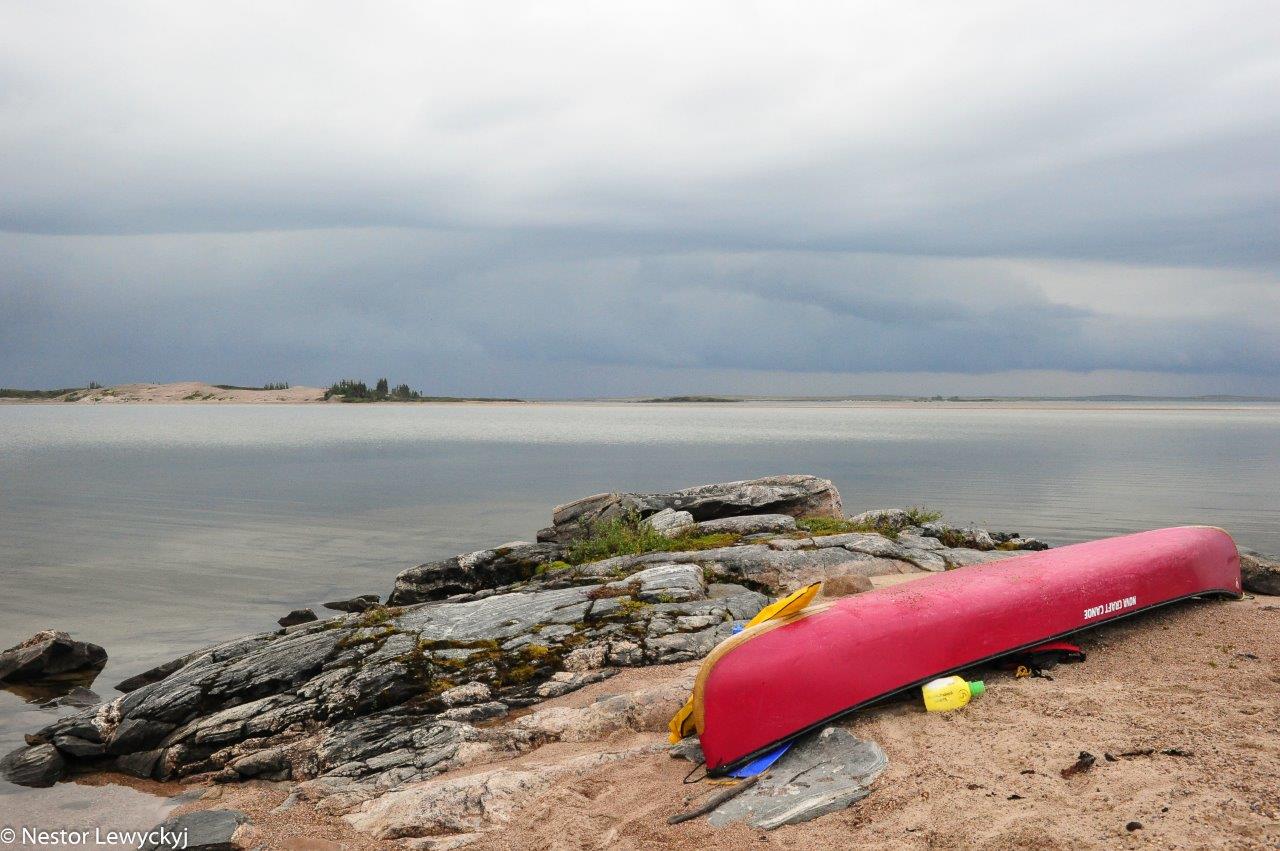 The storm dying off in the distance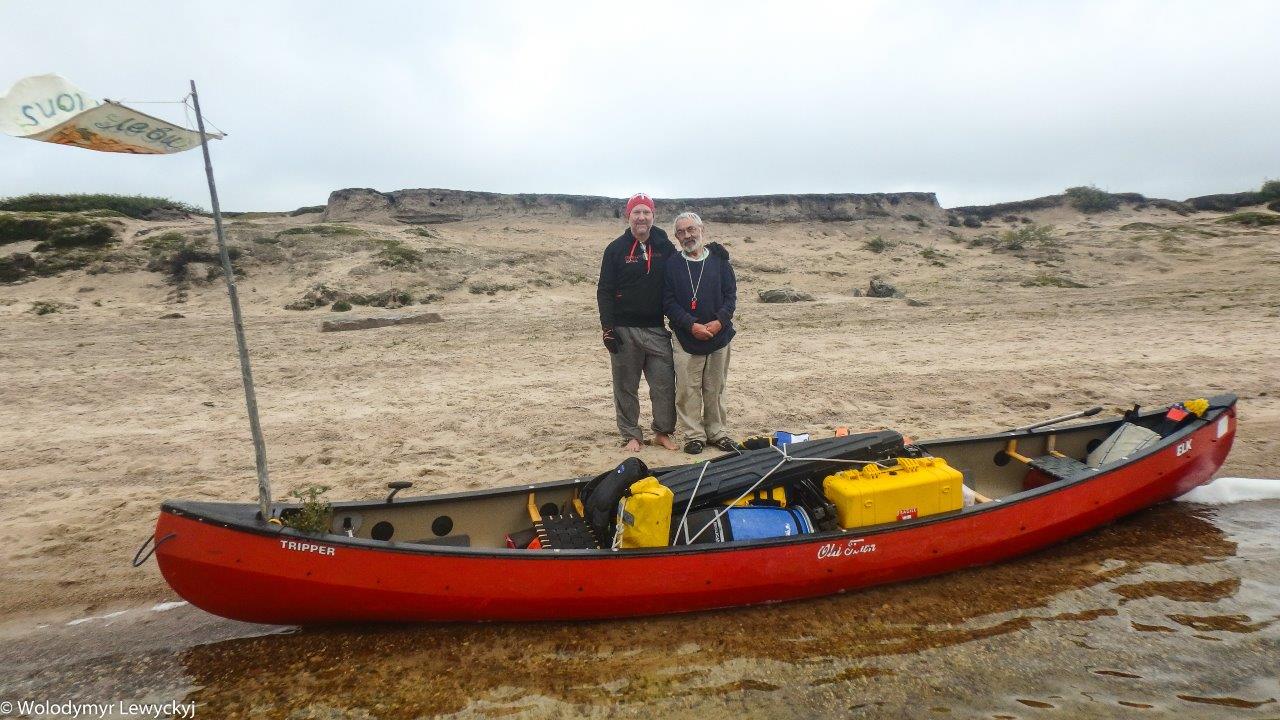 The daring duo heading out the next day. Today we were going to be on the Thelon River finally!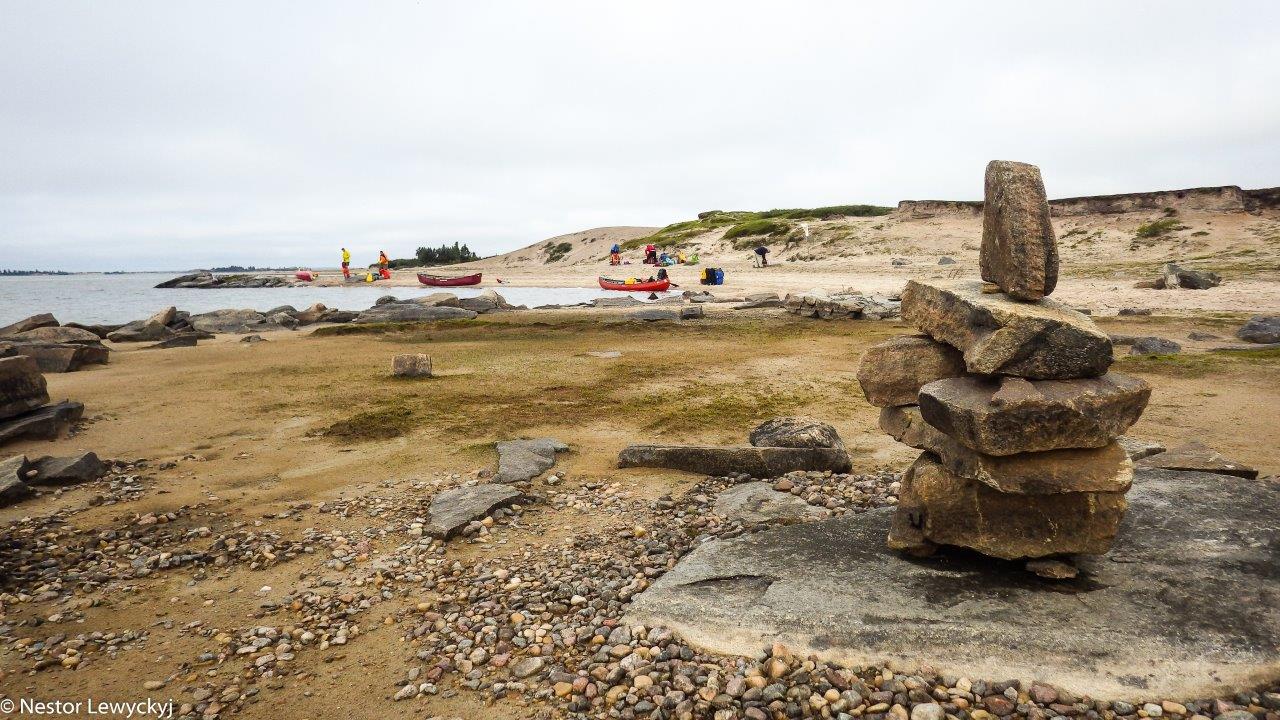 Mychajlo and Zachar built an Inukshuk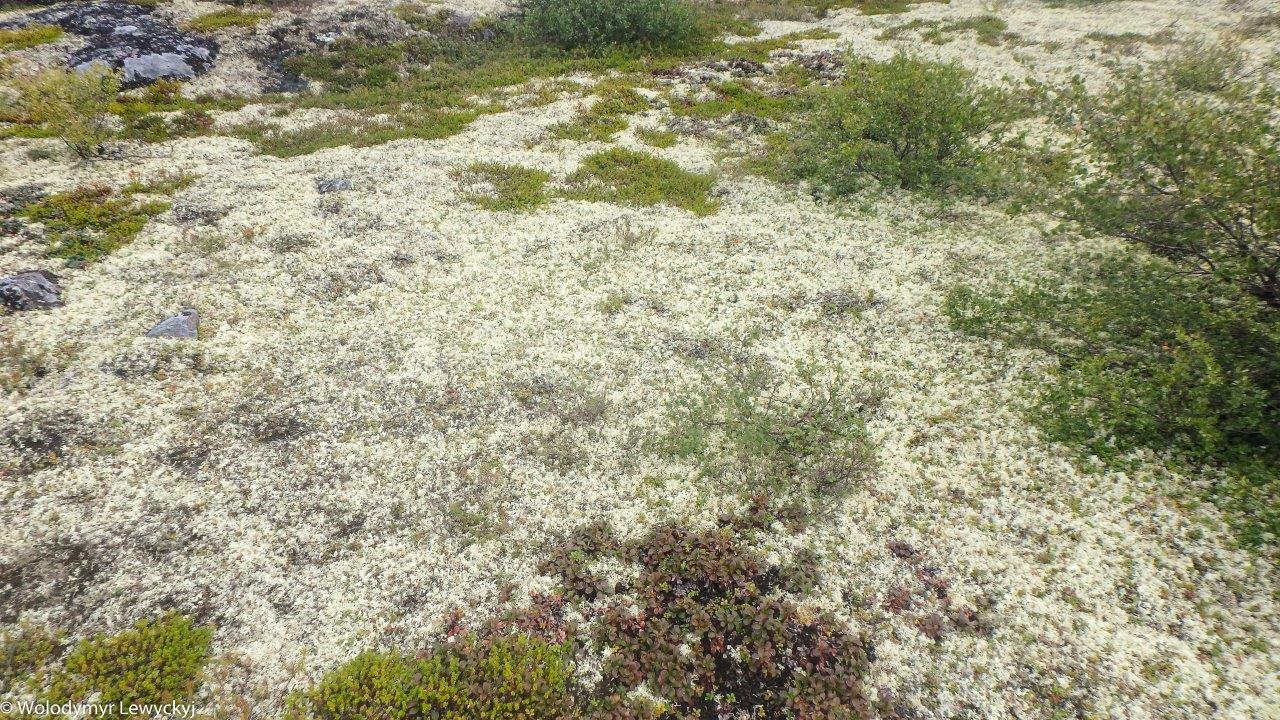 Lichen. Its virtually all that caribou eat. Sometimes you get vast fields of it called lichen forests.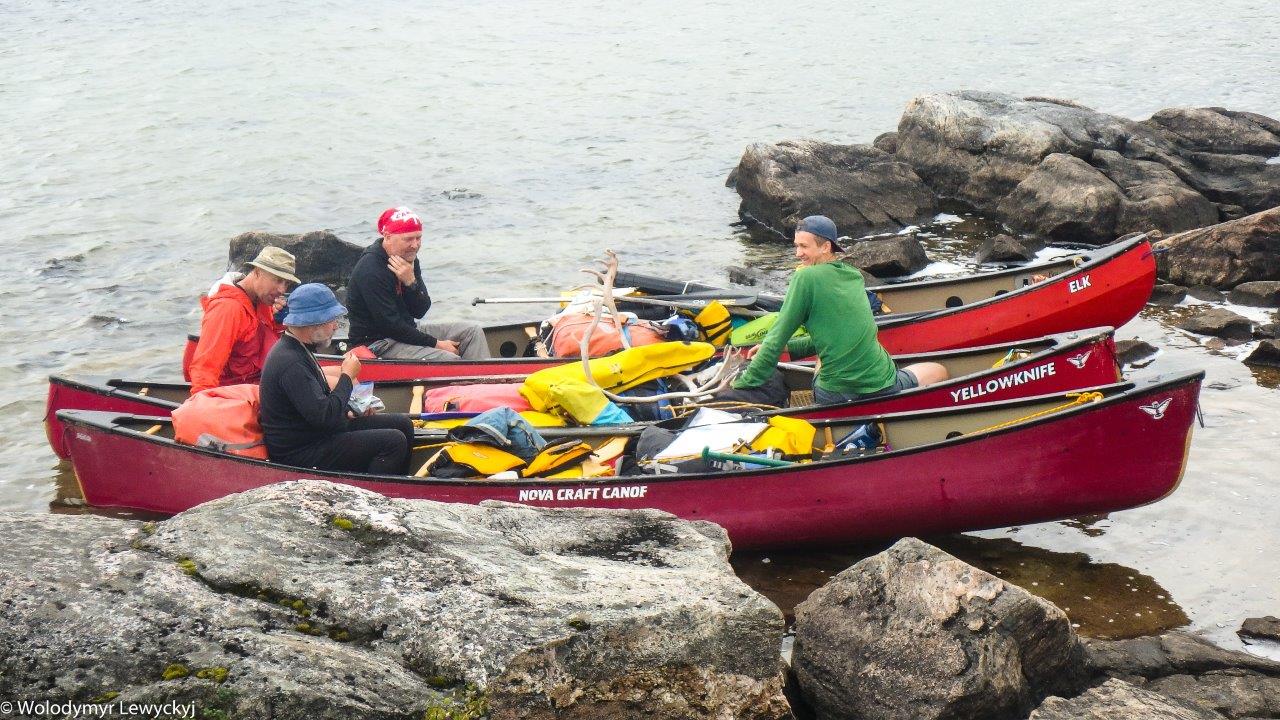 Taking a break gives everyone a chance to talk and interact. Its quite solitary on a canoe in the middle of the lake.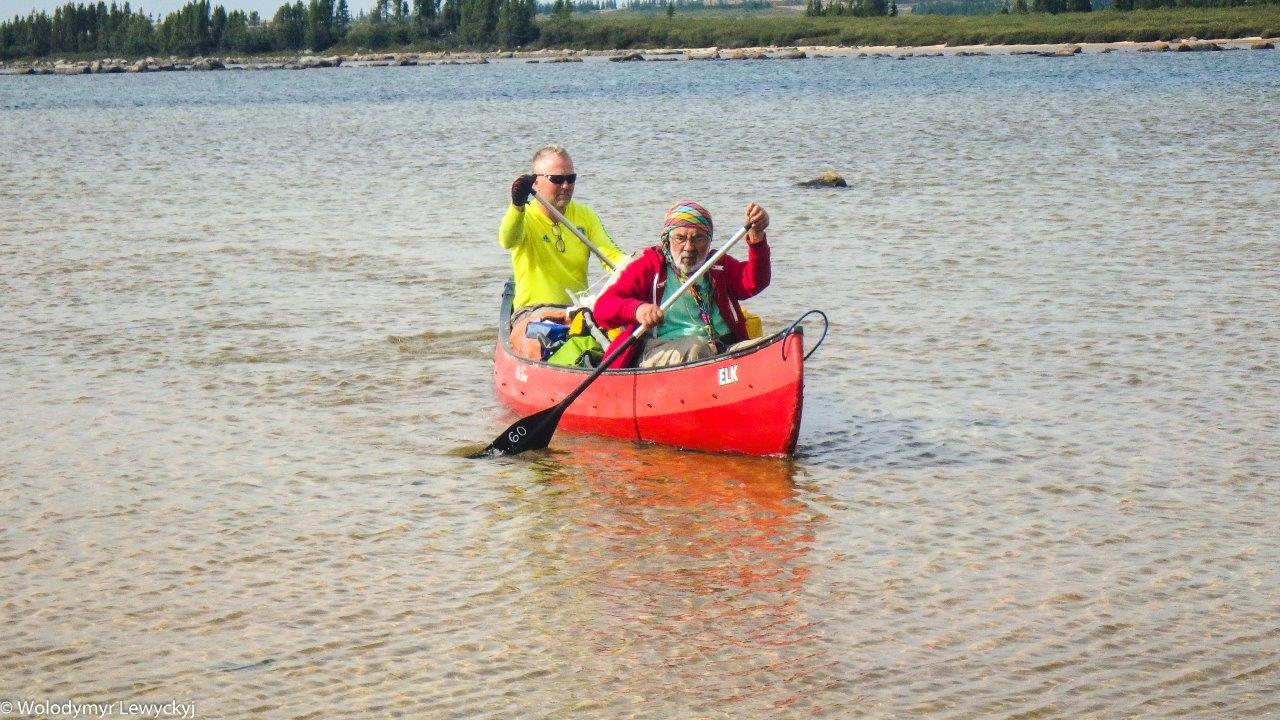 This was the Thelon River already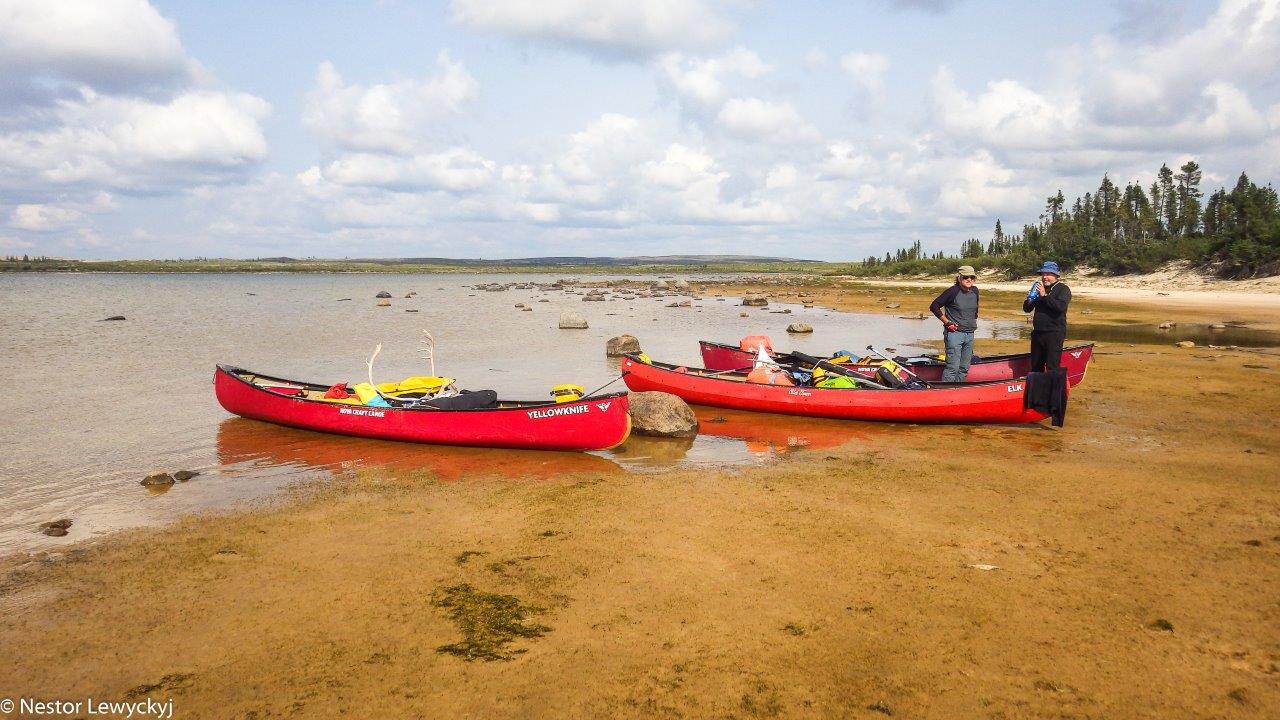 A muddy beach for a break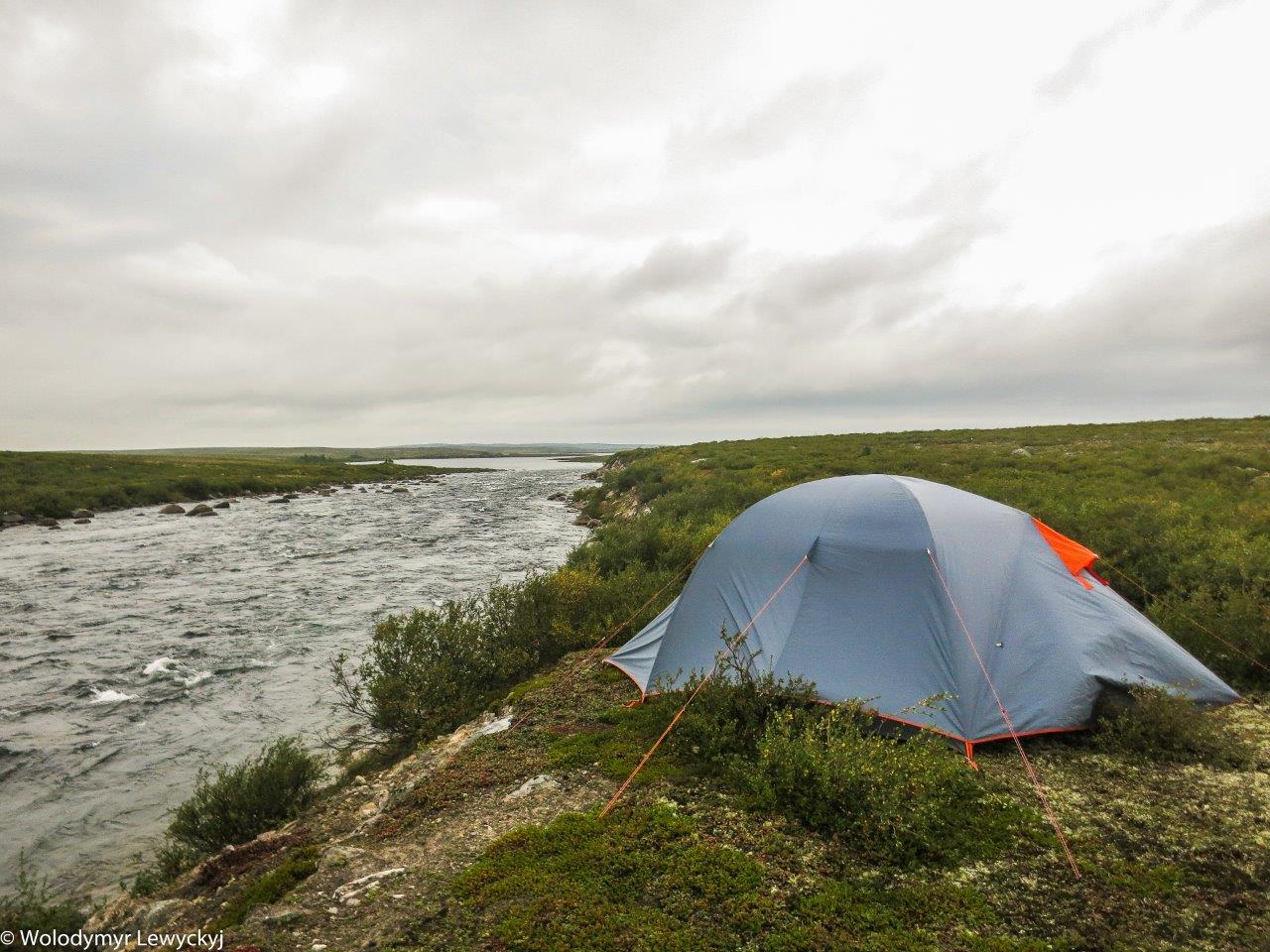 Our first set of rapids and we decided not to run them that day.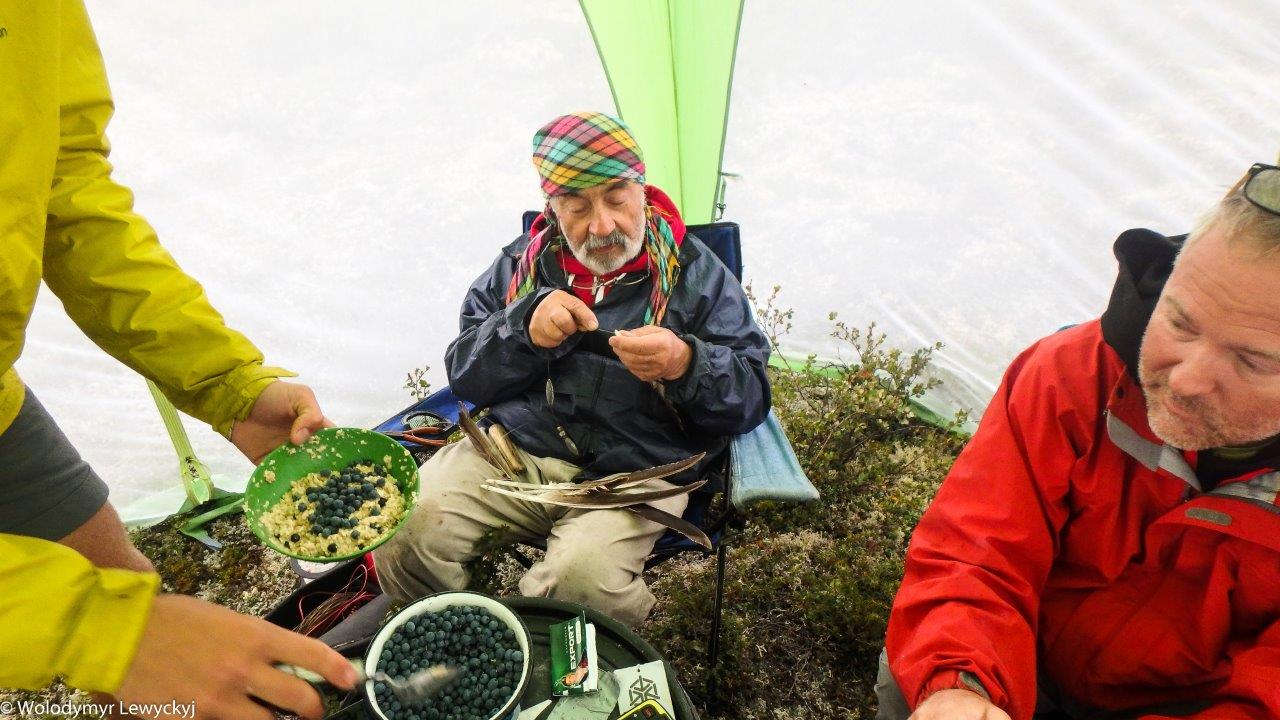 Blueberries go with almost everything!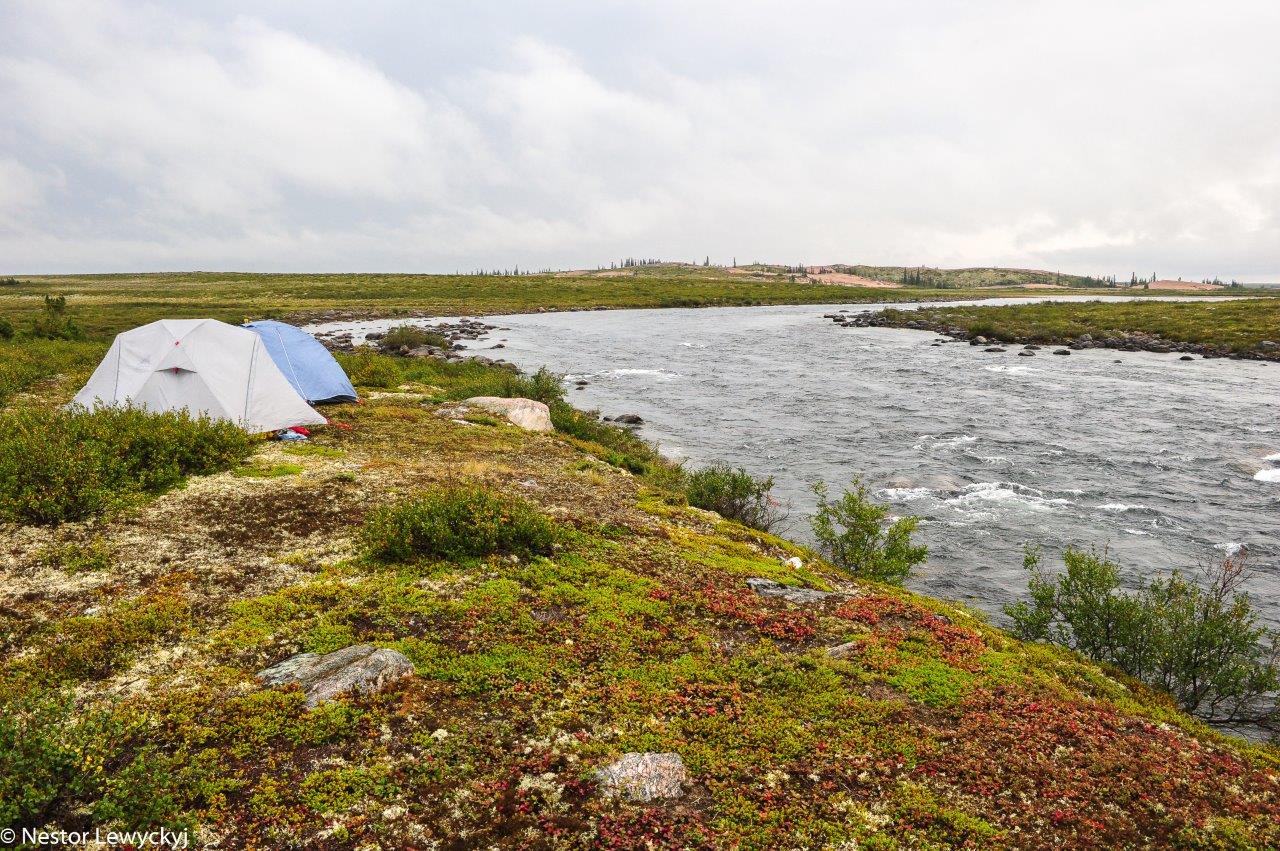 We did not have a lot of room for the tents but it was nice to sleep with the sound of the rapids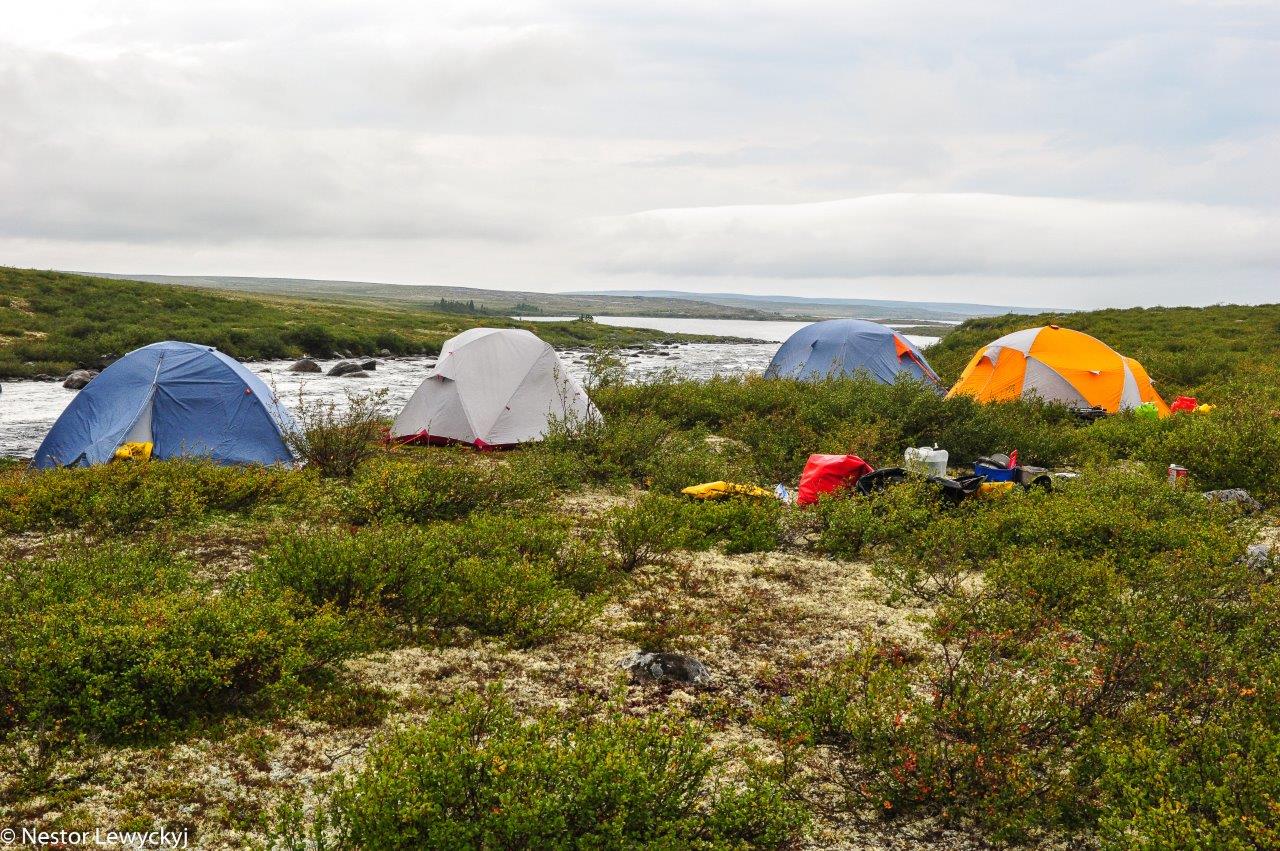 We bunched the tents close together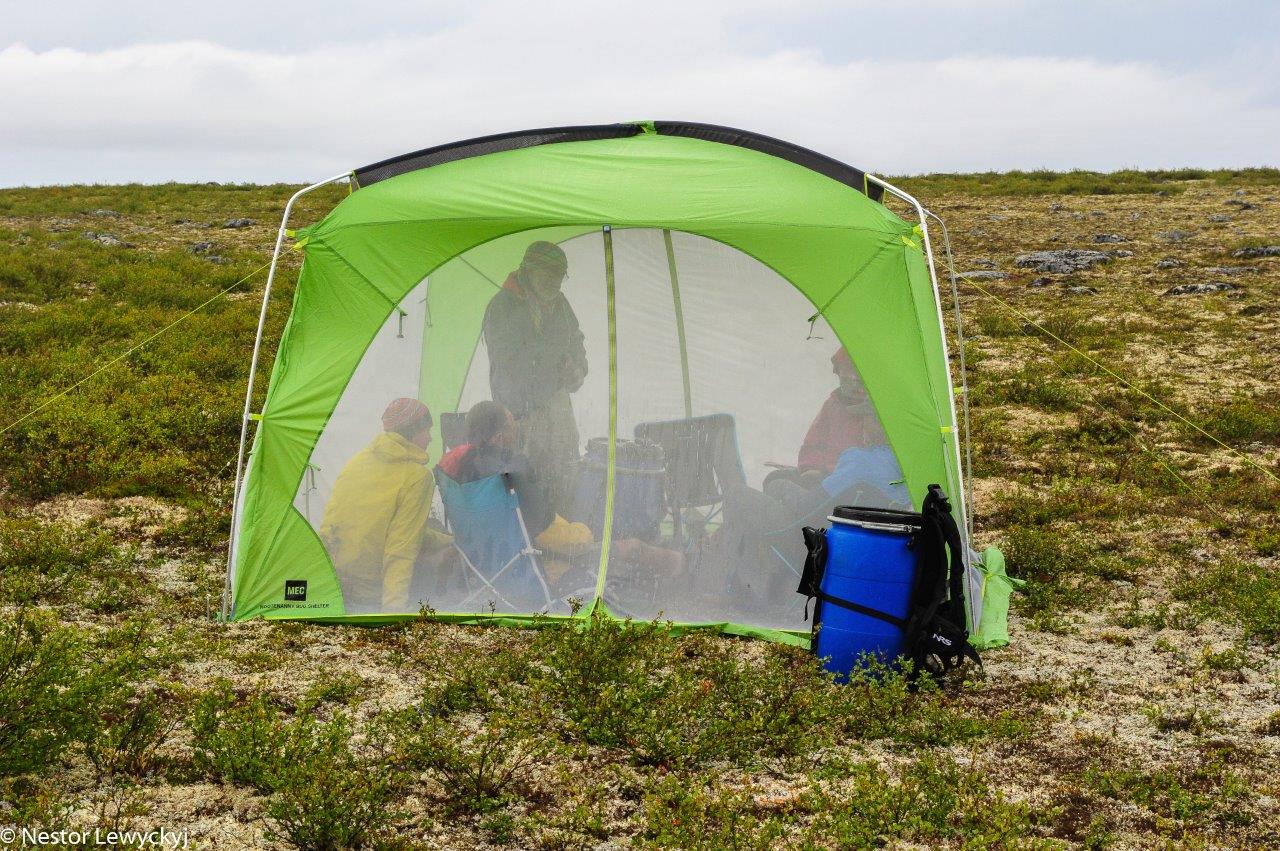 Even though we did not have a lot of flies, a bug tent is a critical piece of equipment. It allows you all to sit together in relative peace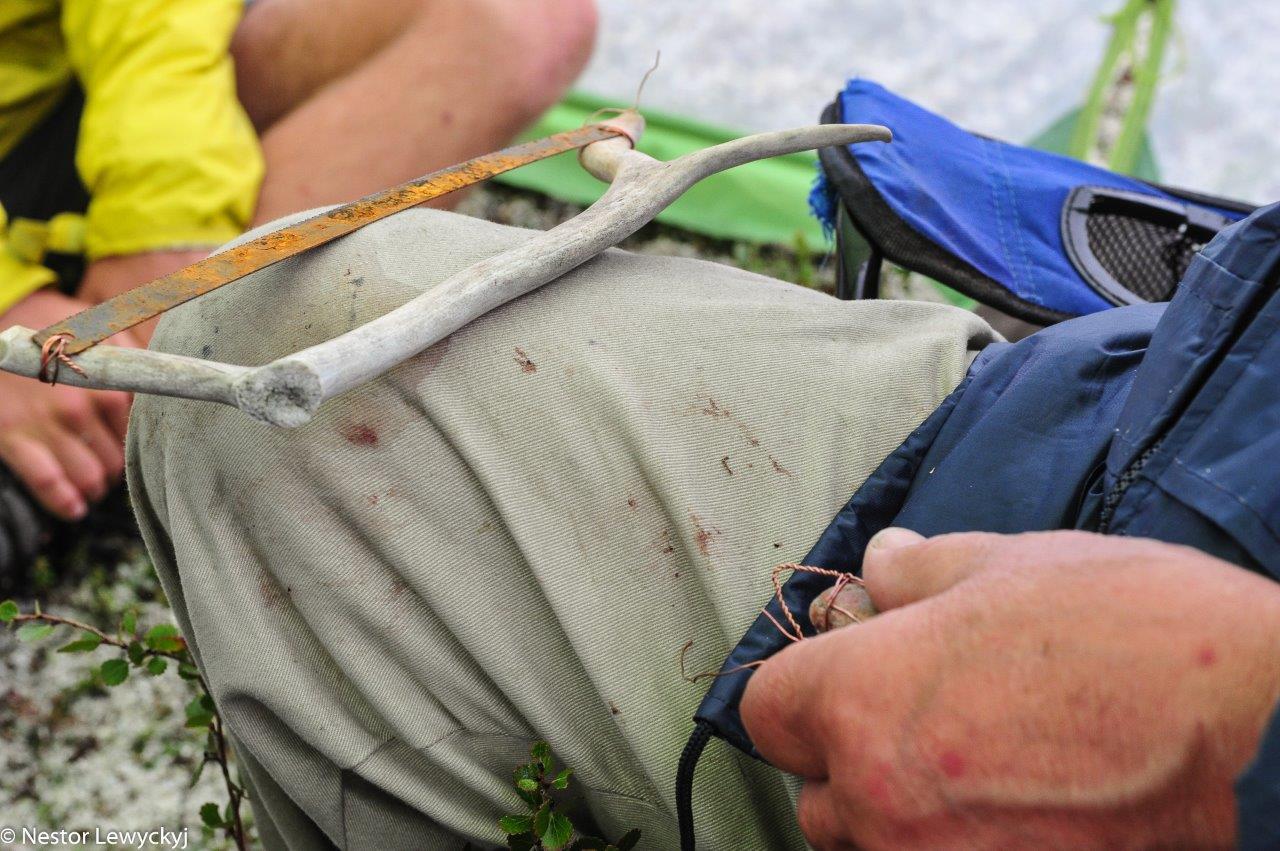 Fedir found an old saw blade at Tom's camp and fashioned a saw out of a piece of caribou antler and copper wire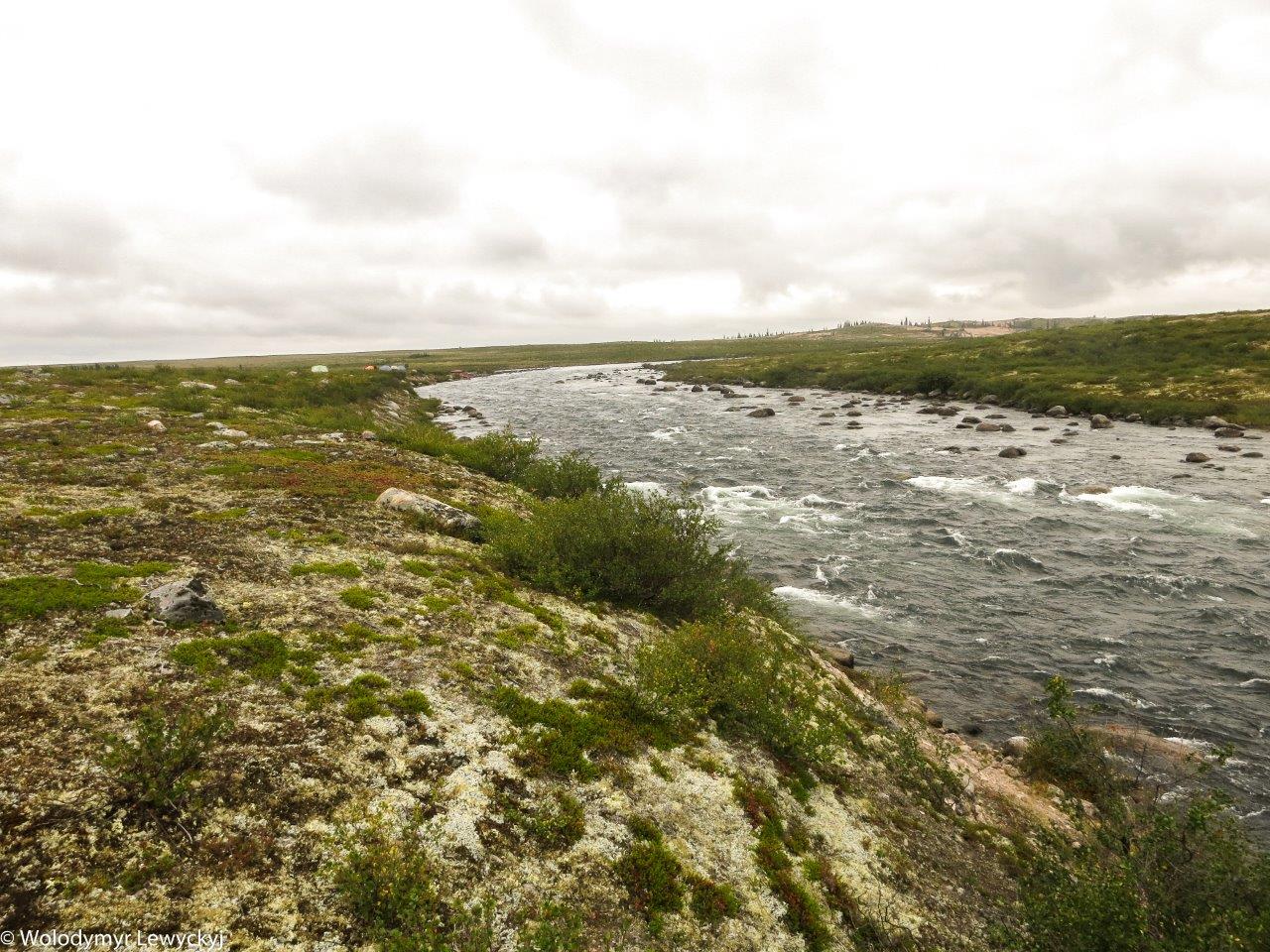 A view up the rapids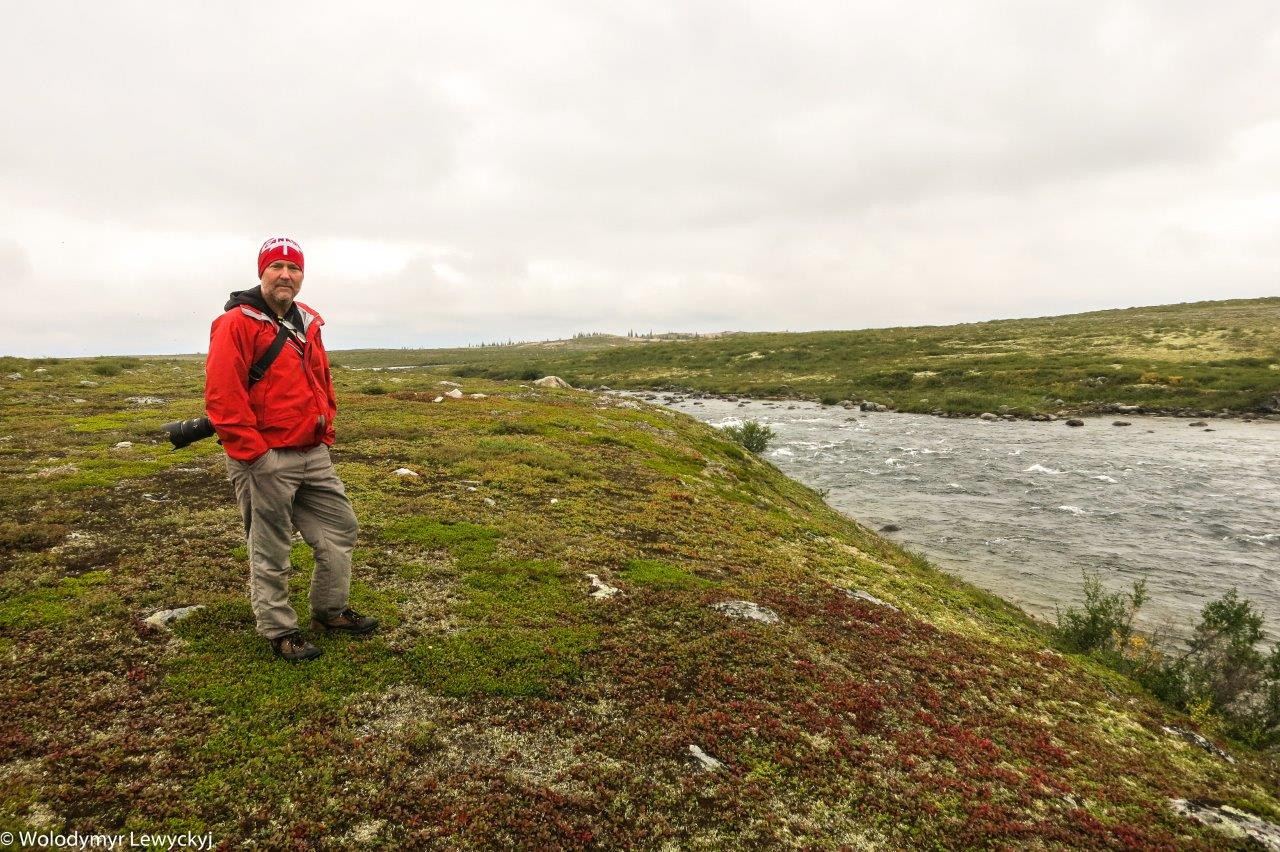 Wolodymyr and I went exploring to see what the rapids held for us for tomorrow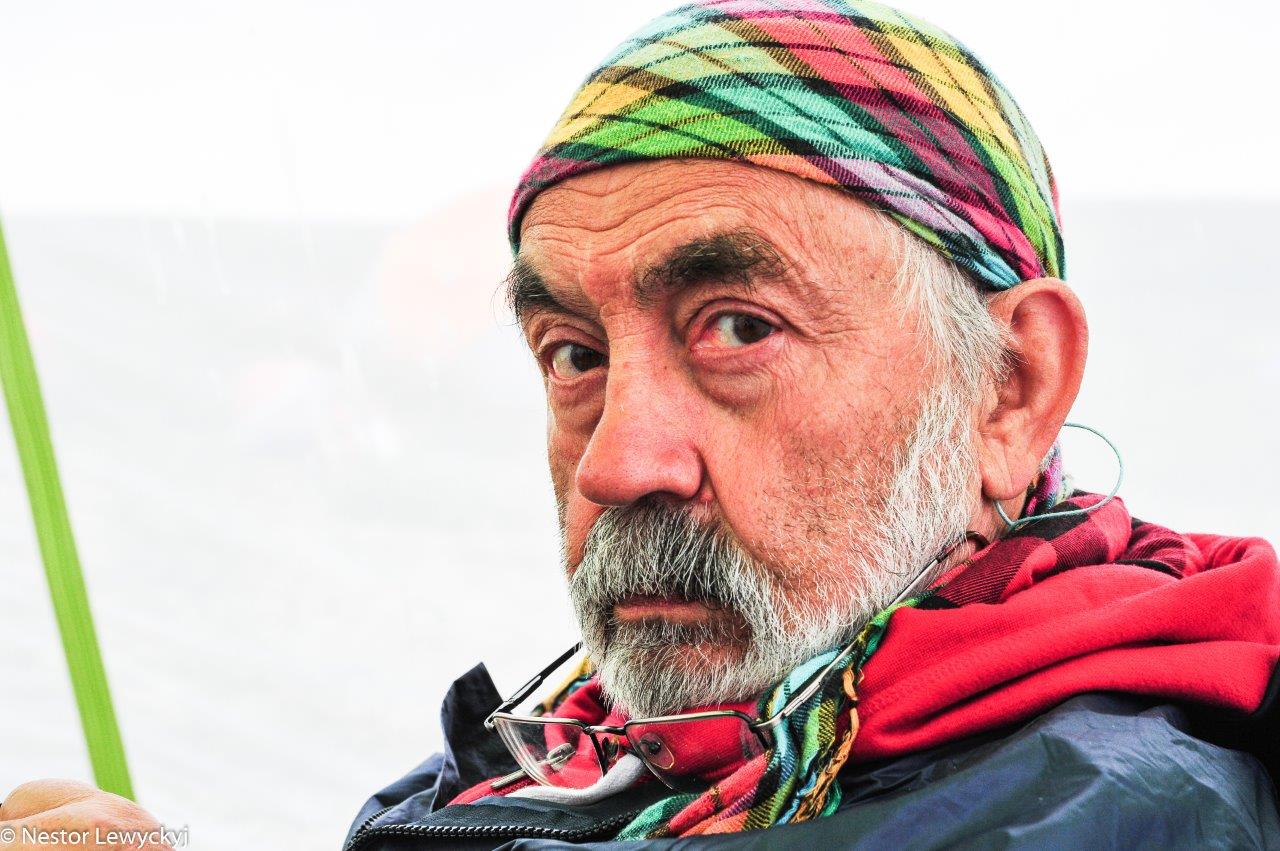 Fedir is a most gentle and mild mannered man with a great sense of humour. But every now and then you get "The Look"
Father and son. No resemblance. None at all.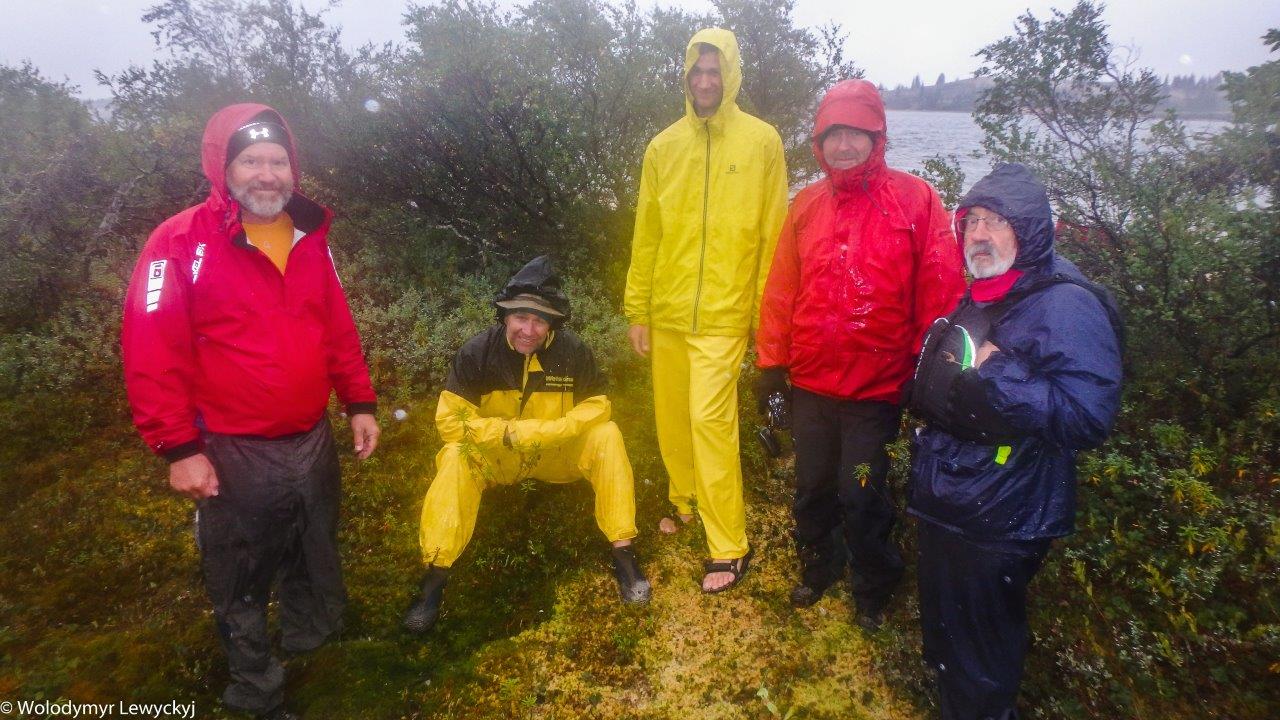 The next day we ran the rapids and a strong cold rain started. We only progressed a few kilometres when we decided to try and wait it out in the bushes. It was windy as well. In general, we had a lot of rain on this trip, much more than normal. We probably lost 2 - 3 full days due to rain and this was the major reason we did not make our planned extraction point of Eyeberry Lake and had to settle for Double Barrel Lake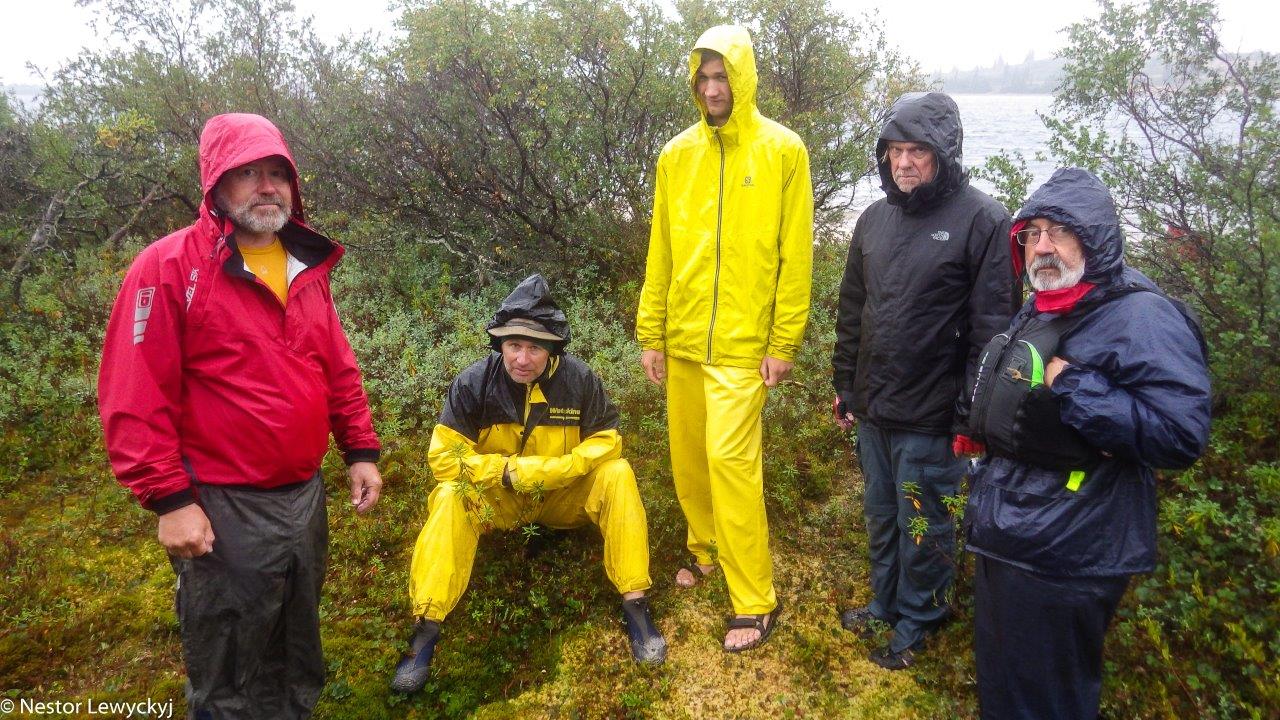 In general, we were not happy campers. Do they look like happy campers?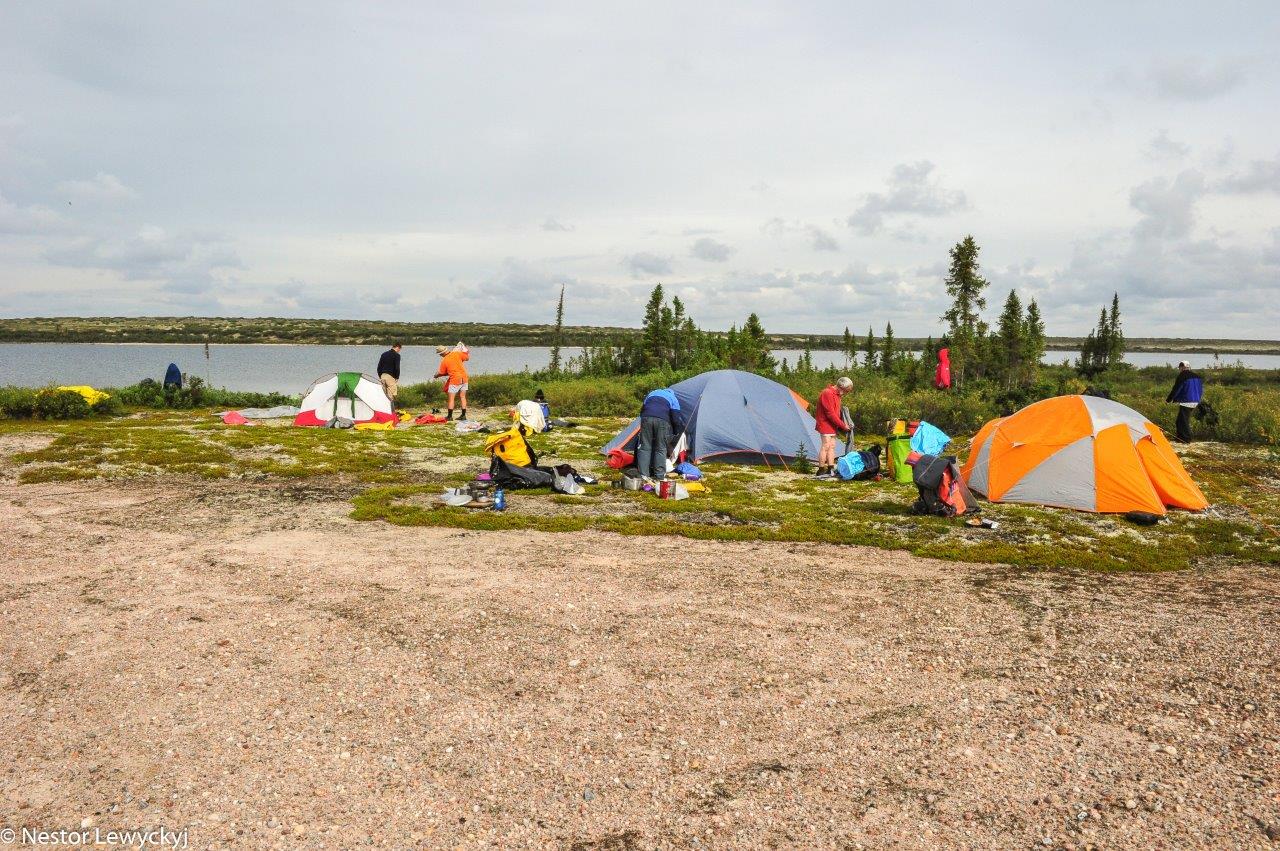 When the rain let up, we went across the river and made camp and started drying everything off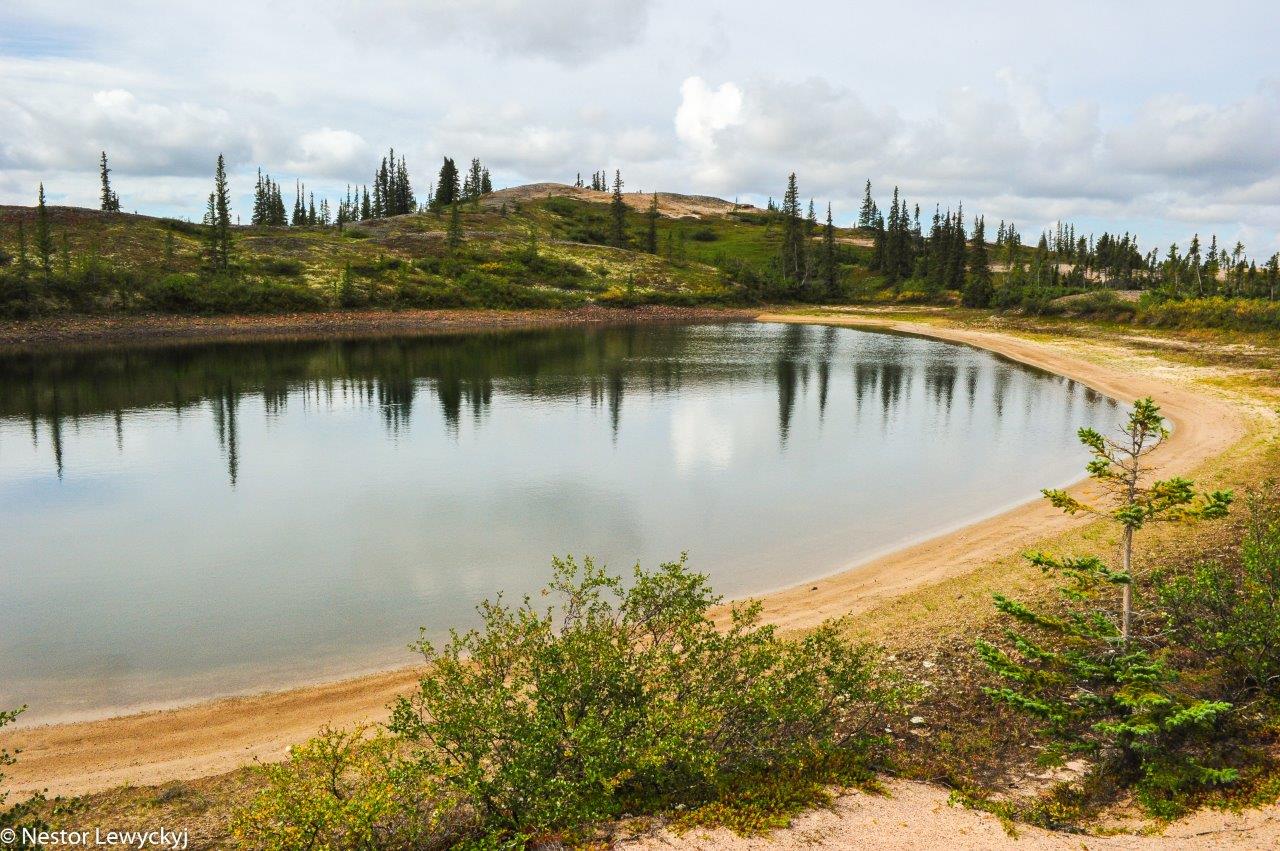 Another very nice pool of water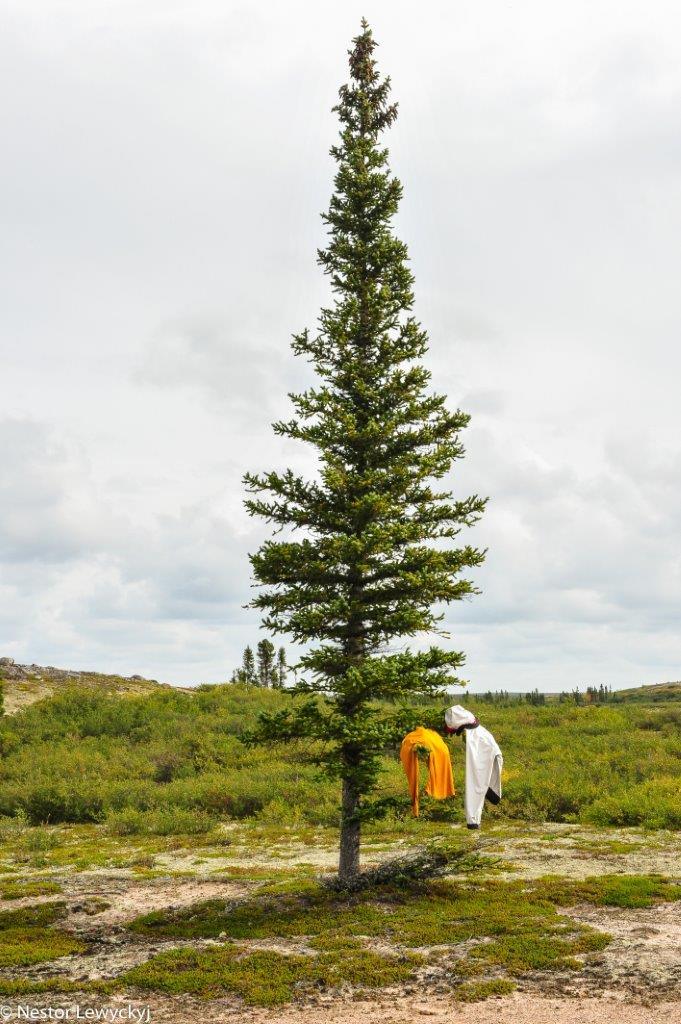 Our drying tree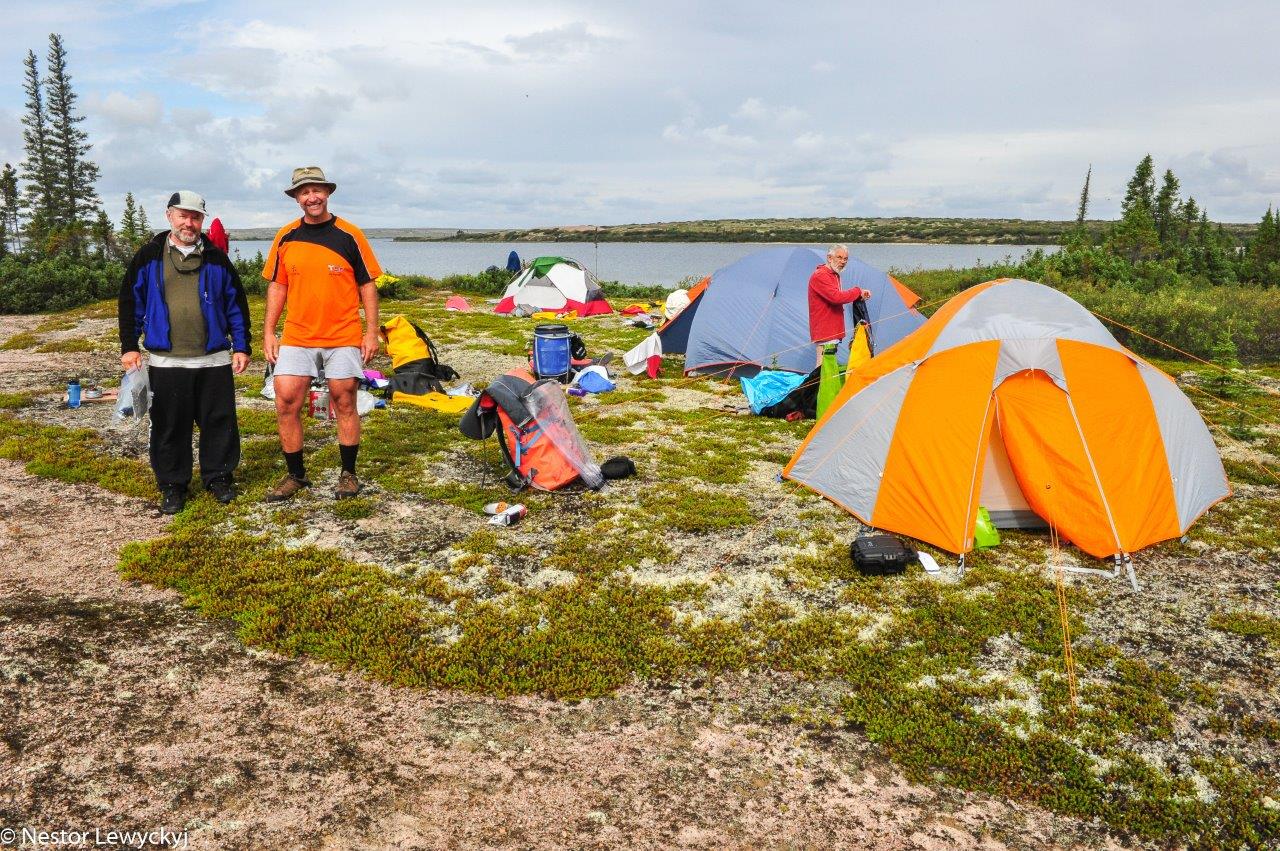 It was not a bad place to camp and we needed it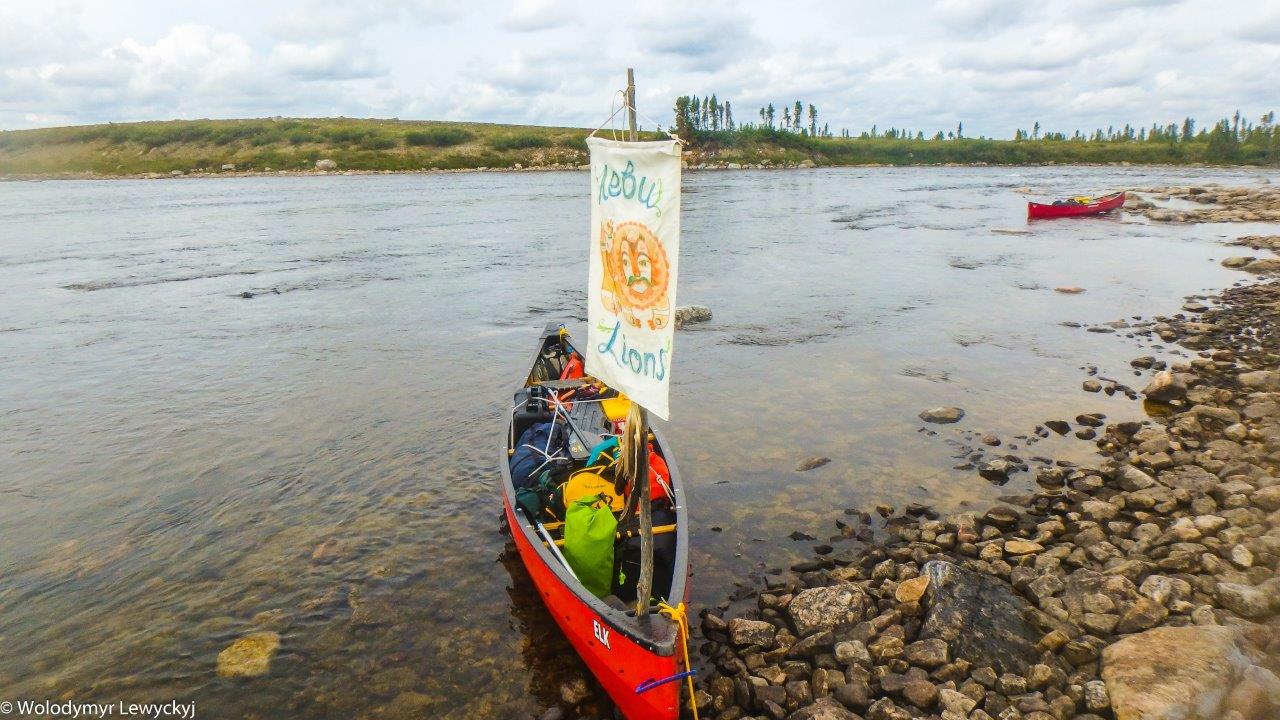 The flag was back up the next day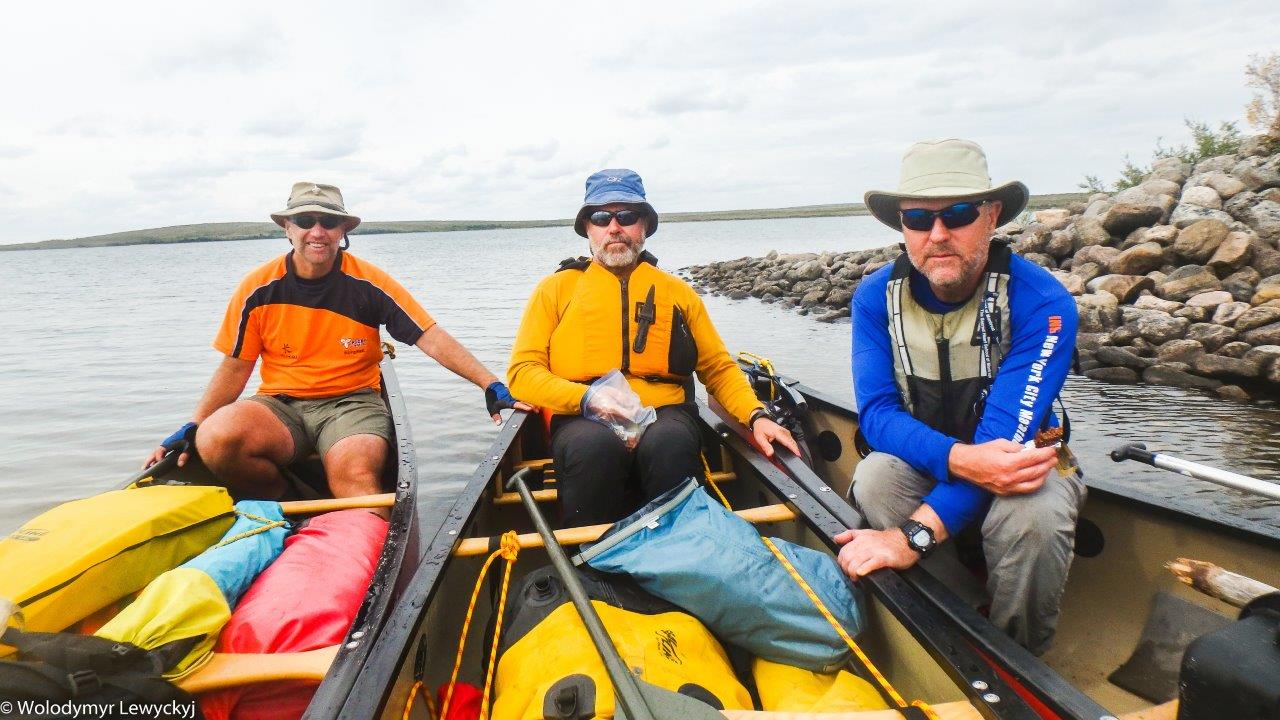 The old dudes looking pretty good!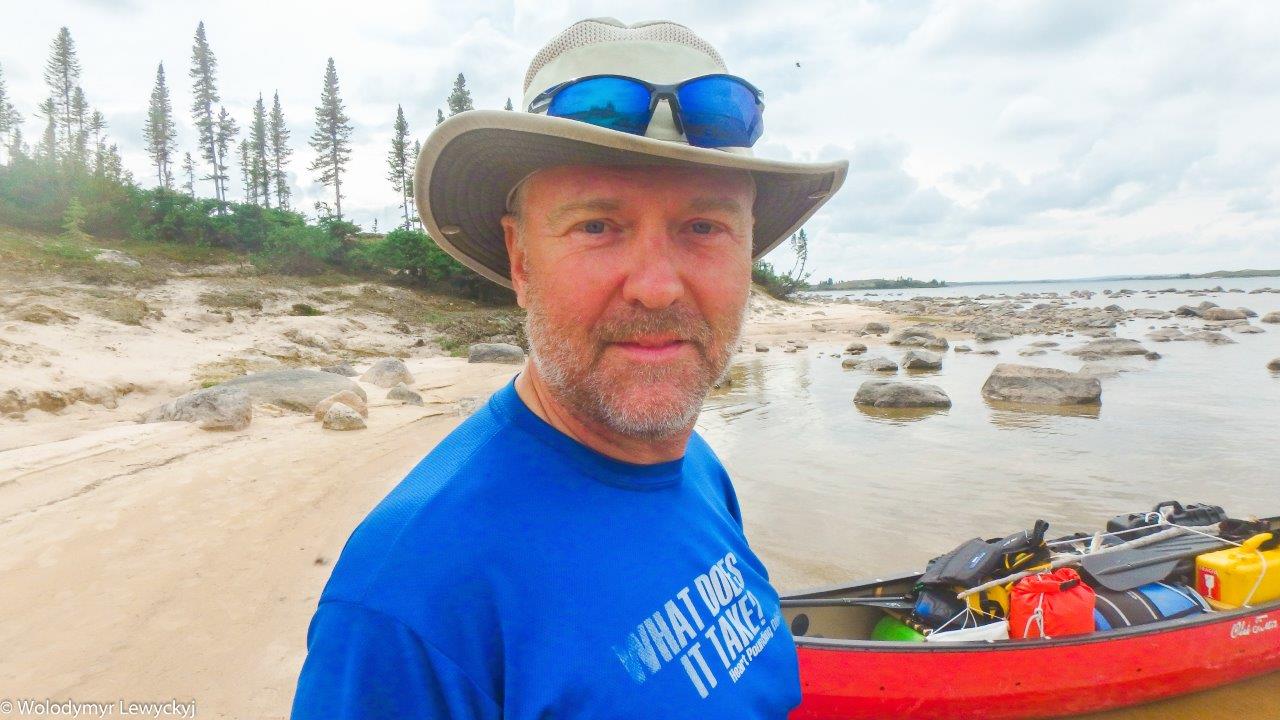 You can tell from the shore line of how water levels fall by mid-August from the spring highs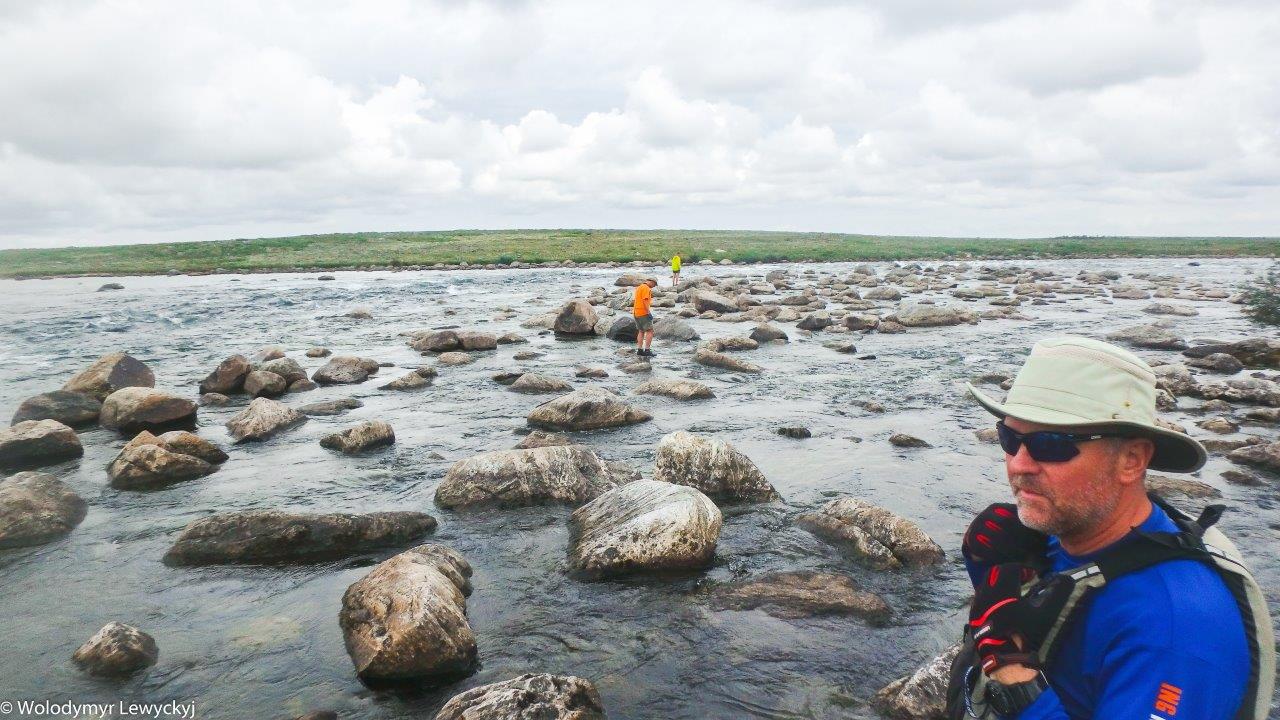 Scouting out a set of rapids. Always scout the rapids first. Its crazy not to.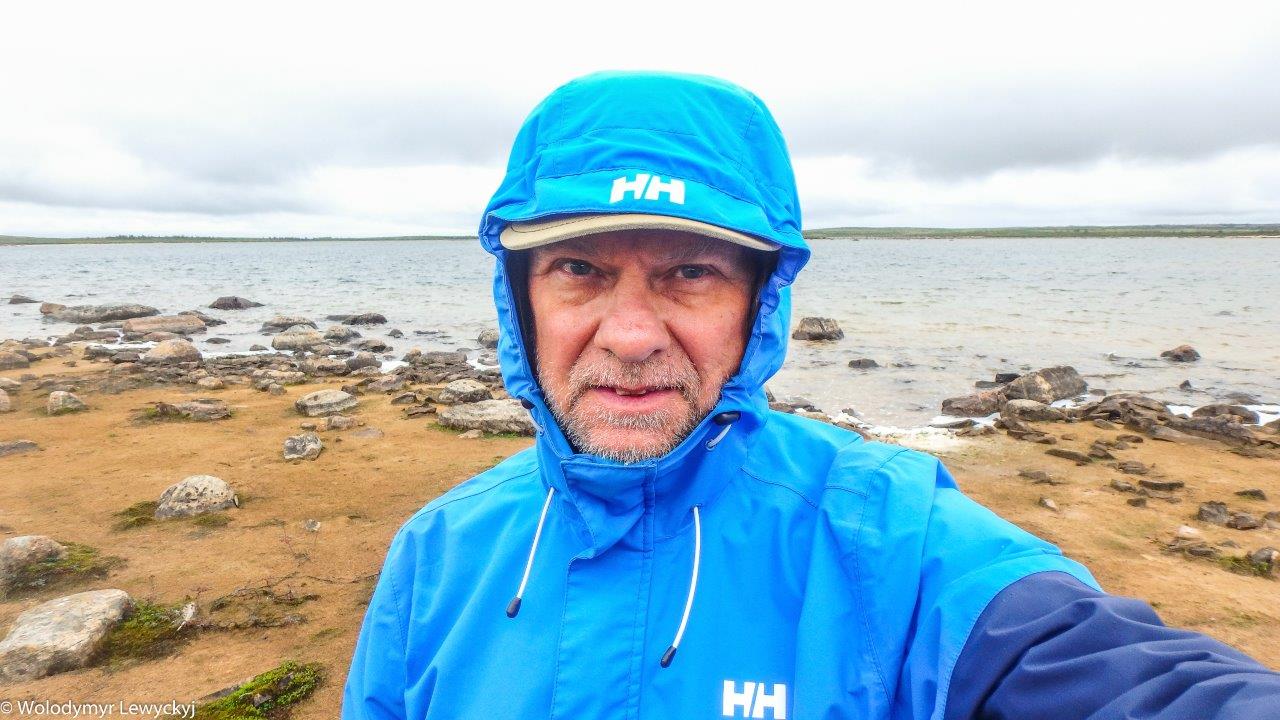 Wolodymyr with his Helly Hansen jacket, a nice shade of blue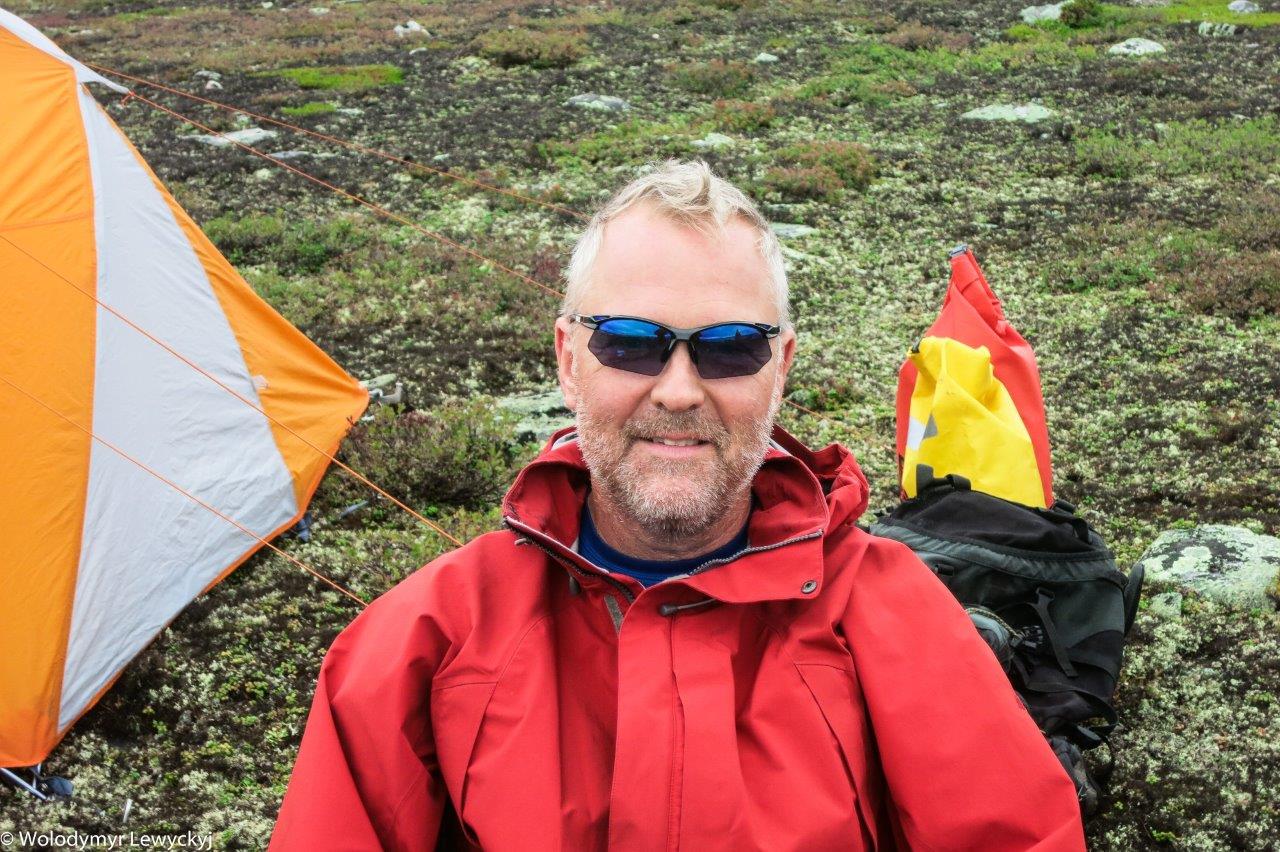 The end-of-day sit down and chill session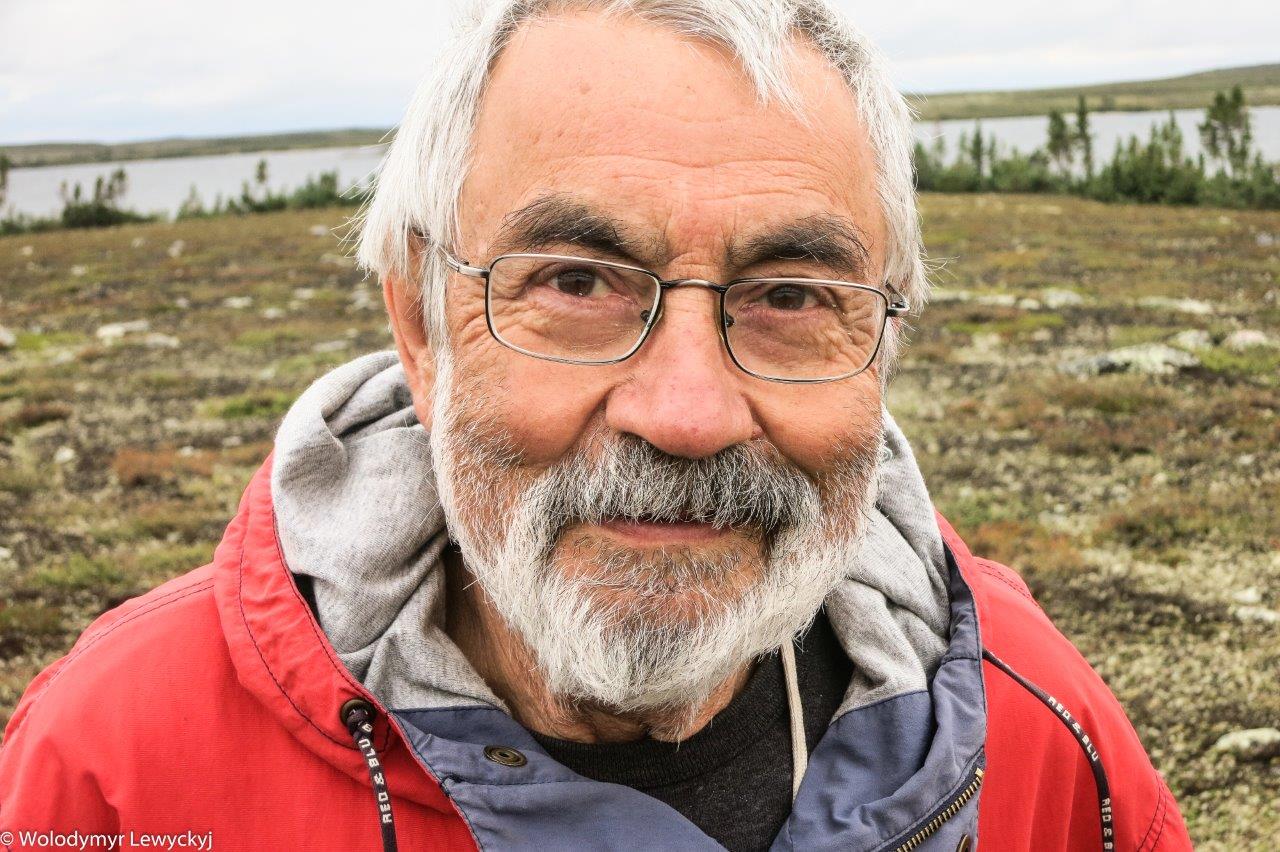 See? This is Fedir's normal, friendly, and warm face.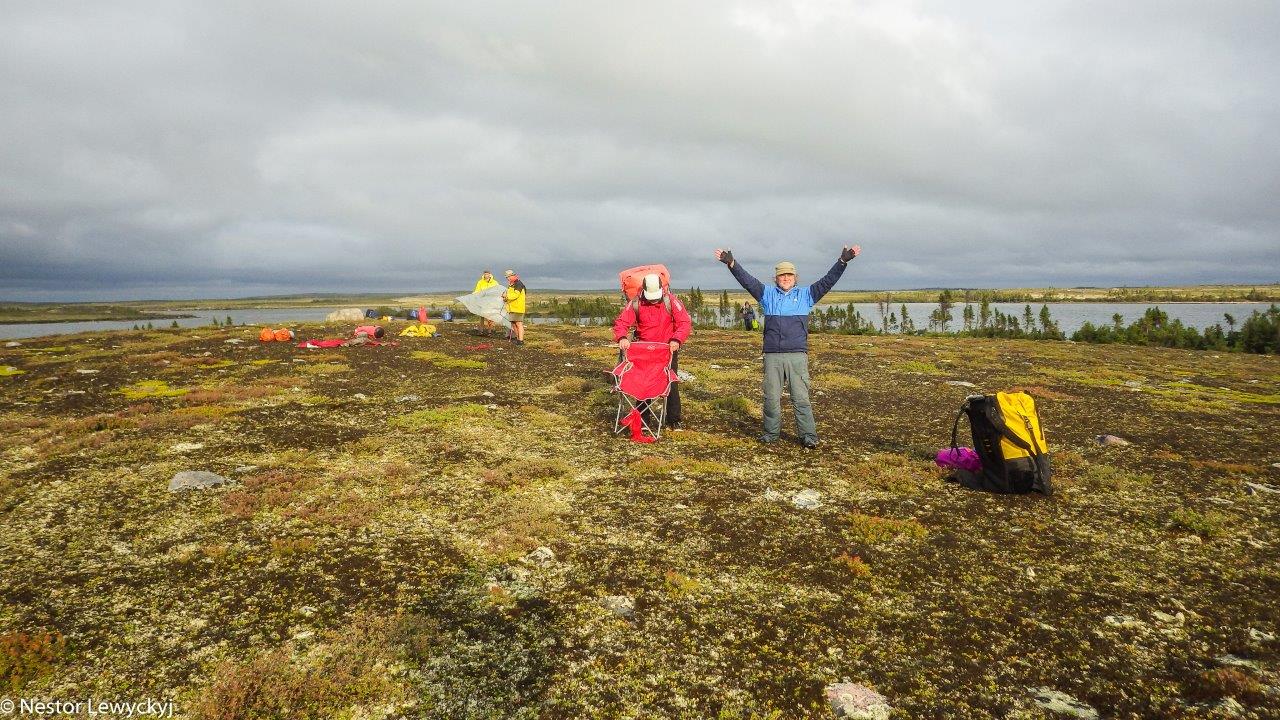 We picked an island in the river for one of our camps. It was not ideal and somewhat rocky and a bit of a carry from the river, but sometimes you do not have a choice. We were all first timers on this section of river so you take what you can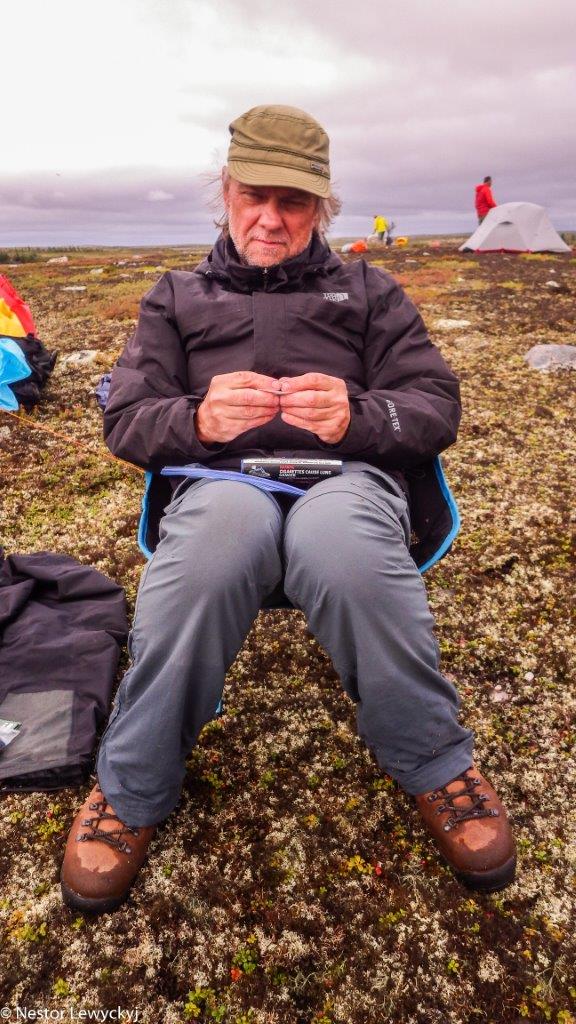 One of the pleasures that Wolodymyr and I brought with us was Drum rolling tobacco. We would normally roll one or two between setting up camp and dinner. With a cup of Jack Daniels or rum, it was wonderful!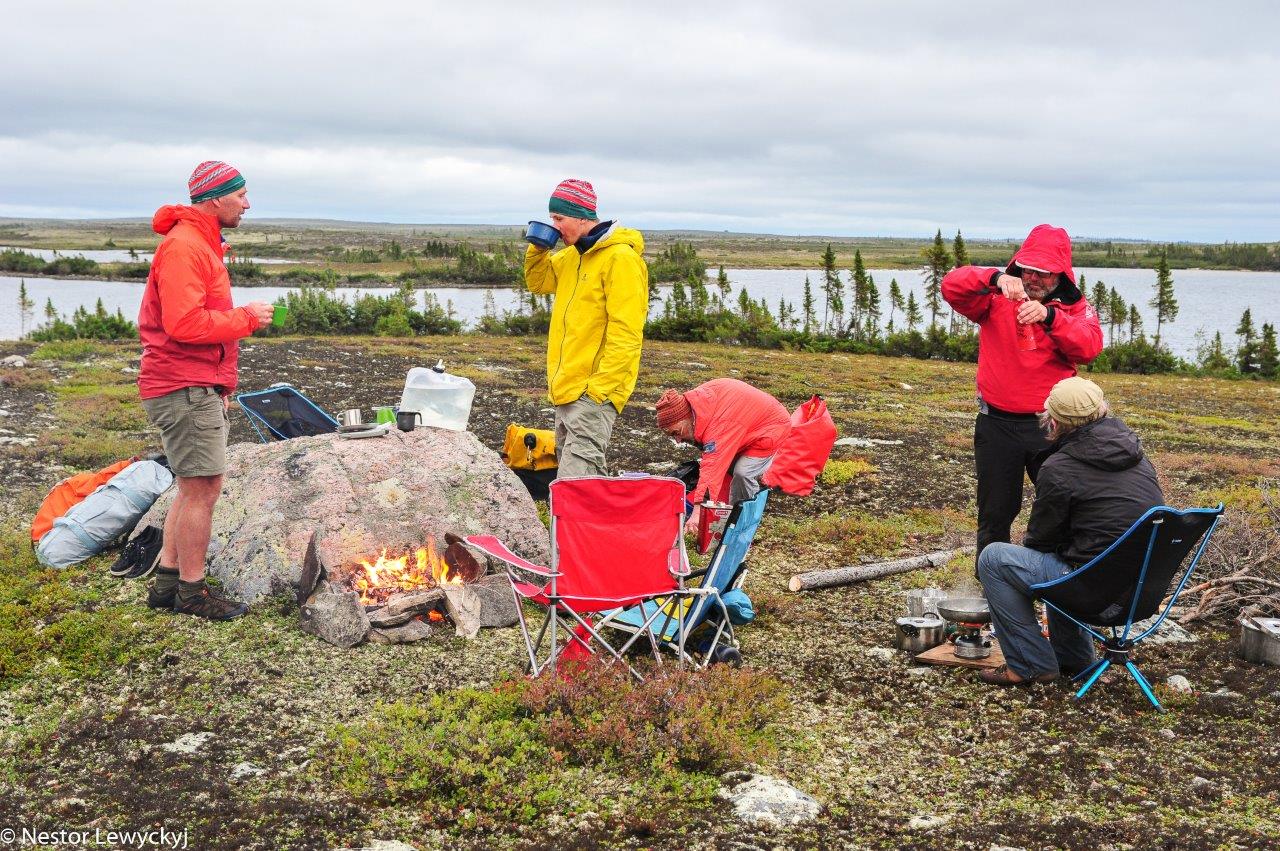 Everybody busy in the kitchen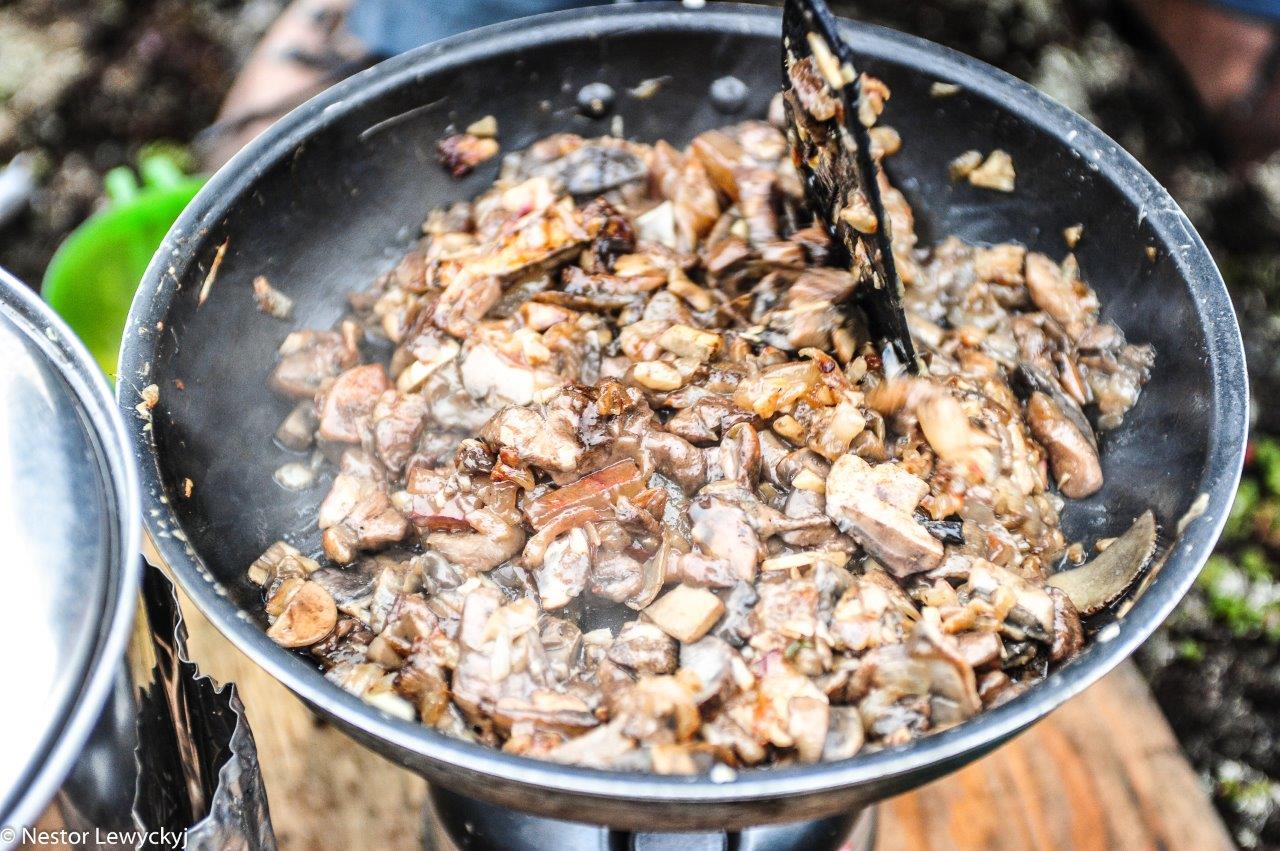 Not only did we catch and eat a lot of fish (most days) and we had a lot of blueberries, August also brings a lot of a certain type of boletes mushroom that grows near birches. Along the Thelon and Elk Rivers you have a lot of bushes that are just dwarf birches. These mushrooms love to grow there in late summer. We picked and fried them whenever we could.
Lined up almost perfectly!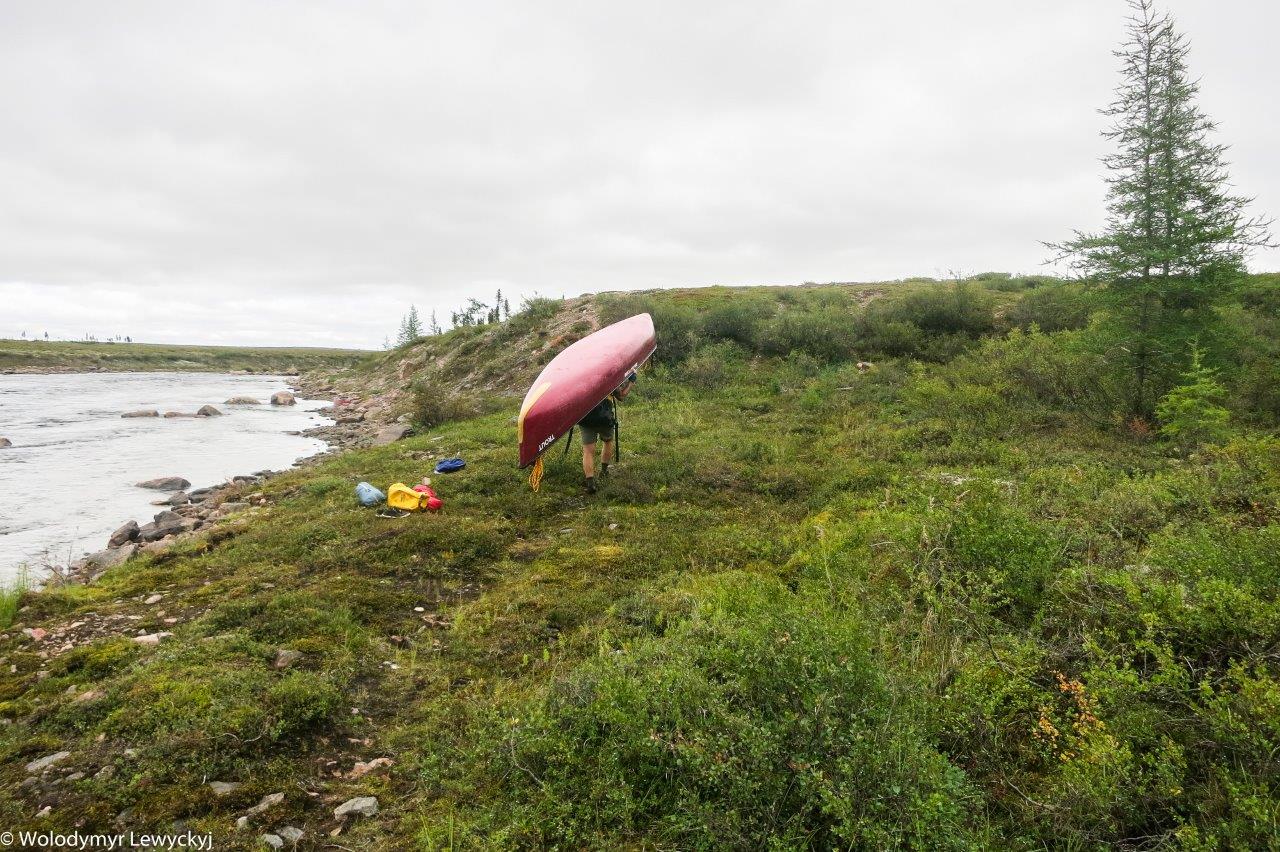 We knew that there were a whole series of rapids that we would have to negotiate on the Thelon between Lynx Lake and Thelon Falls. It turns out that Thelon Falls was the only thing we had to portage. We ran/lined the other ones. Mychajlo was a real workhorse on this portage while I was nursing a bad back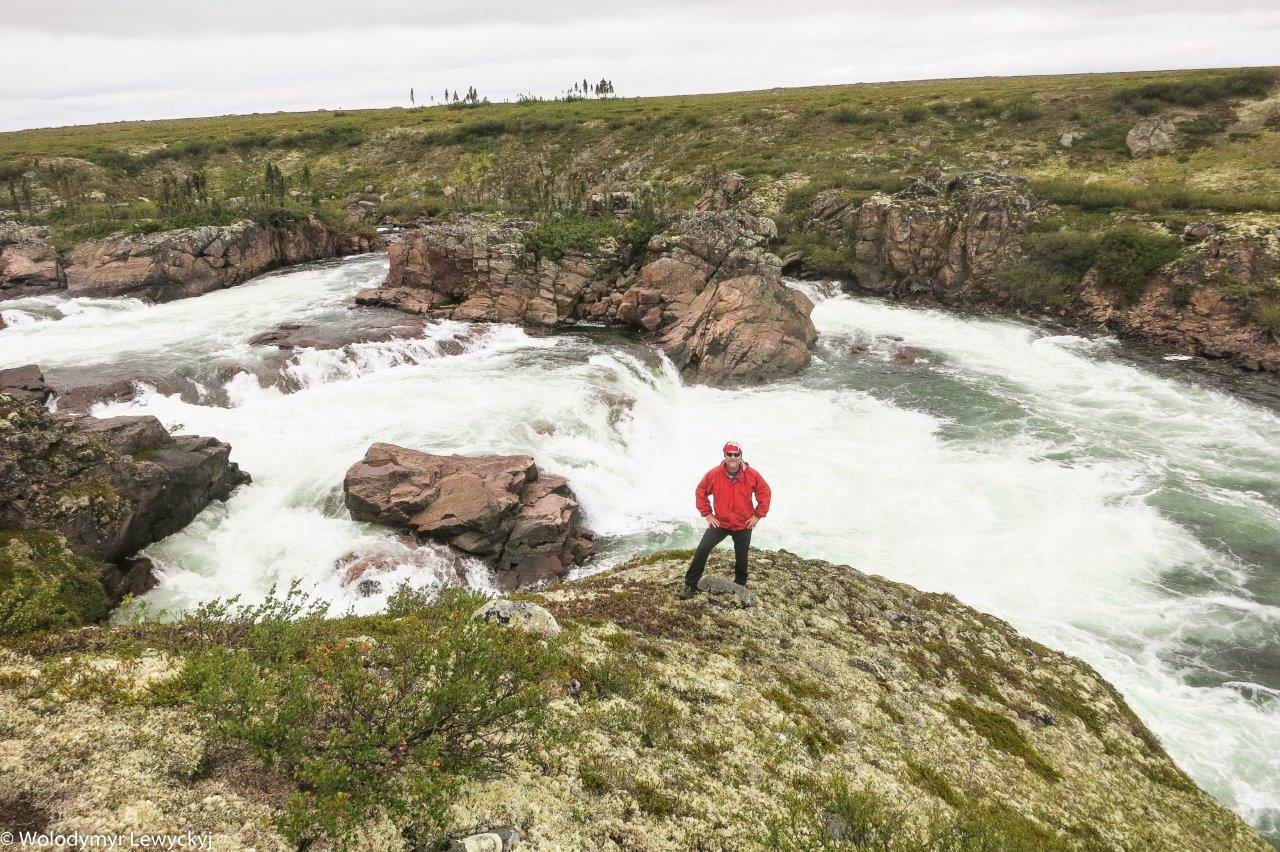 That is the hairy part of Thelon Falls behind me. Its very similar to Granite Falls on the Elk River, only a few kilometres away to the South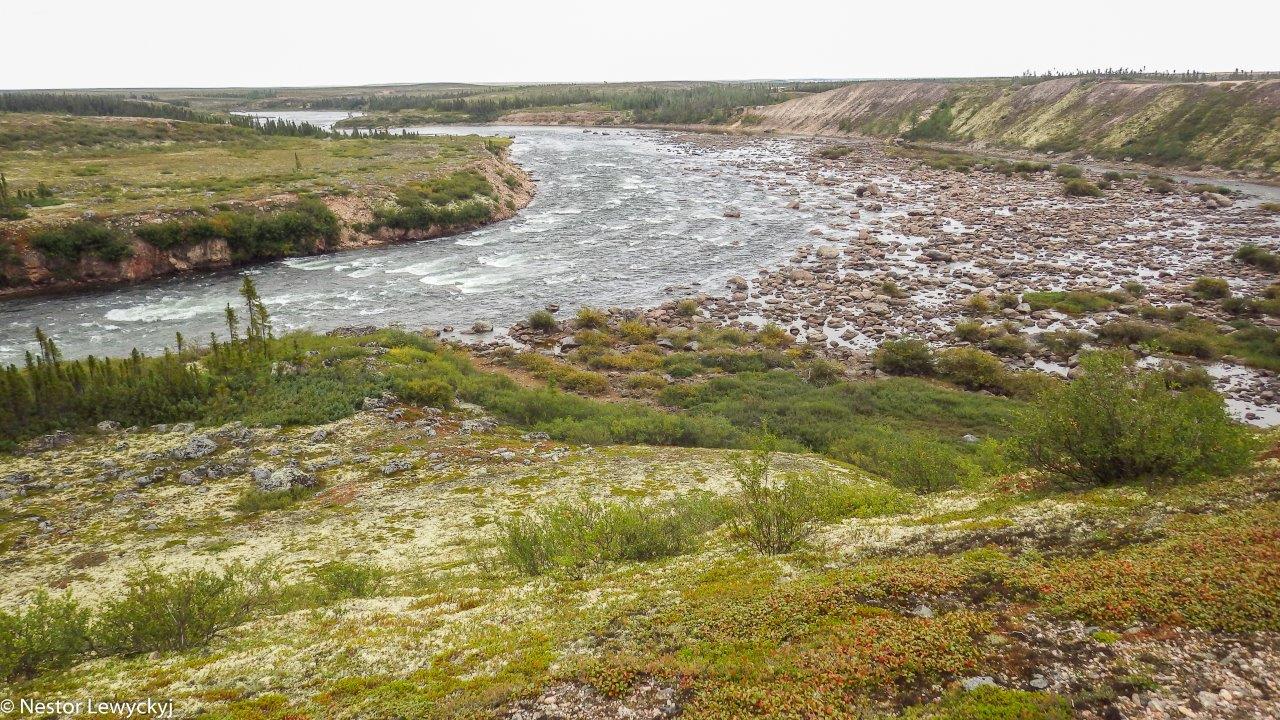 In higher water you can tell that there is probably a navigable channel at the far right against the shore. We portaged to this point and then literally slid the canoes by rope down this slope to the water's edge and ran the lower rapids from there. ts easier than it looks from up here.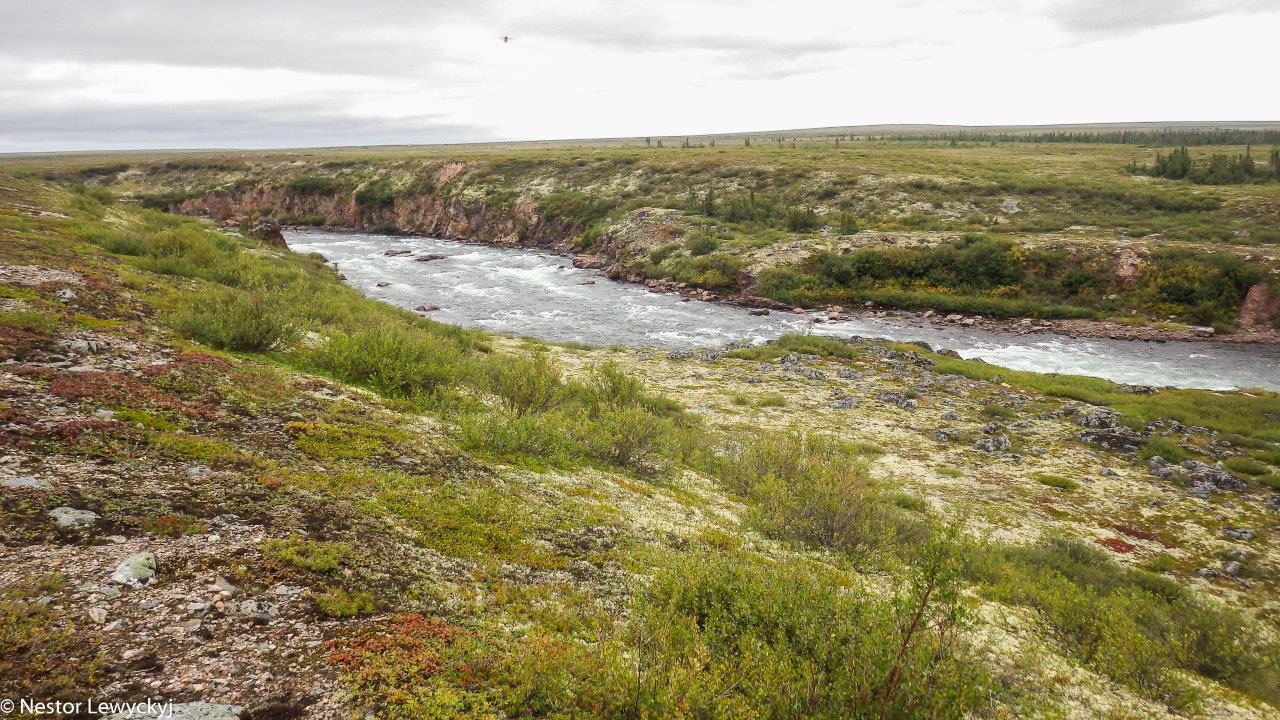 Like Granite Falls on the Elk River, the rock has this ruddy red colour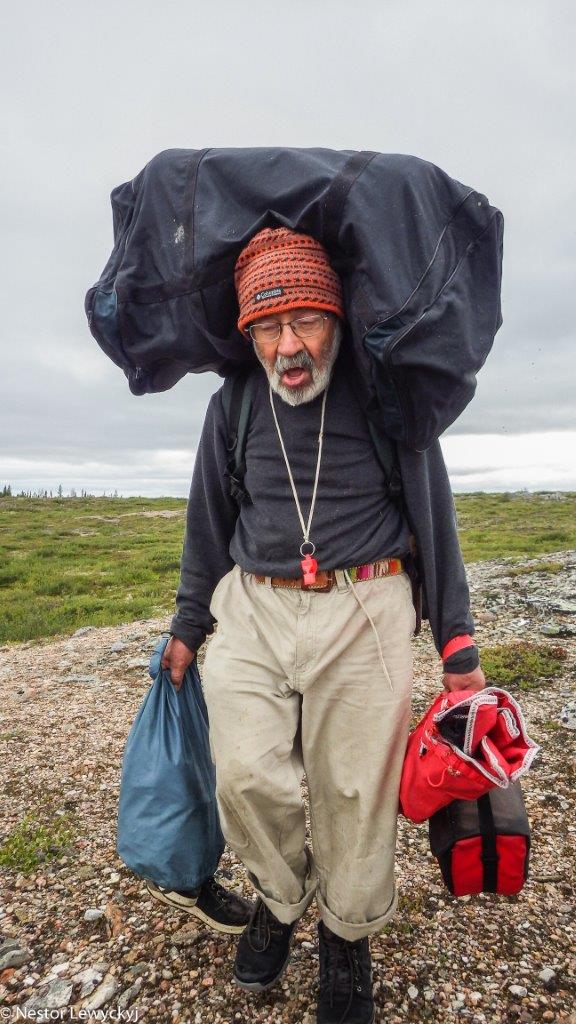 Fedir, the oldest of us all, did not shirk any of his responsibilities. He more than carried his load. I can only hope to be in his physical shape when I hit his age! Sometimes we shrug age off, but I read a trip account from perhaps two years ago where 4 older men were doing a section of the Thelon River and after a few days one of them had to be rescued by air after suffering a heart attack. He survived, but you have to be prepared. You have to be able to get help which means you have to be equipped. As is now standard for me, we had a satellite phone with which we could call for an emergency evacuation, we had my SPOT device which has a distress beacon built in in an emergency that will summon search and rescue, and I also had, for the second time, an inReach device, originally by Delorme but now by Garmin. It is an amazing device and service. It takes over where the SPOT ends. With inReach you can communicate with the outside world by sending and receiving text messages to your contacts and you can also post text-message-sized posts to your Facebook page and inReach automatically adds a link to your location so your Facebook friends can see where you are on a detailed map. What you do not see are any responses to your Facebook post. But you can carry on a full conversation with the texting feature, all by satellite. This is a monthly subscription service but you can suspend it month to month for a small fee. On top of that, you can also use your inReach device to trigger a search and rescue to your location. I LOVE the device.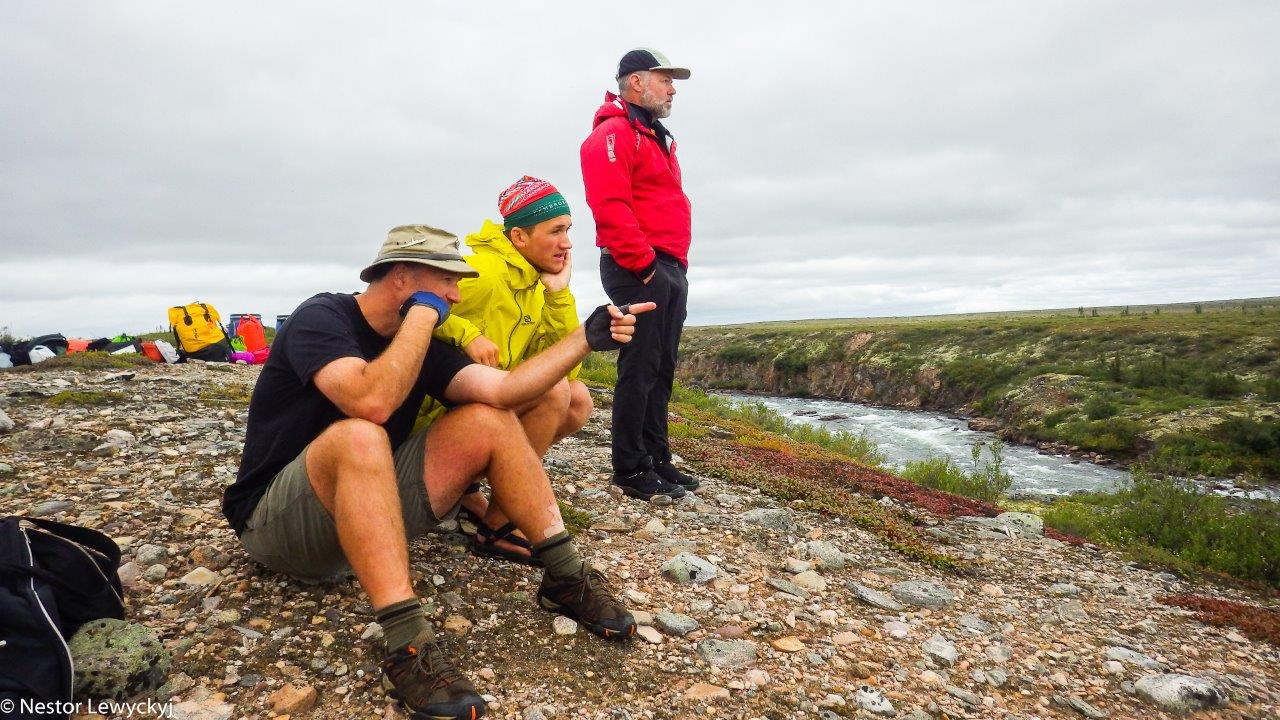 Mychajlo was our primary rapids strategist. Here he is figuring out a line with Zachar for the rapids below Thelon Falls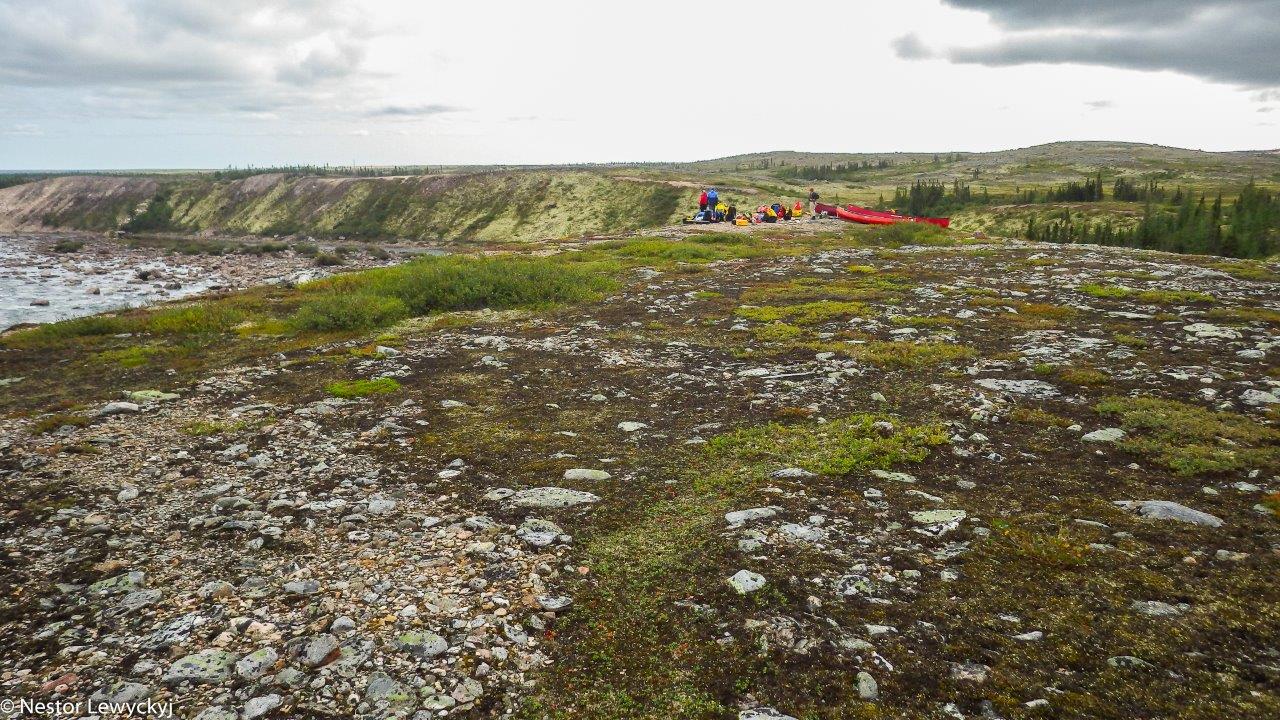 We sat there for a while analyzing what we should do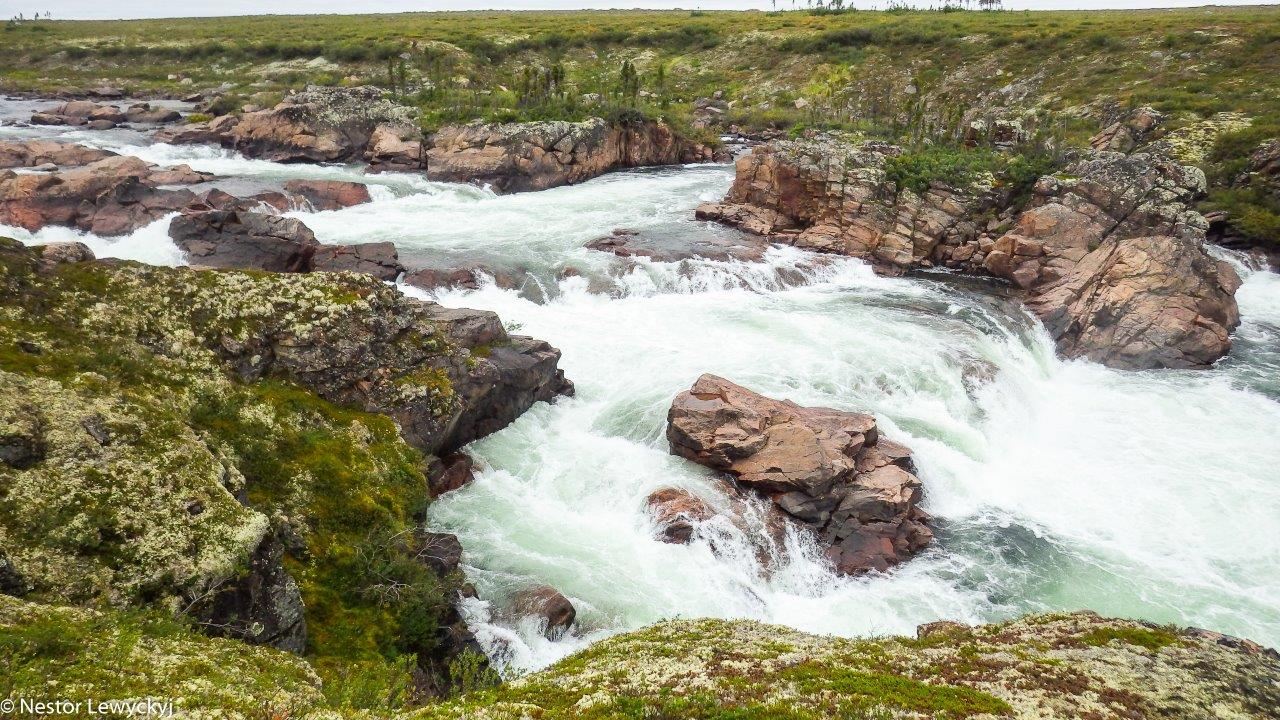 I can't imagine doing that even in a kayak but I hear people do such things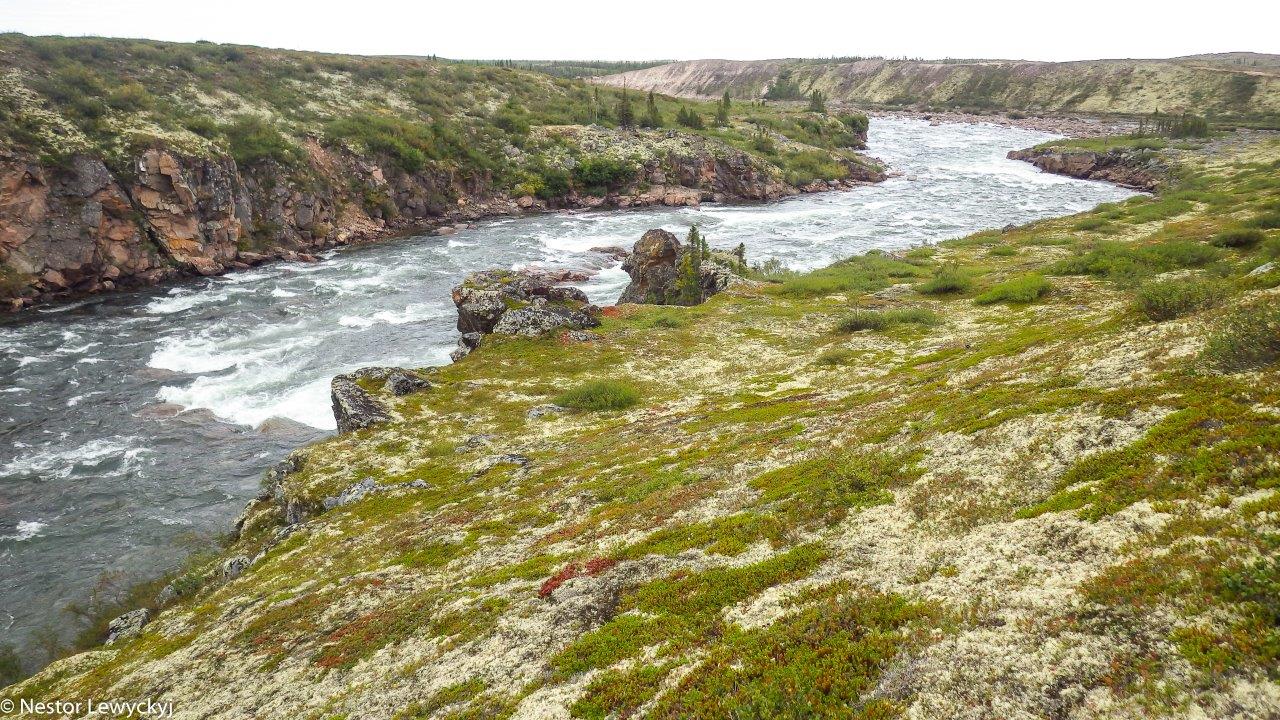 We shed a fair bit of elevation through Thelon Falls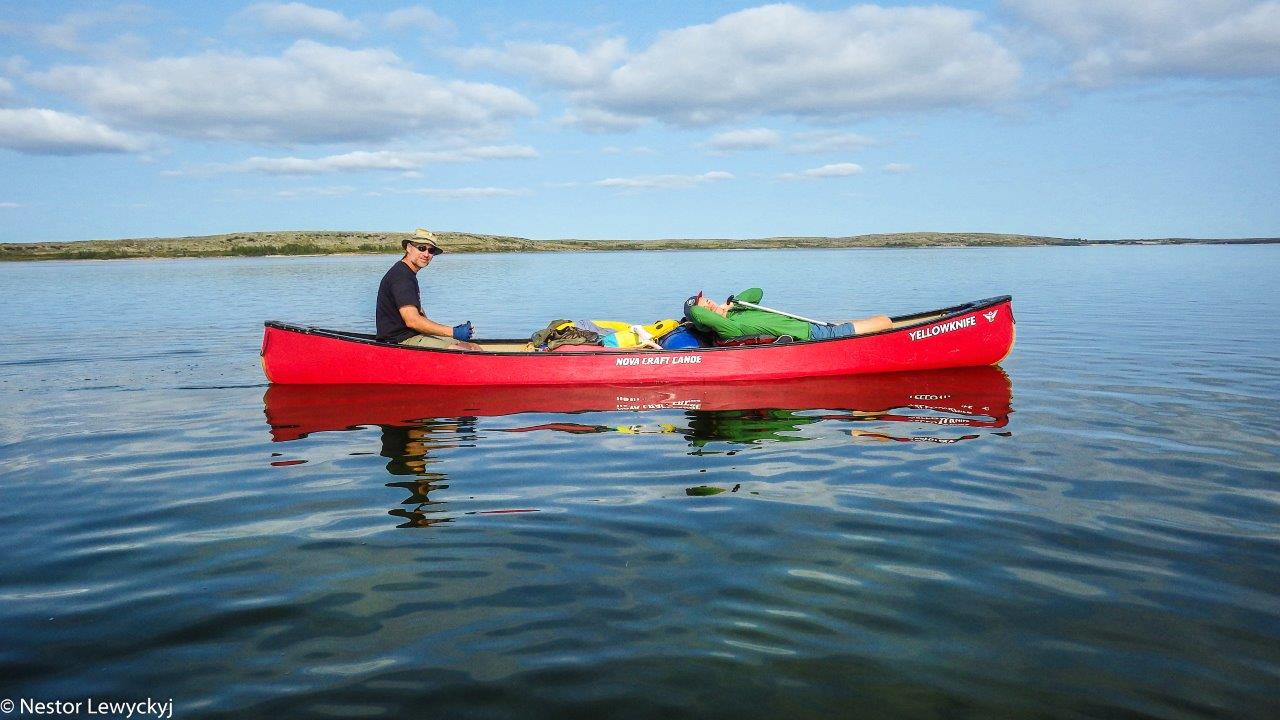 We did have some amazingly beautiful moments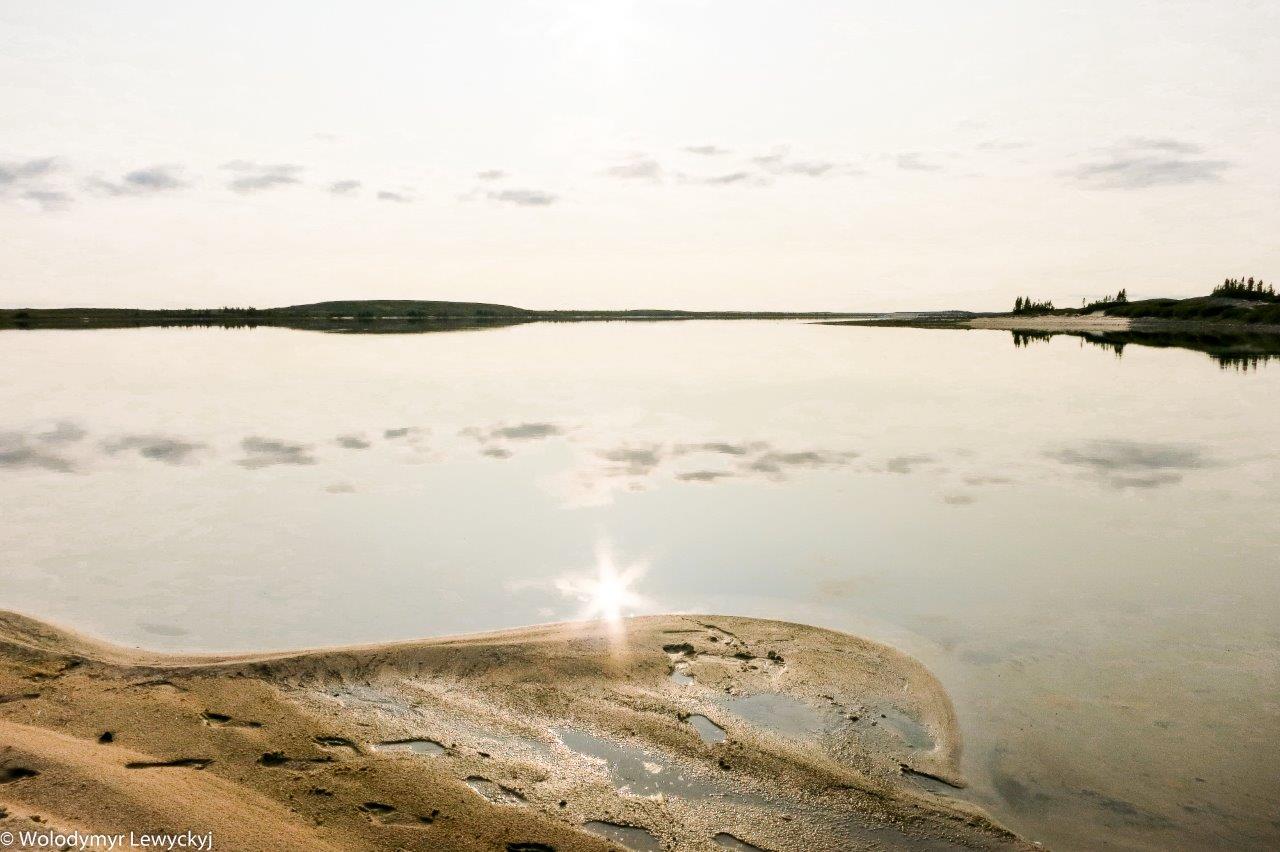 The river below the Elk River confluence is very calm and wind died down completely that evening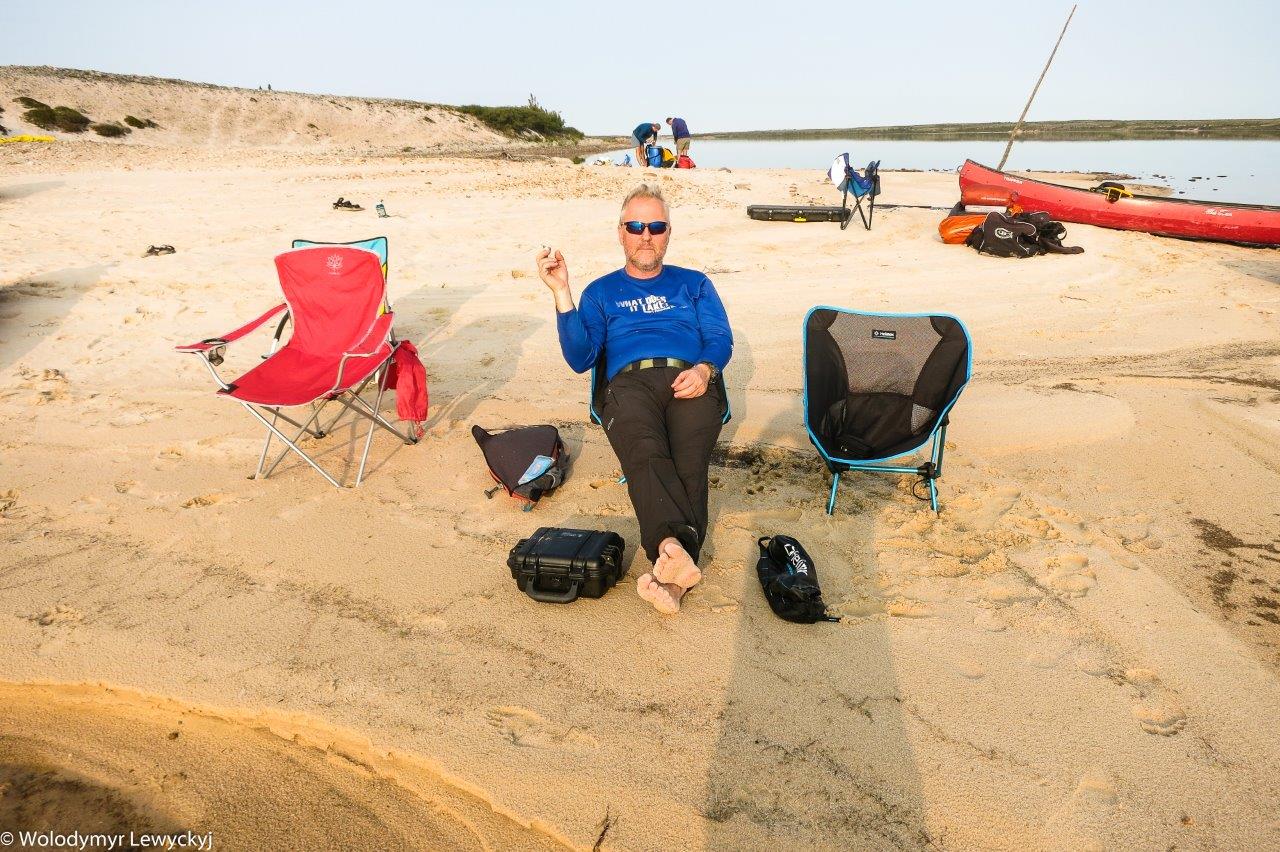 Ahhhhh!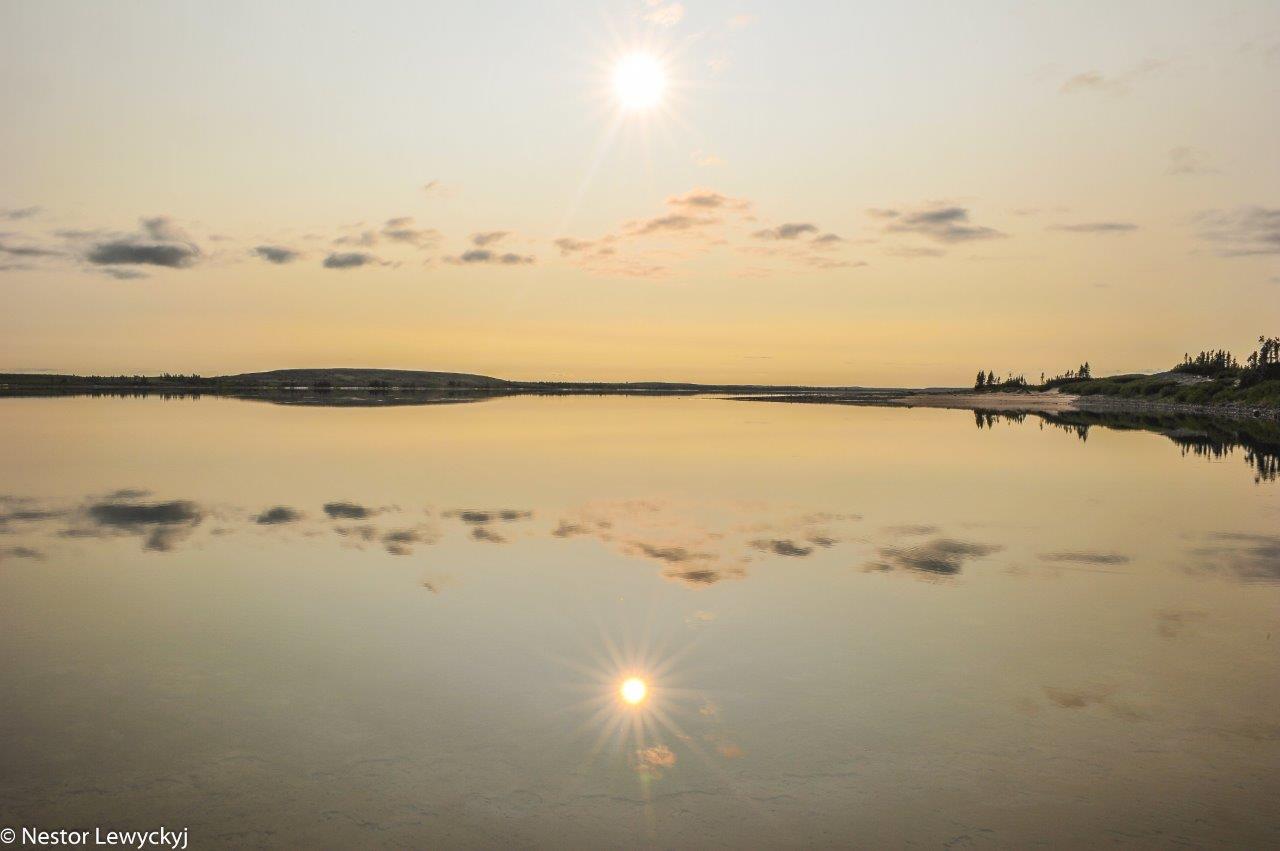 We had left most of the smoke behind us but the sunsets were still colourful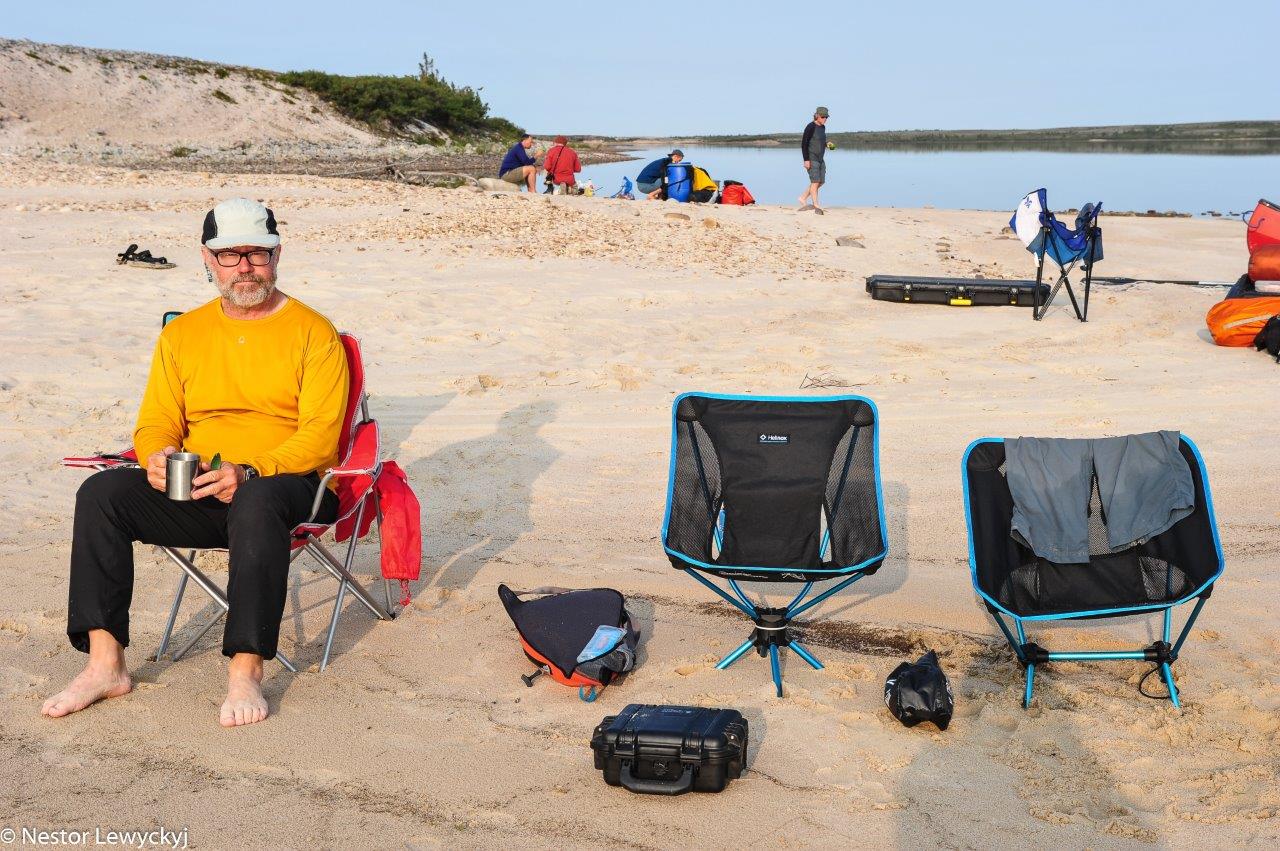 Roman joining us for a drink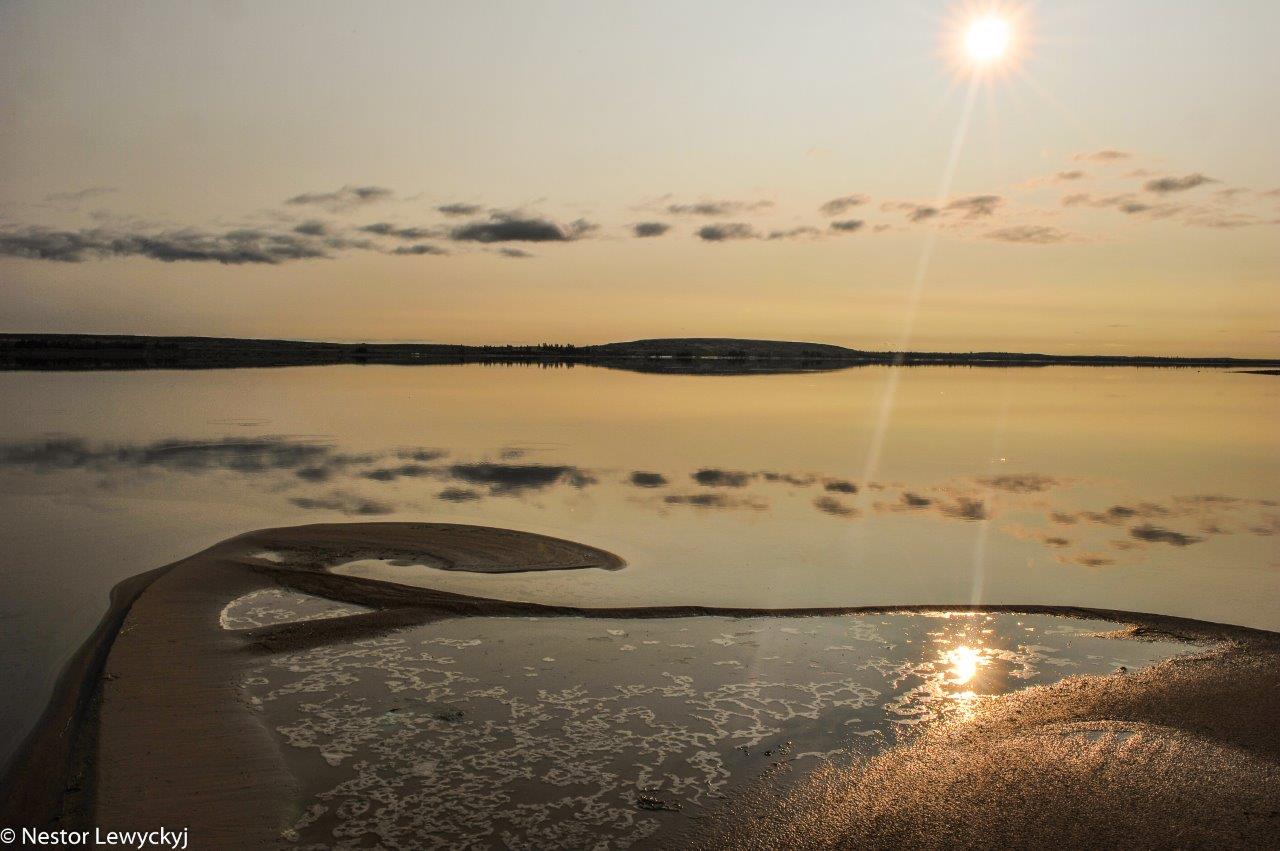 I find evenings and sunsets so completely serene out there. It is so calm, peaceful and quiet, with an occasional bird chirping.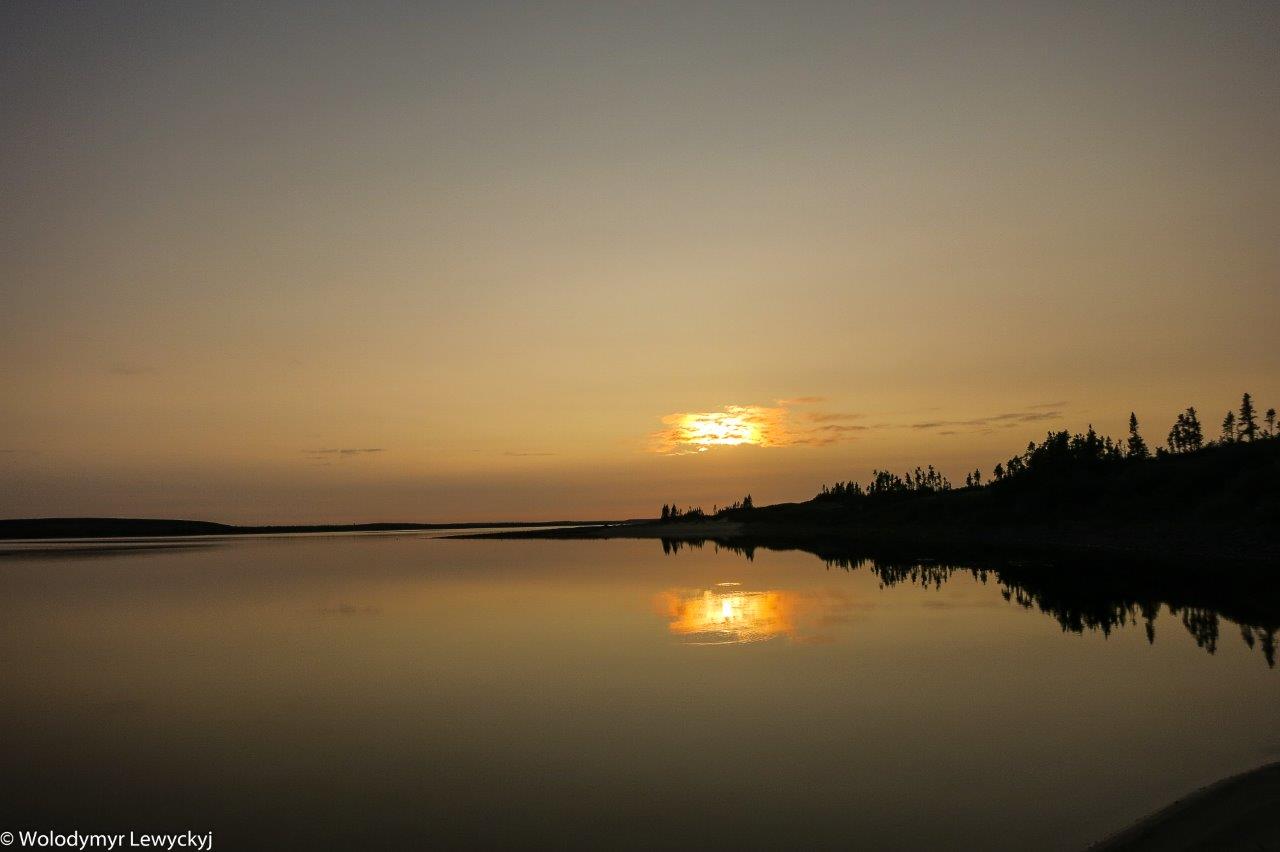 A perfect little cloud filtering the sun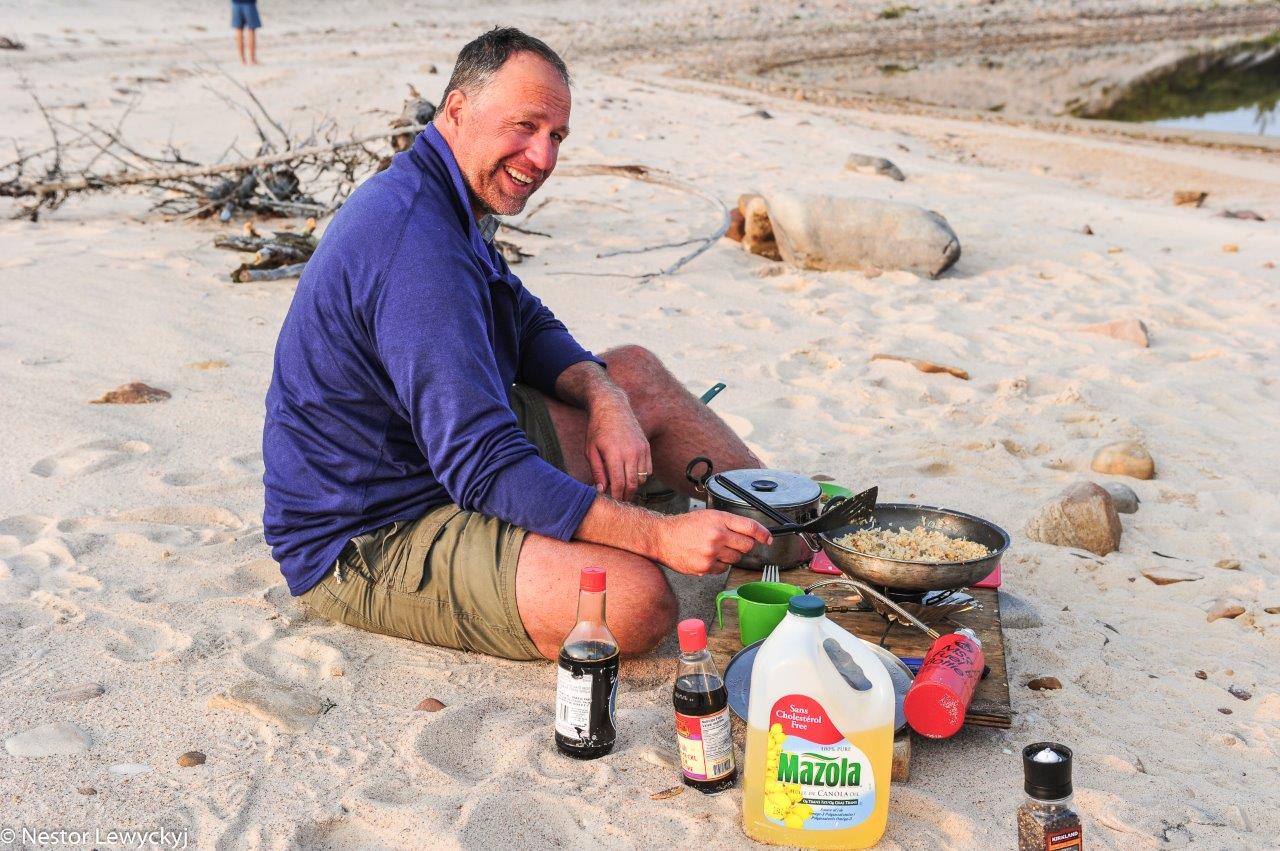 We all shared the cooking duties but some of us had more fun with it than others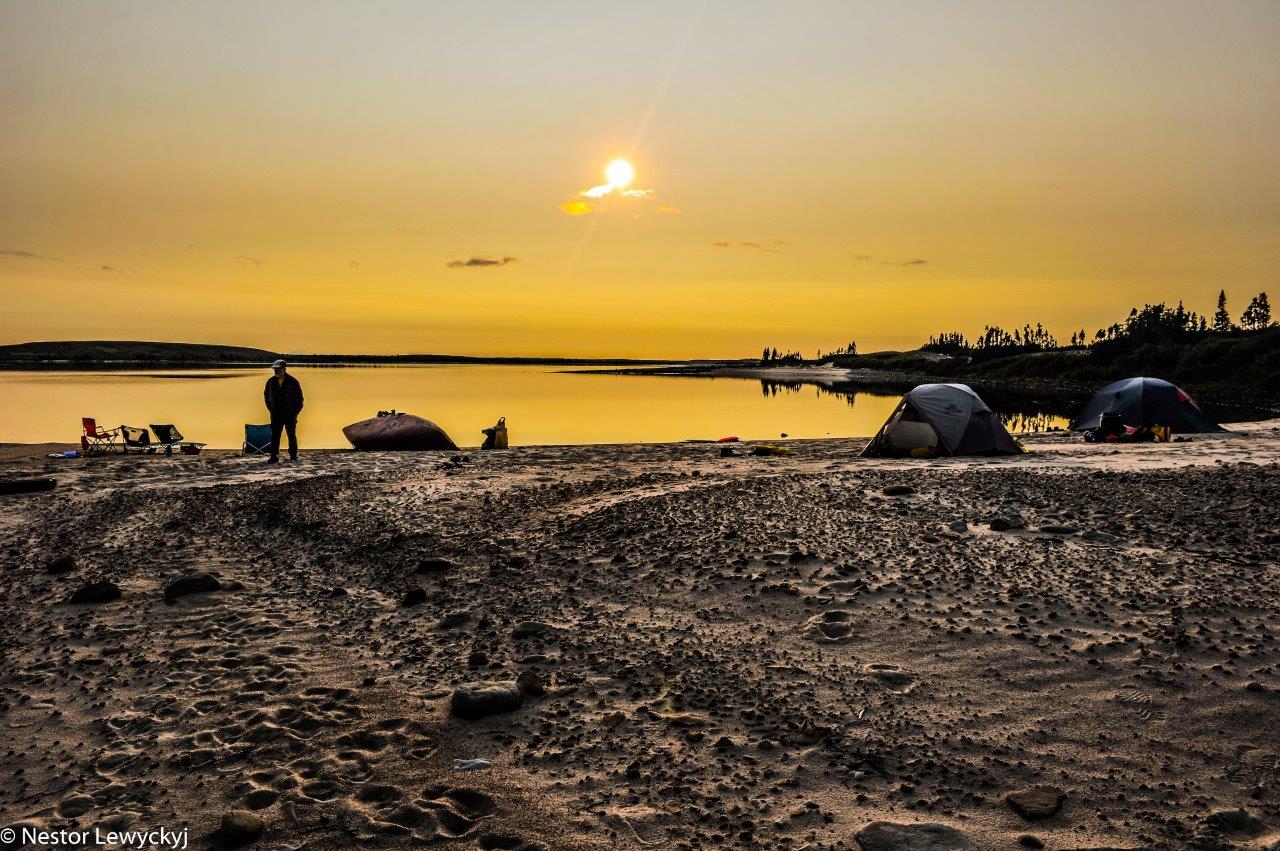 Ok, so I messed with this picture a fair bit, but I really like where it ended up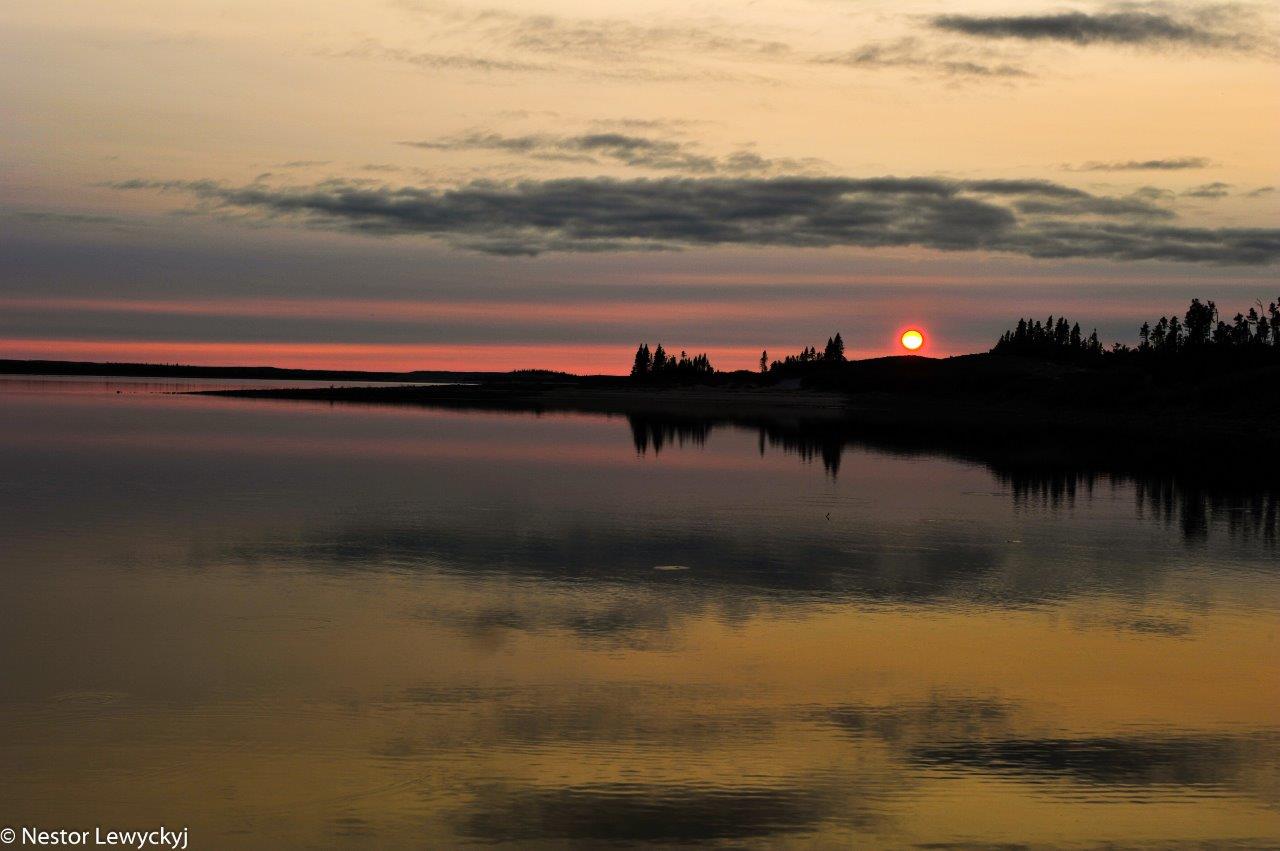 And I messed with this one very little.....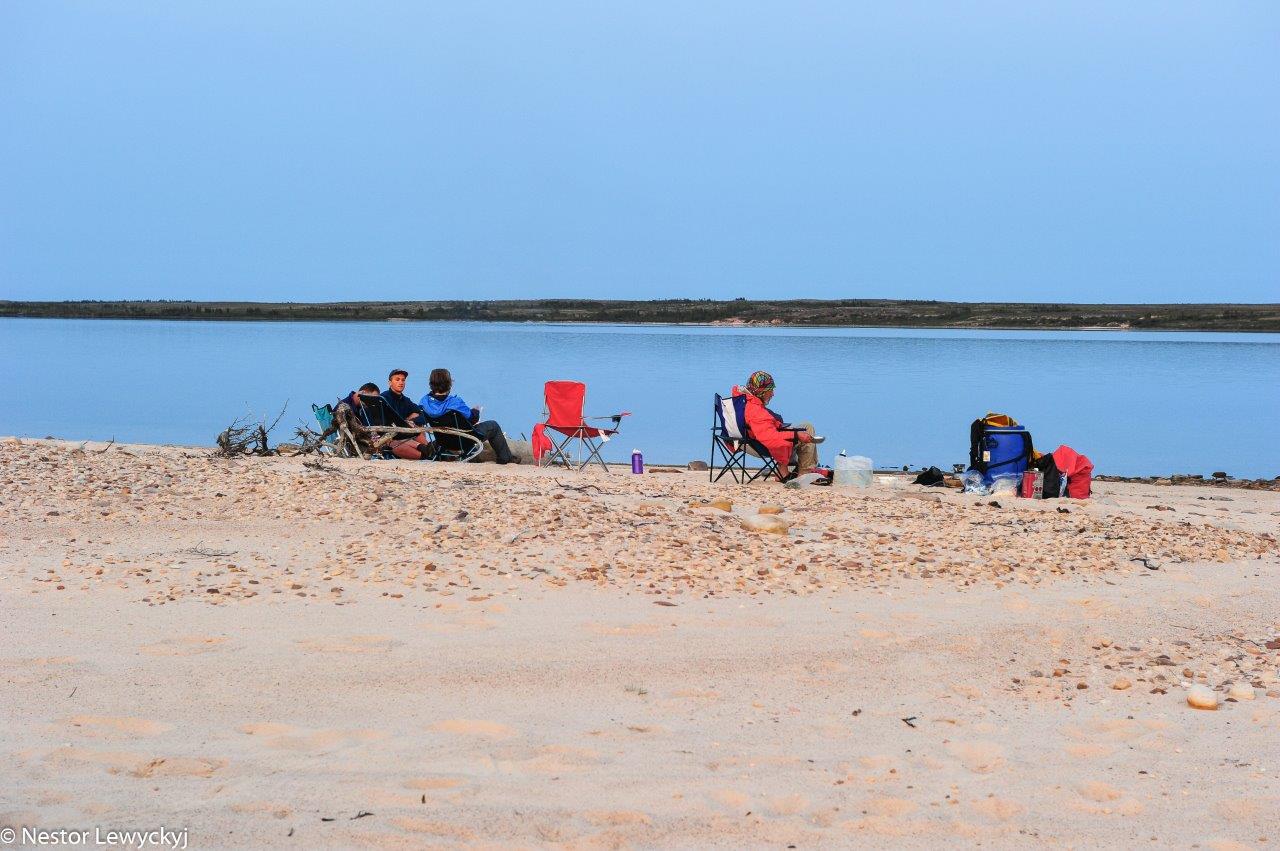 We were into our second week and getting into the groove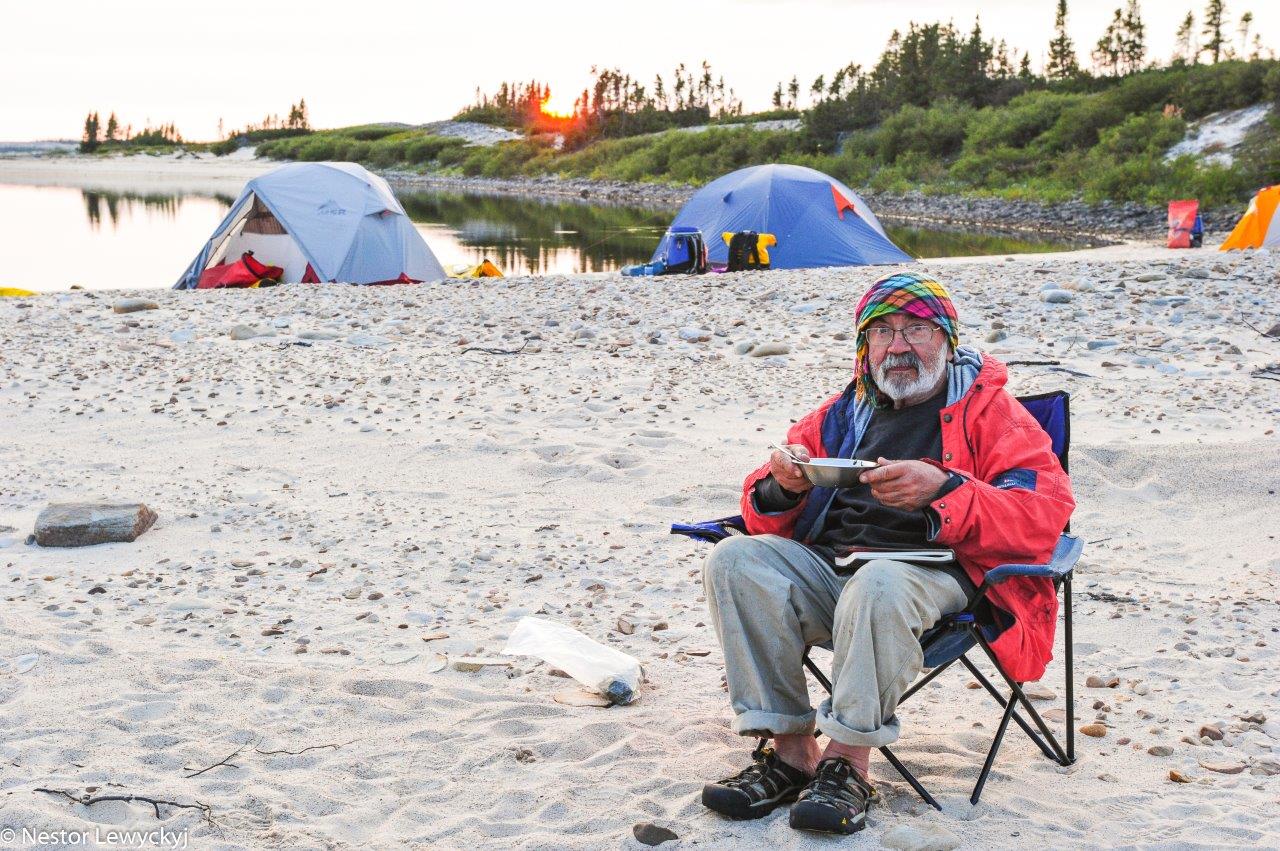 One of the things that is interesting this far north is that it could be close to 30 degrees C during the day, but once the sun starts going down, you feel the temperature drop and it happens quickly!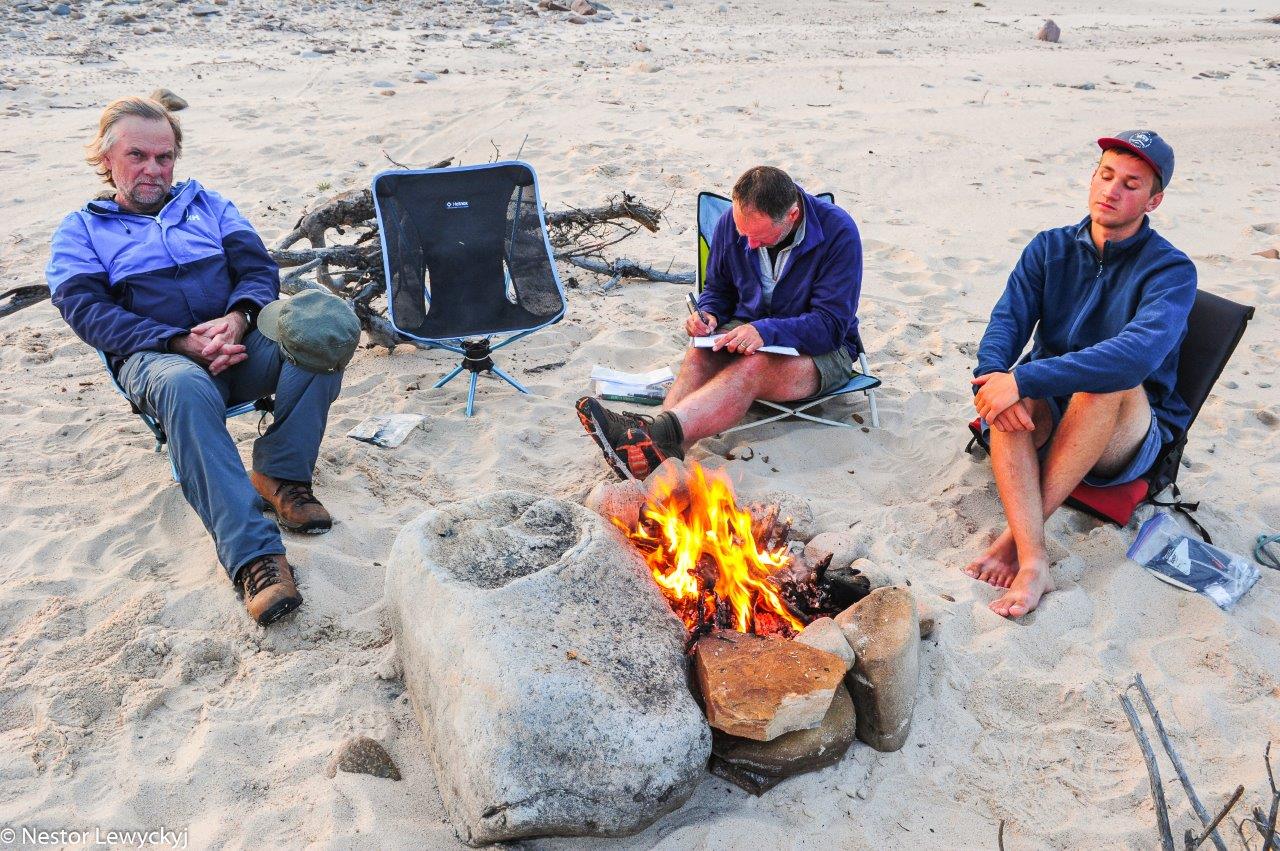 But a fire always helps!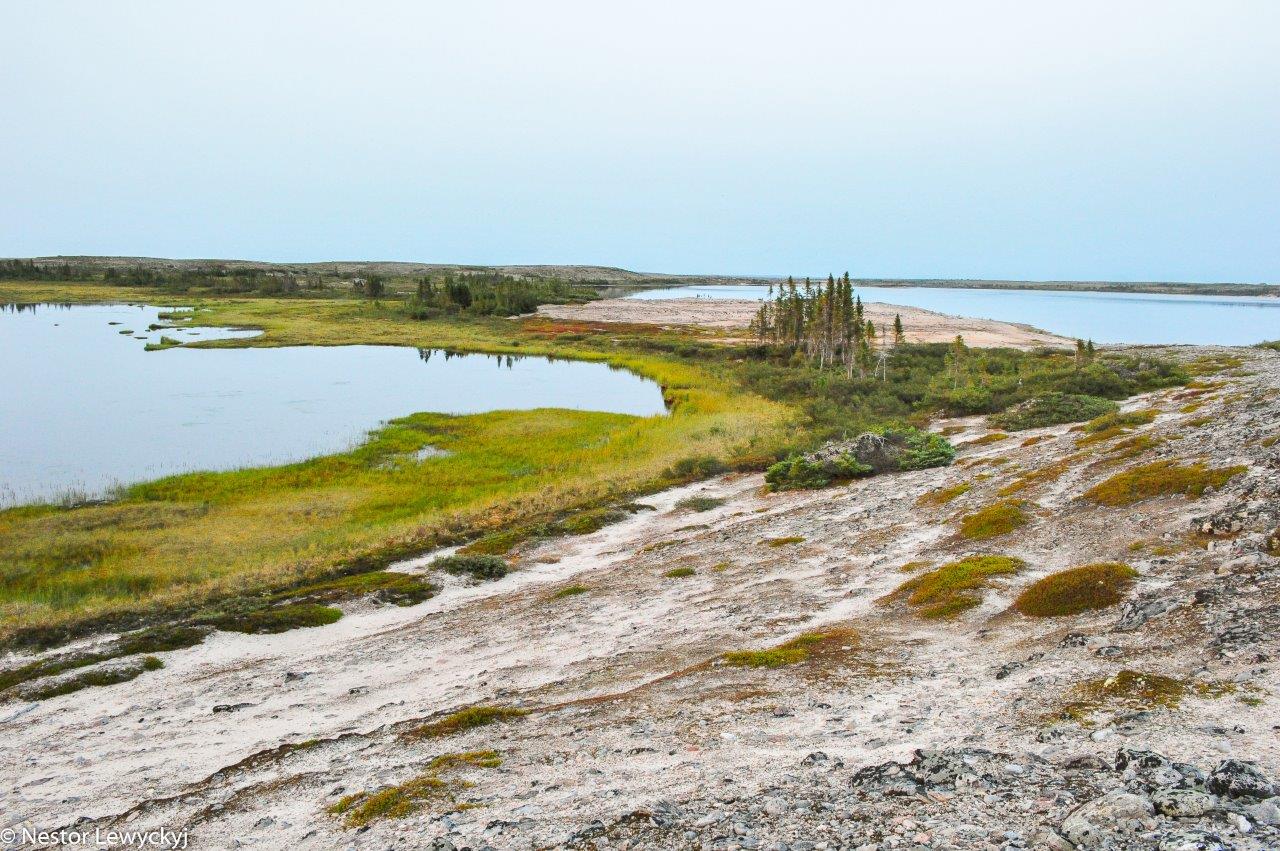 The sandy and gravelly eskers, the leftovers of the wash waters of the old glaciers, are crucial to live in the Barren Grounds. Easkers are dry so they do not freeze. Bears and wolves can easily dig in themto create their winter dens, unlike the tudra which is permafrost. So where you have eskers, especially large eskers or a network of eskers, you will have more large fauna.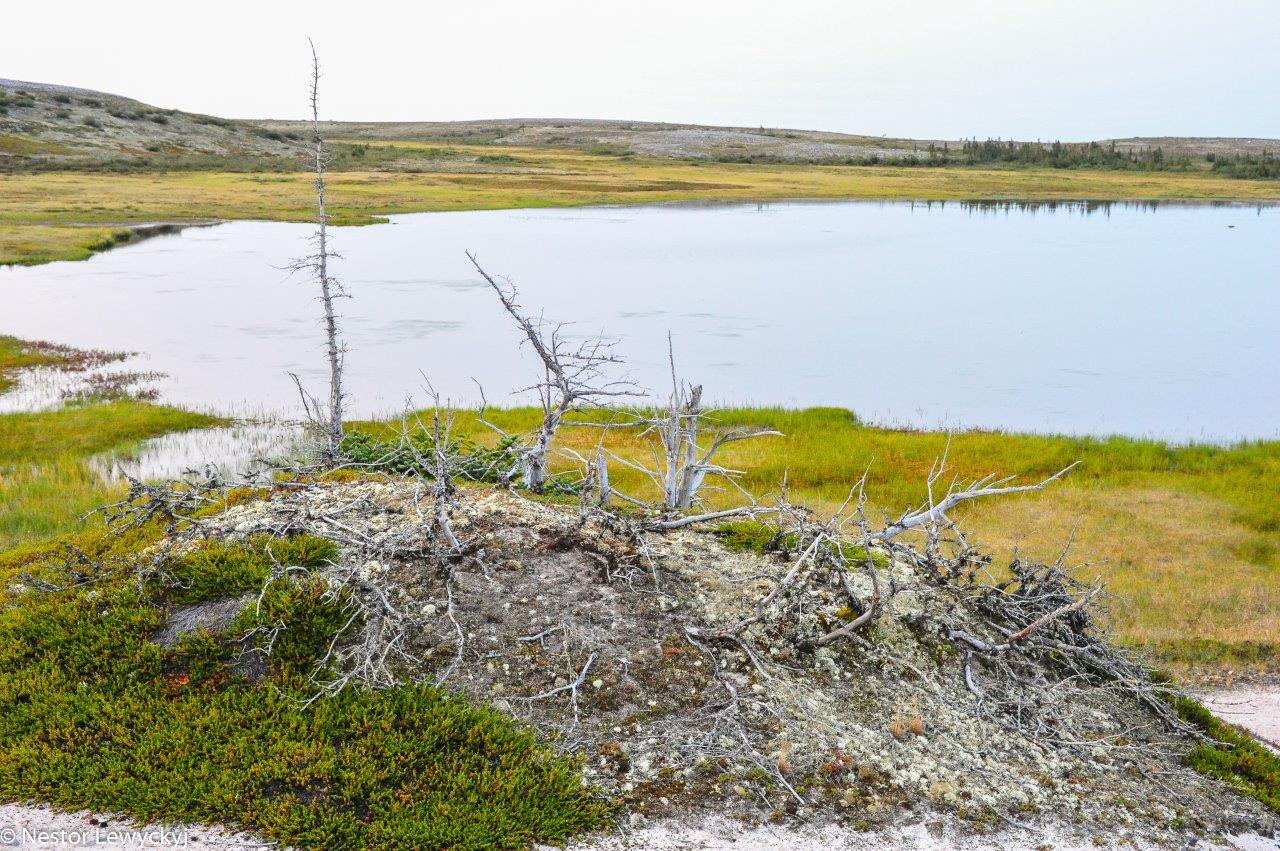 There are lost of standing pools of water aside form the rivers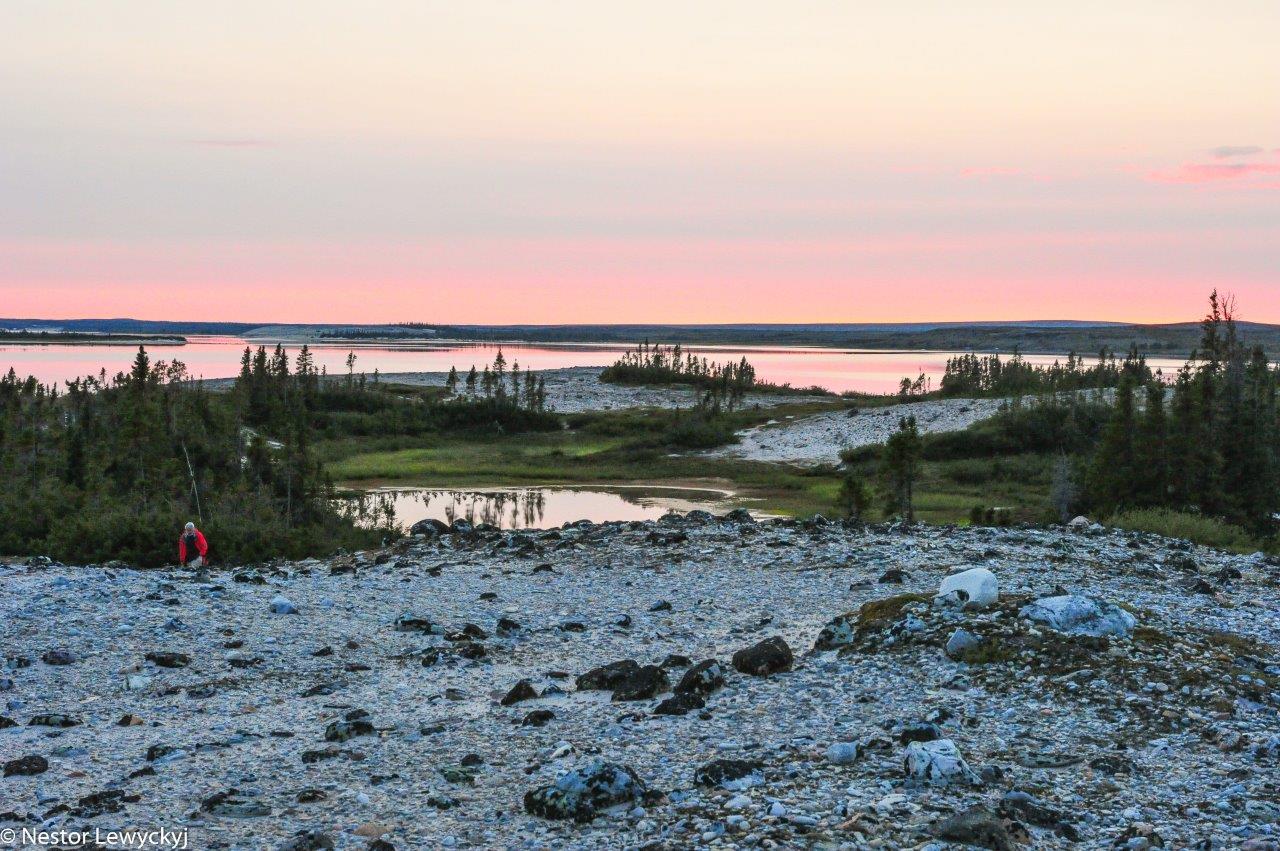 Caught Fedir exploring at sunset!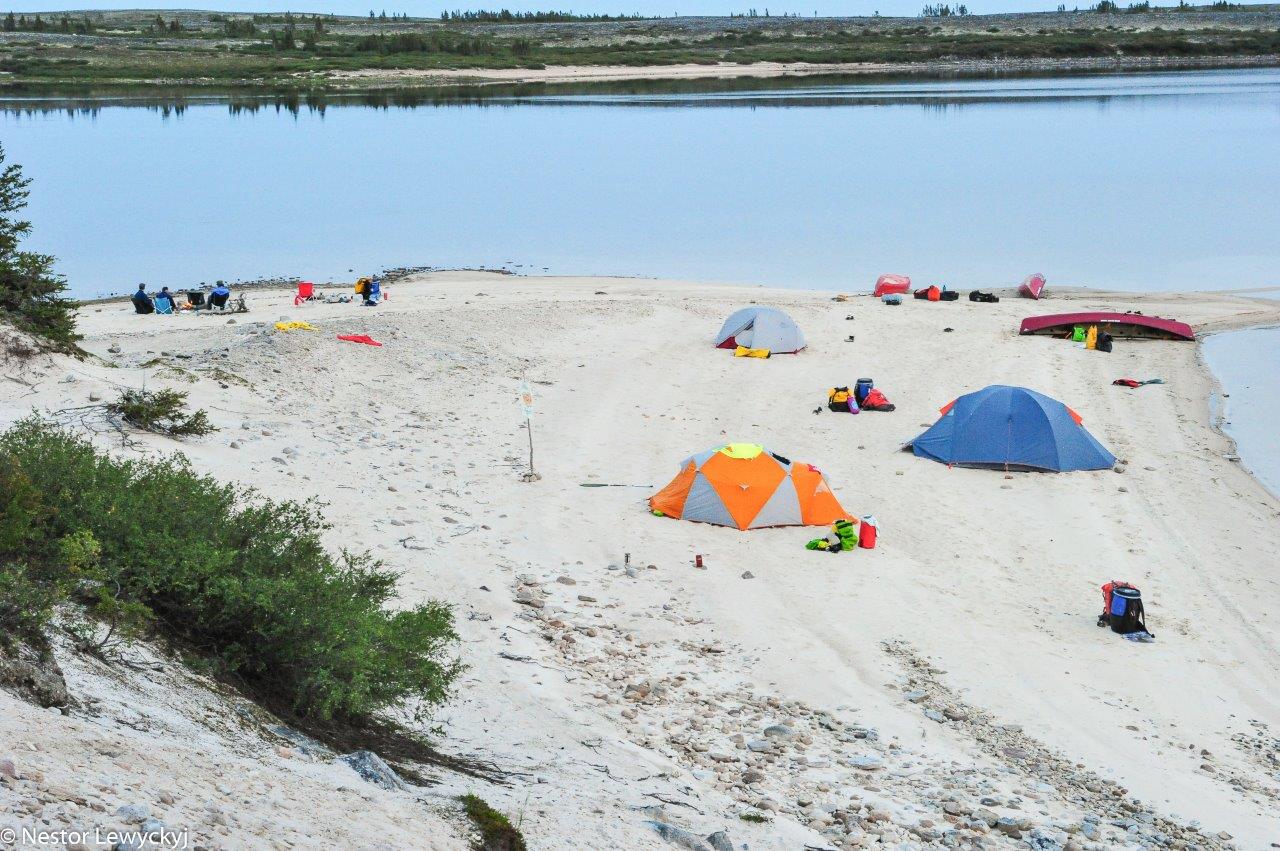 Sand may look like an ideal way to camp, but it gets into everything if you are not careful, especially food. But if the tundra does not offer anything else that is obvious, in late summer, the beaches and sand bars will do in a pinch!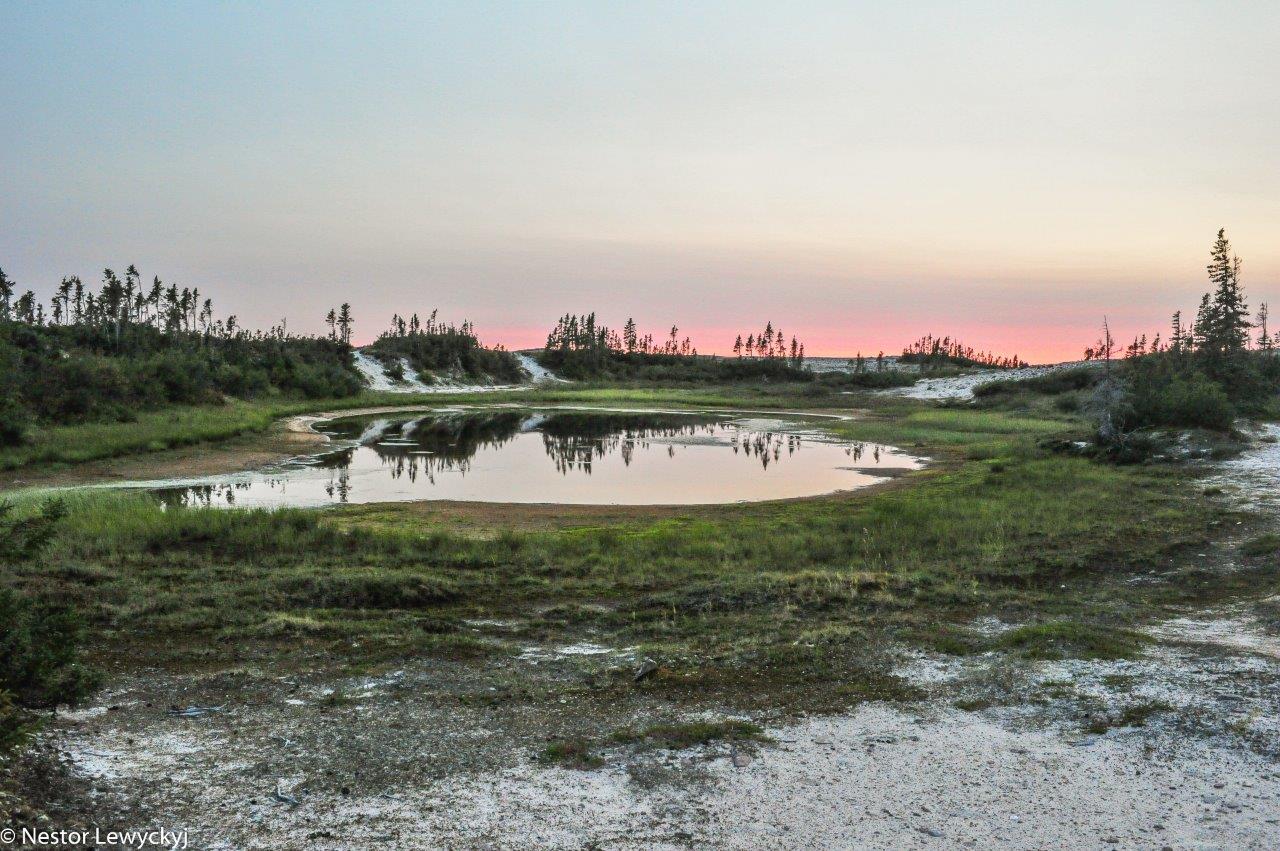 Its easy to focus only on the river as that is your highway. But step off the highway and you find beautiful little sheltered ecosystems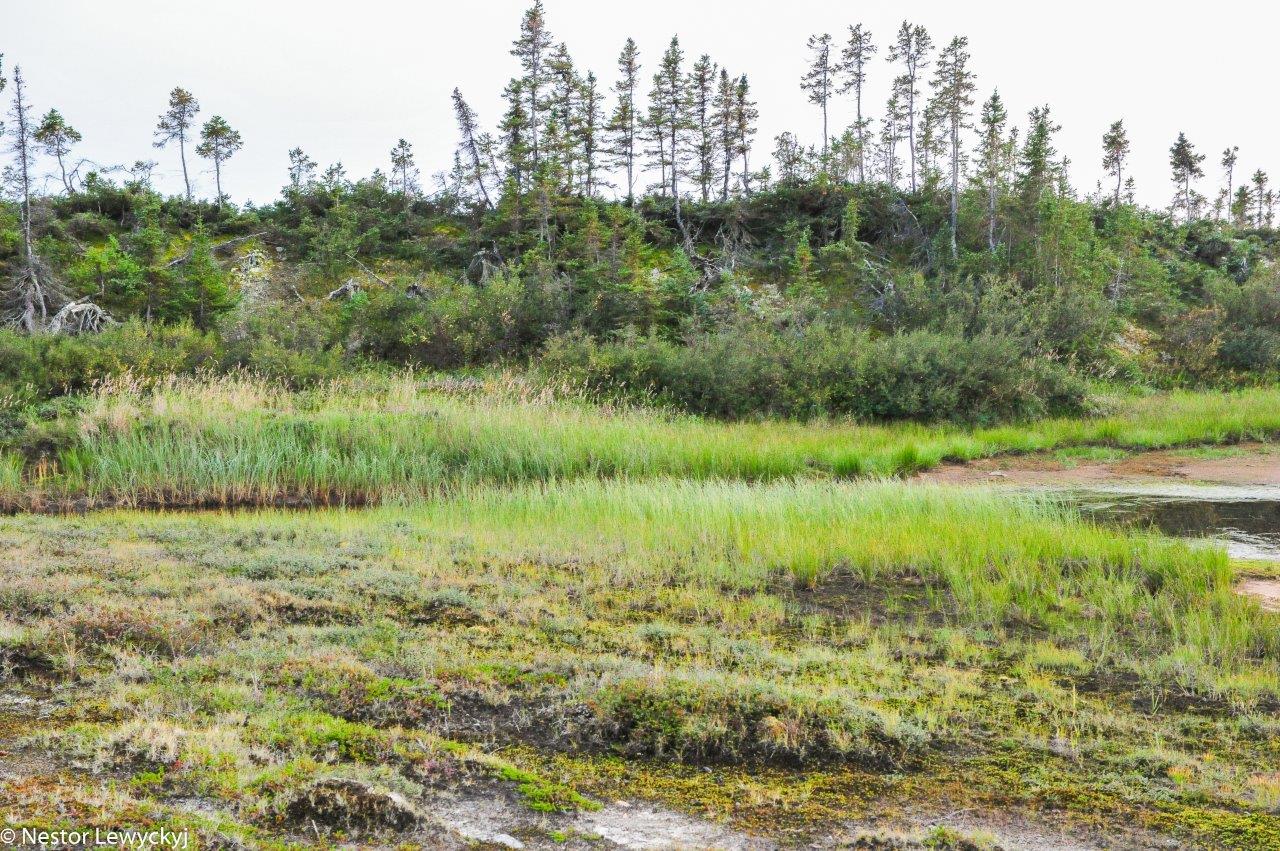 In sheltered areas you get grasses that you will not see out on the open tundra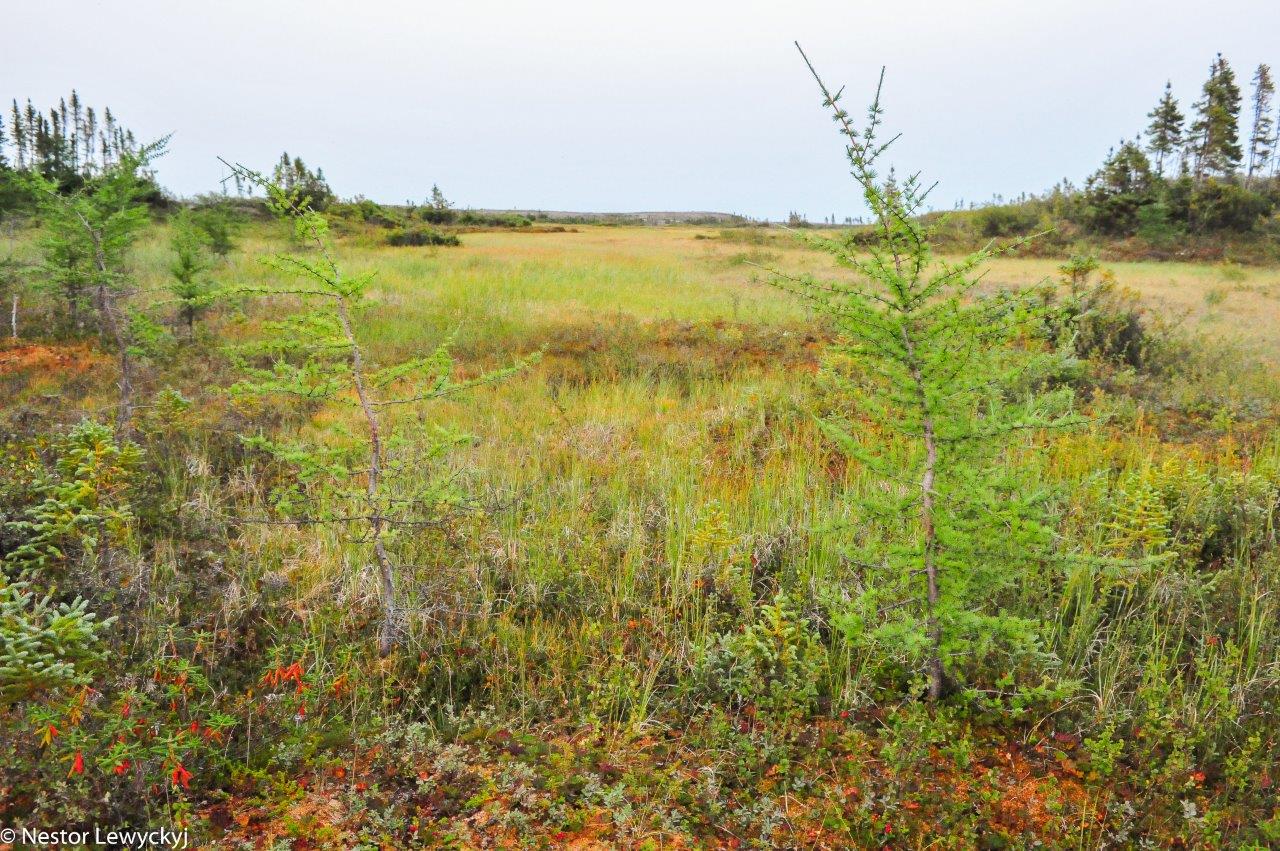 Even larch trees grow where they are sheltered from the wind and the ground is not frozen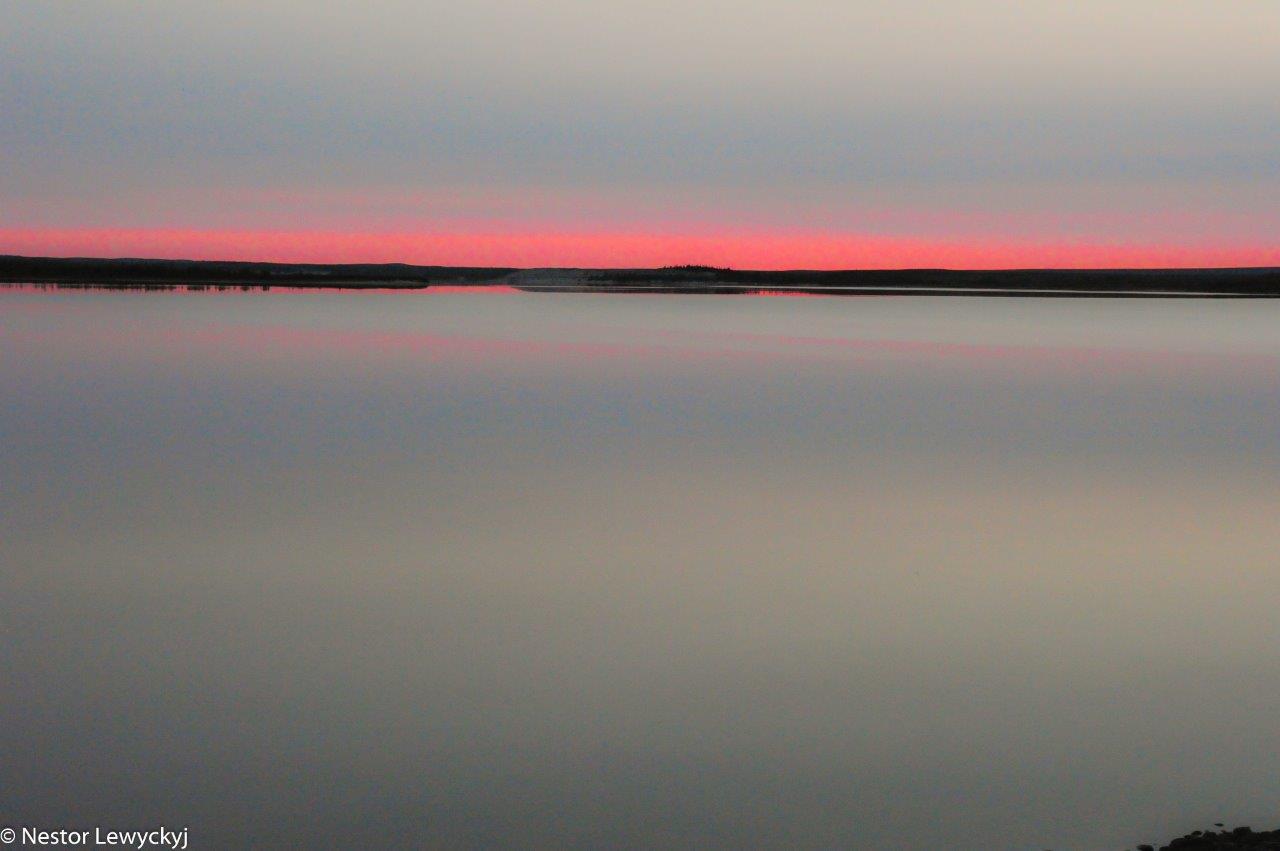 The last light of sunset as a light breeze ruffles the surface of the Thelon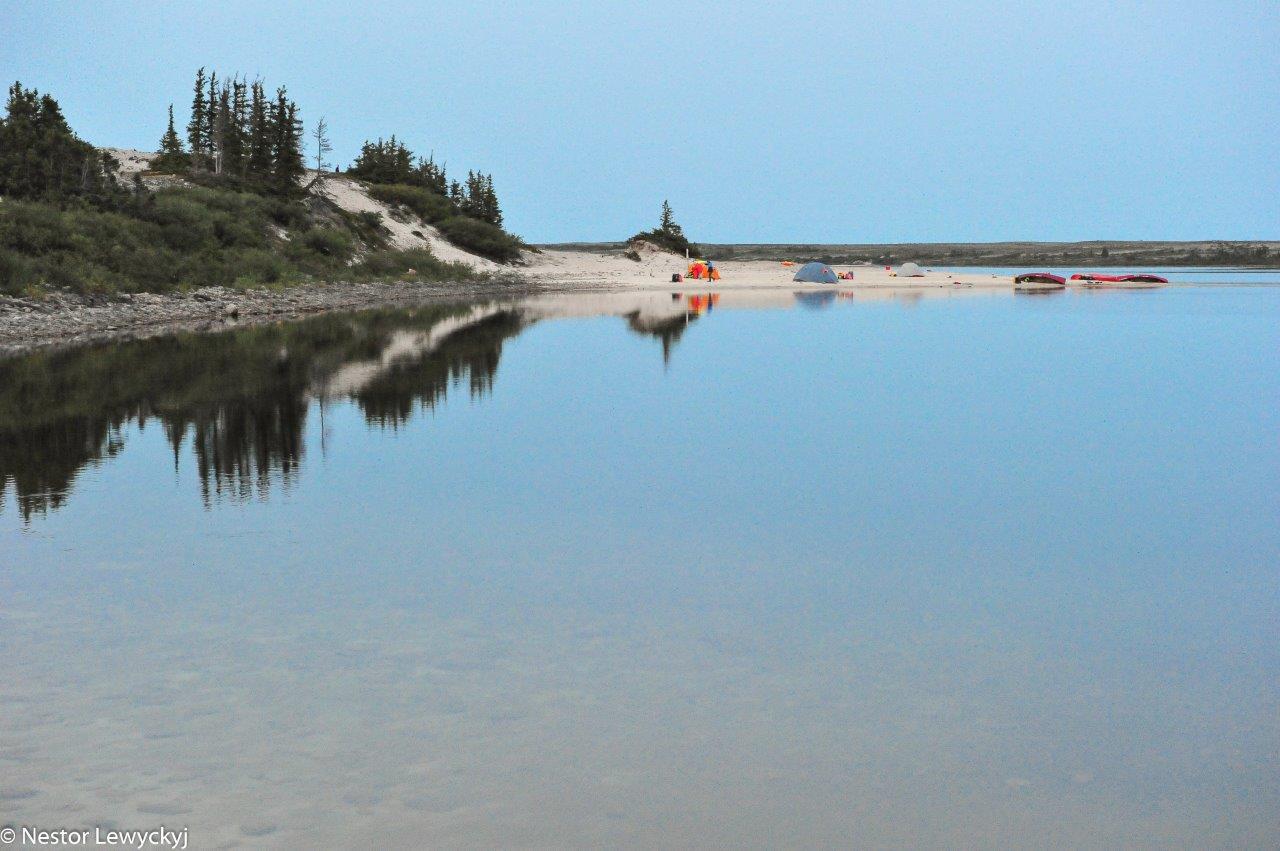 Camp getting ready for the night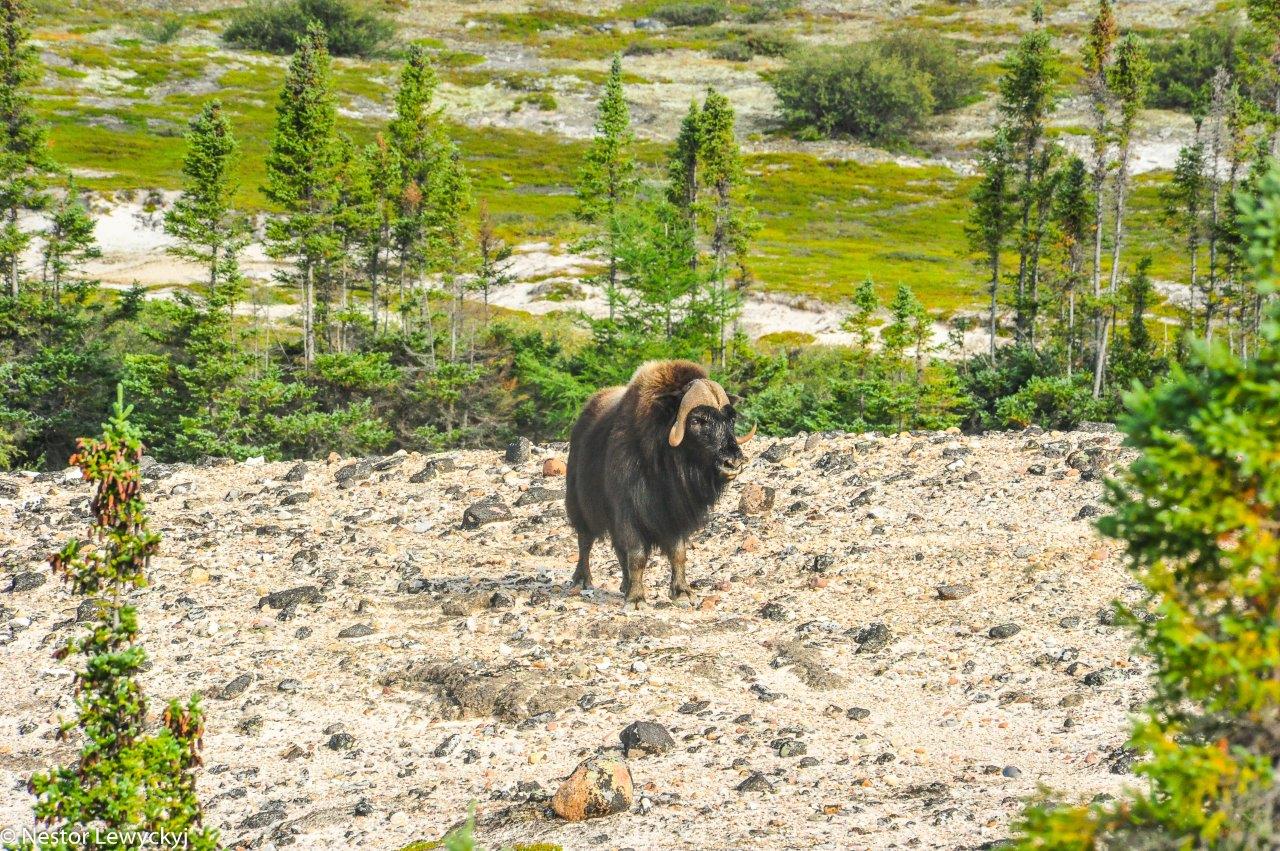 The net morning, as we were packing to leave, Fedir went exploring once again and gestured to me with arms over his head. Animal! I though caribou. I quickly grabbed my camera and switched to my 400mm telephoto lens and went running up the hill to find this guy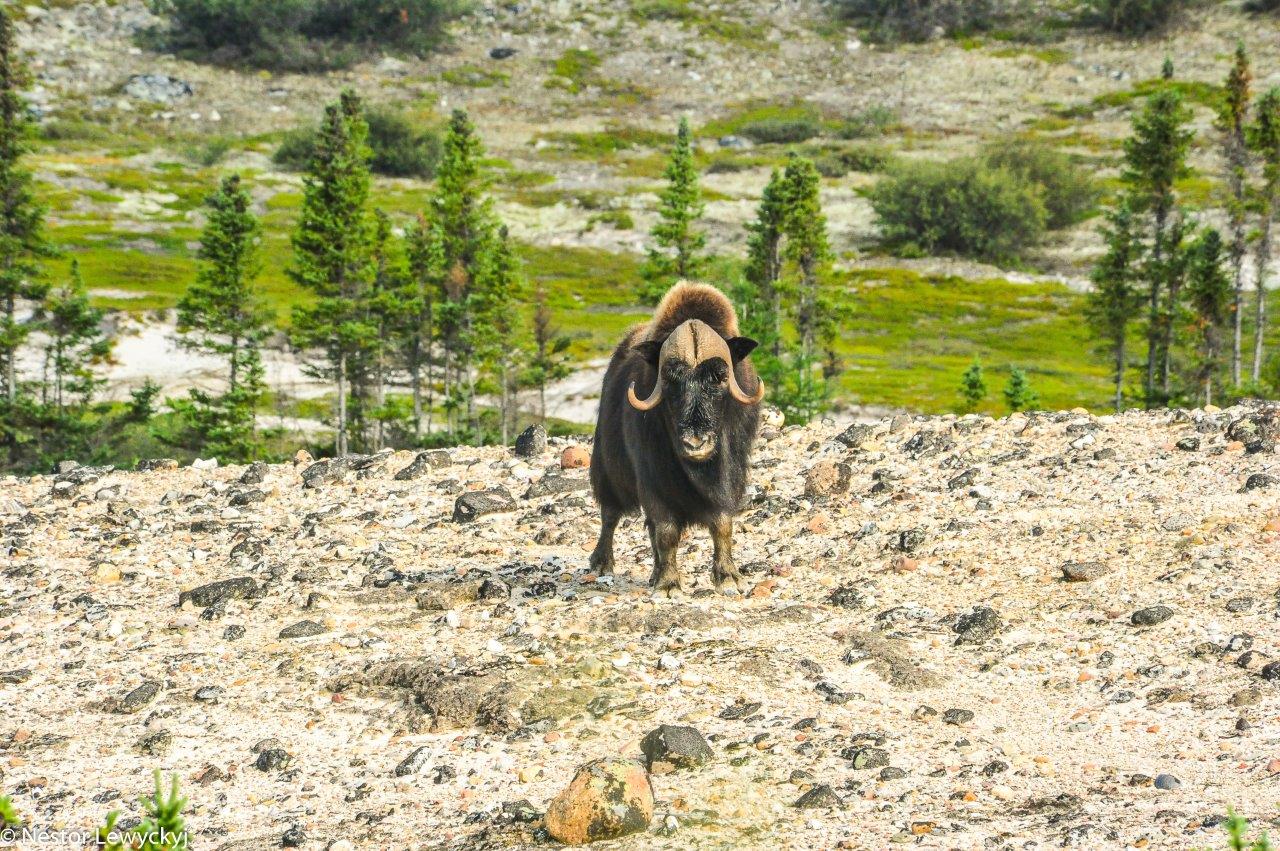 I believe that they have a good sense of smell but poor eyesight. This guy went up the hill directly to where we were standing. He heard us and probably smelt us but did not see us until he crested the hill. He was no more than 10 metres from us at that point. Once he saw us he bolted down the hill to a safe distance and stopped again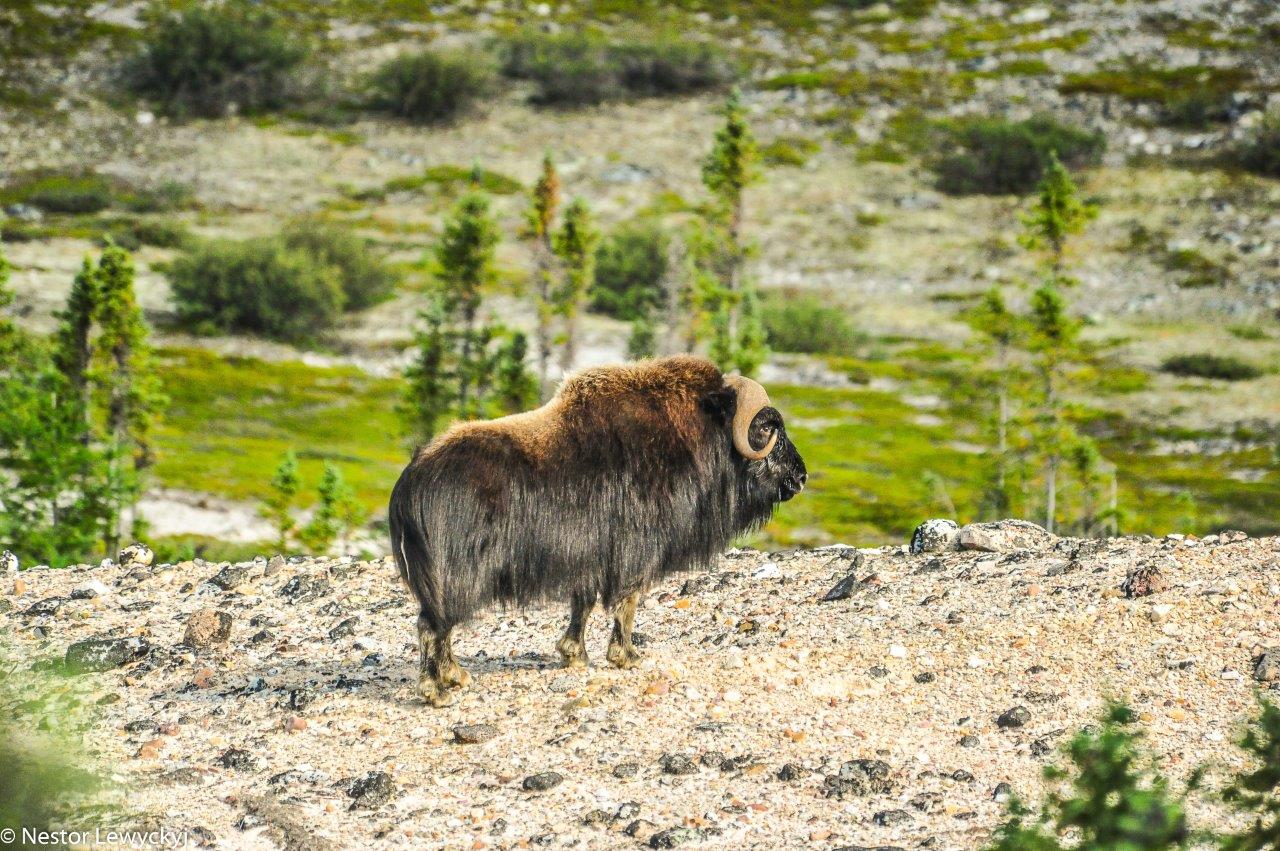 They are very interesting animals, leftover from the last ice age
They manage to survive in reasonably large numbers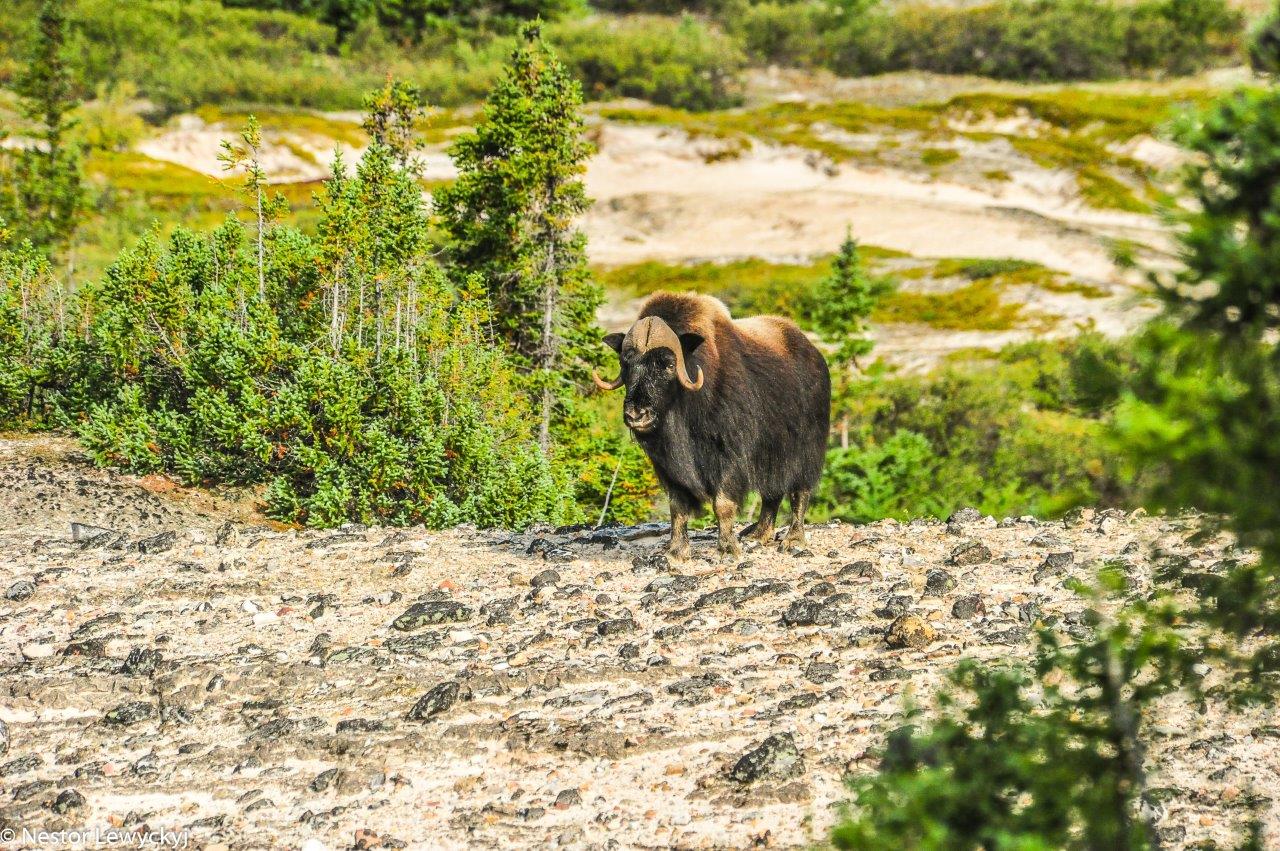 They are often seen in herds of maybe a dozen animals but I have only seen singular animals, or the mother with the two adolescents earlier on this trip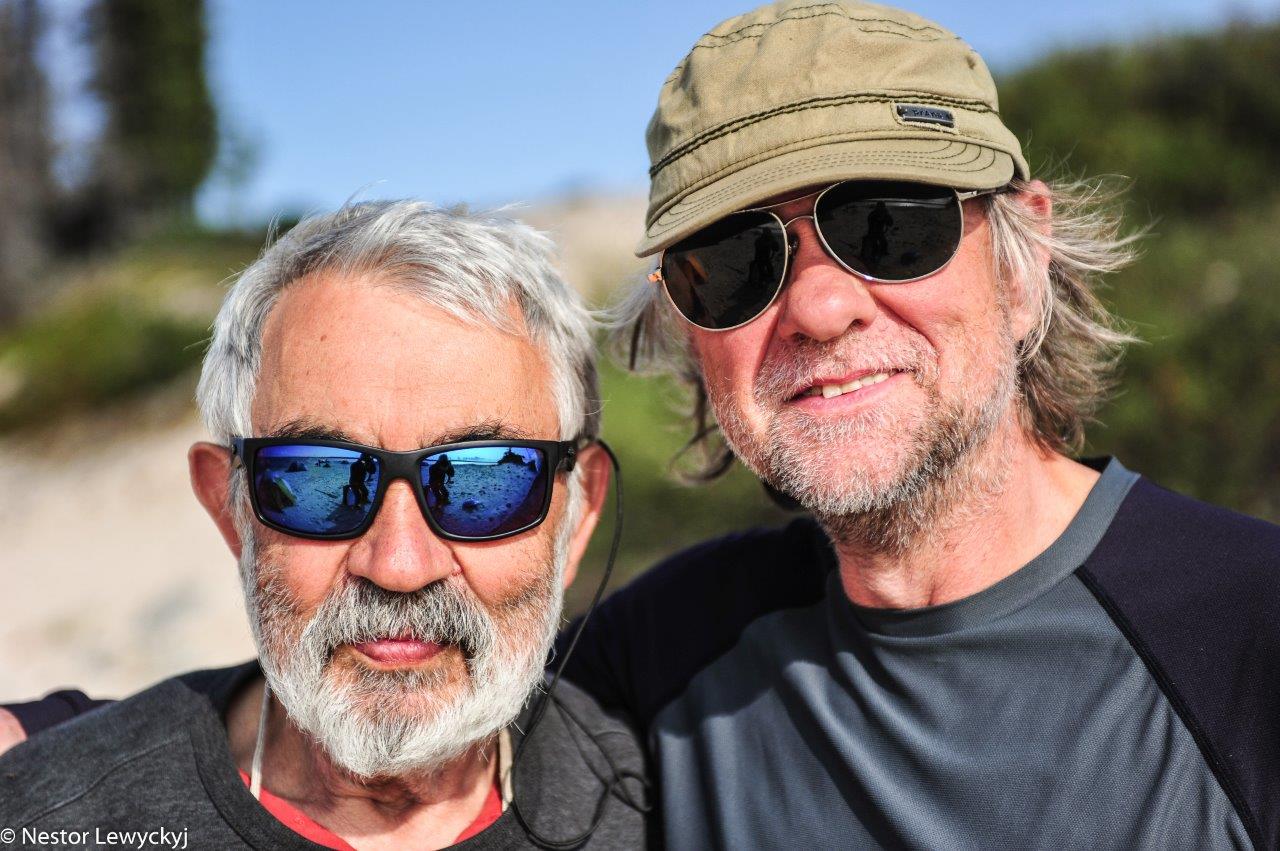 Fedir and Woodymyr got along famously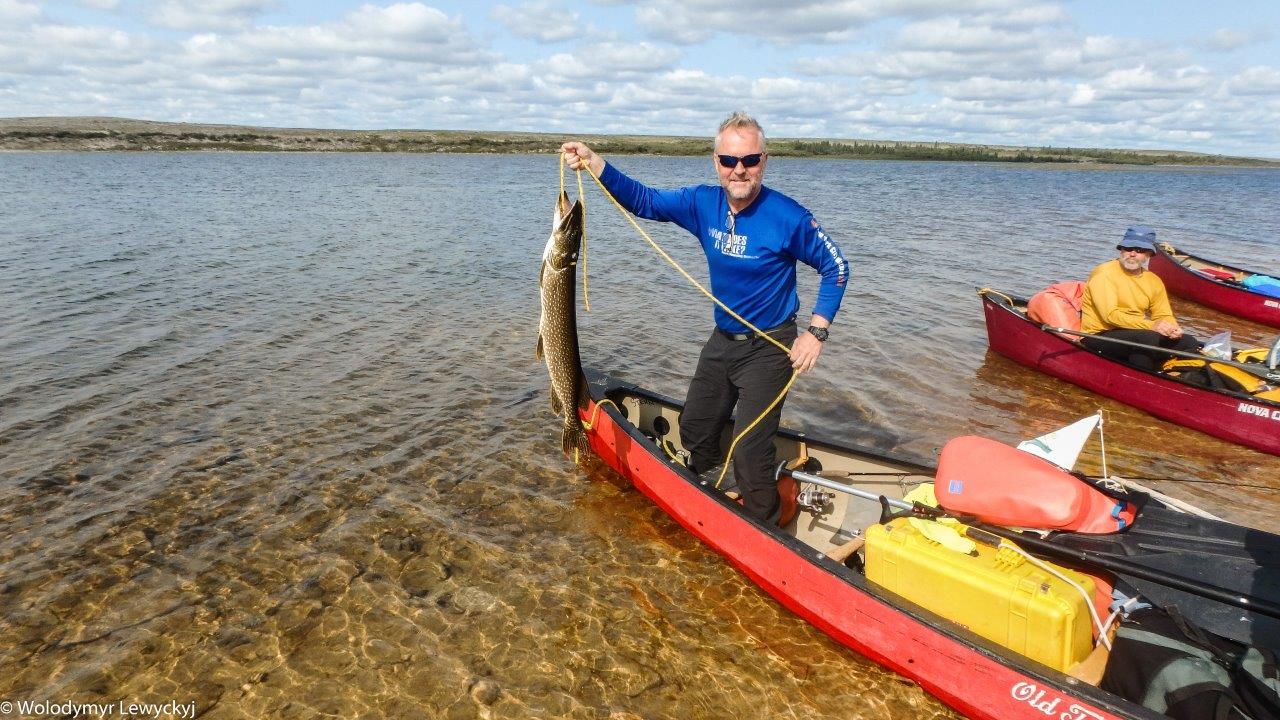 Although I generally trolled for lake trout, the occasional northern pike would hit as well. We would filet the trout but cut the pike into thick steaks and fry them in a very hot pan with freshly sliced ginger!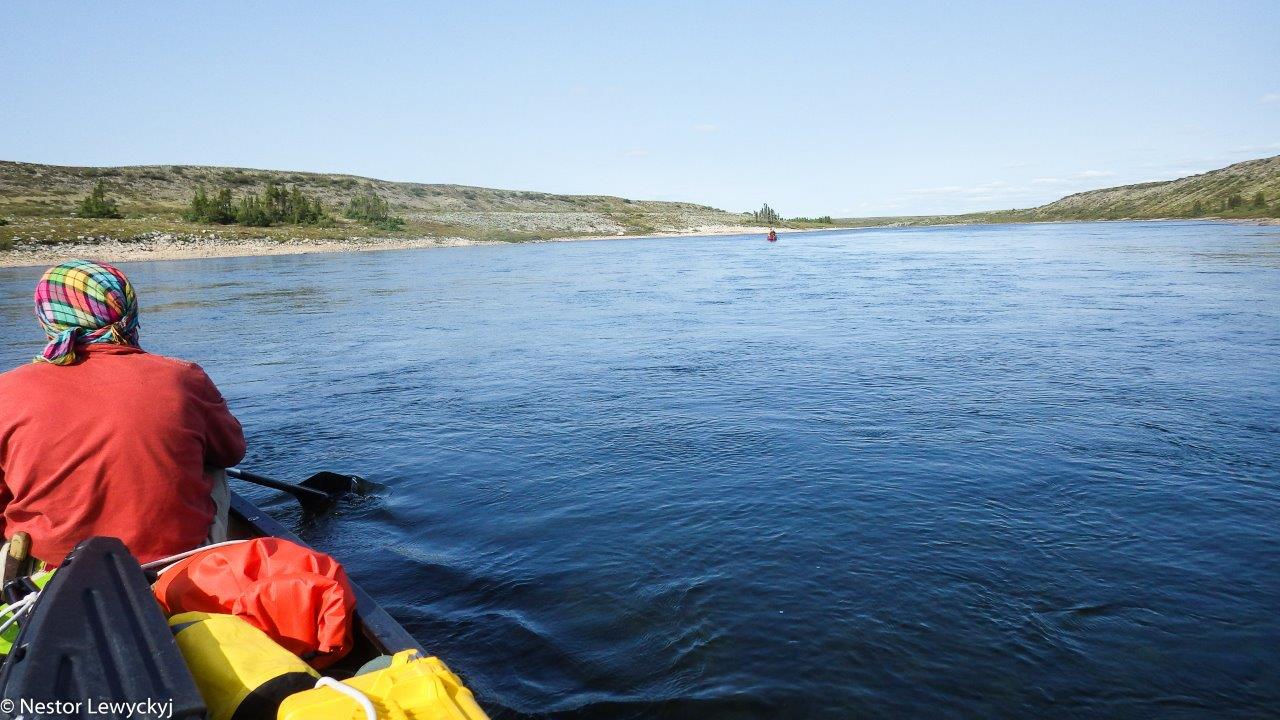 After Thelon Falls and the confluence with the Elk River, the Thelon turns to the north and flows quickly through a series of swifts into Double Barrel Lake, where it turns 90 degrees to the west. This stretch of fast flowing river offers some superb Arctic Grayling fishing!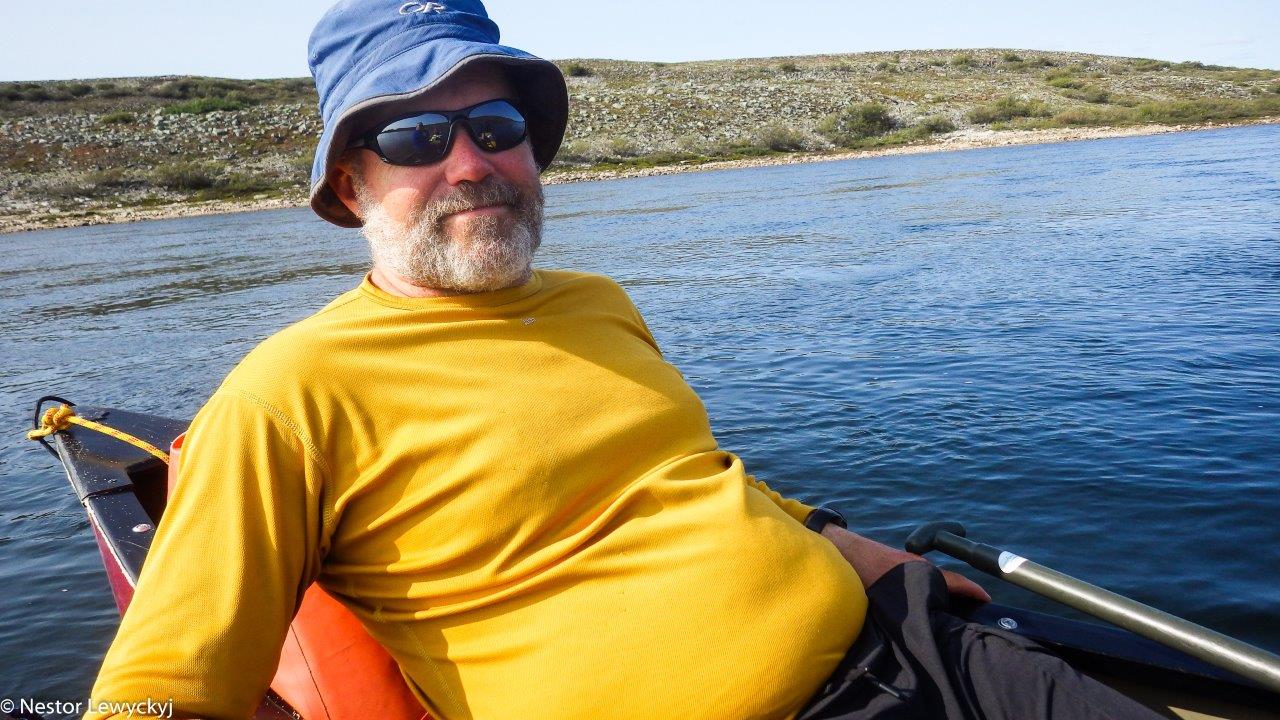 We would rest sometimes and let the river take us. We even had a southerly tail wind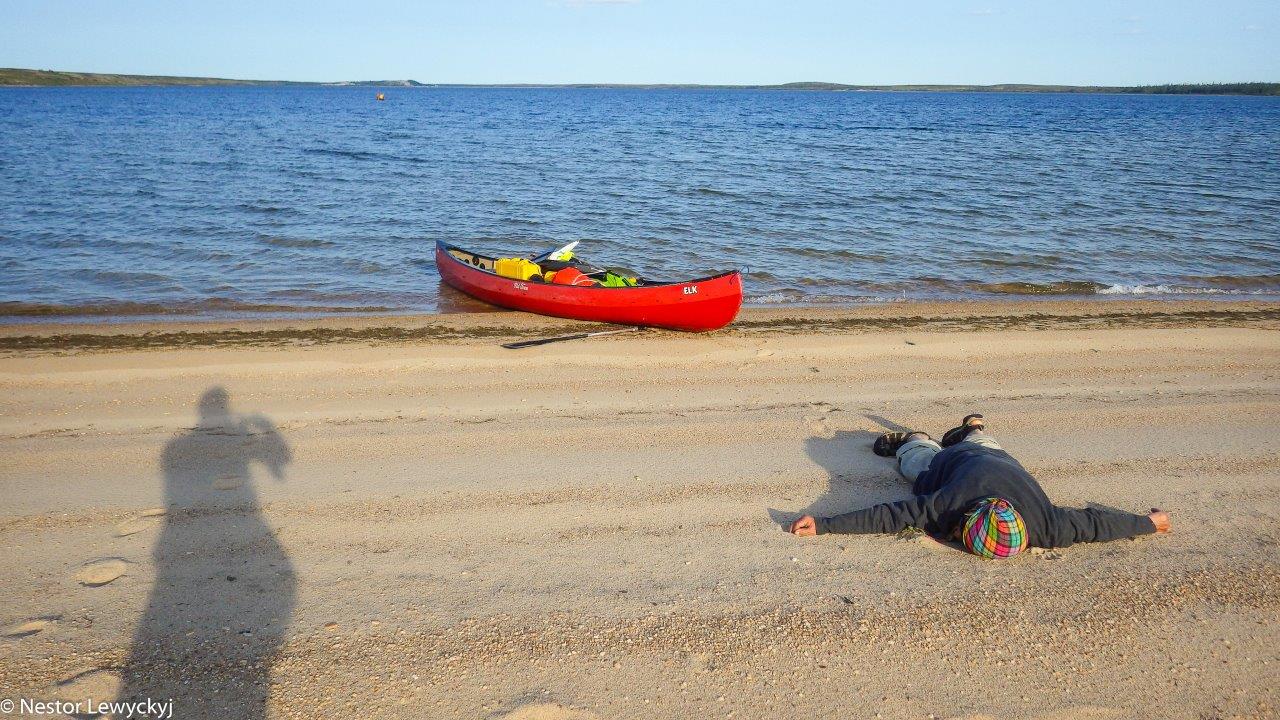 Once we hit Double Barrel Lake, we turned directly to the west and into a very stiff head wind. It was a few kilometres of open water to the beach that we would be staying on midway through the lake. It was tough paddling without much chance to rest. Fedir was wasted by the time that we arrived.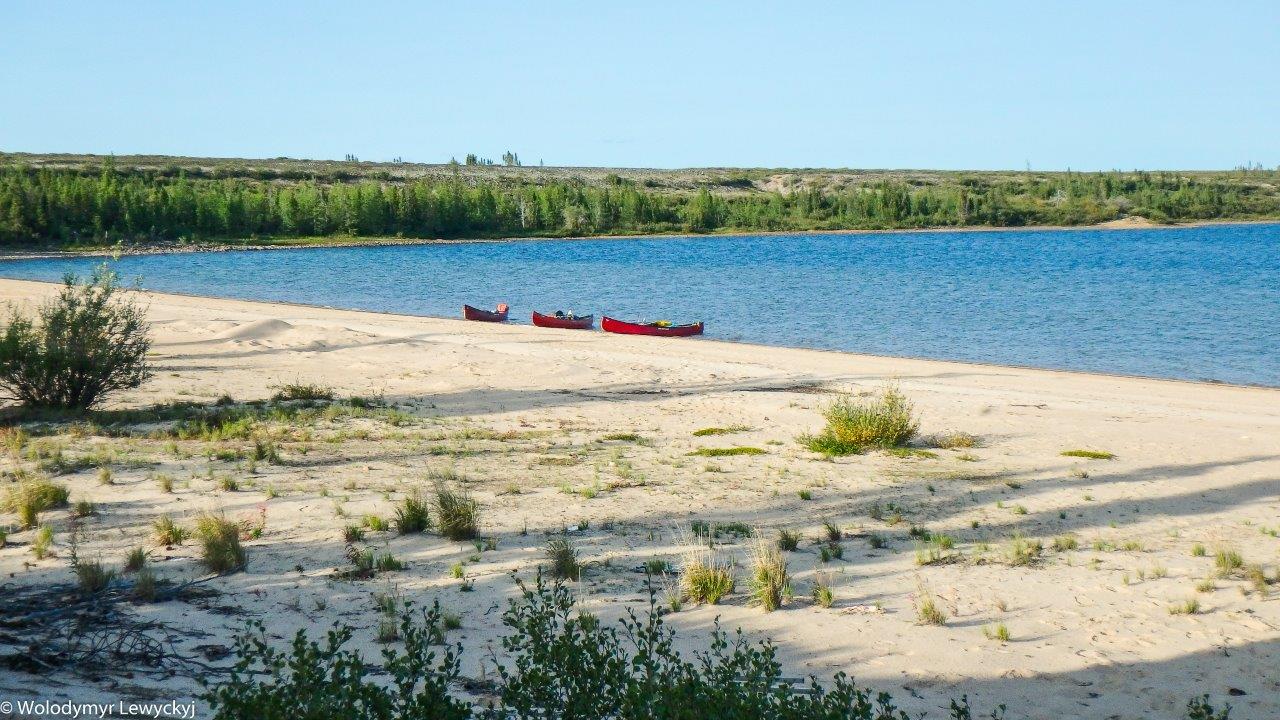 But the three canoes made it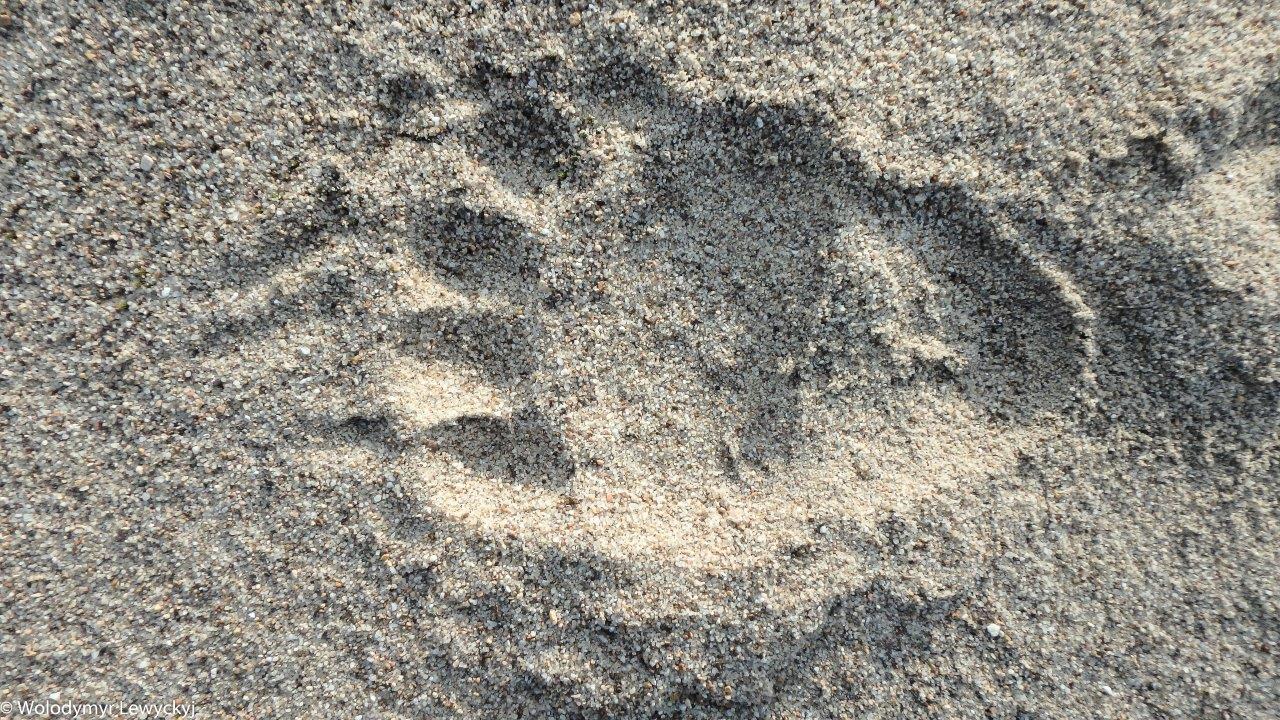 We realized that the area was being visited by grizzlies reasonably often. We had a long discussion but decided to stay put. We spent our last 3 nights here. Pushing to Eyeberry Lake was possible in 2 days but if one of those was a bad weather day it would be very tough. And it rained on the last day so we ended up making the right choice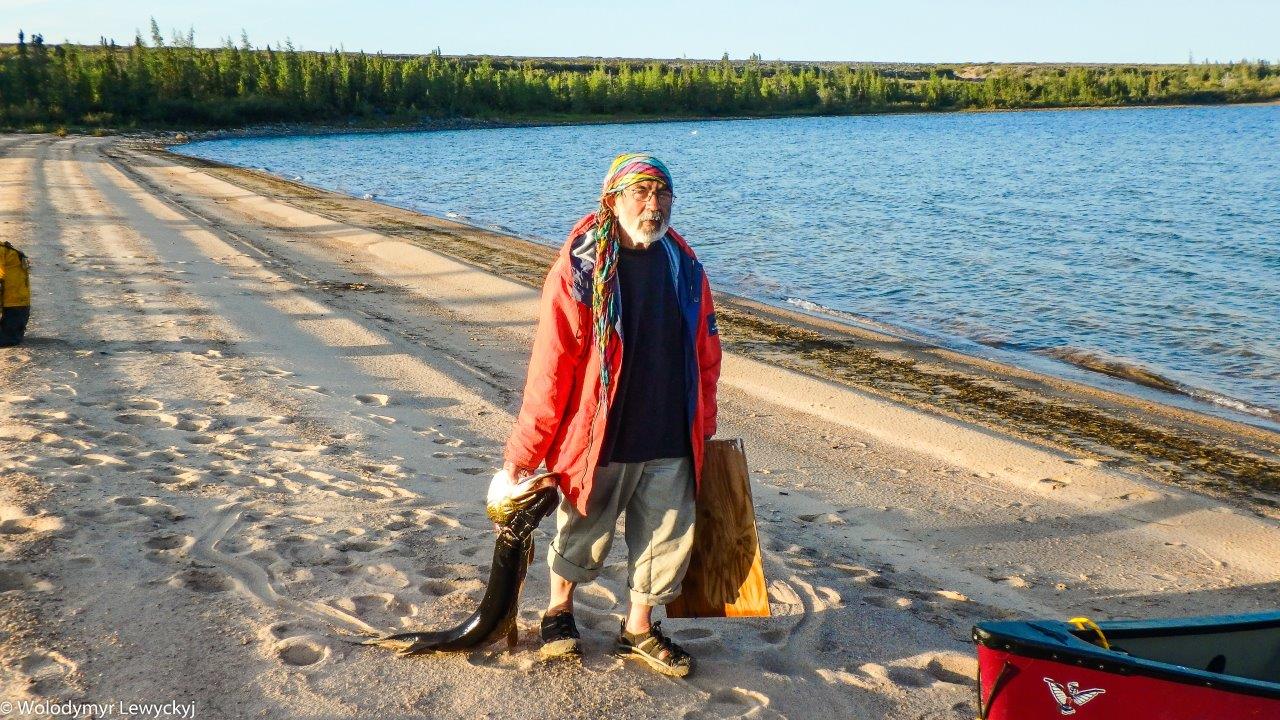 Fedir's legs were not long enough for the pike!!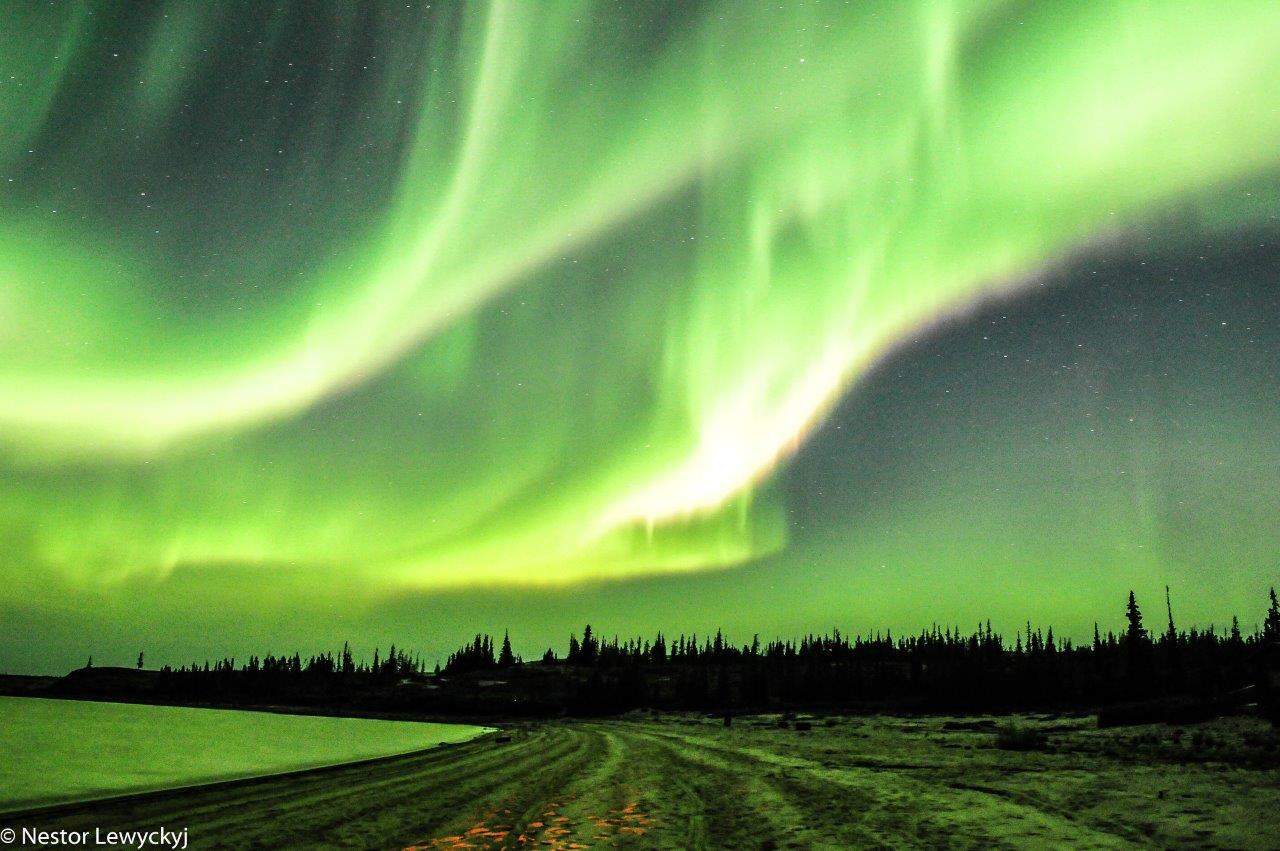 And that night the Aurora Borealis gave us a show we shall not soon forget!! It was magical, the likes of which I have not ever seen before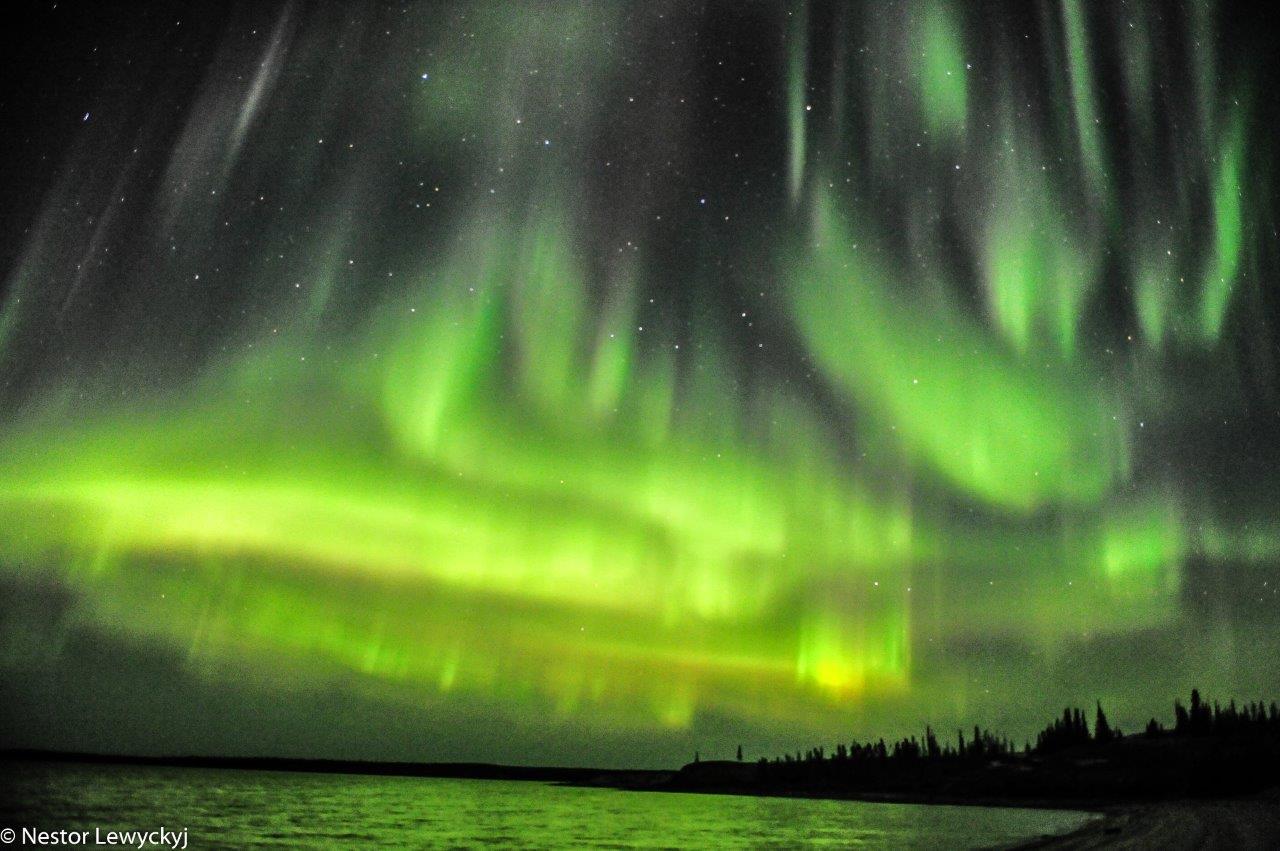 The Aurora was lighting up the entire landscape. I can only imagine what it looks like in the winter with the white snow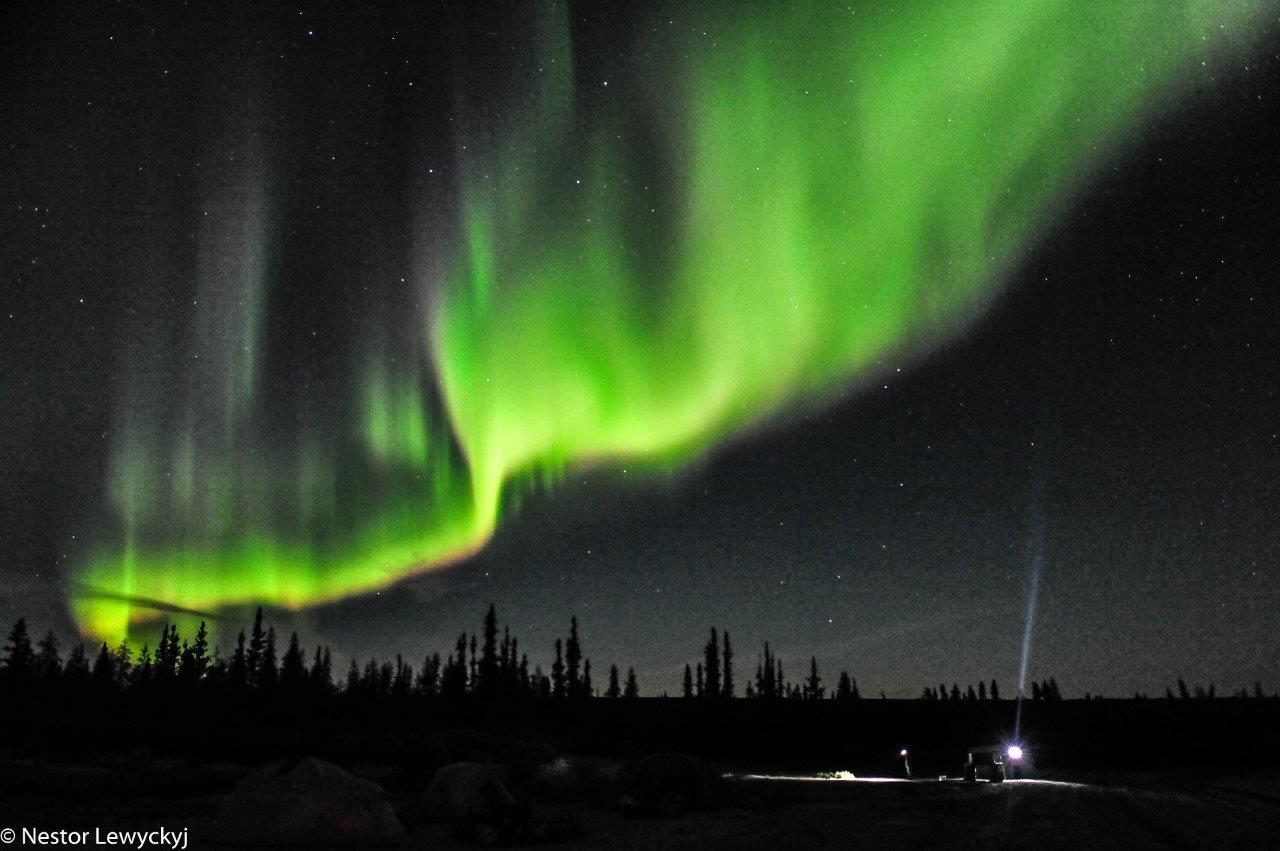 The ribbons of light were flowing right over our camp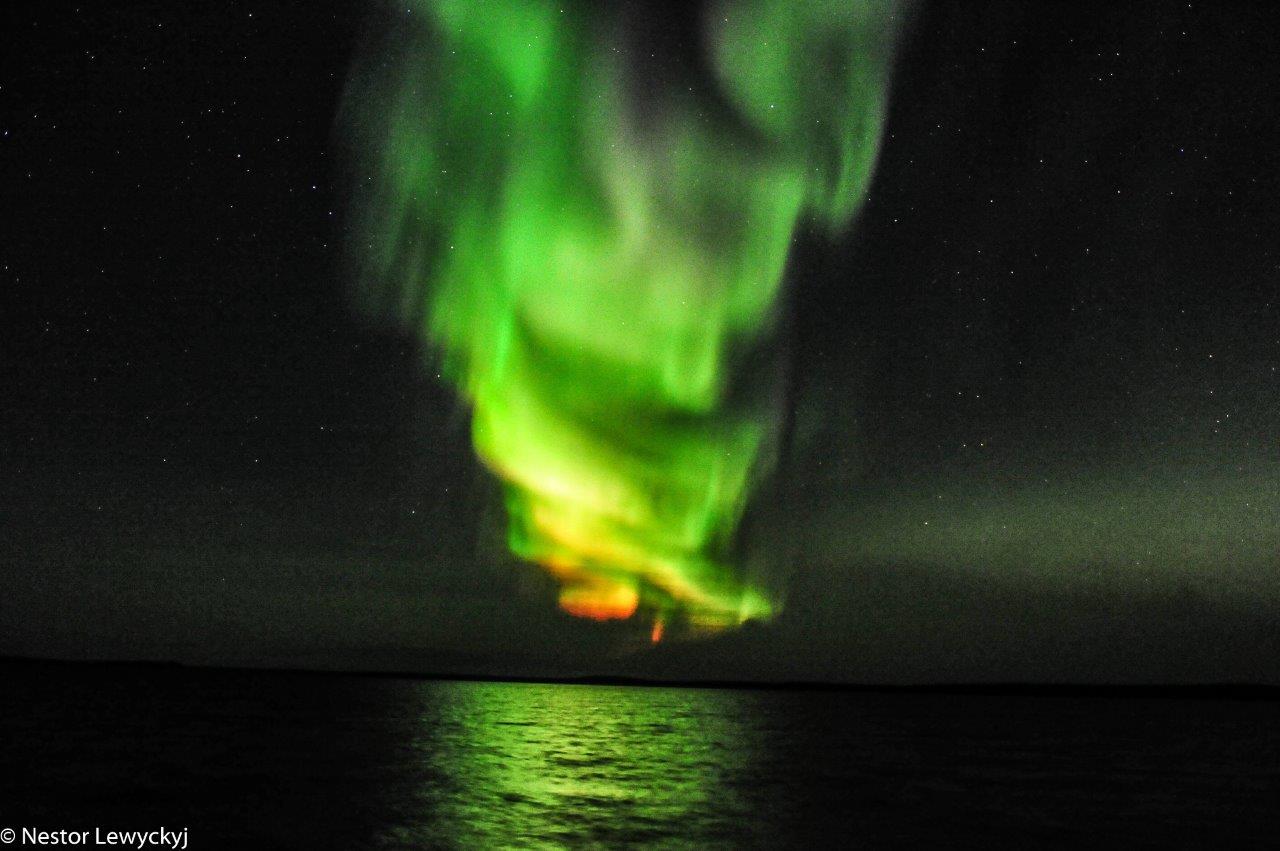 This image captures the best part of the show, a rotating double helix with lots of pink and red inside. This was exceptional. I had never ever seen anything close to this.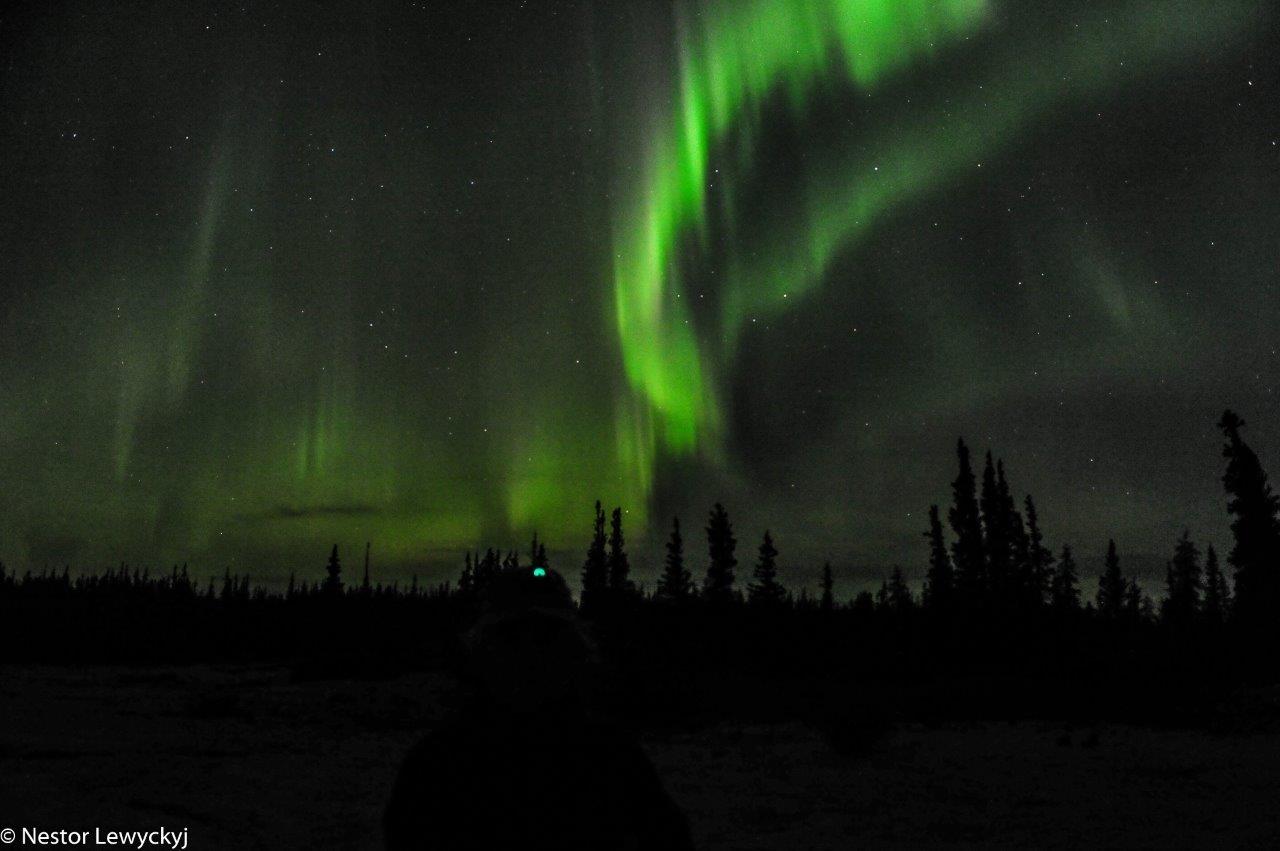 Eerie light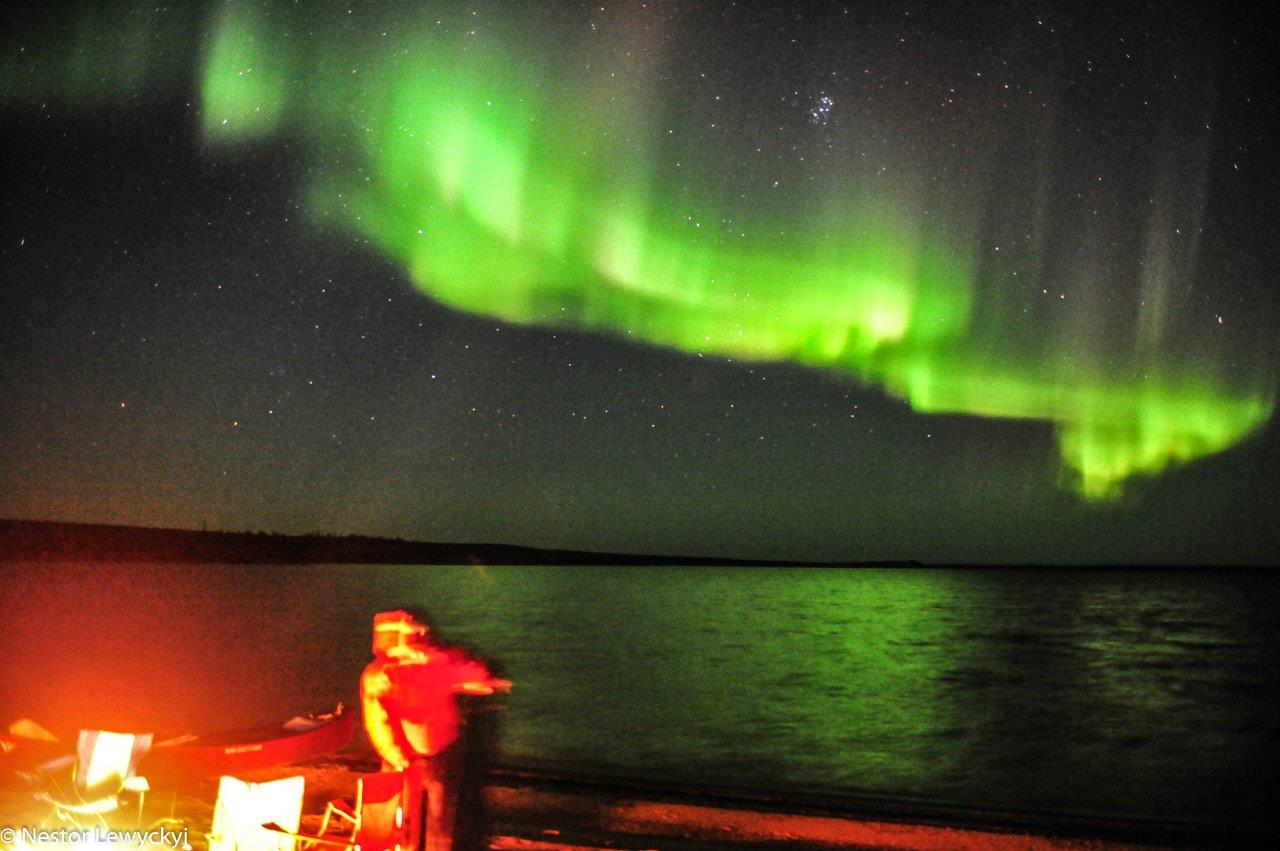 The show lasted well past 02:00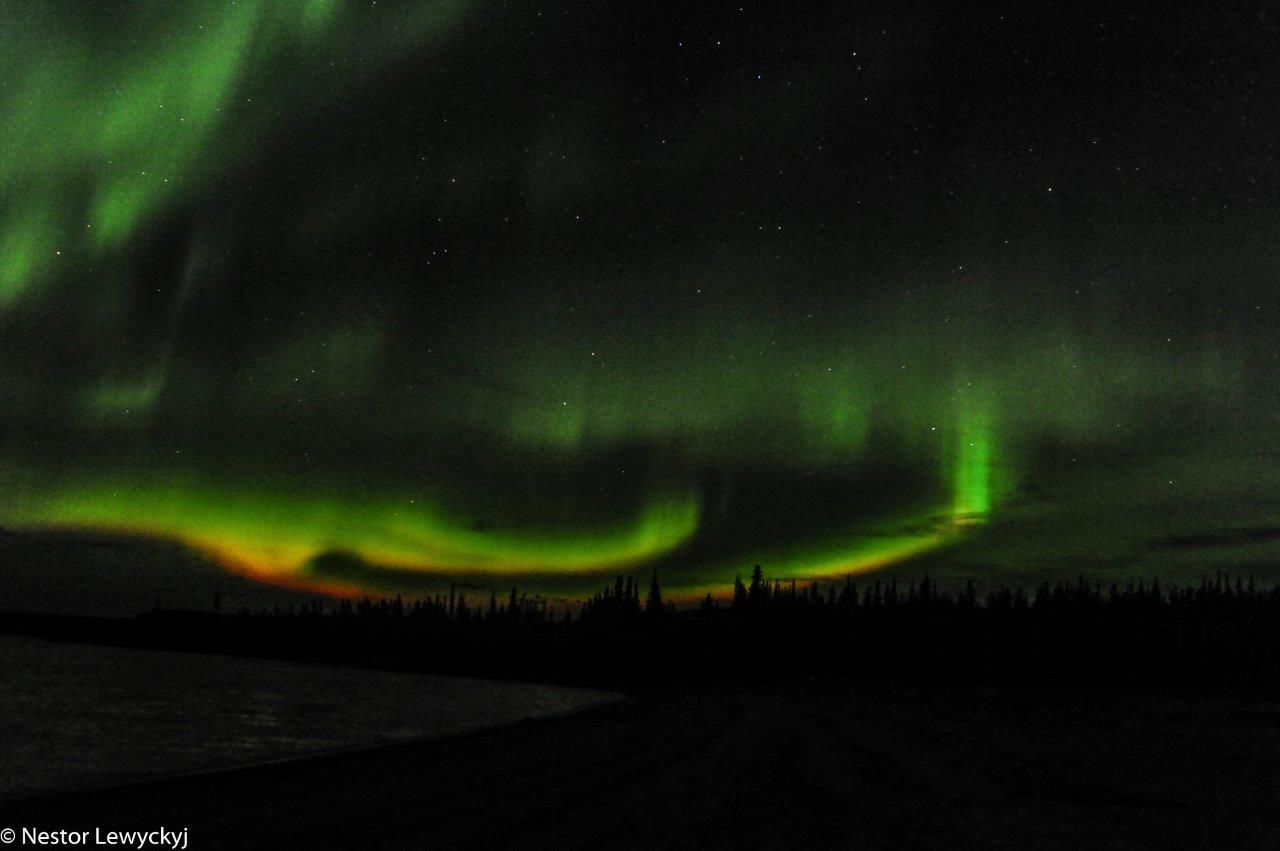 It was a surreal experience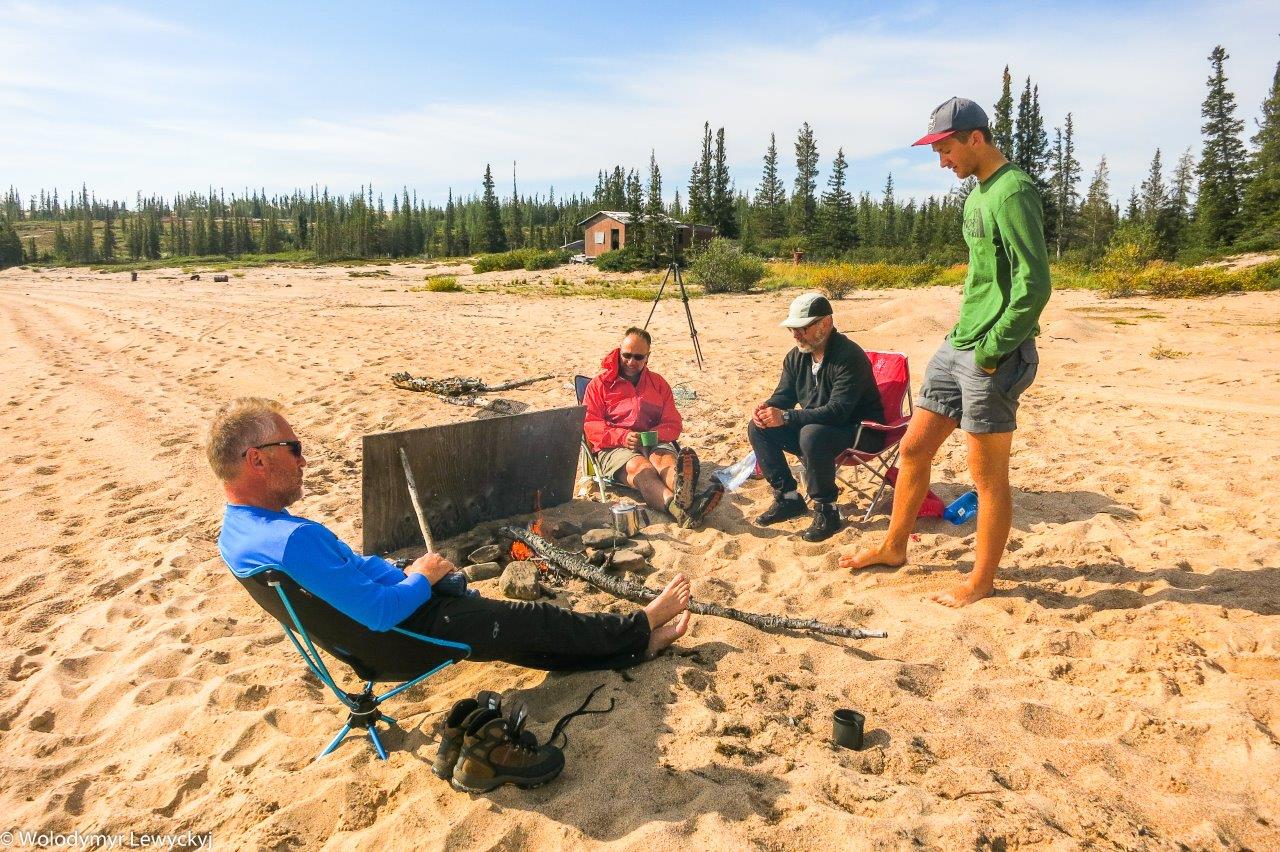 We talked about the show the next day, many of us with little sleep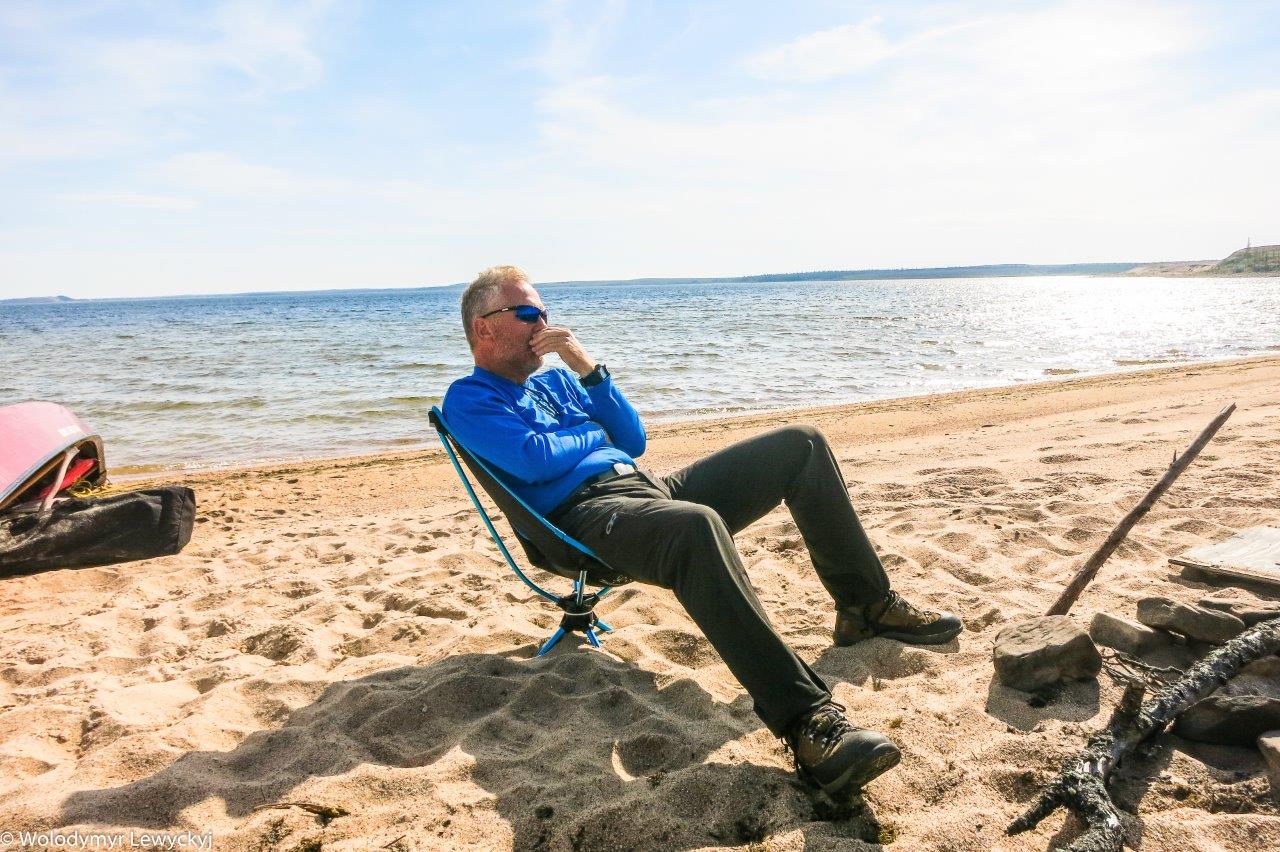 Having decided that we were going to stay put and get extracted from Double Barrel lake, we took advantage of the nice day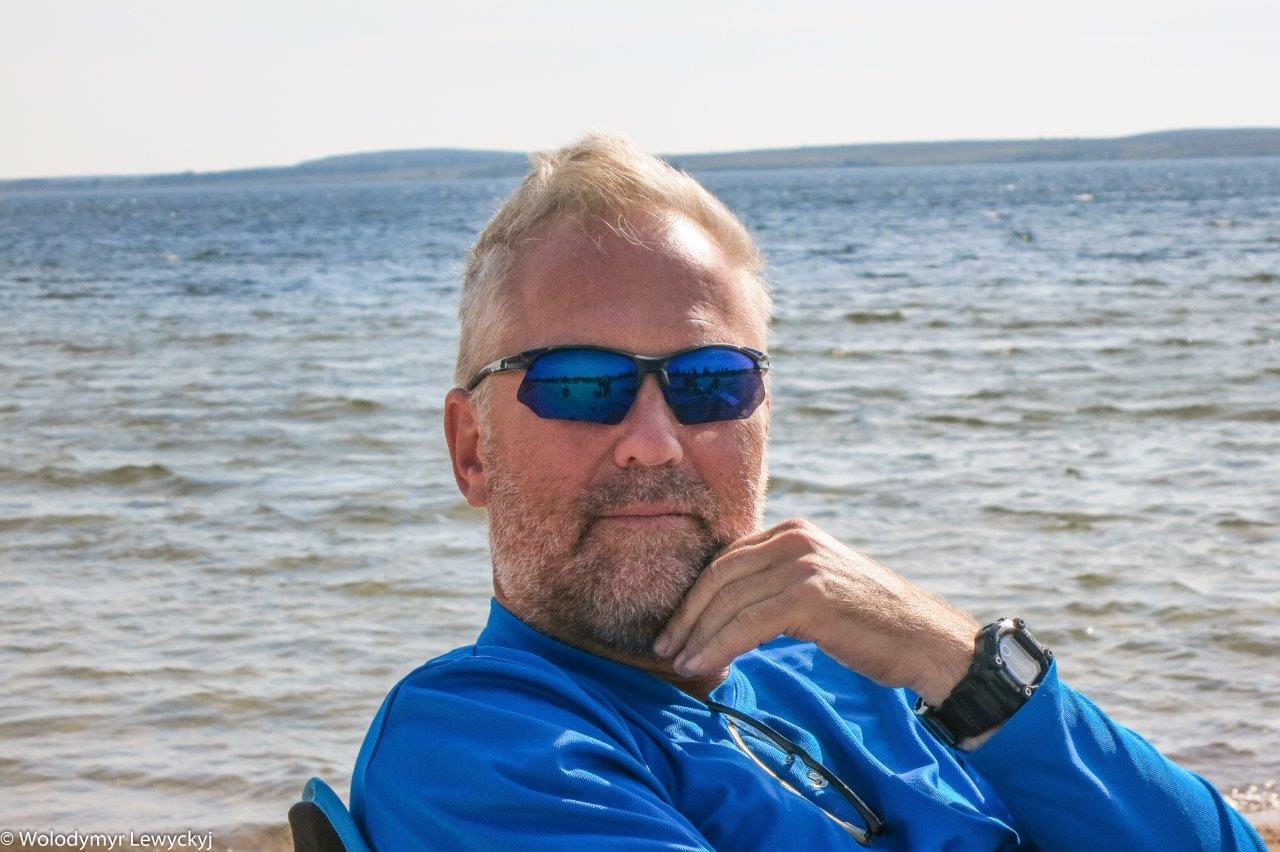 That plan seemed wise to me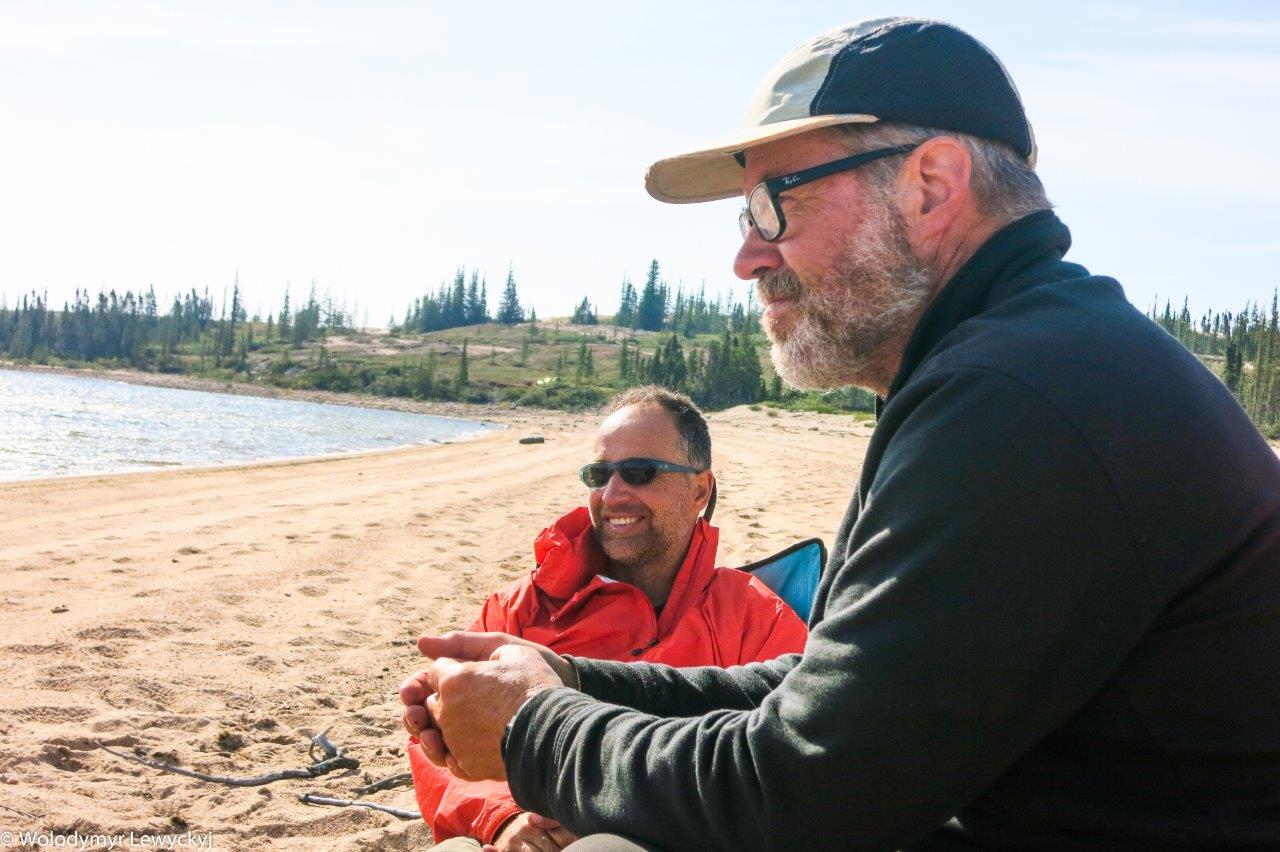 Everyone was relaxed knowing that the hard work was done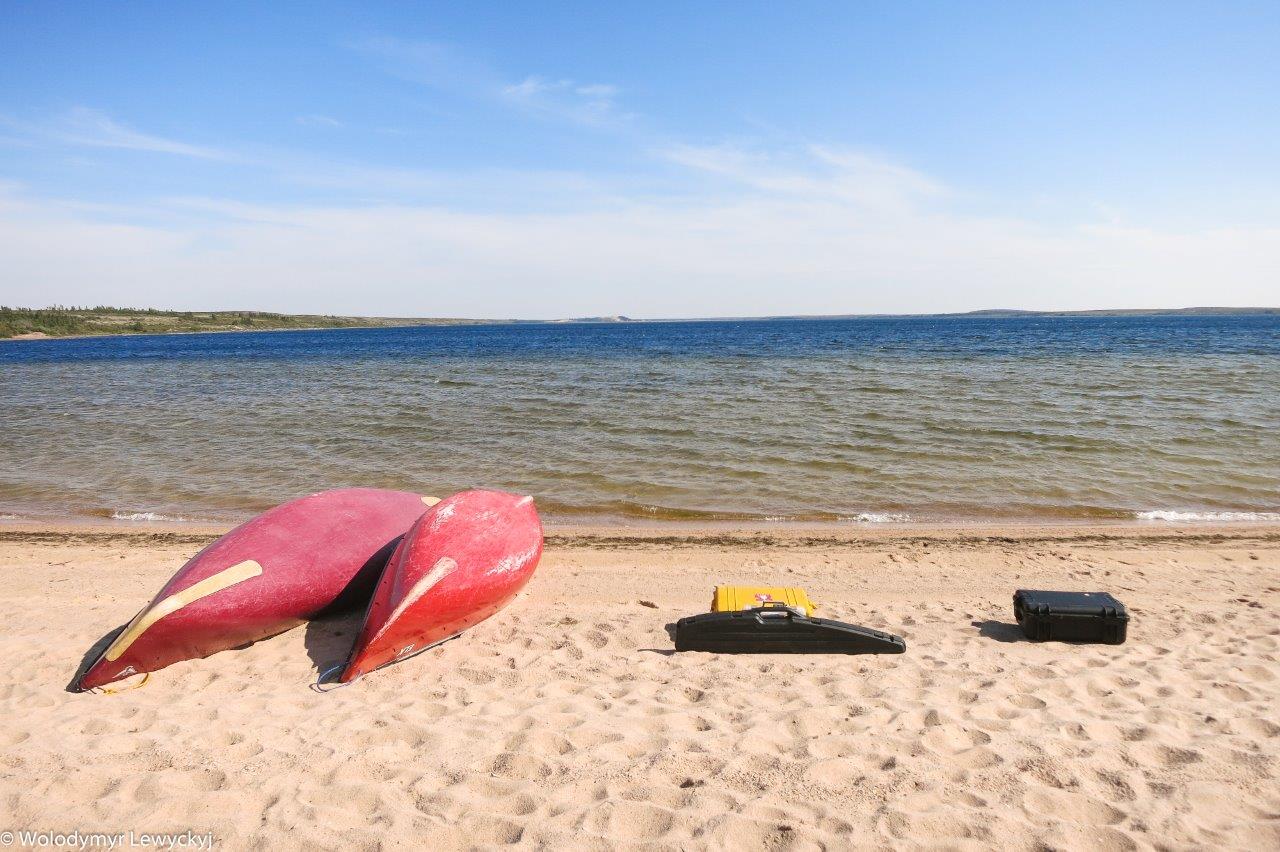 Two canoes, a camera case, a fishing rod case, a drone case, a beautiful beach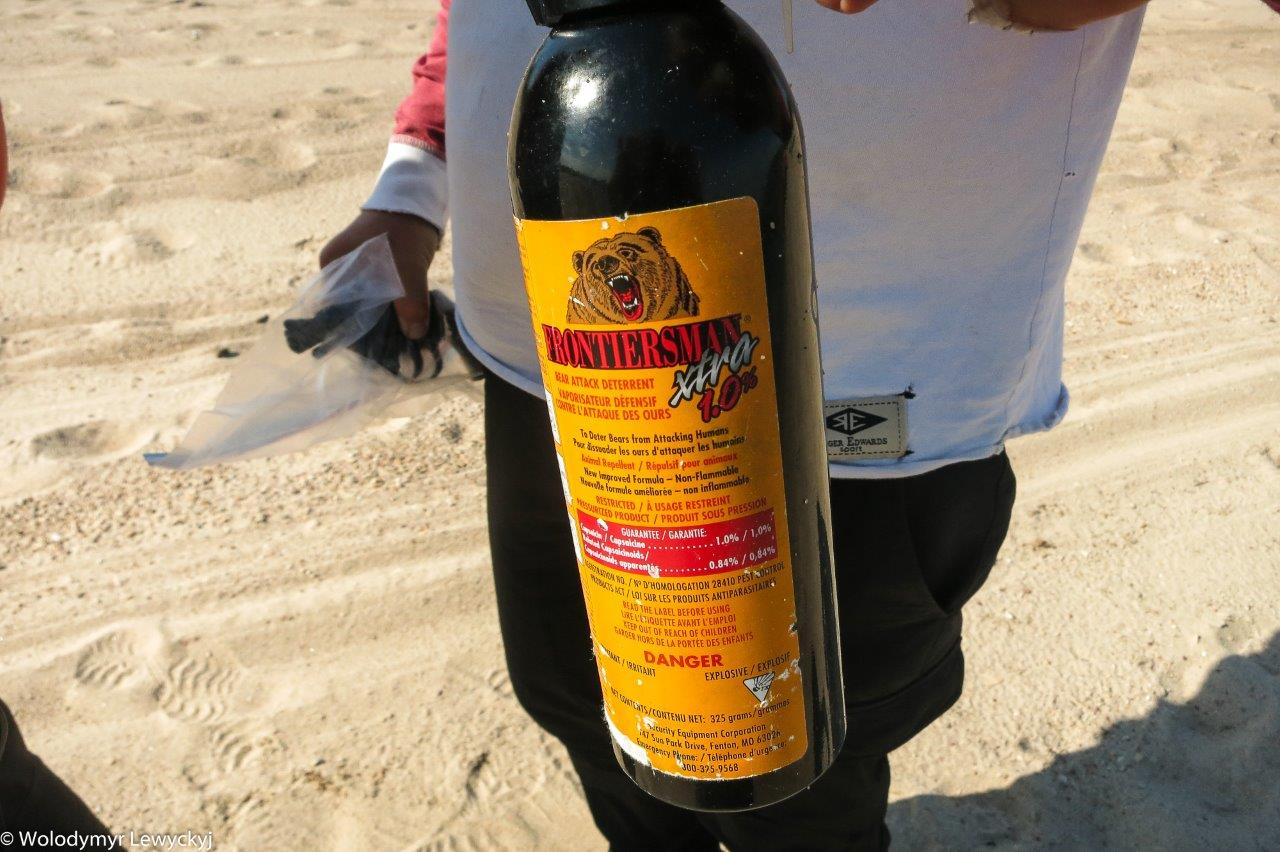 We had multiple levels of defense against potential grizzly bears, which we never saw. This is a pressurized bottle of bear spray or pepper spray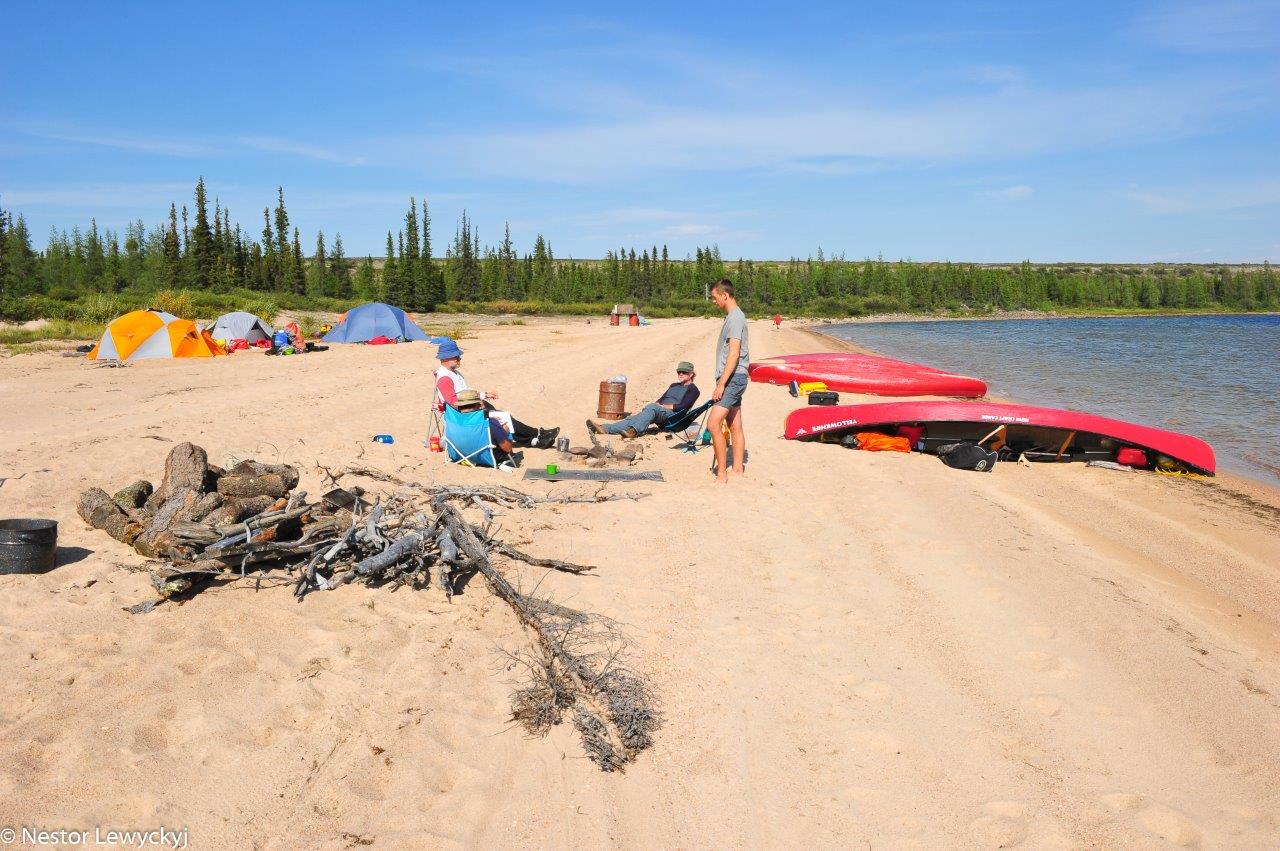 This was our second-to-last day and it was brilliant with a strong southern wind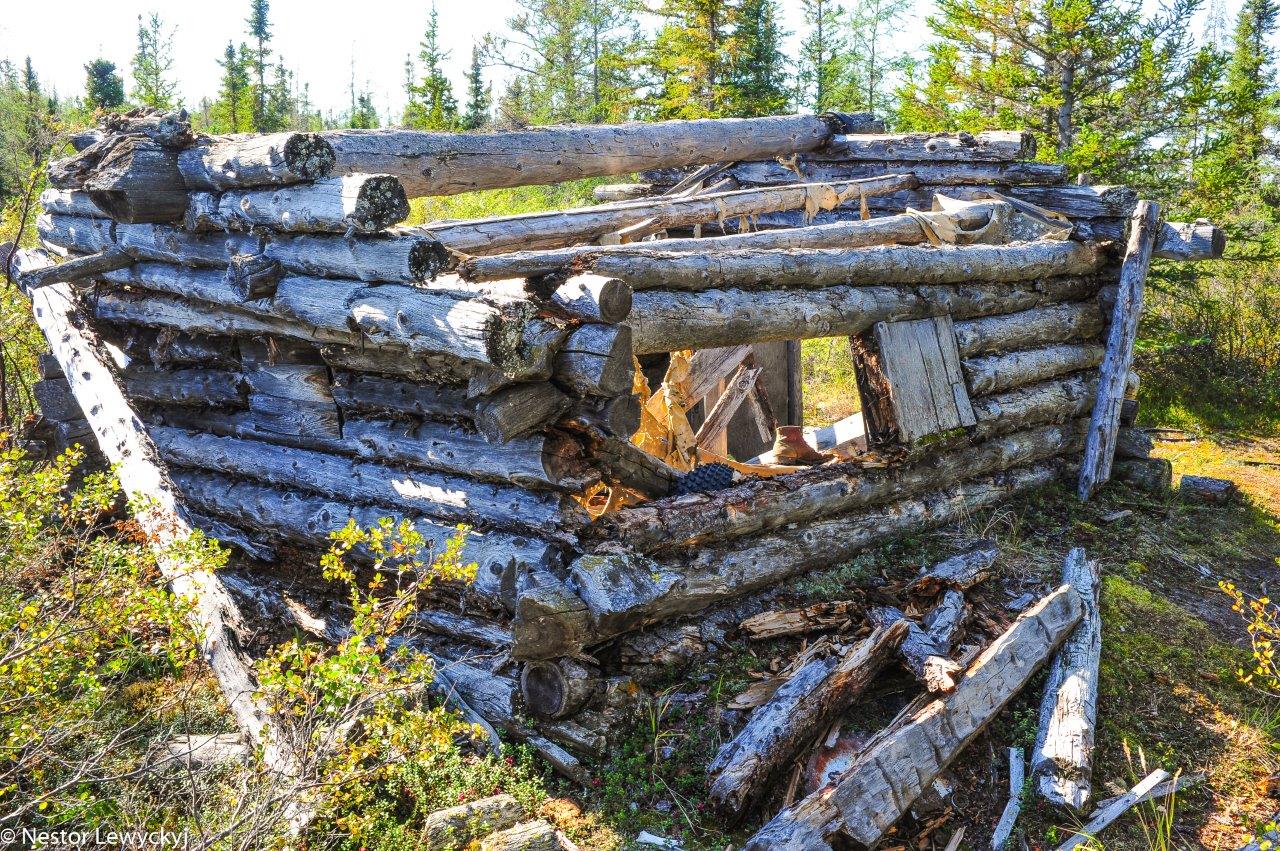 This was the remnant of Gus Daoust's original log cabin, one of the original Barren Land trappers. It has been abandoned for many decades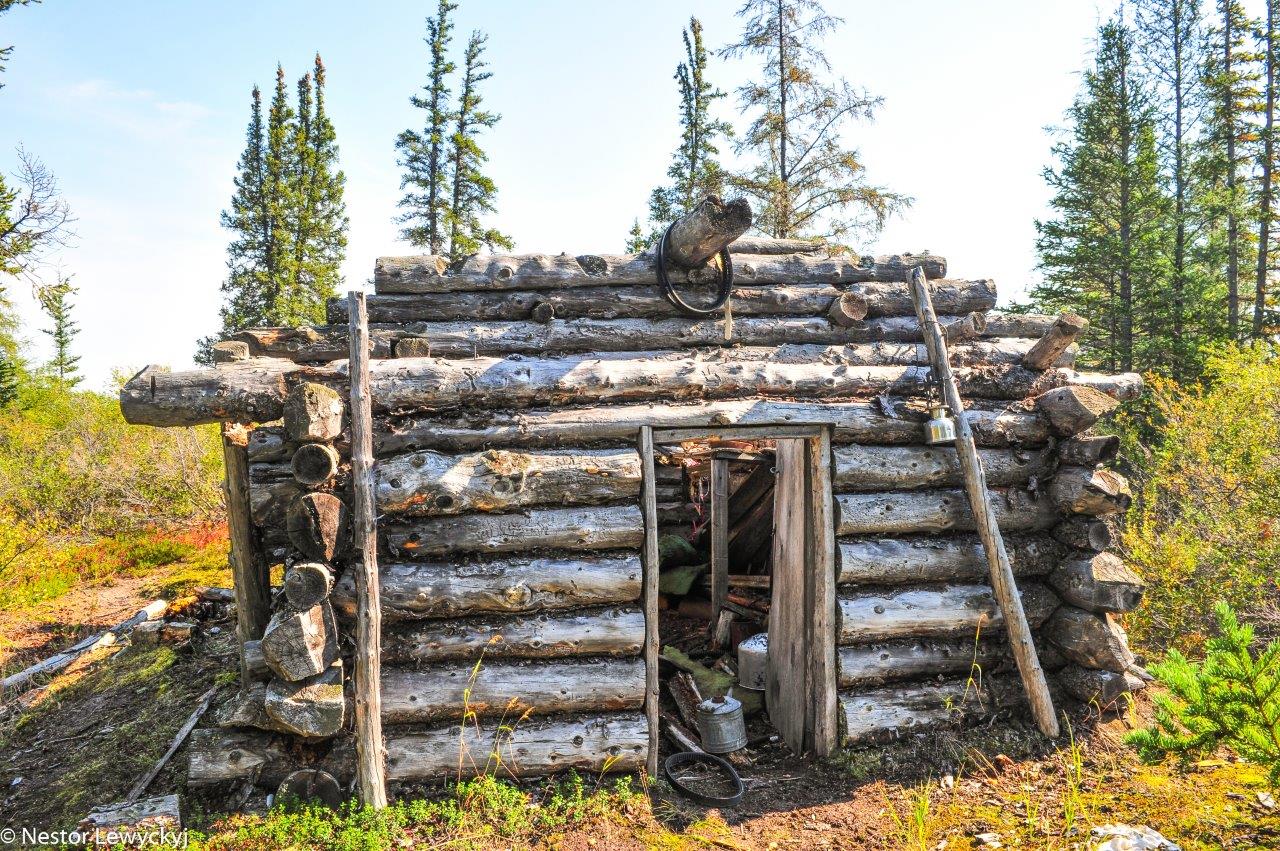 Many of the logs were still in good shape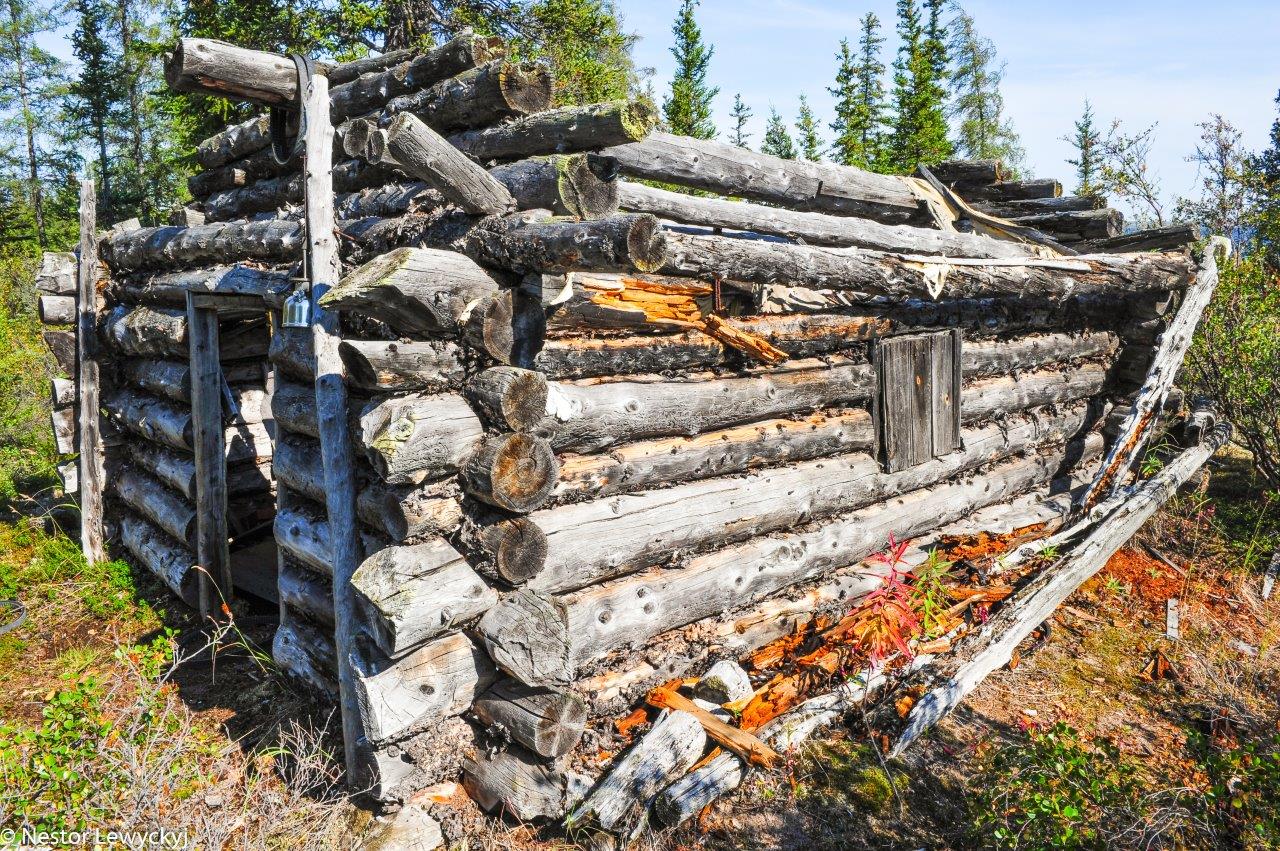 I can't imagine anyone wintering here in something like that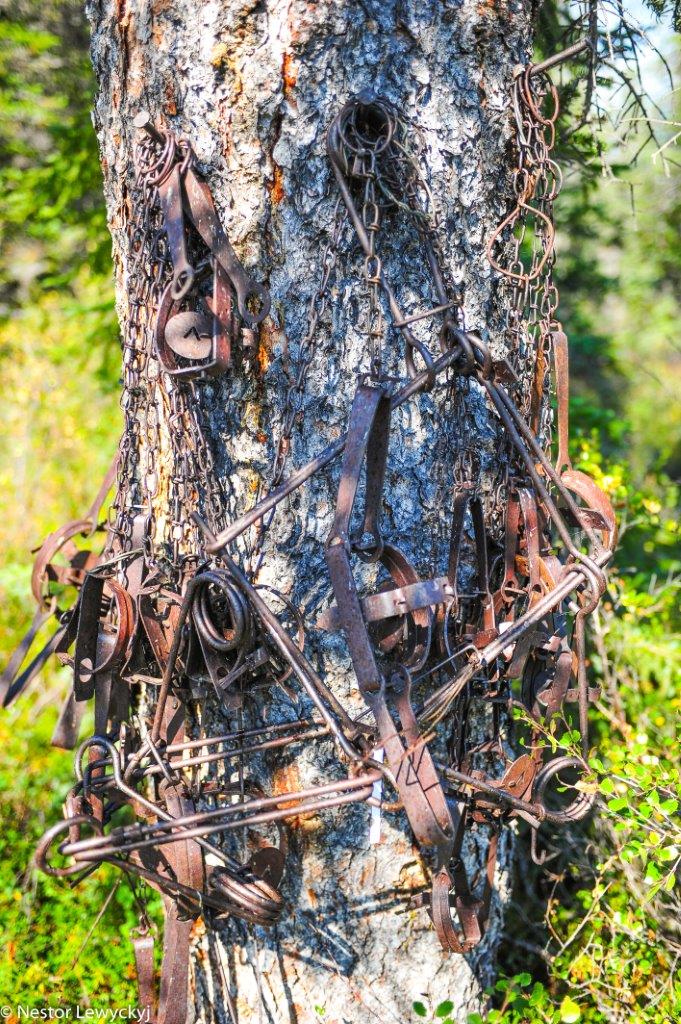 Lots of traps nailed to a tree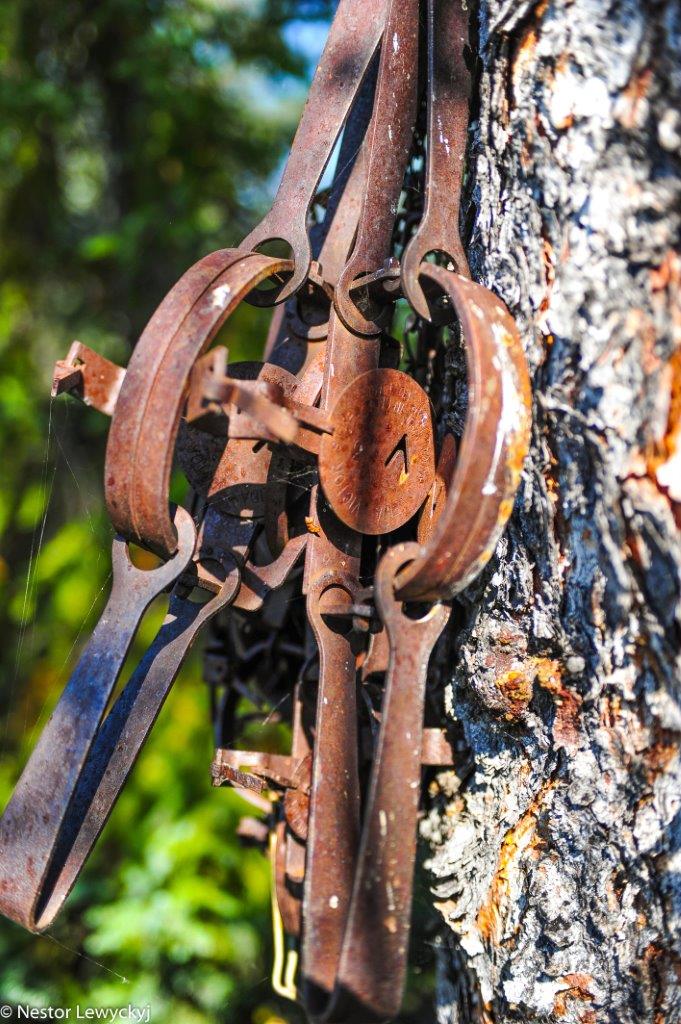 As horrific as they are, the leg hold traps all were made by the same company, with the sign "V". For those who have mouse traps at home, go take a look at them who were they made by? Victor. V. Amazing how the name has endured.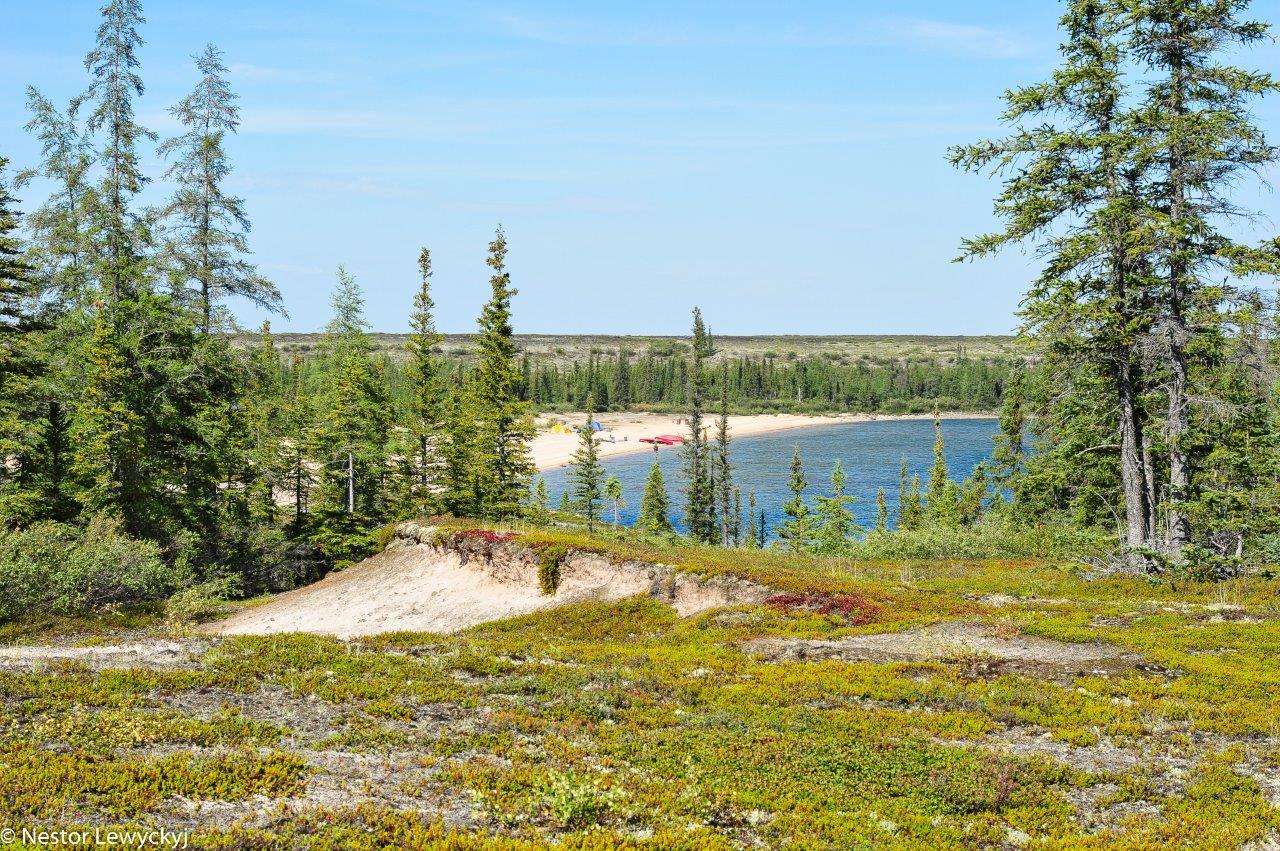 View of our camp from the south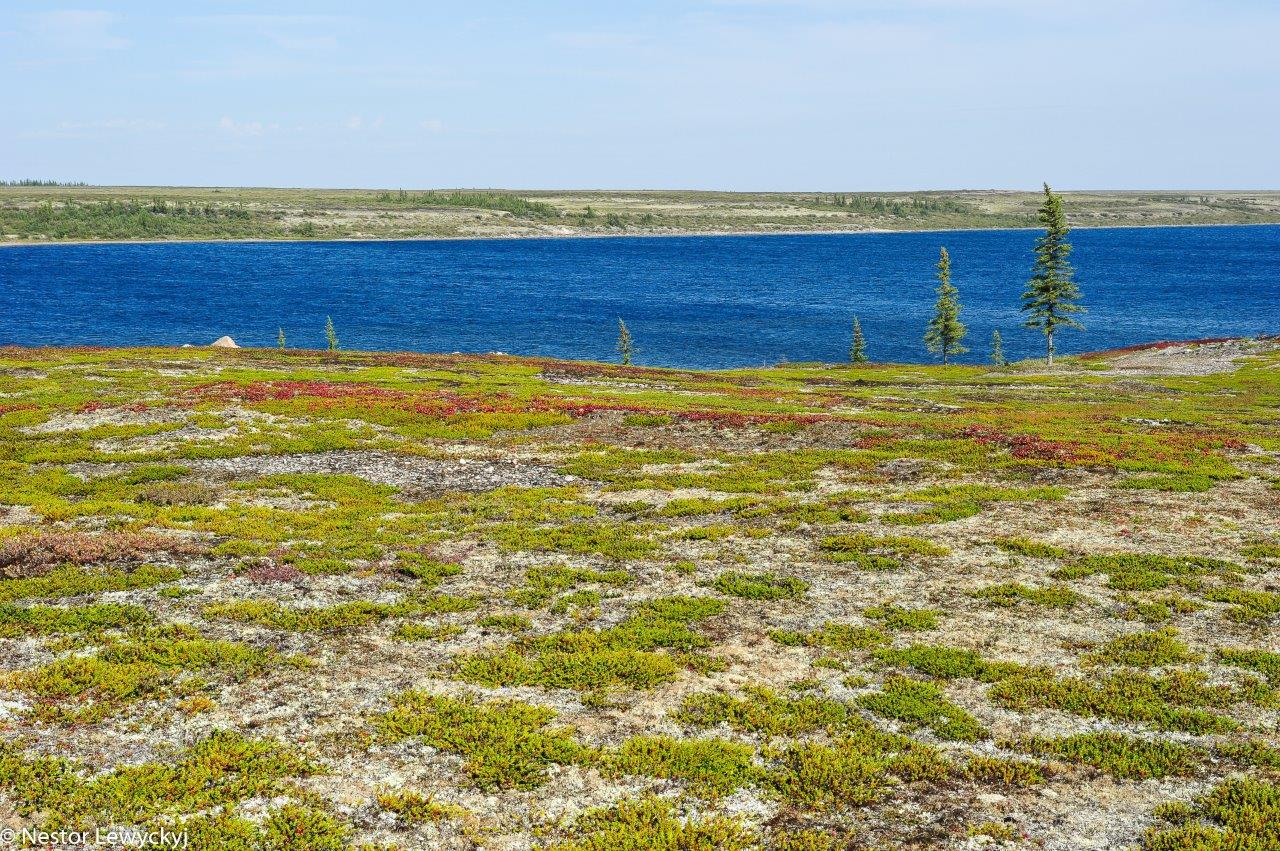 It was a gorgeous day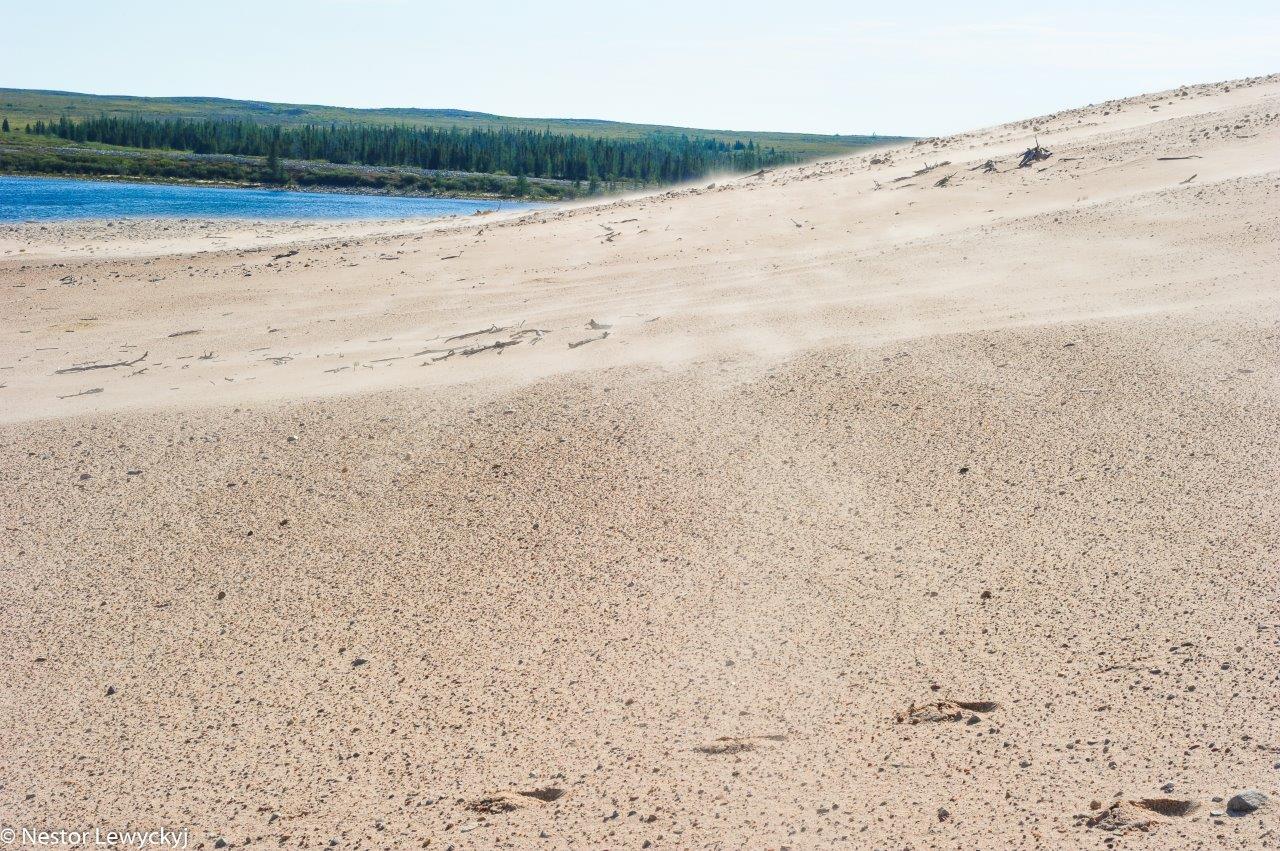 As we headed out to the esker hill we could tell how strong the wind was blowing. We were sheltered from it on the beach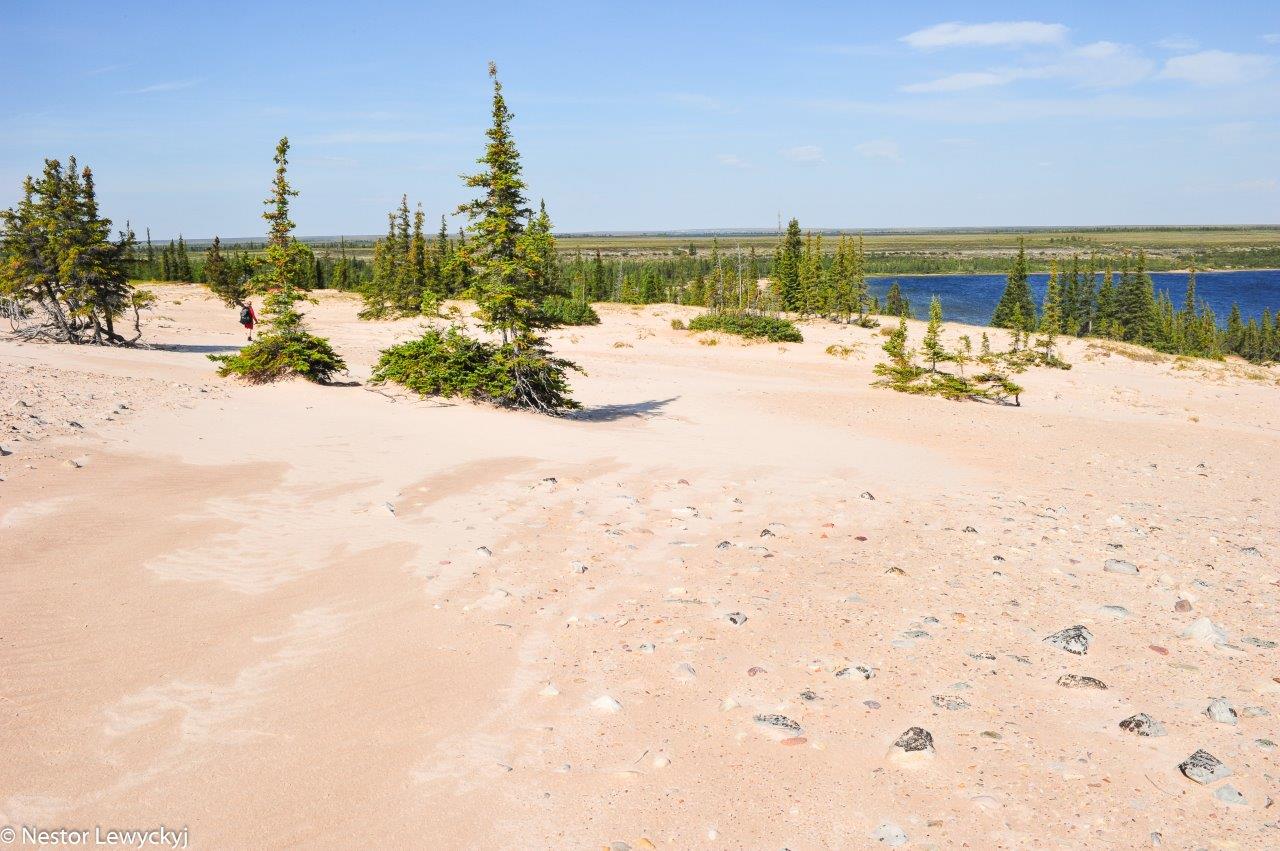 The sand has been there for thousands of years yet little can grow on it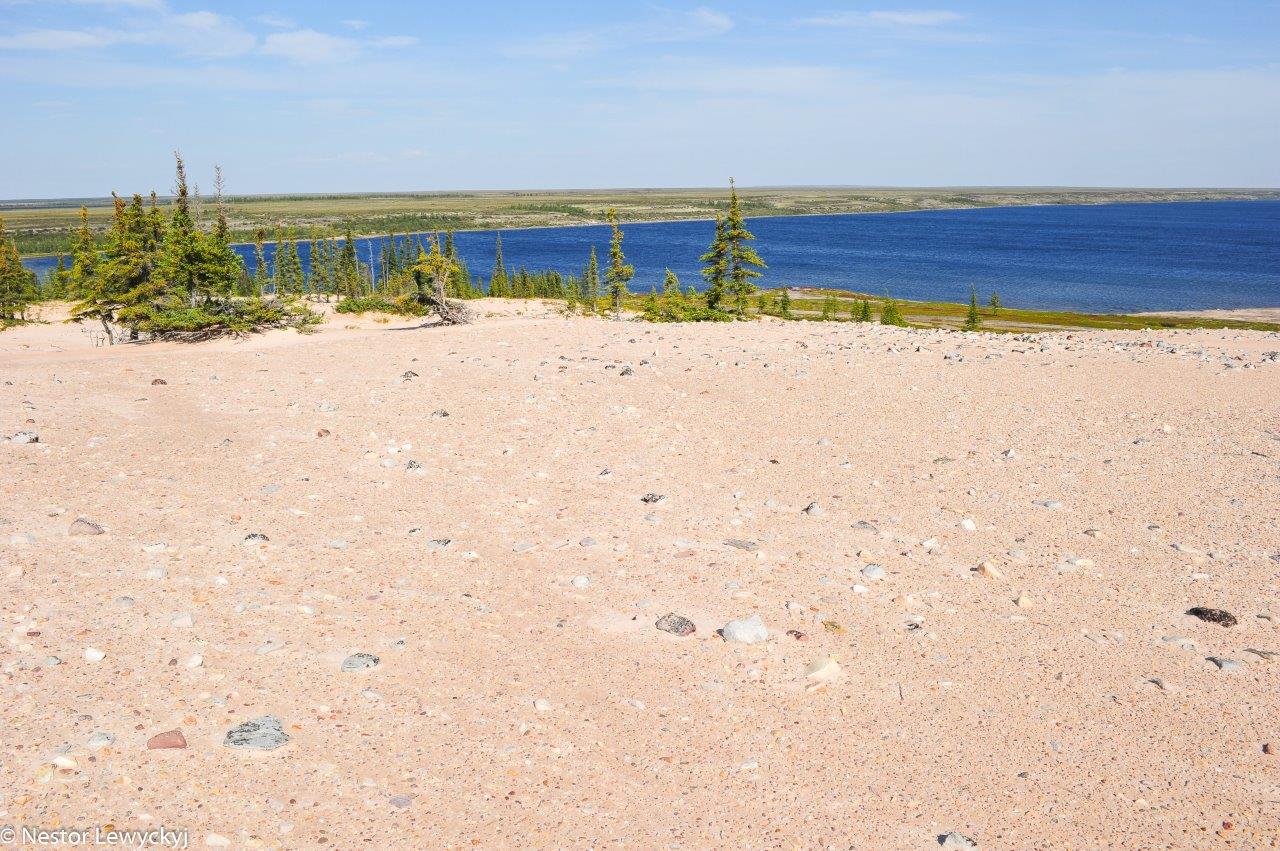 The hill was probably 30 metres tall above the Thelon River, by far the tallest thing for dozens of kilometres around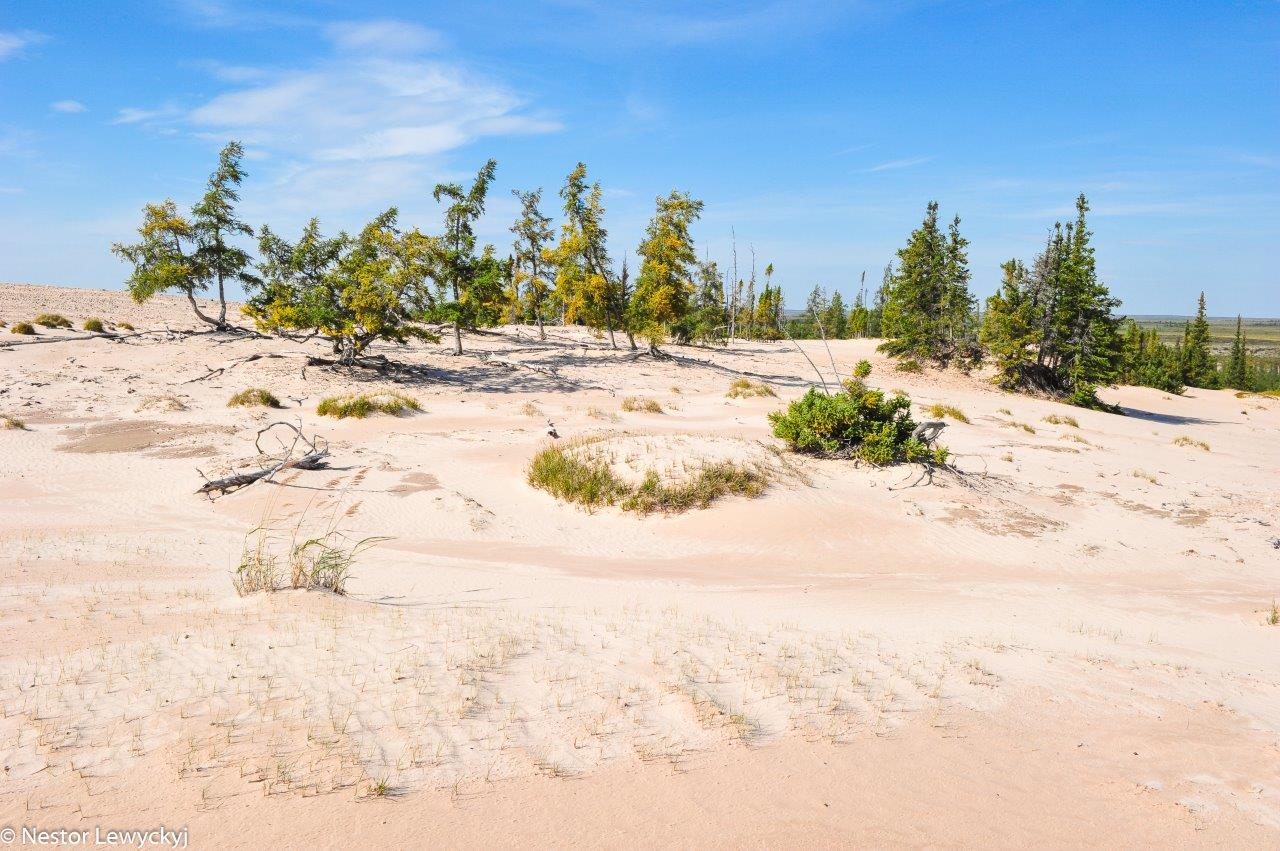 Trees made a valiant effort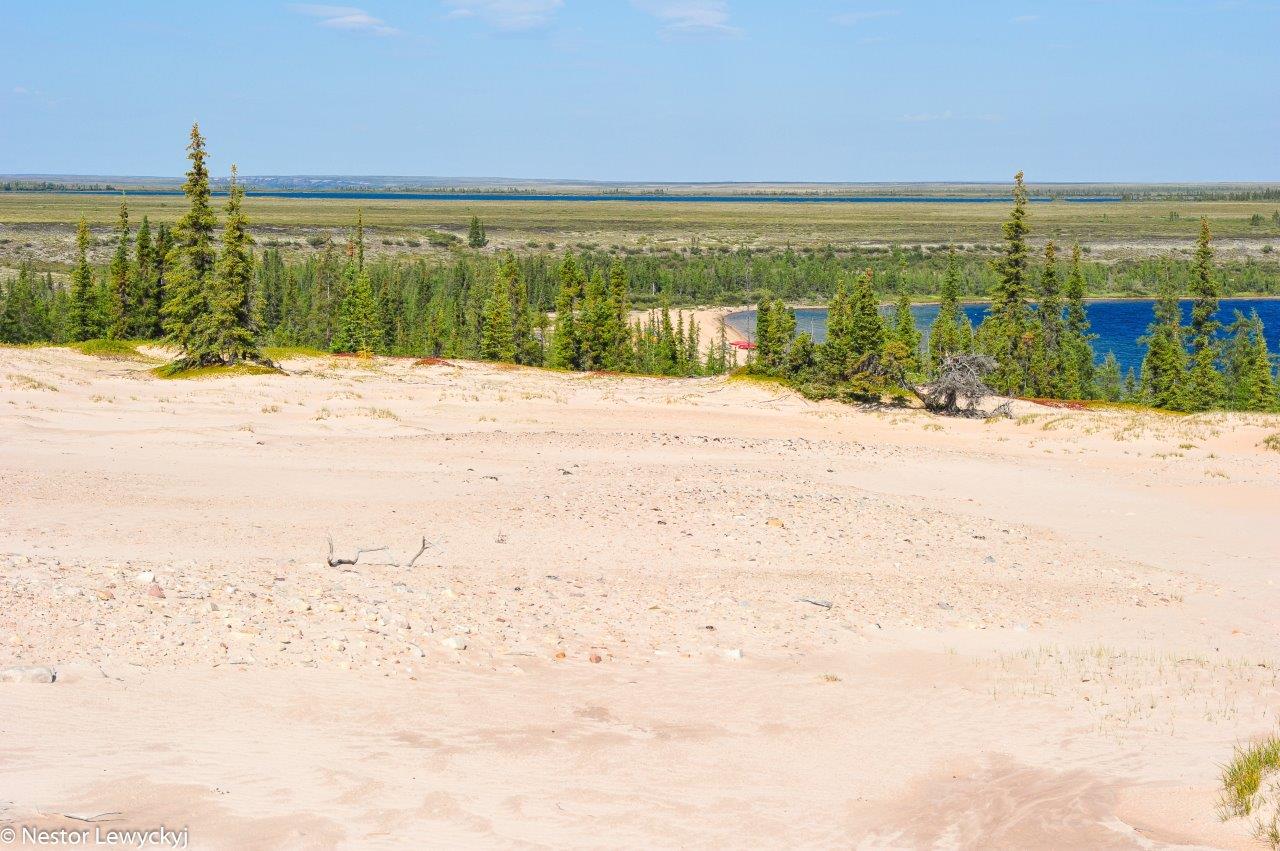 You can tell from here how flat the relief of the land truly is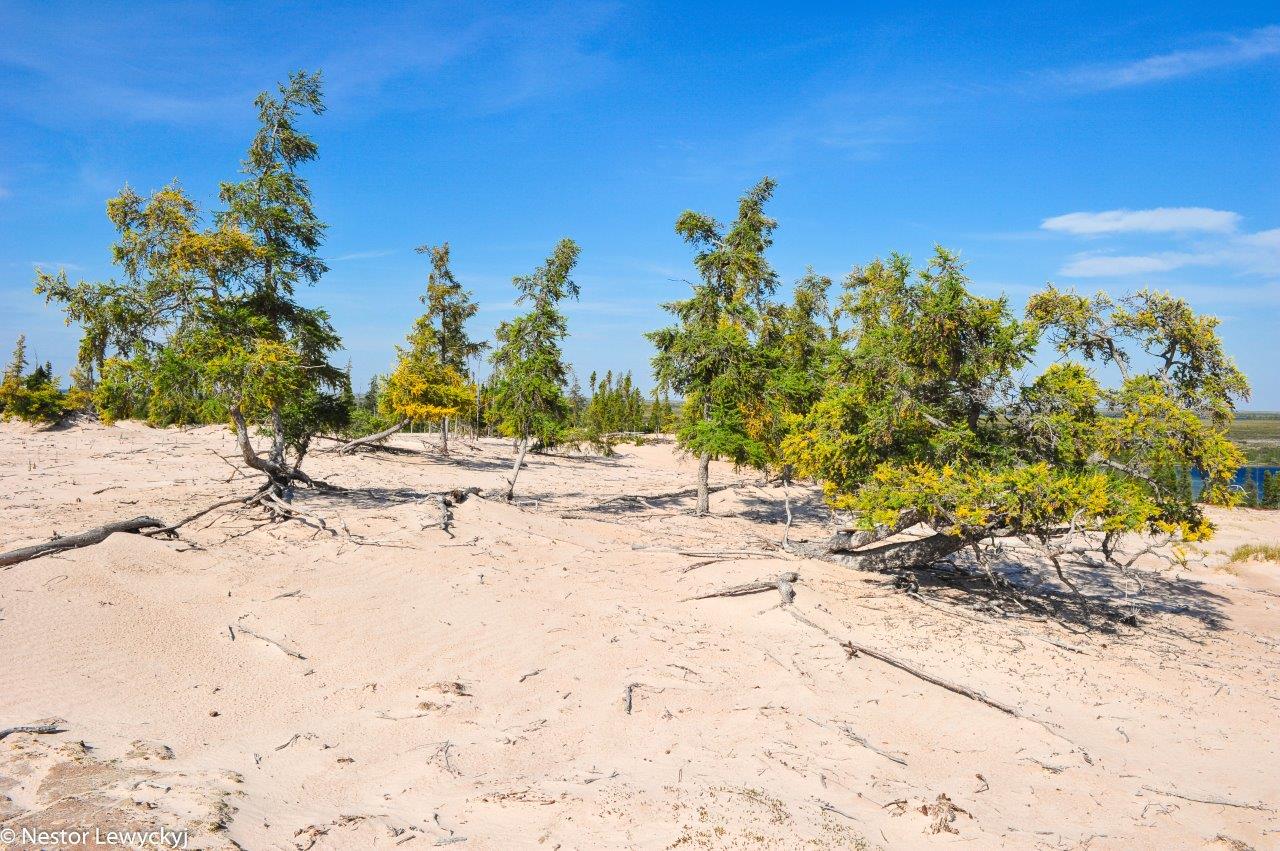 Barely making it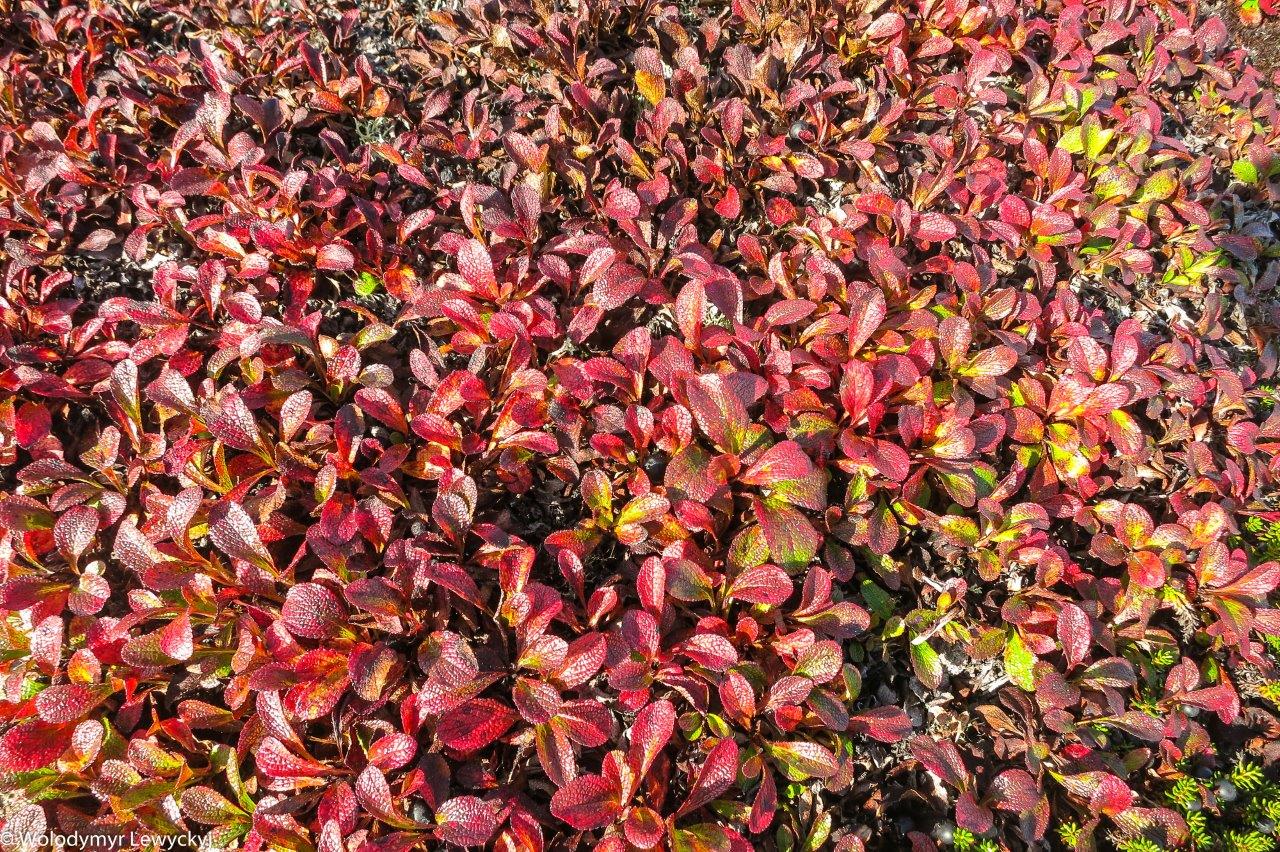 Fall was coming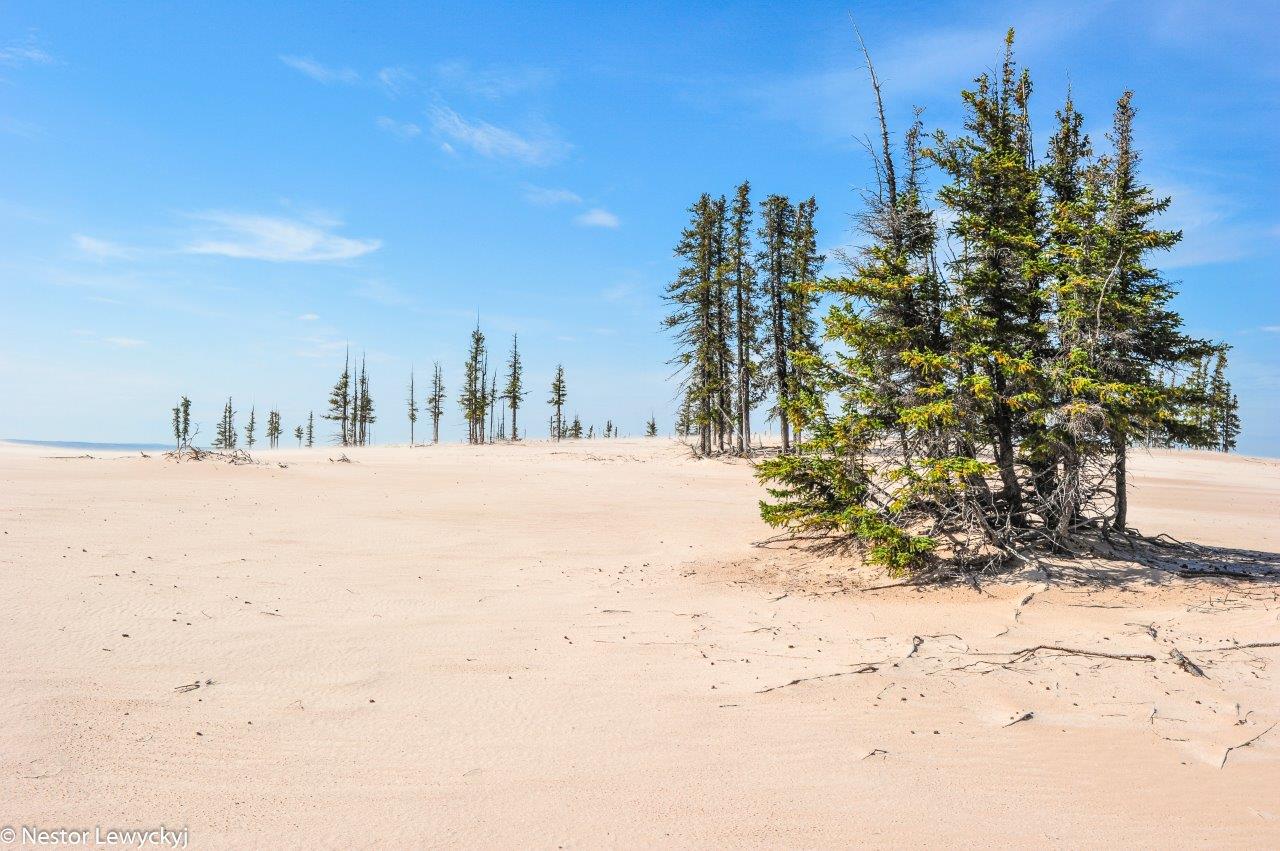 It was like another world or planet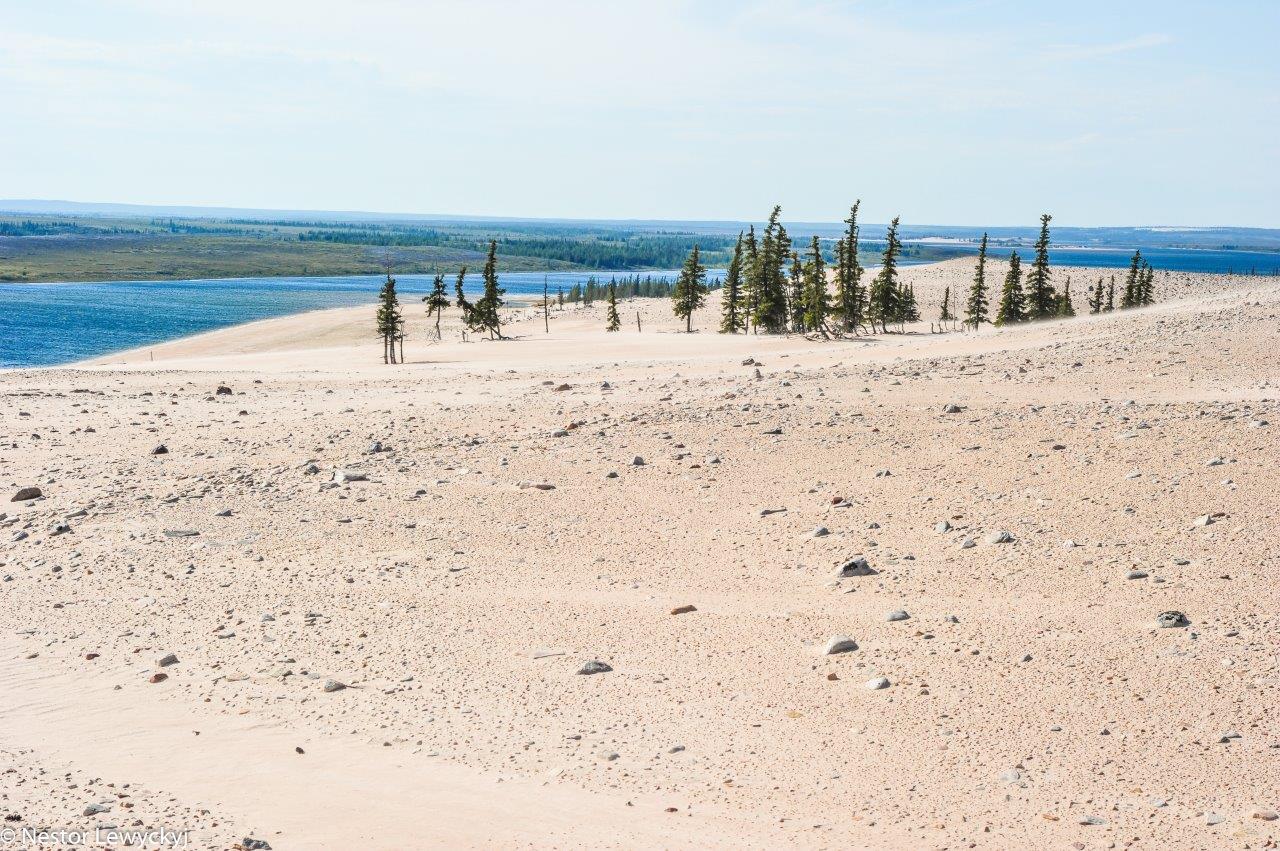 Facing due West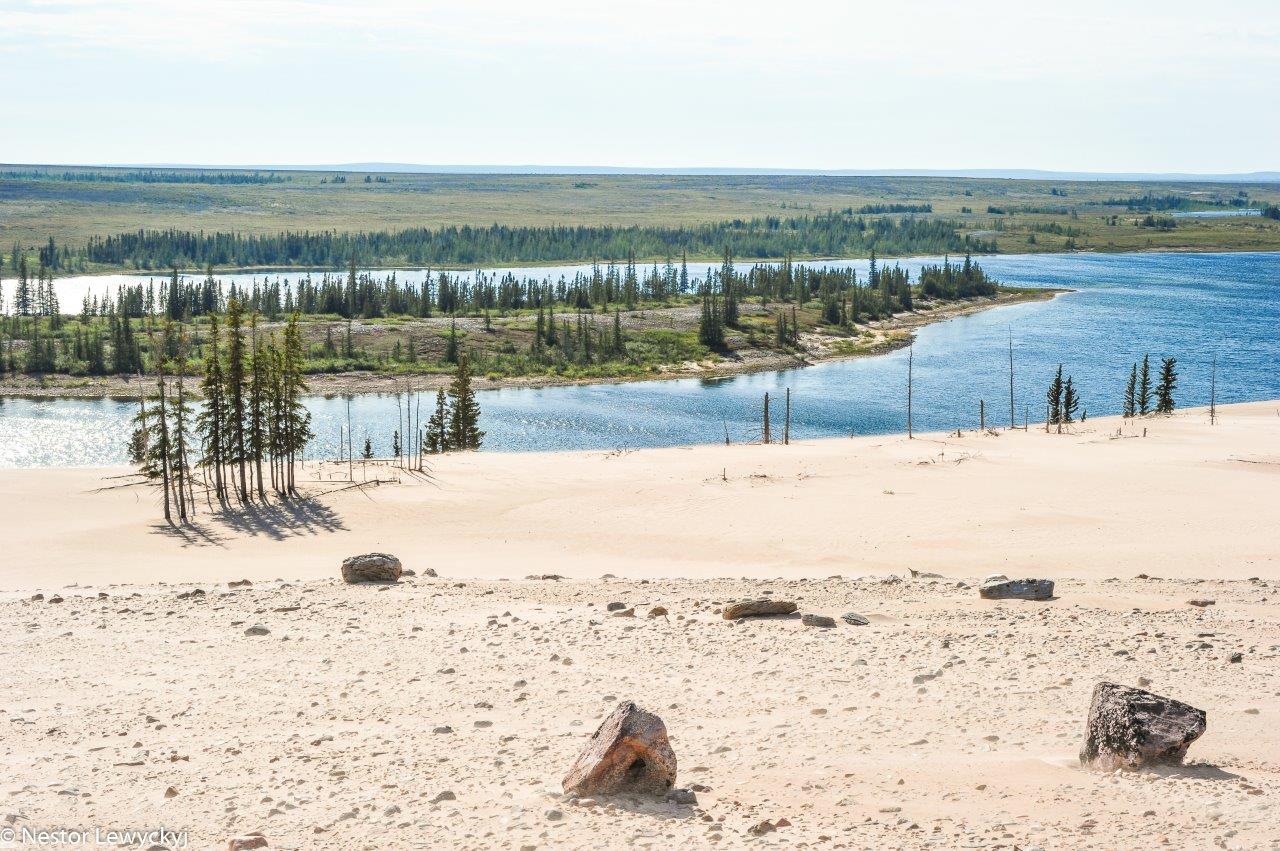 The Thelon River flowing past the large esker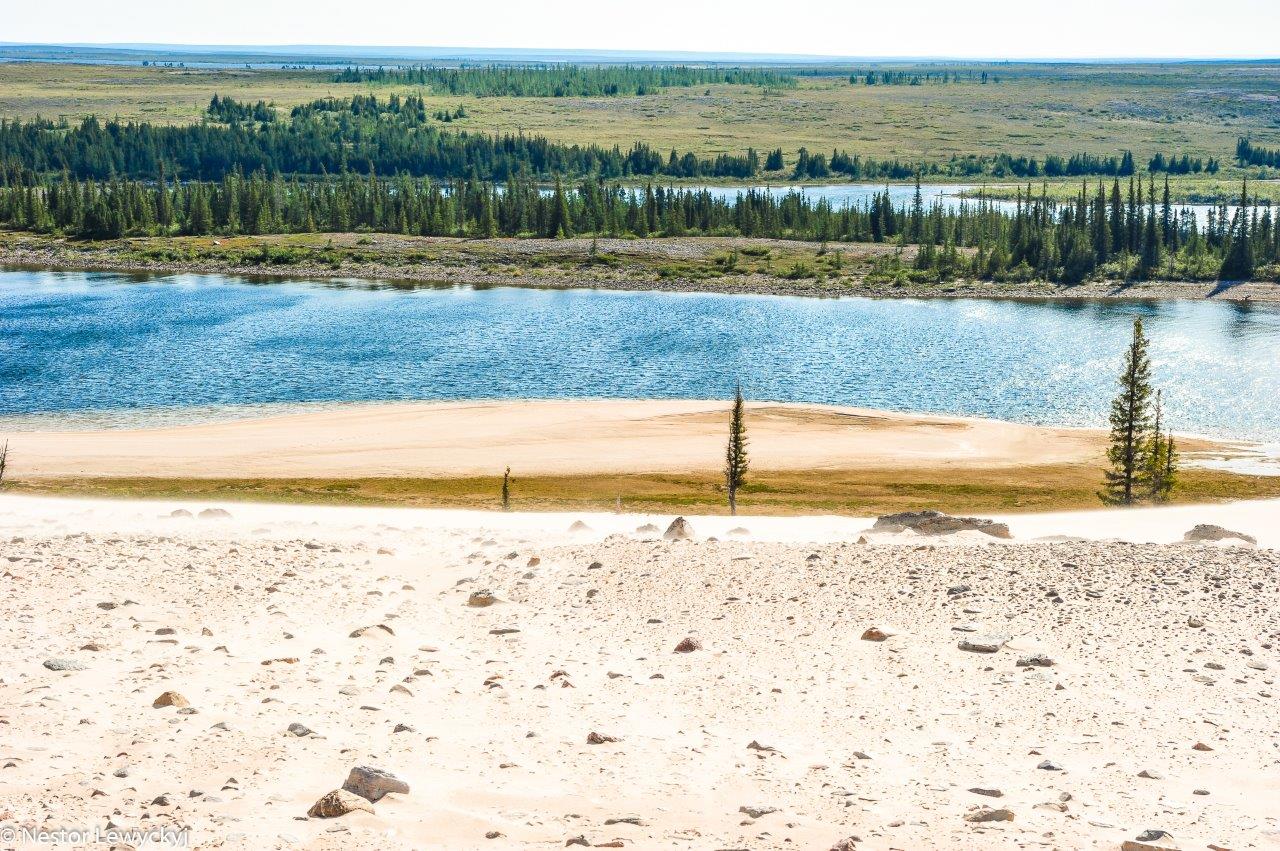 Looking down on the beach where the Twin Otter would pick us up 2 days from now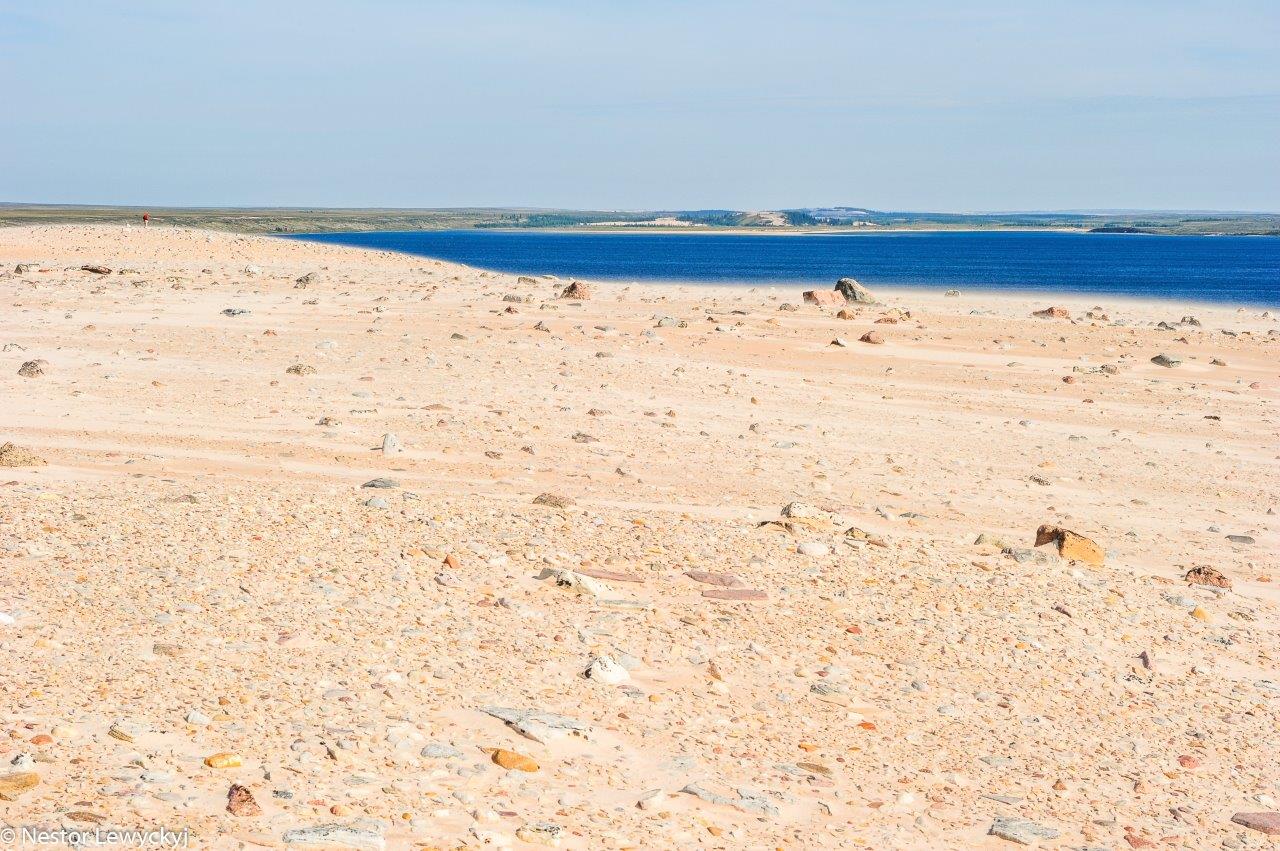 You can see the sand blowing across the surface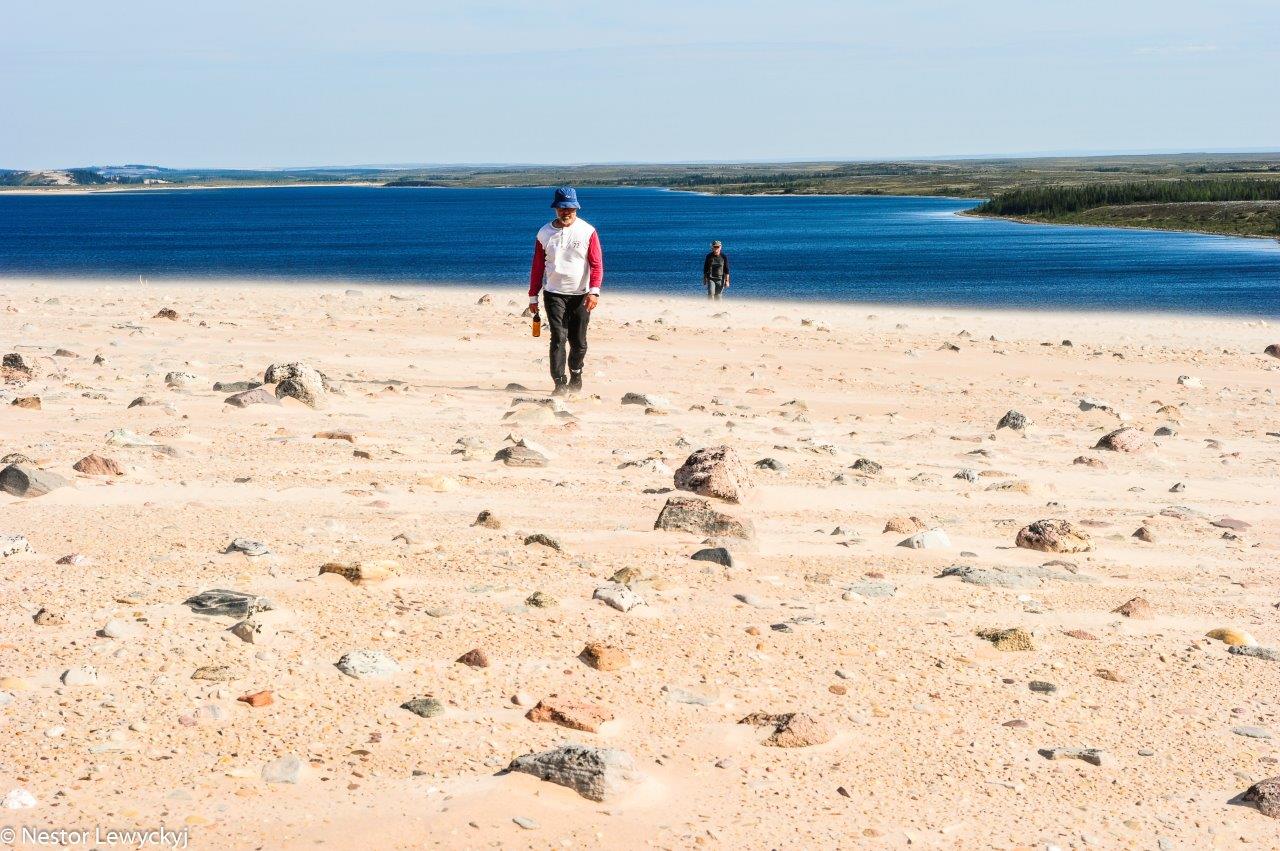 Like a Sergio Leone movie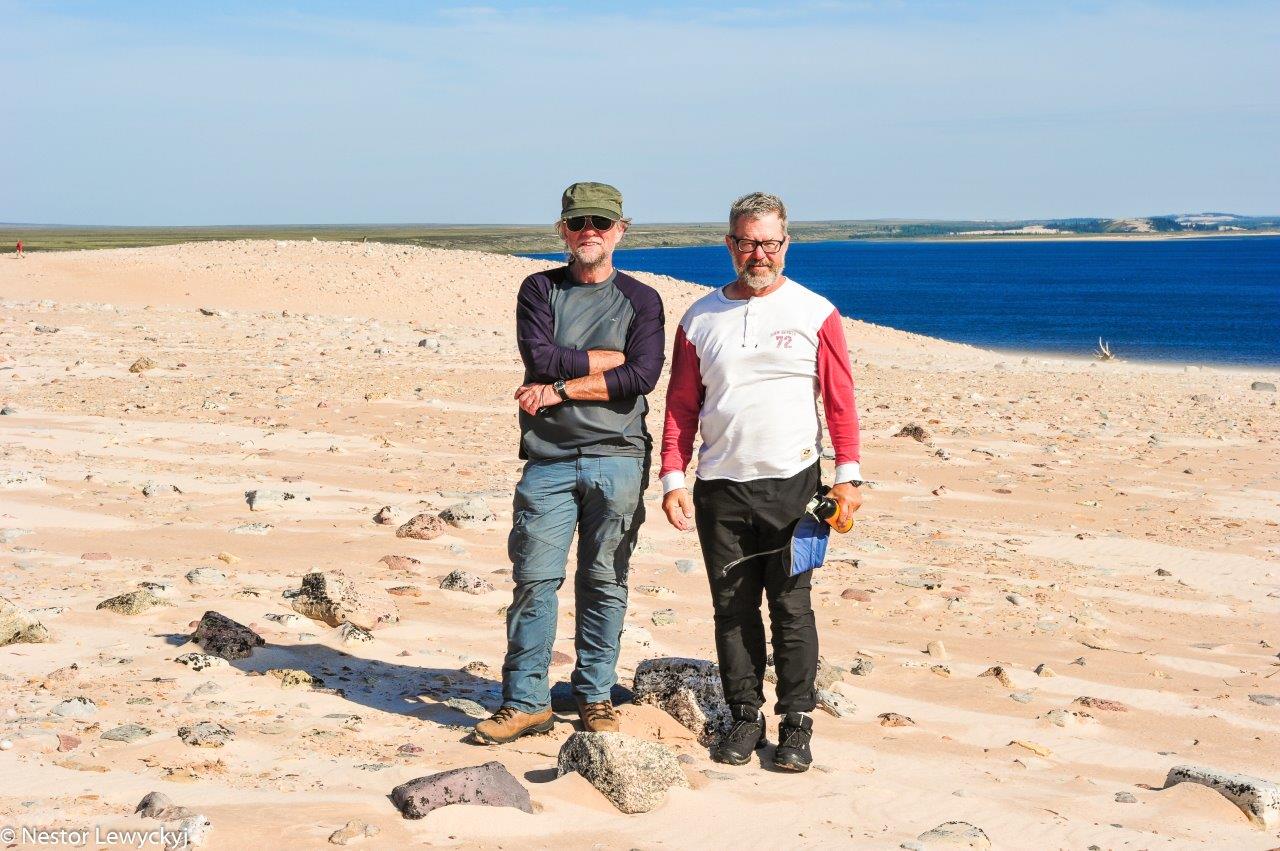 It was amazing to be up on top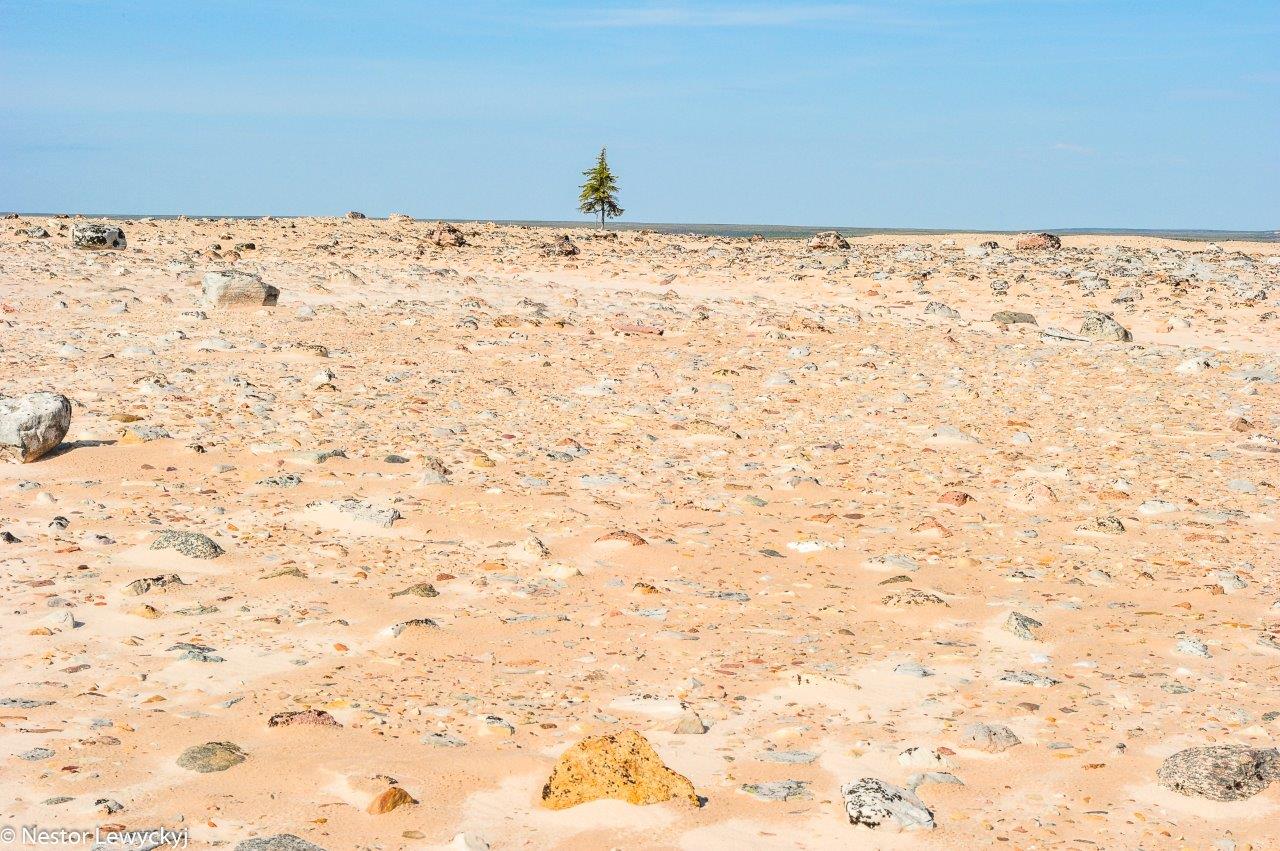 It was a landscape that seemed very foreign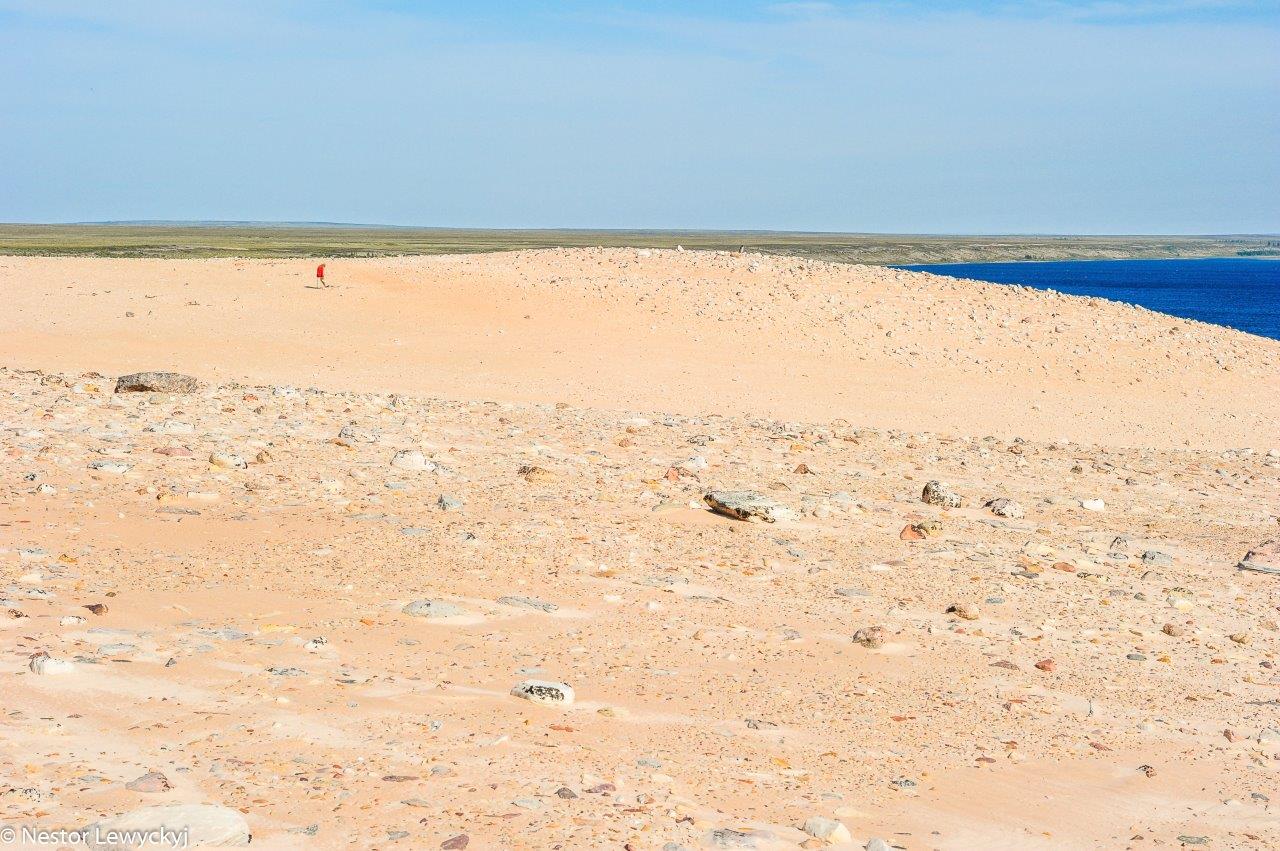 Fedir doing his own exploring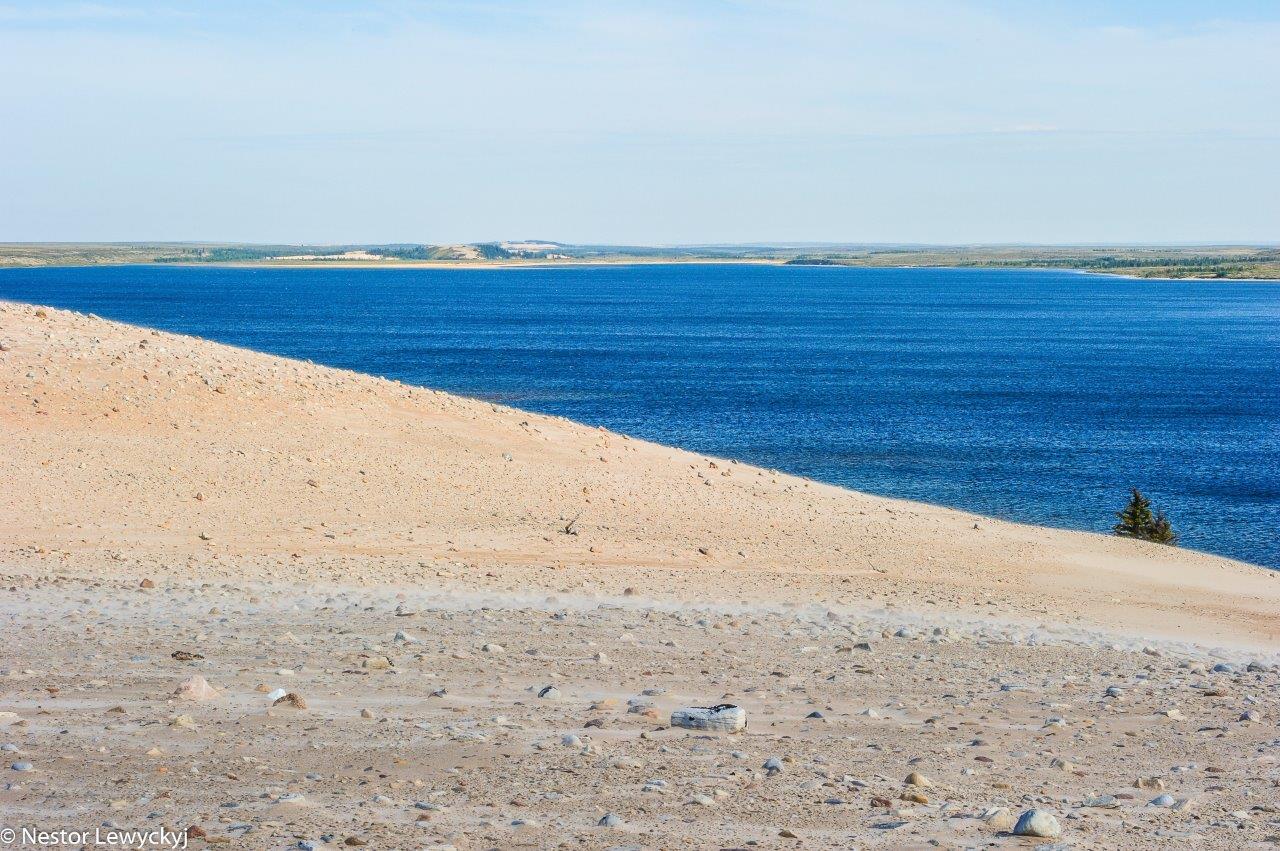 Shades, lines, and colours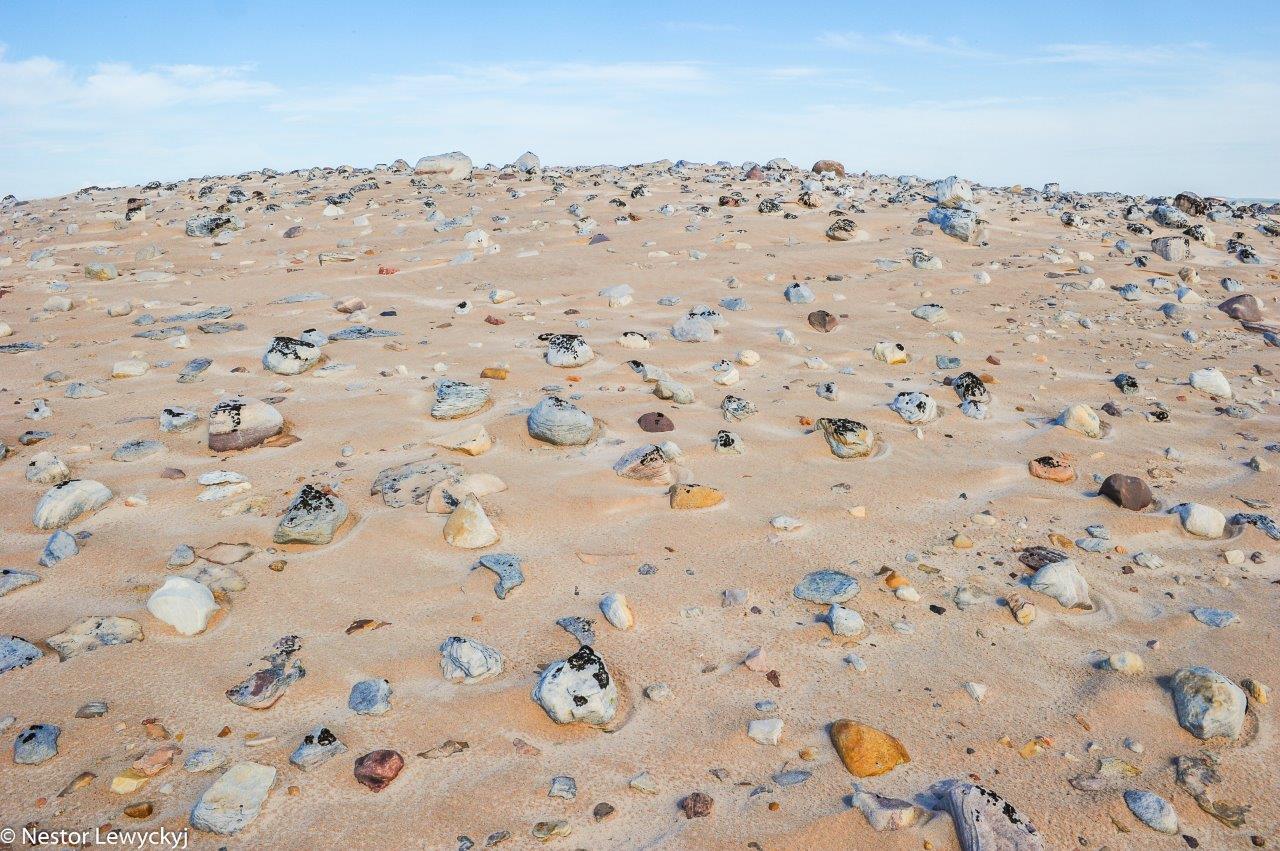 It might as well be a shot from Mars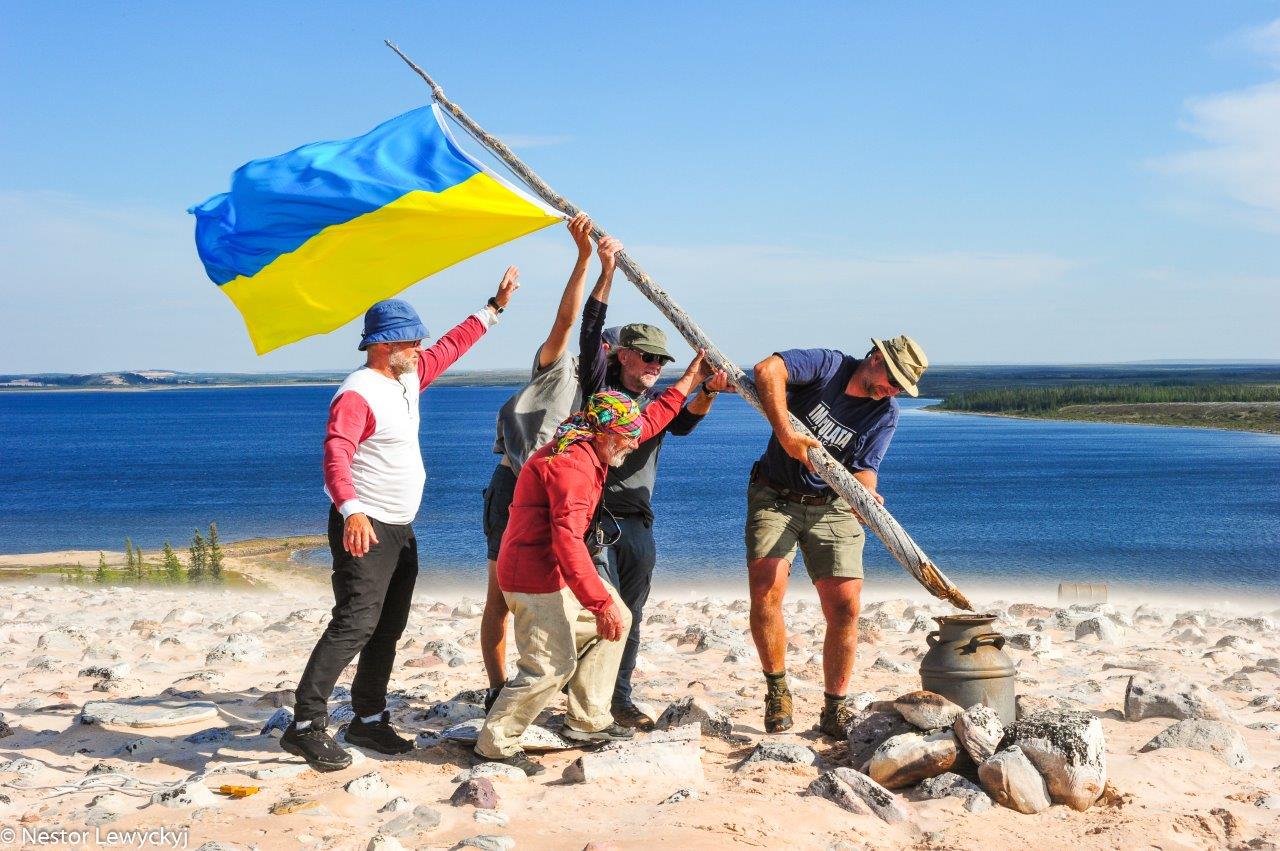 Our Ukrainian flag raising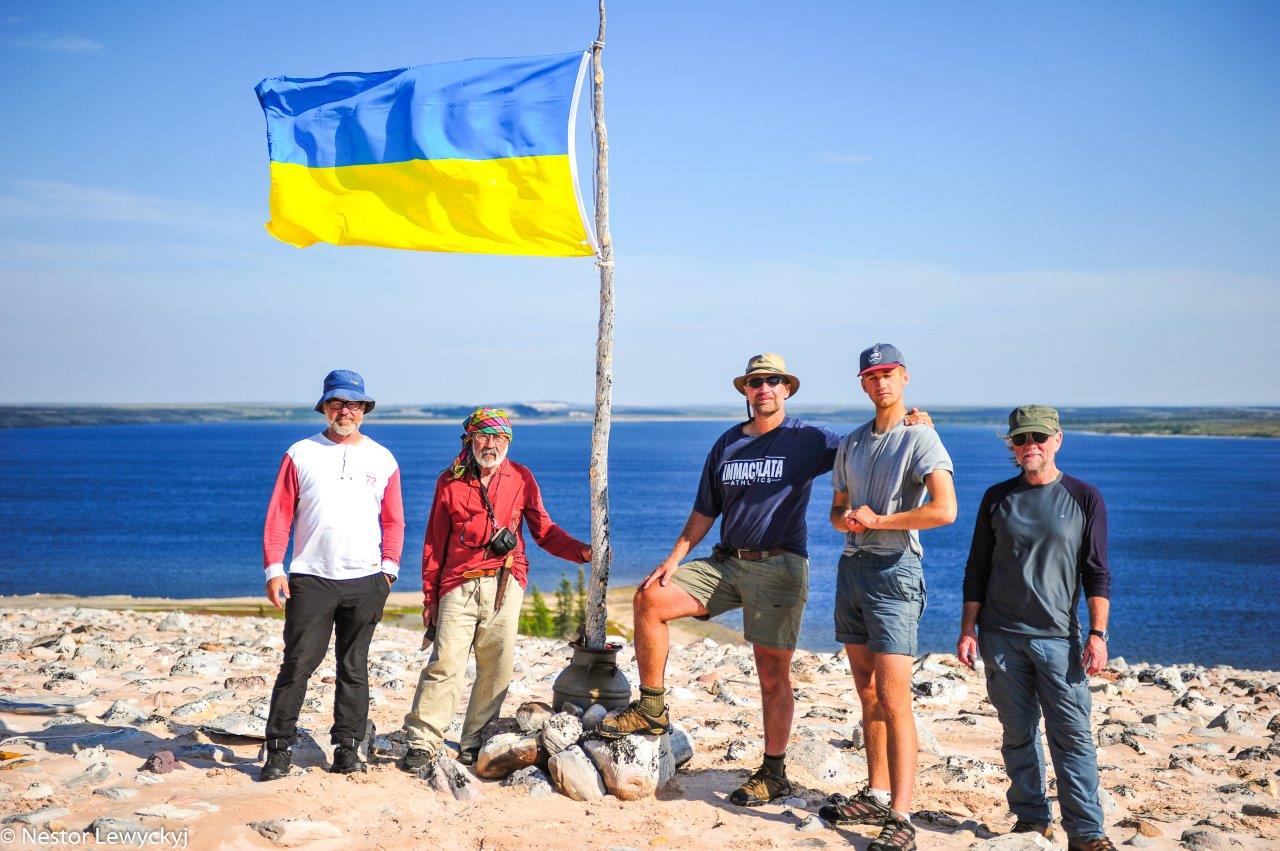 I had brought a Ukrainian flag with the expressed purpose of leaving it on some hill up there. This turned out to be the perfect spot, high above the Thelon River where anyone paddling by would see it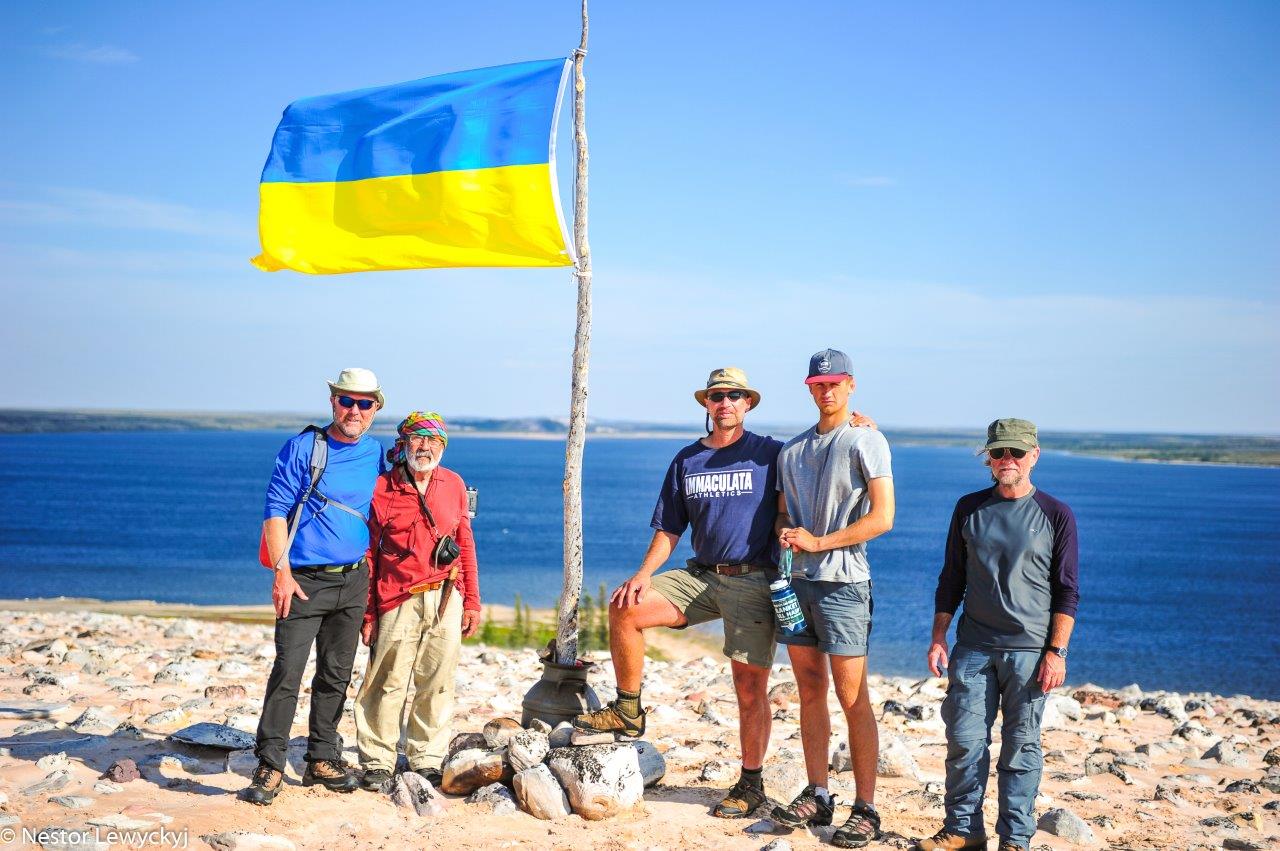 I got into the shot as well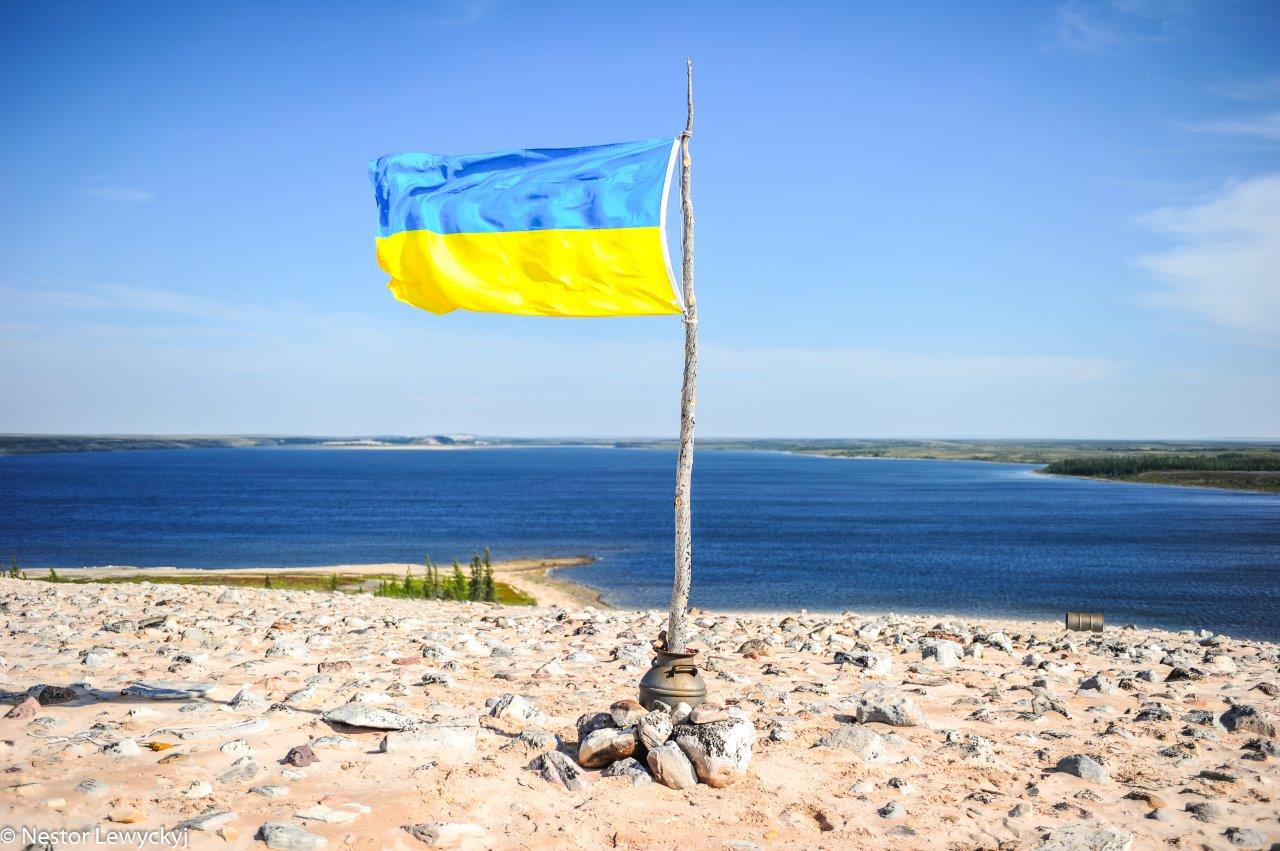 An amazing spot for it. The old metal can was up there. We secured it firmly with rocks to make sure it would not move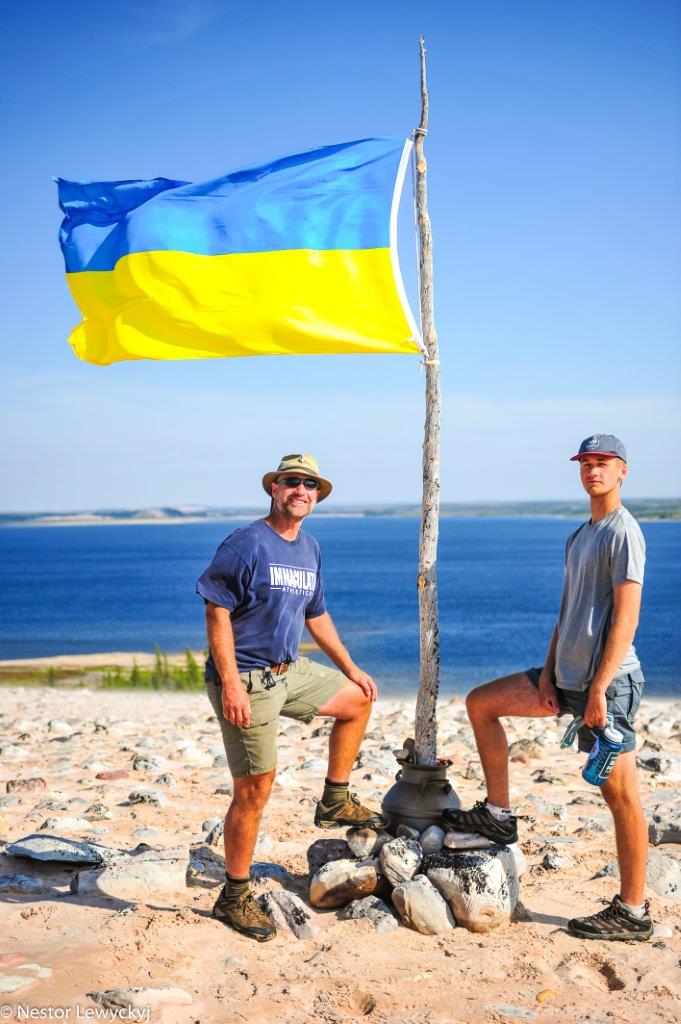 We all wanted turns with the flag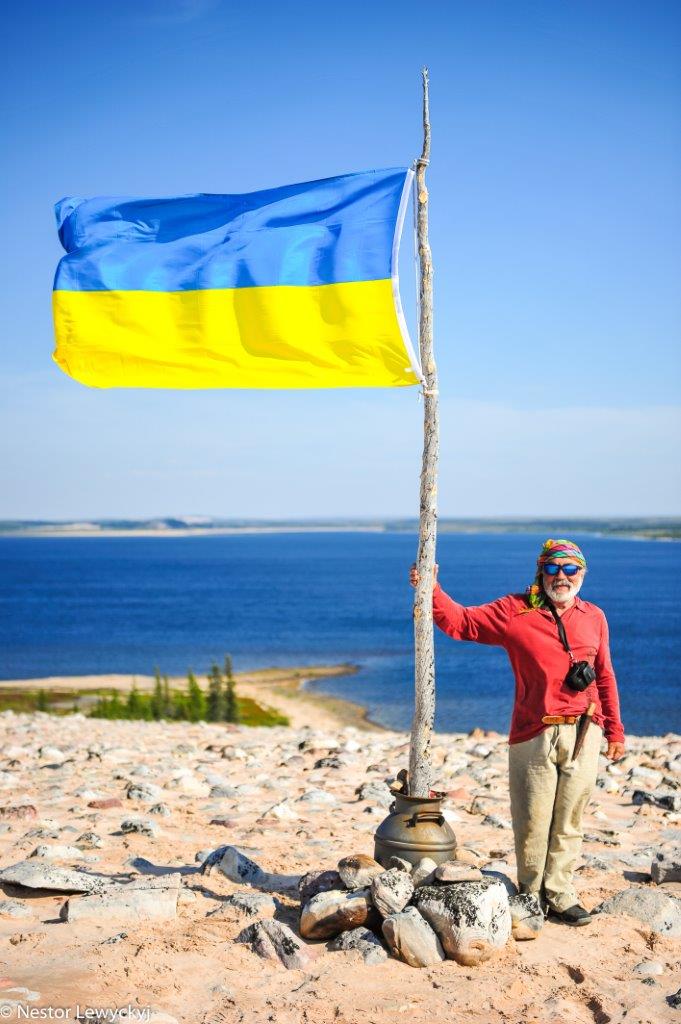 Fedir standing tall and proud. He had found and trimmed the tree trunk to make a perfect flag pole
What a view.....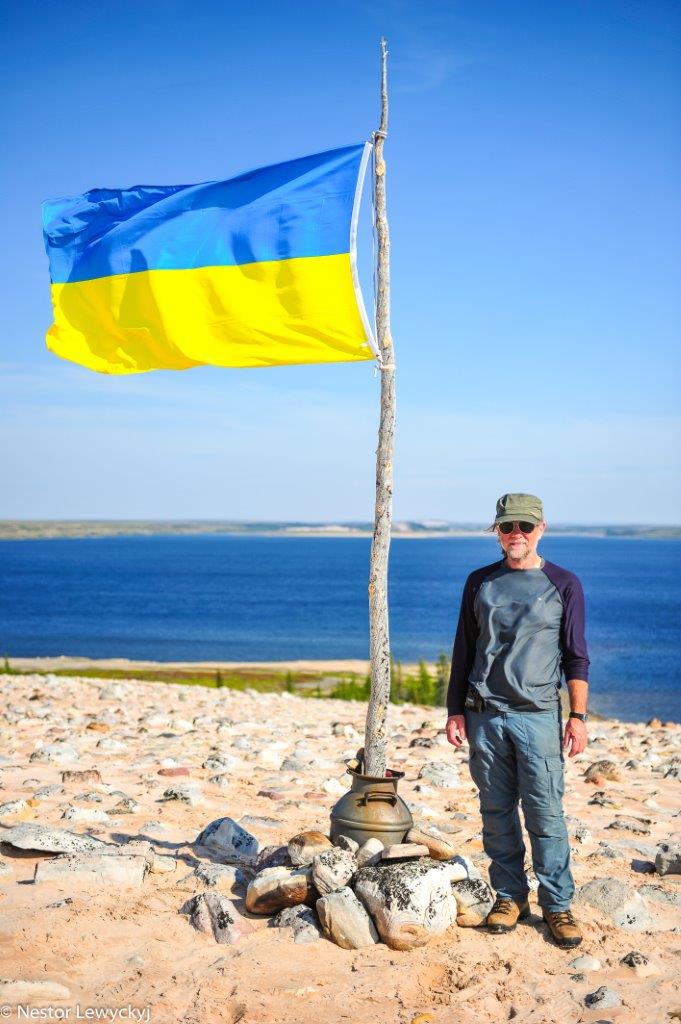 Wolodymyr was not to be denied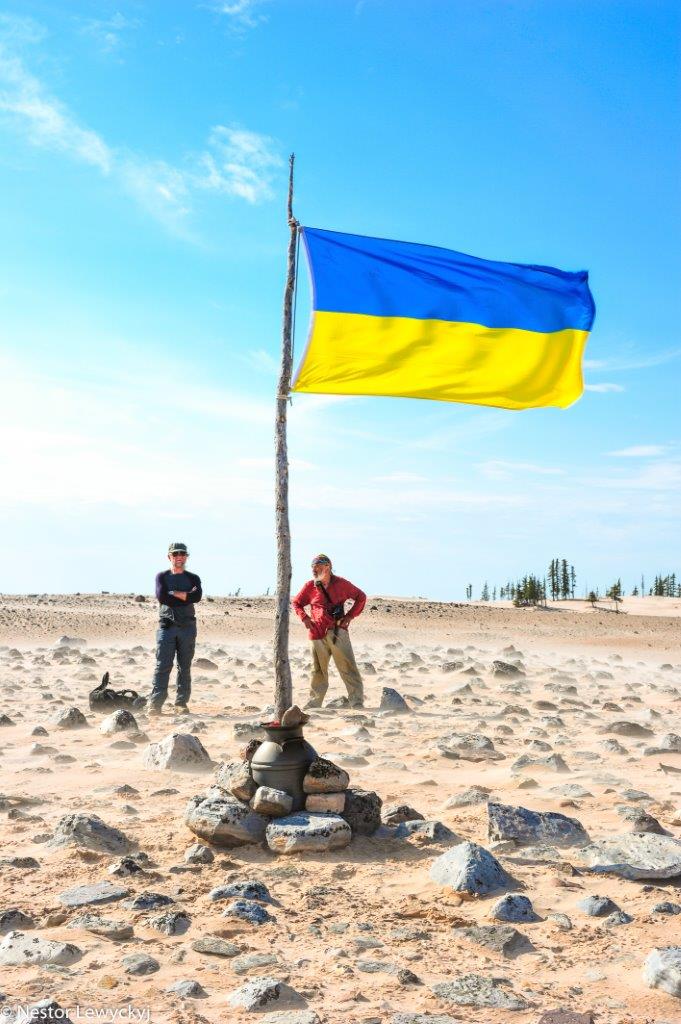 The wind stayed very strong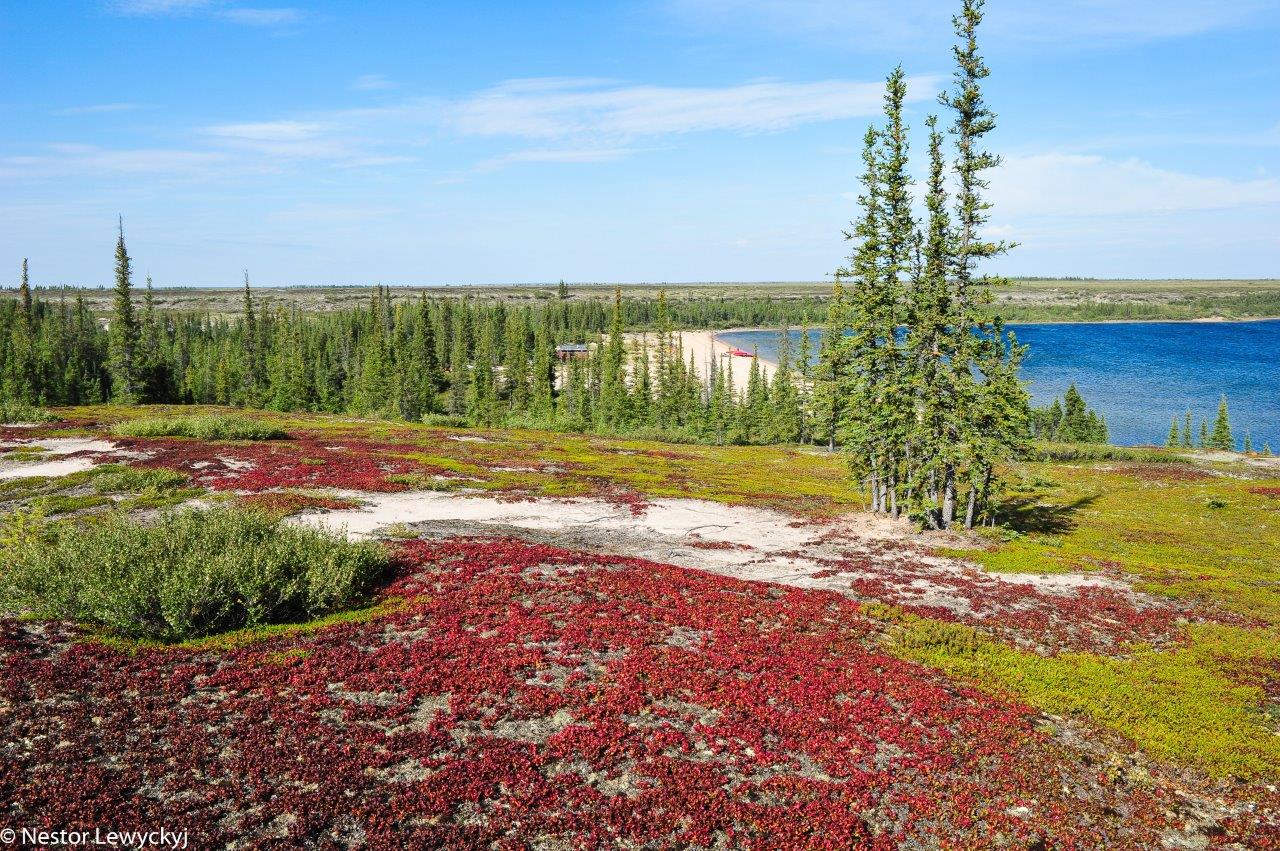 We made our way back to camp via the shore line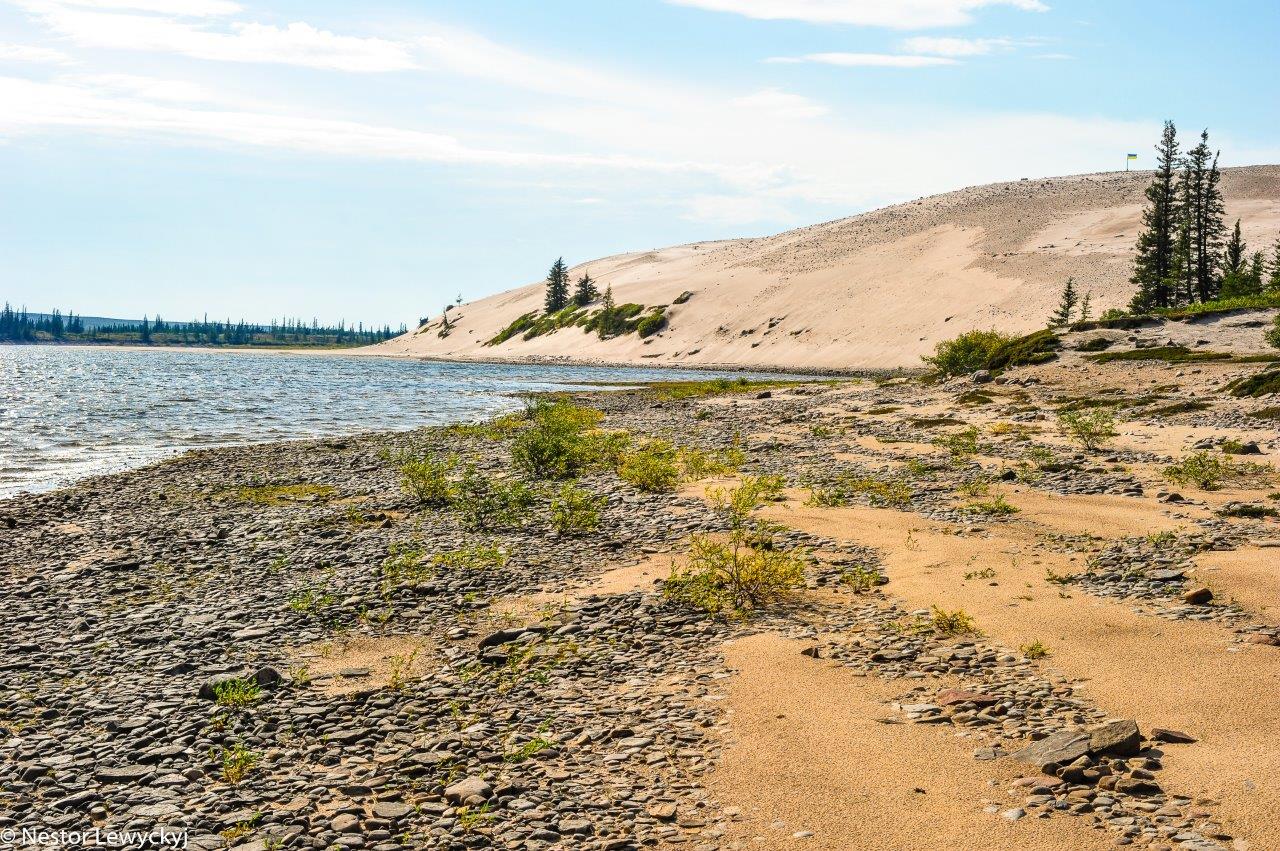 You can see the height of the hill from here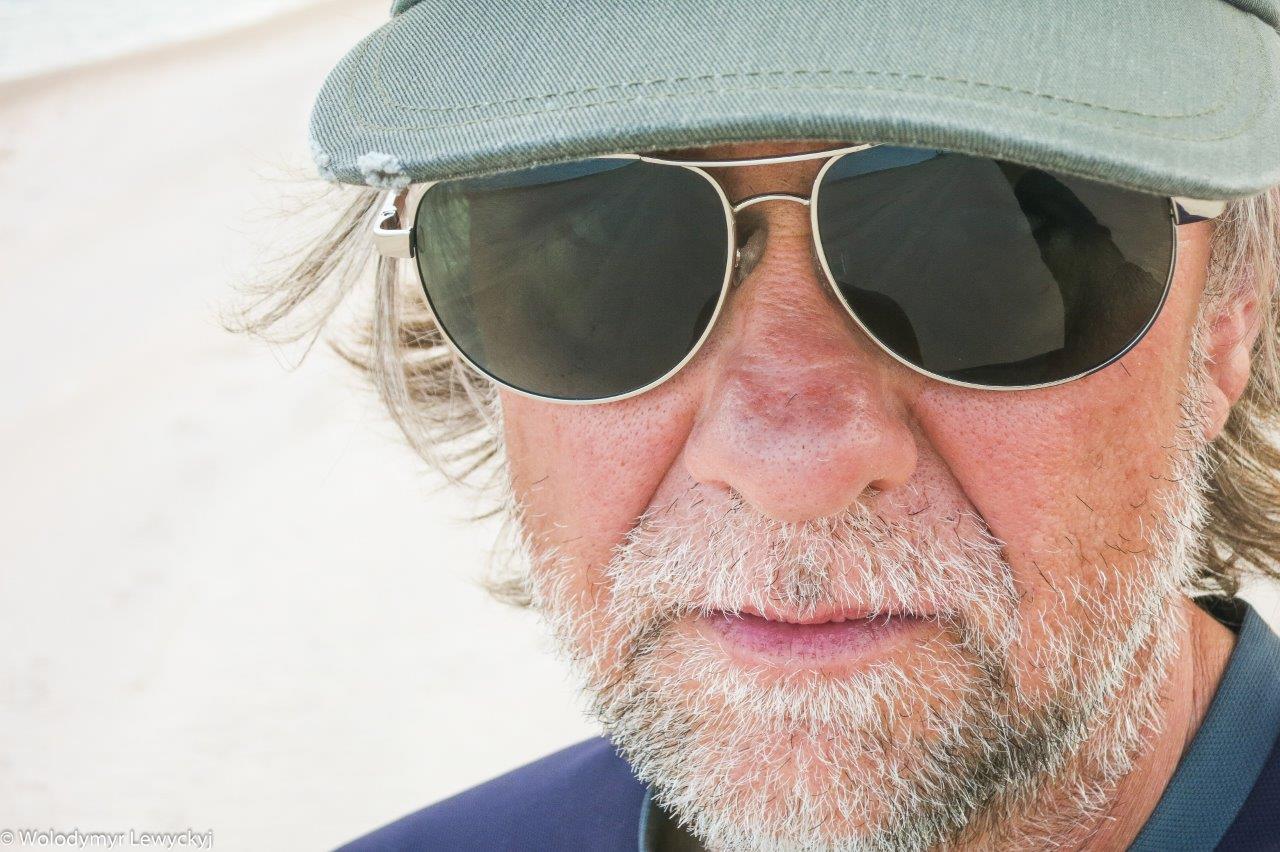 Last Wolodymyr selfie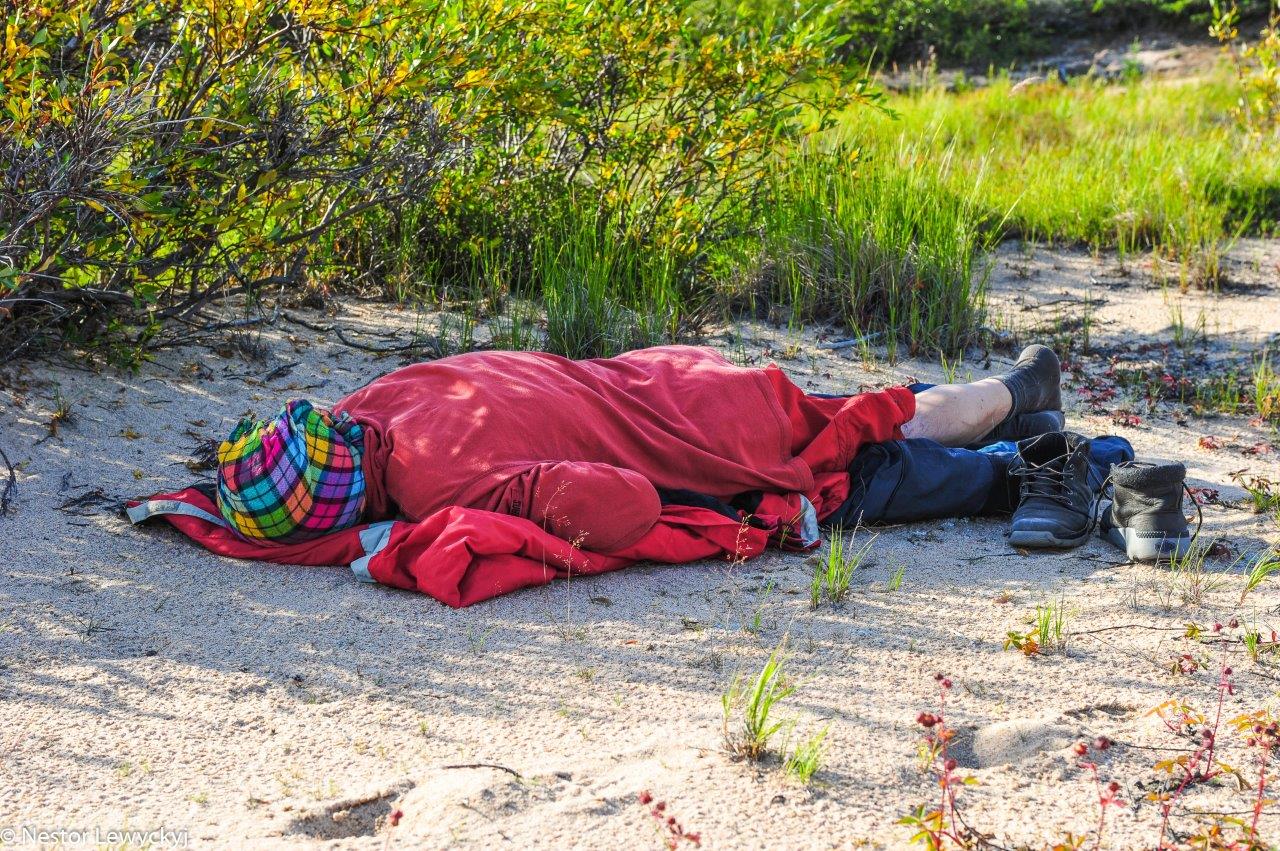 Fedir was pooped after our adventure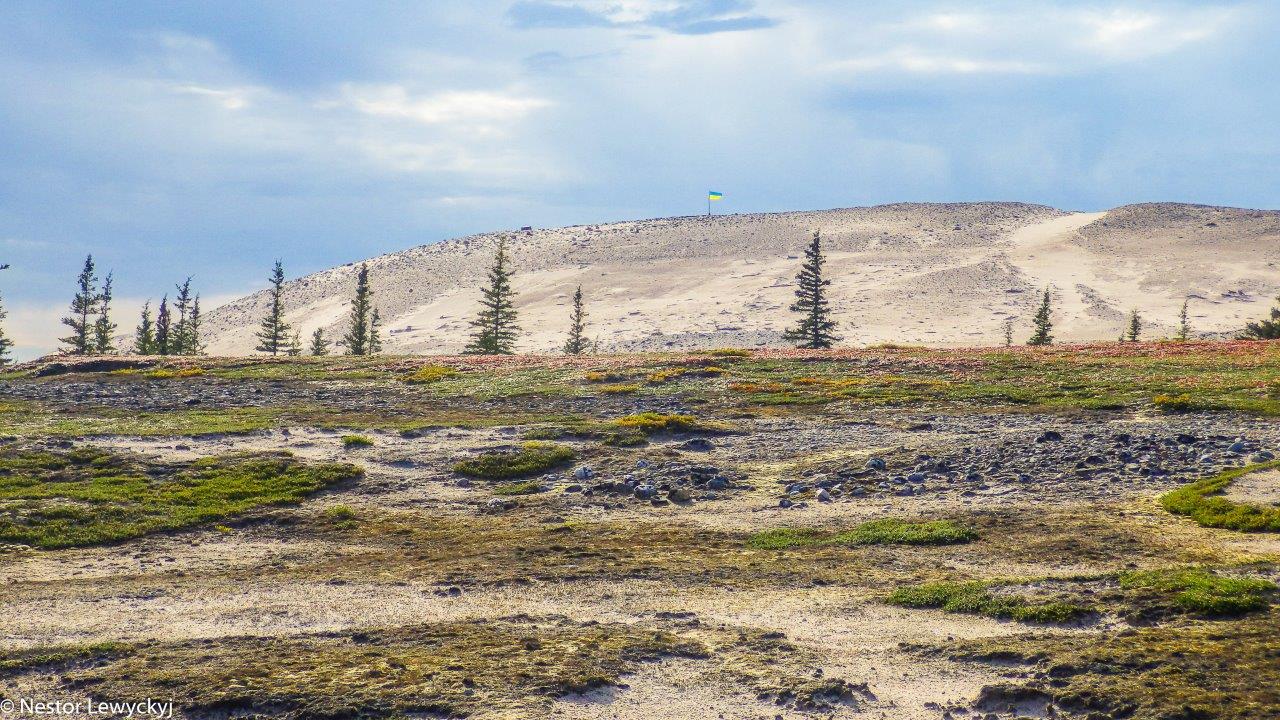 The Ukrainian flag flying high and proud.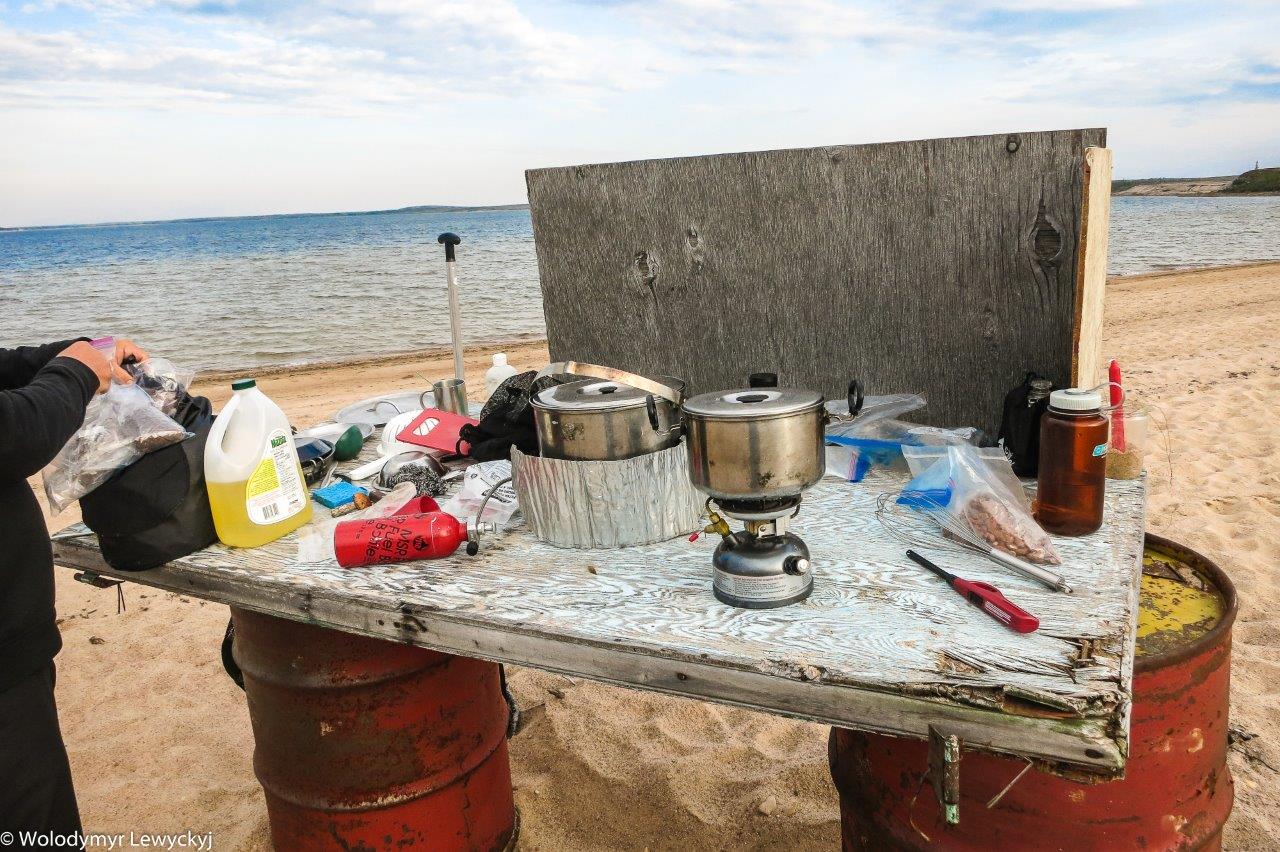 Our make-shift kitchen for 3 days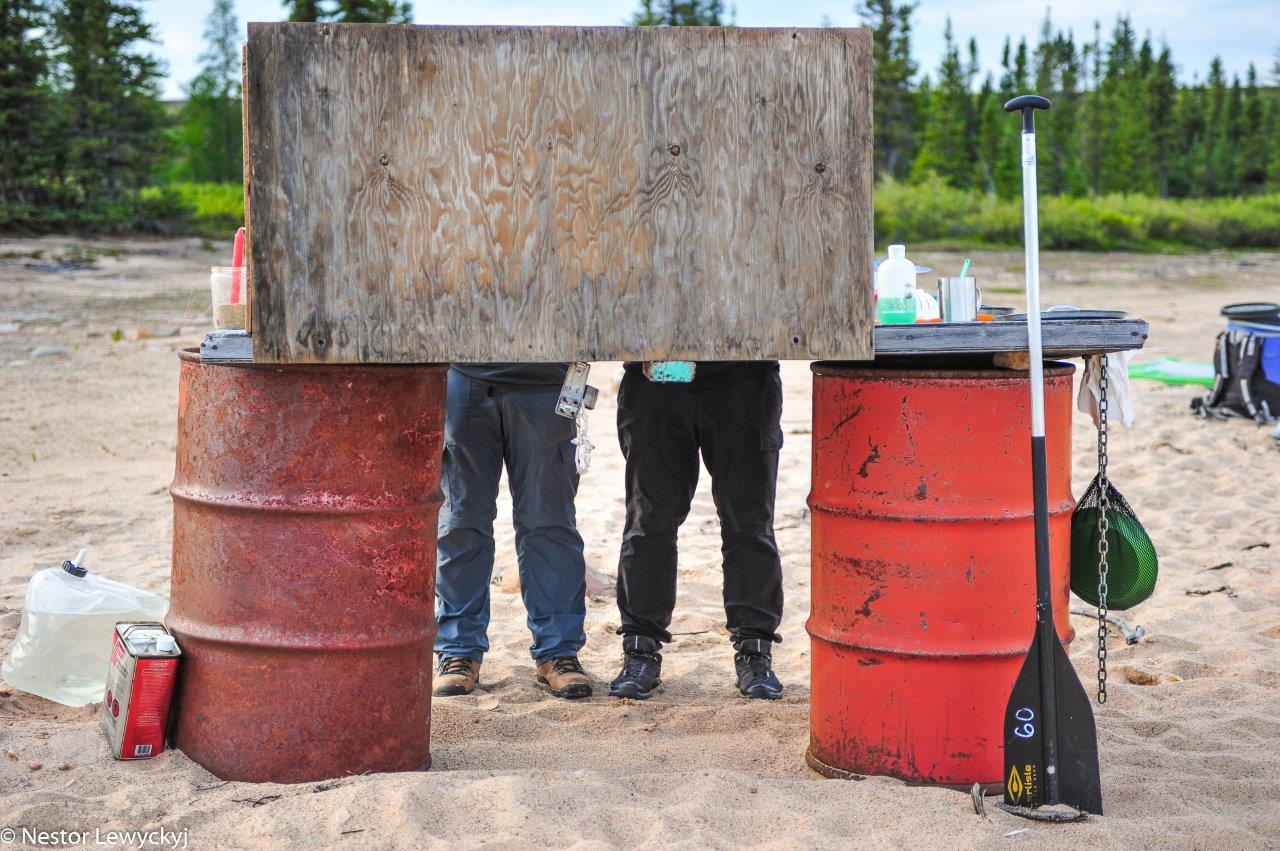 What are they doing there?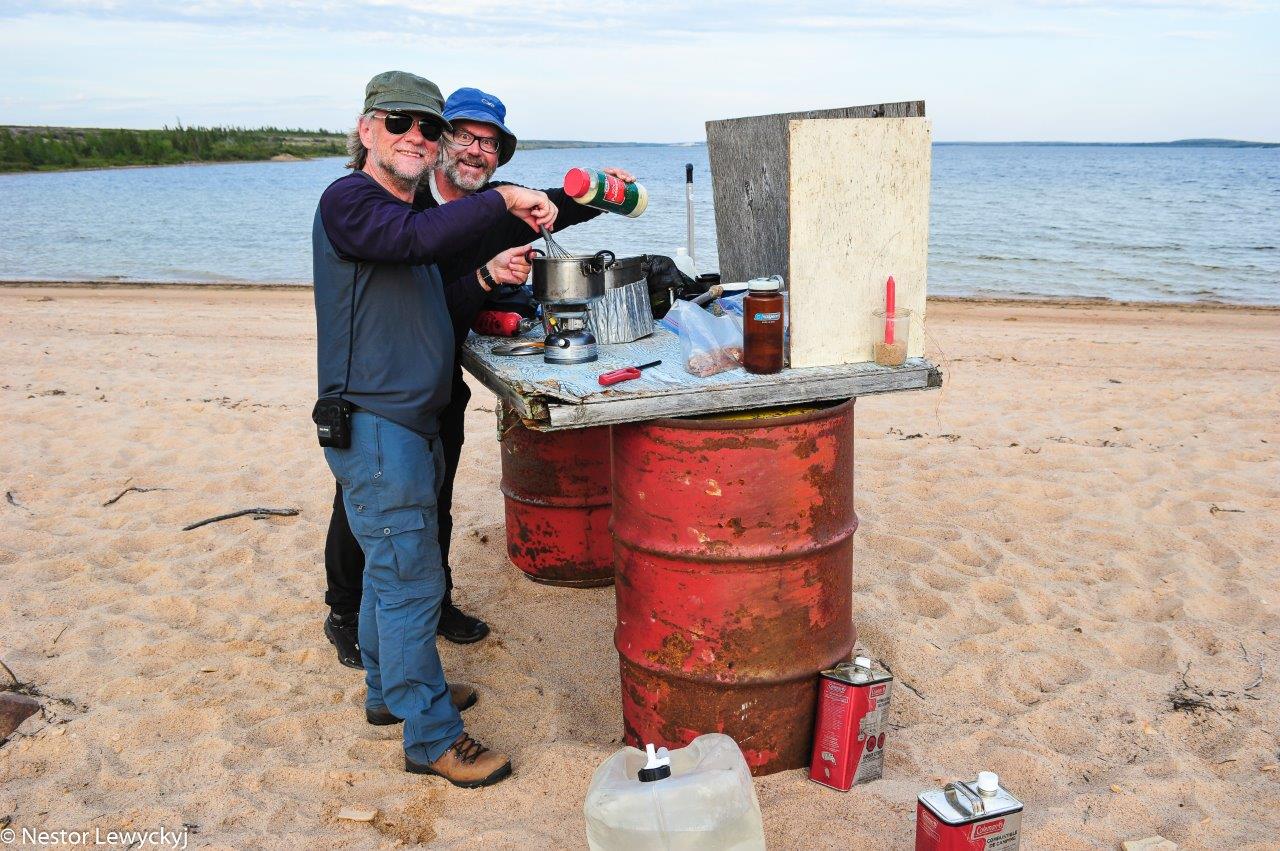 Maniac chefs!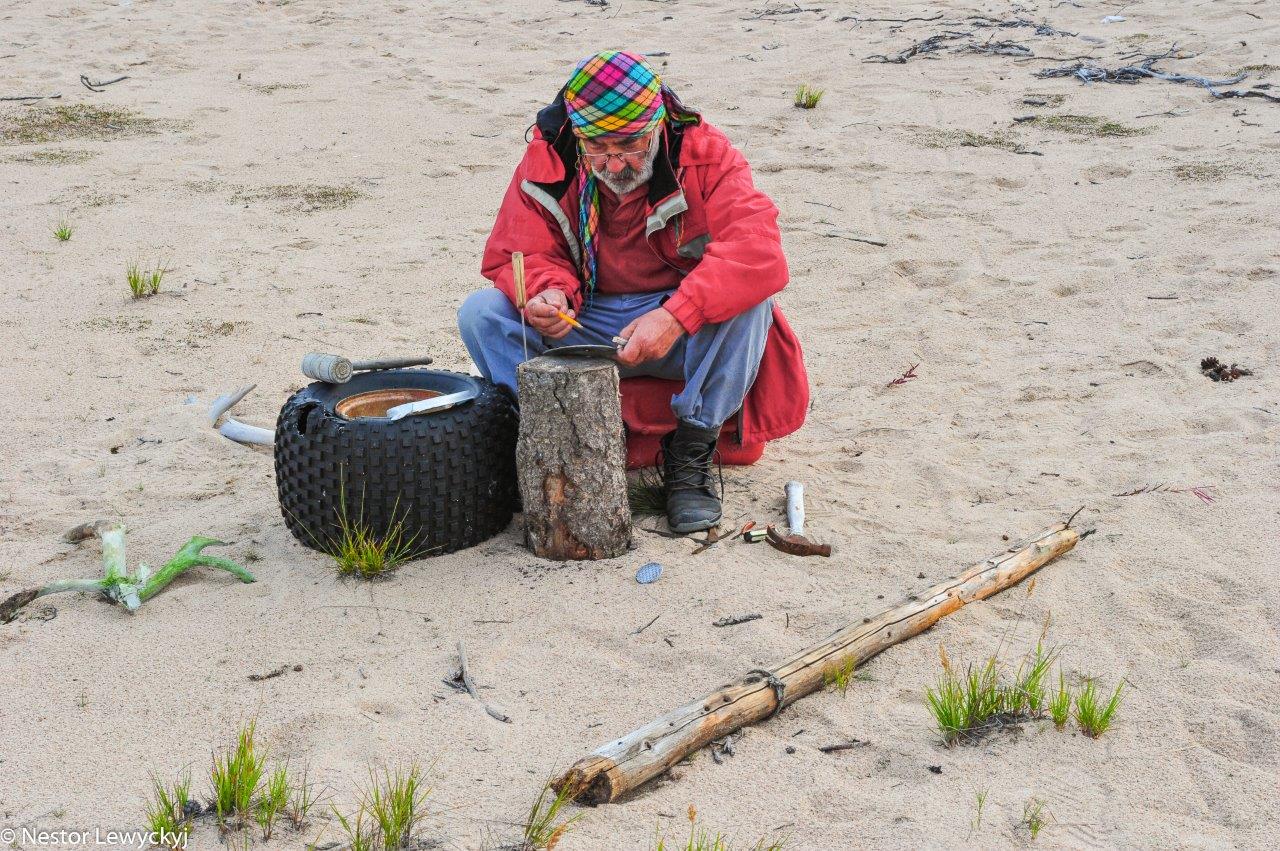 Fedir was always trying to make something from something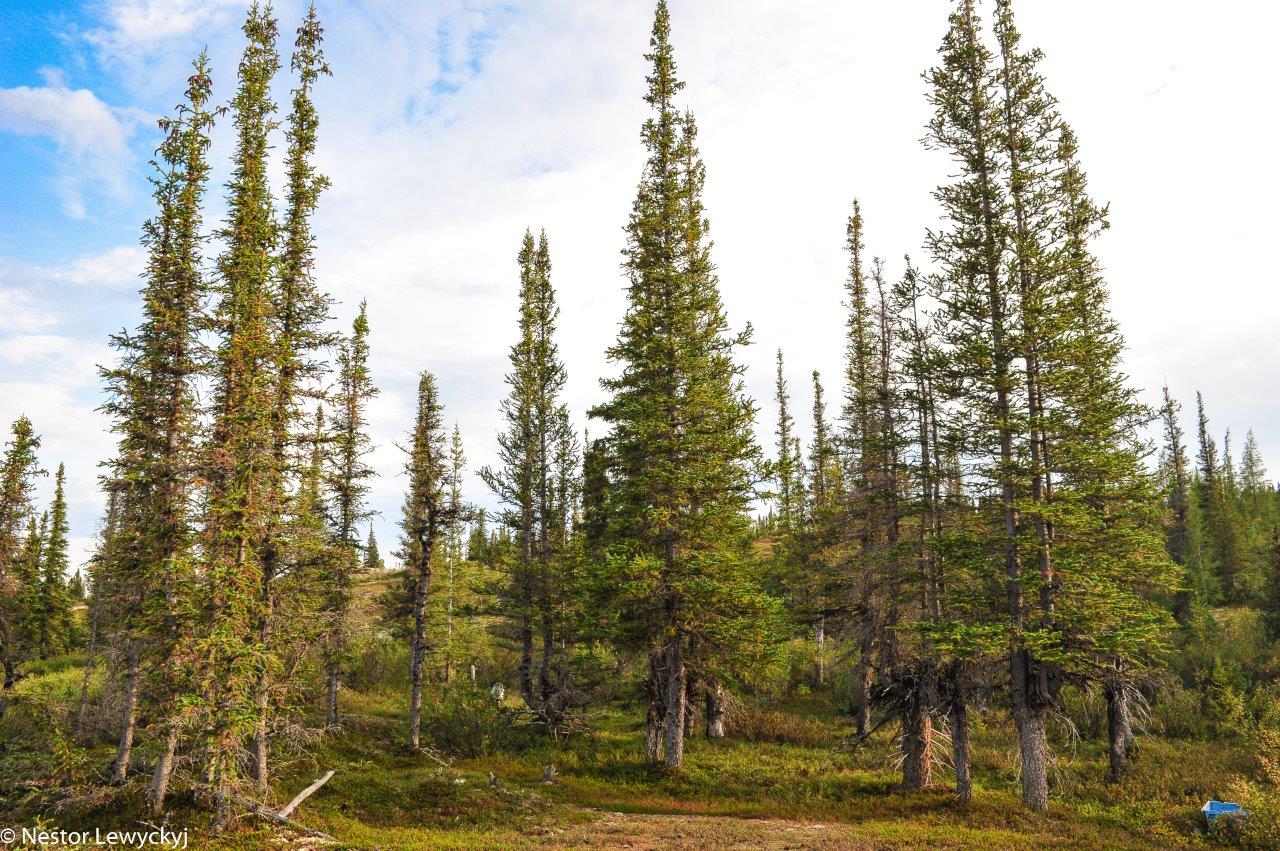 It was little wonder why the old log cabin was here and the new cabin one as well. This bay and beach were well sheltered from the winds by the esker. The size of the trees proved that. Such large trees are rare indeed this far north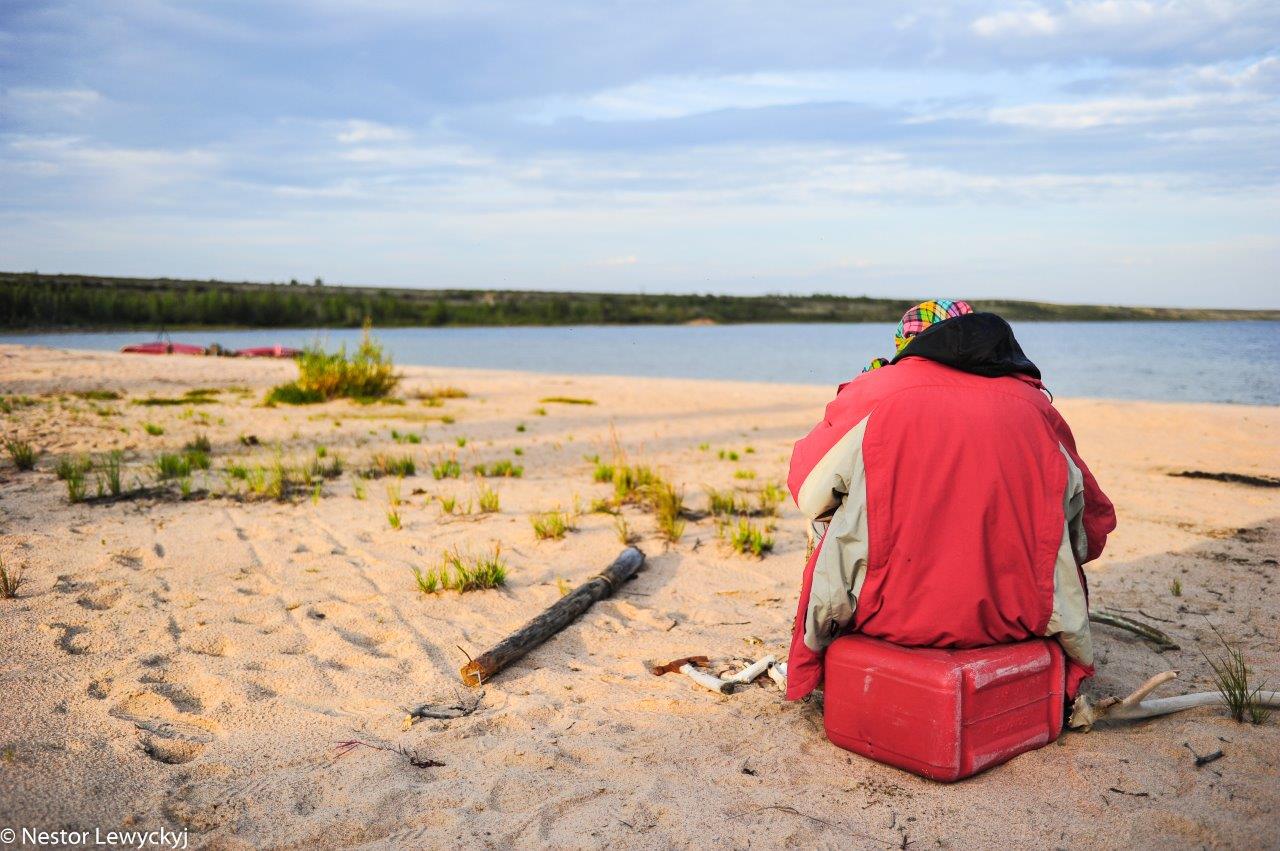 Working, plodding, making something.......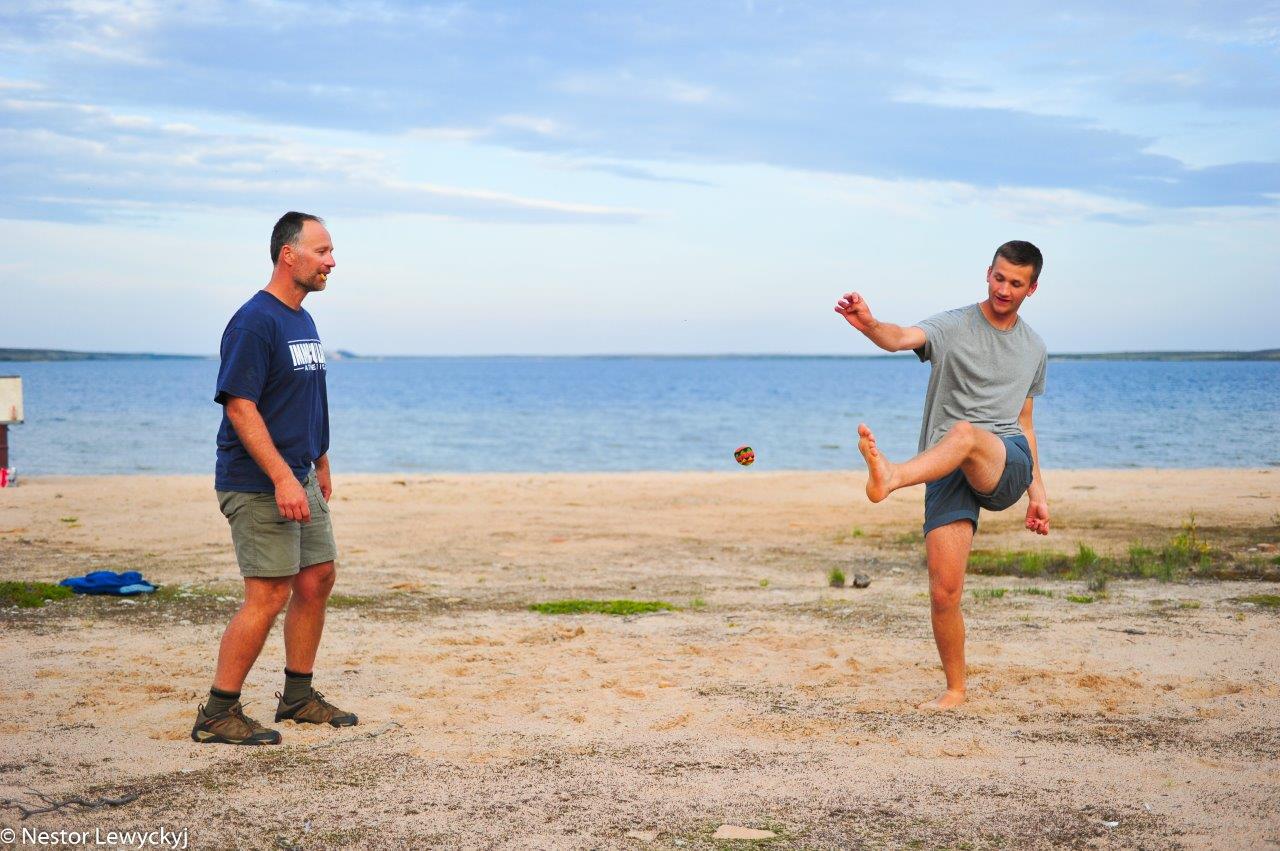 Mychajlo and Zachar with a round of hacky-sack
It was fun watching them for a while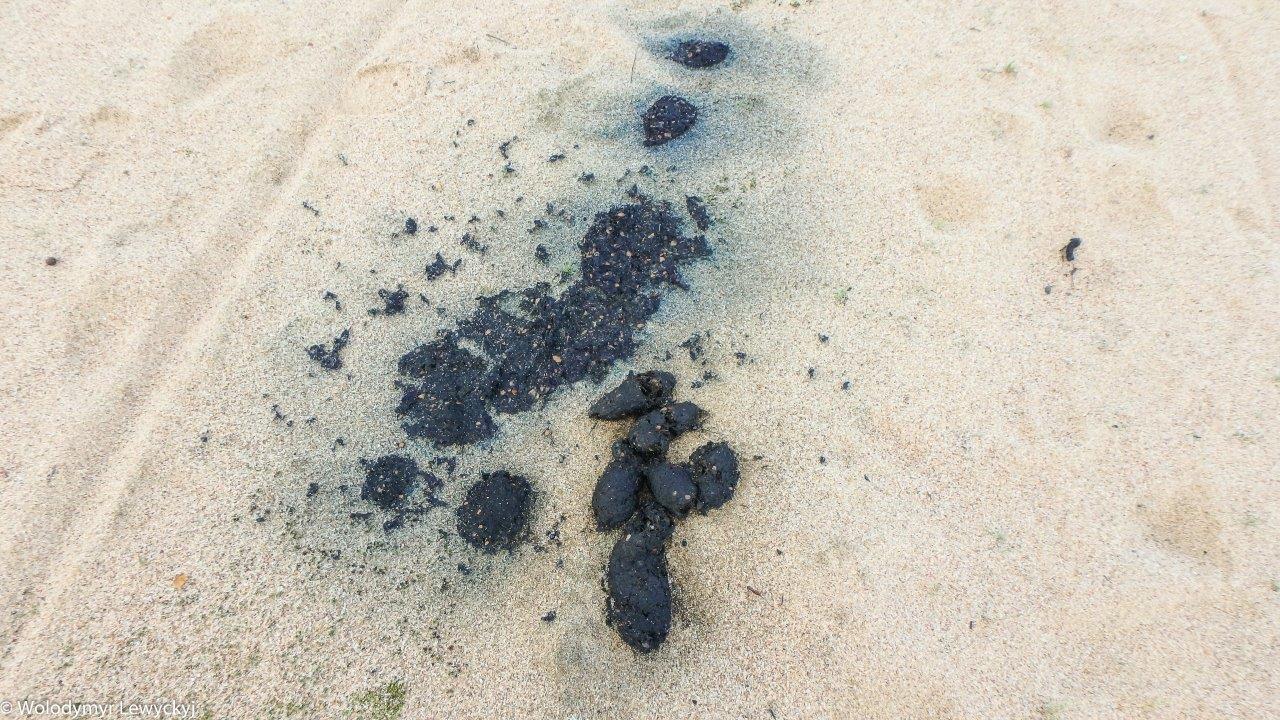 We also found a fair bit of grizzly poop on the beach, a further testament that they came here quite often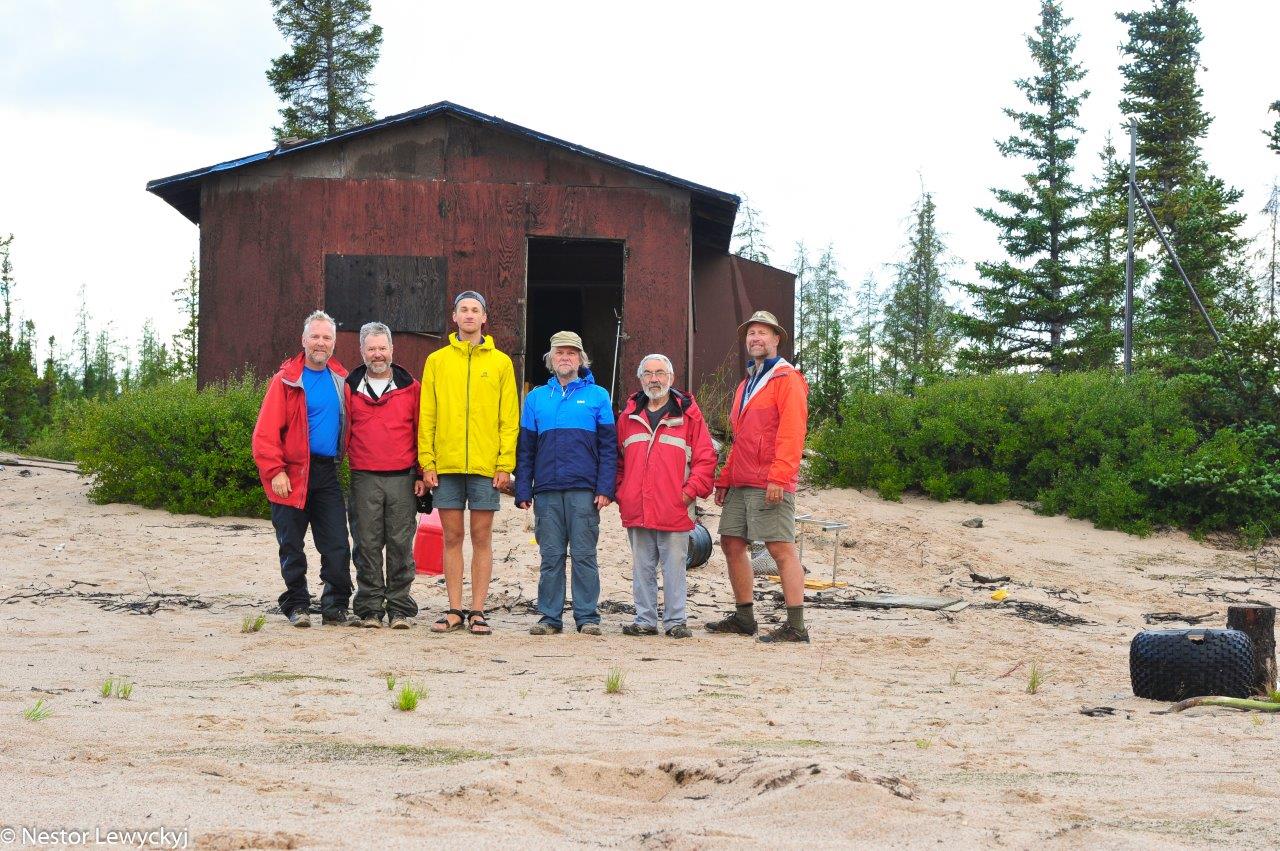 Our final shot before pick up in front of Roger Catling's cabin, abandoned in the late 70's or early 80's. He was a wolf trapper, perhaps one of the last in this area. There were books and gear and stuff just everywhere. It was weird just sifting though the stuff. We found a weight lifting magazine from 1981.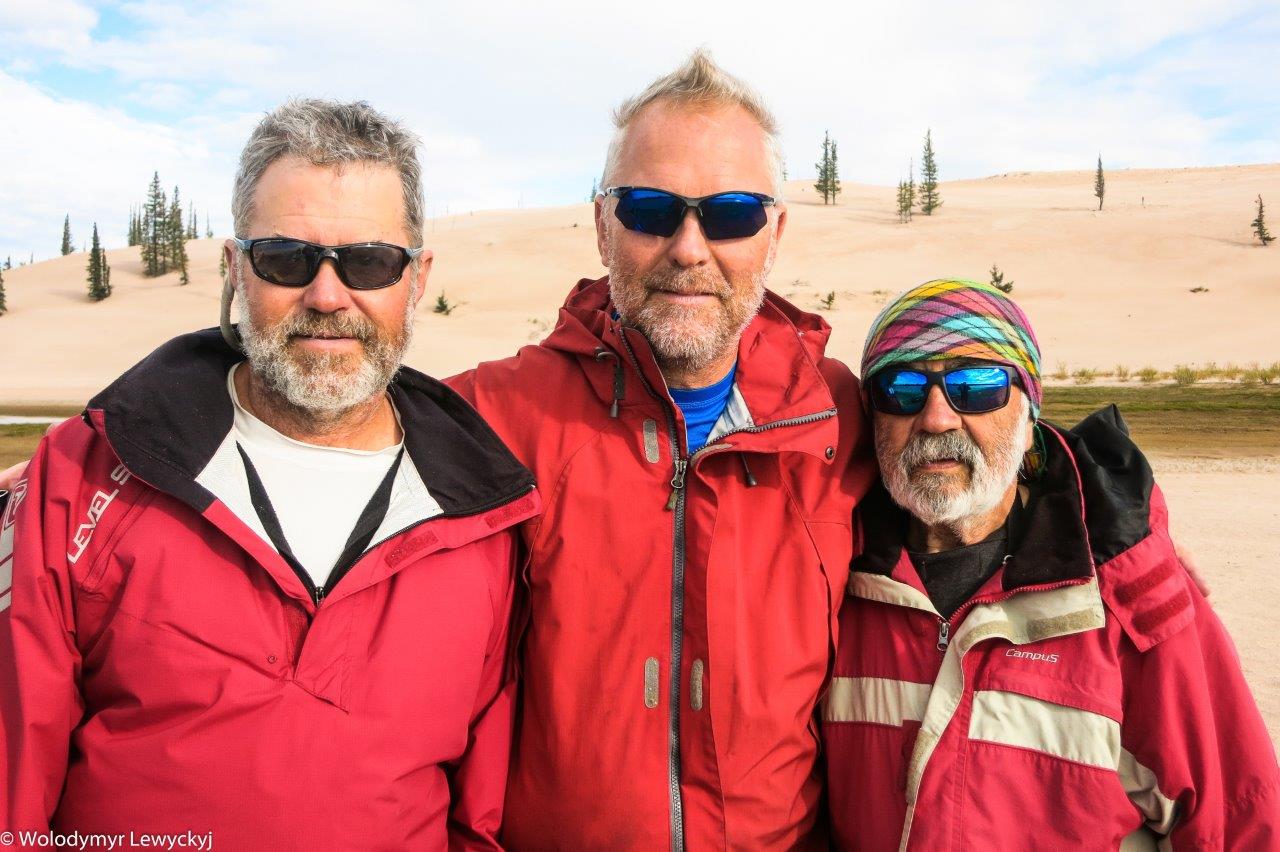 Tough looking hombres....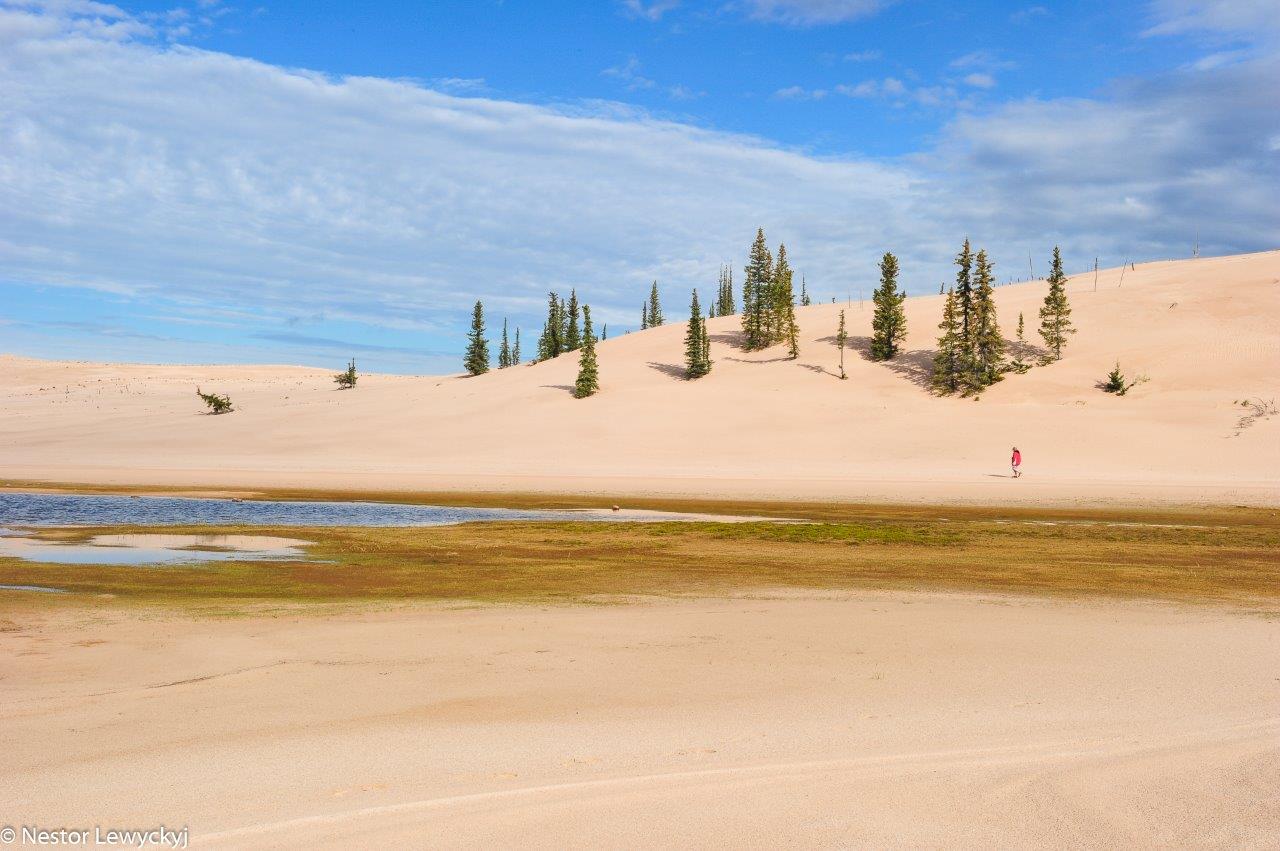 Fedir exploring again, looking so small against the landscape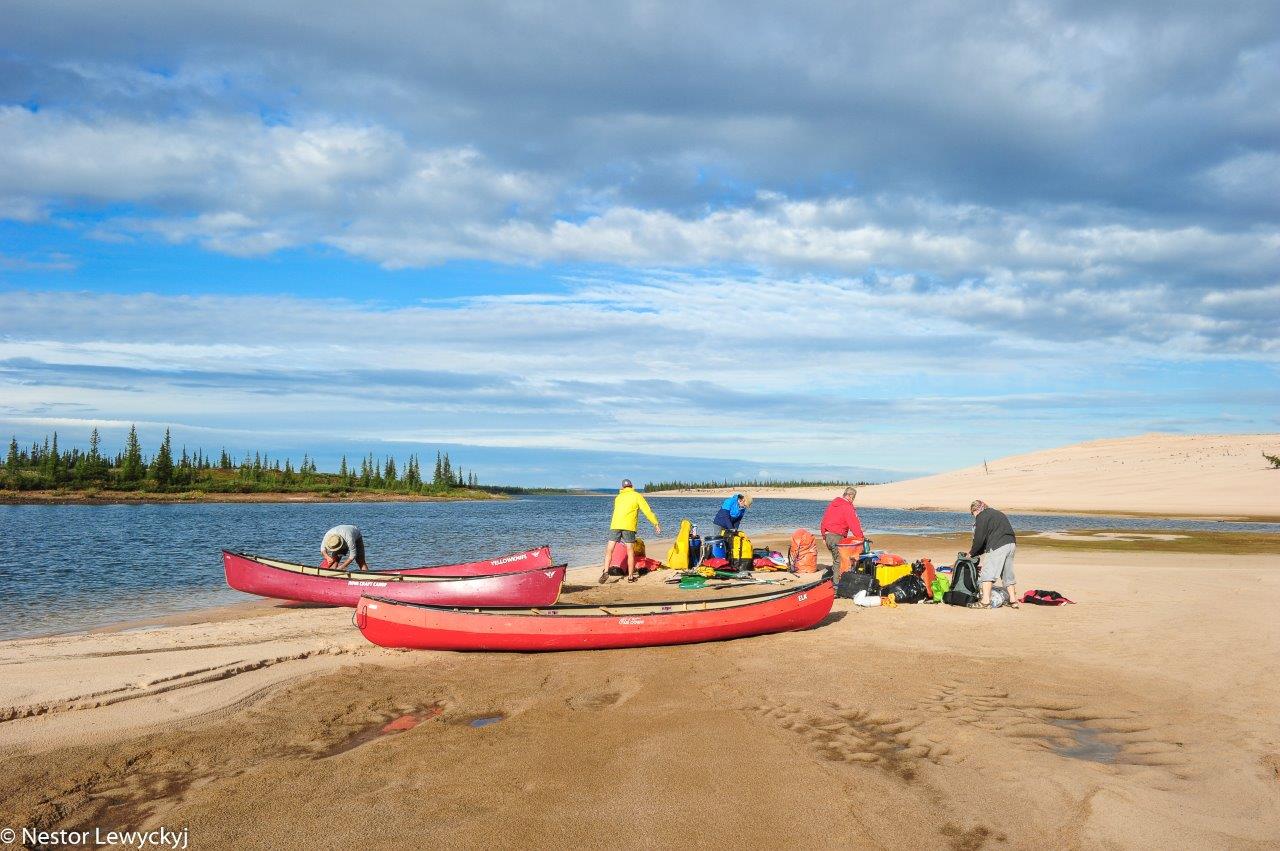 Changing clothes, getting the gear ready for the Twin Otter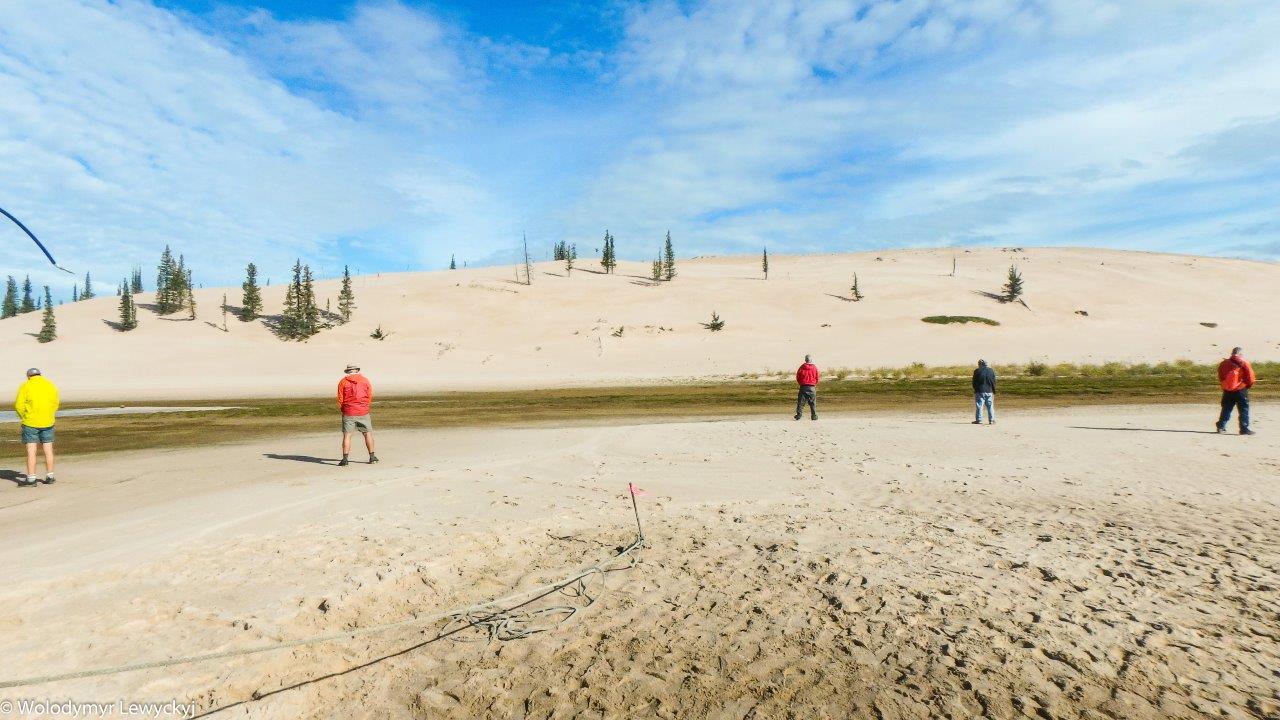 Ok, one last time!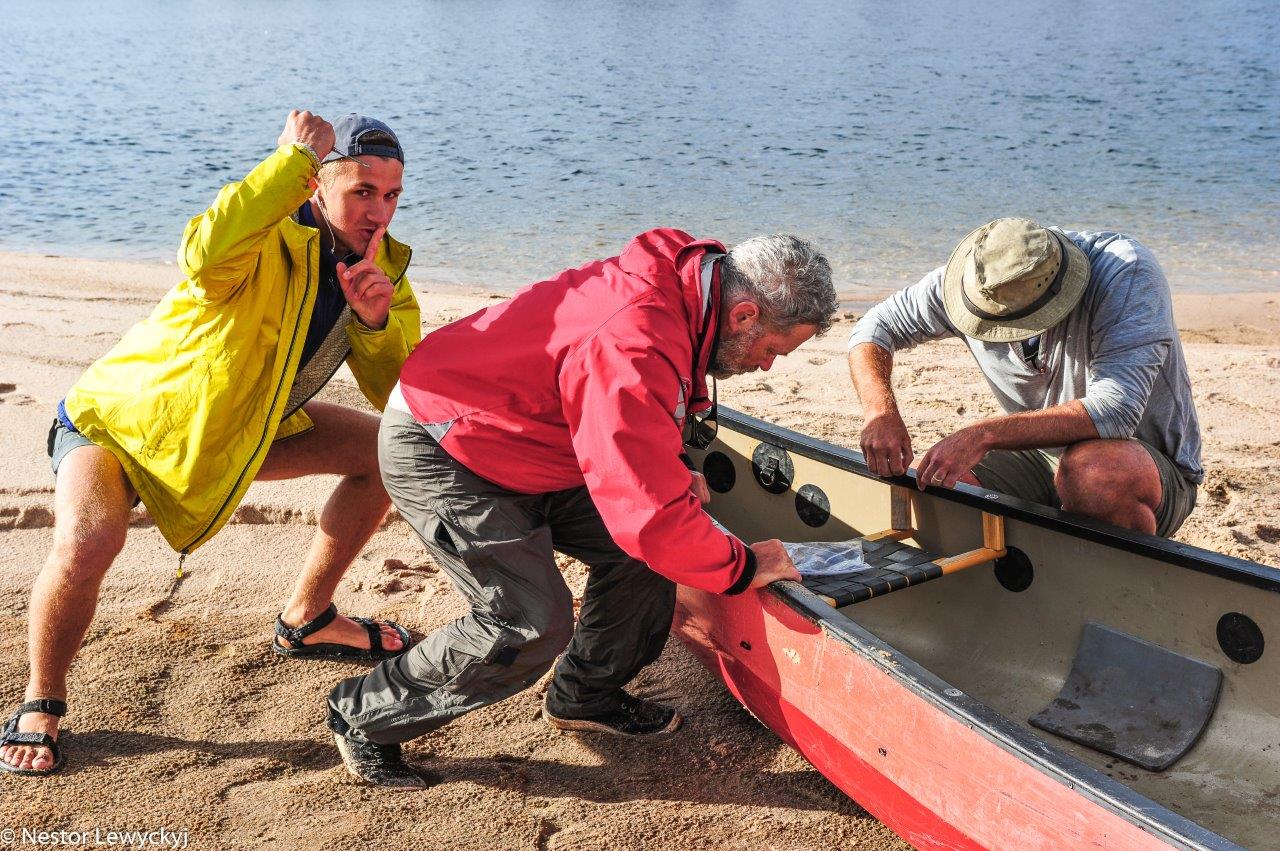 Disassembling one of the long canoes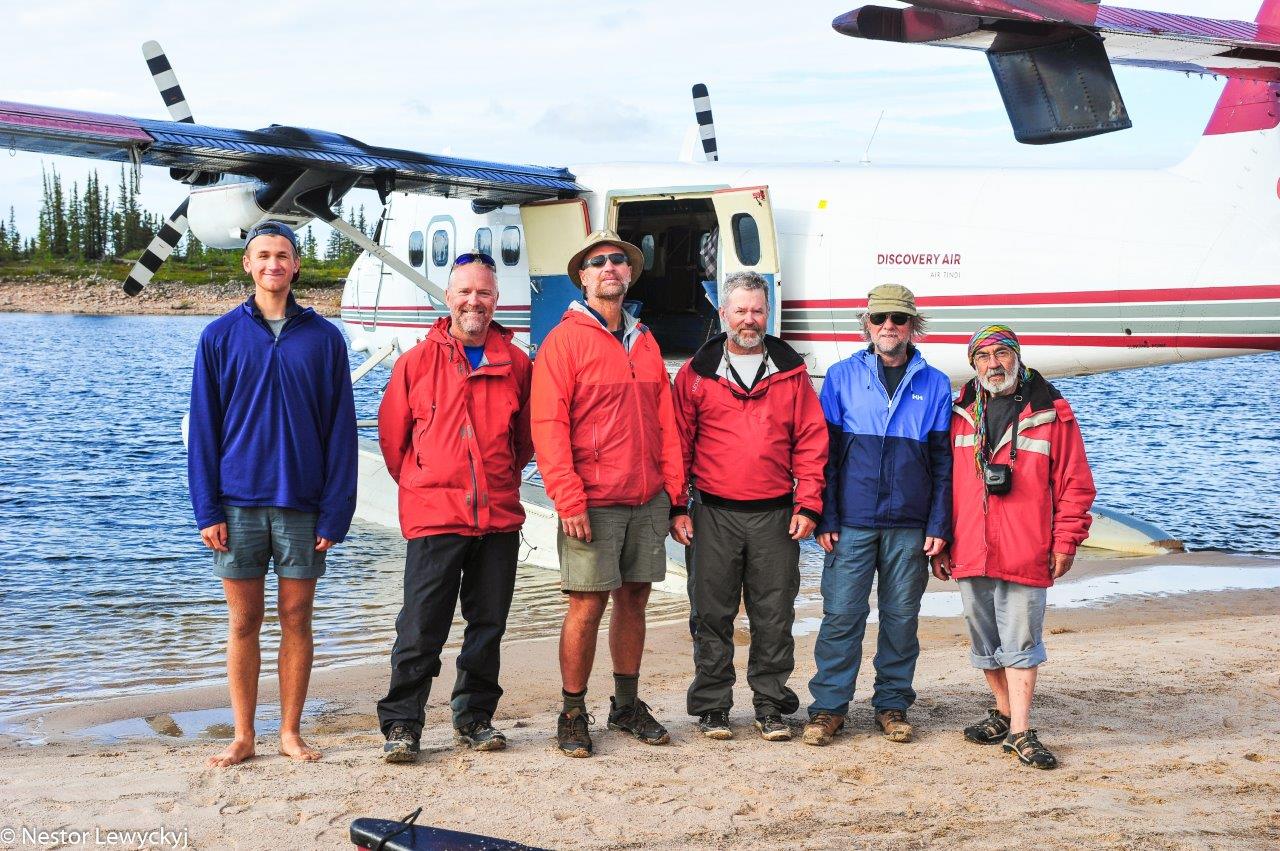 Our final shot at the plane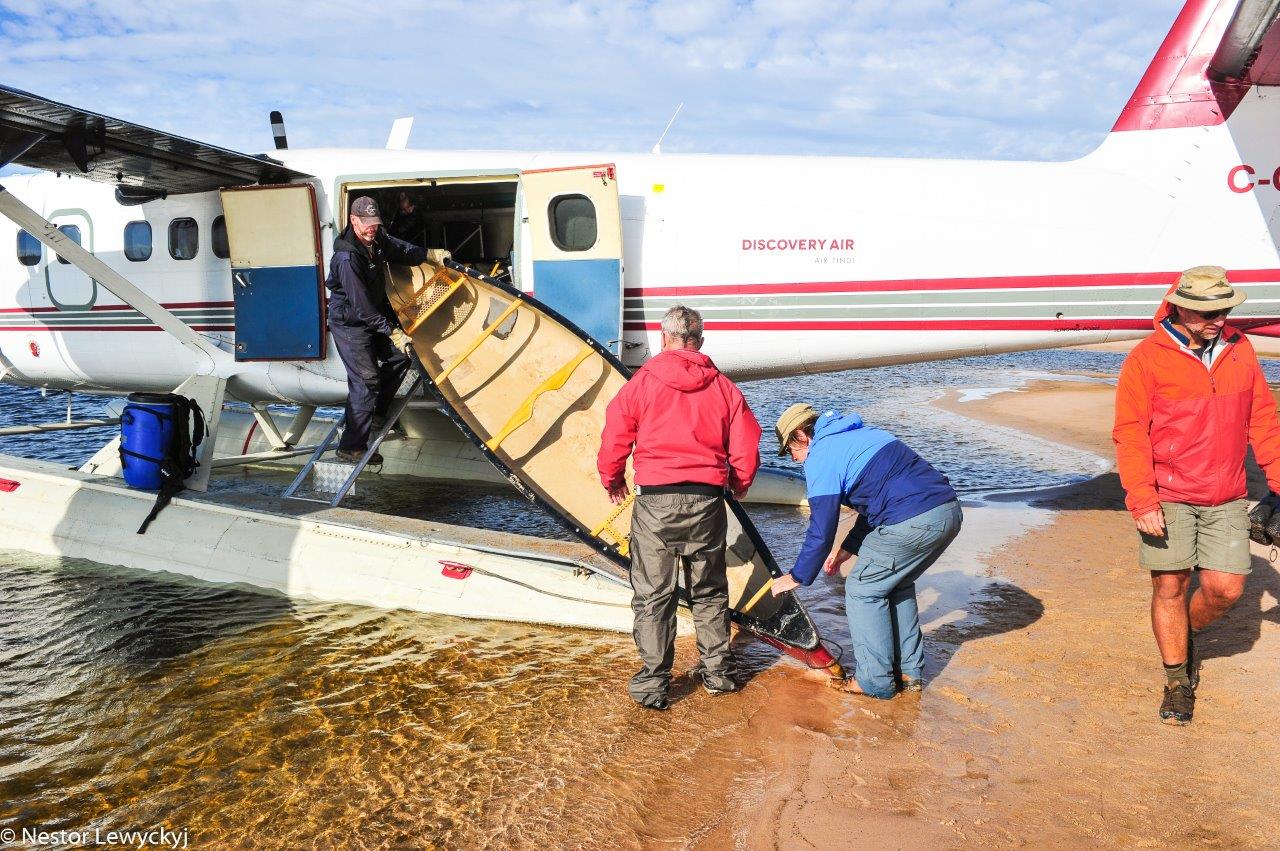 Everybody helps in the loading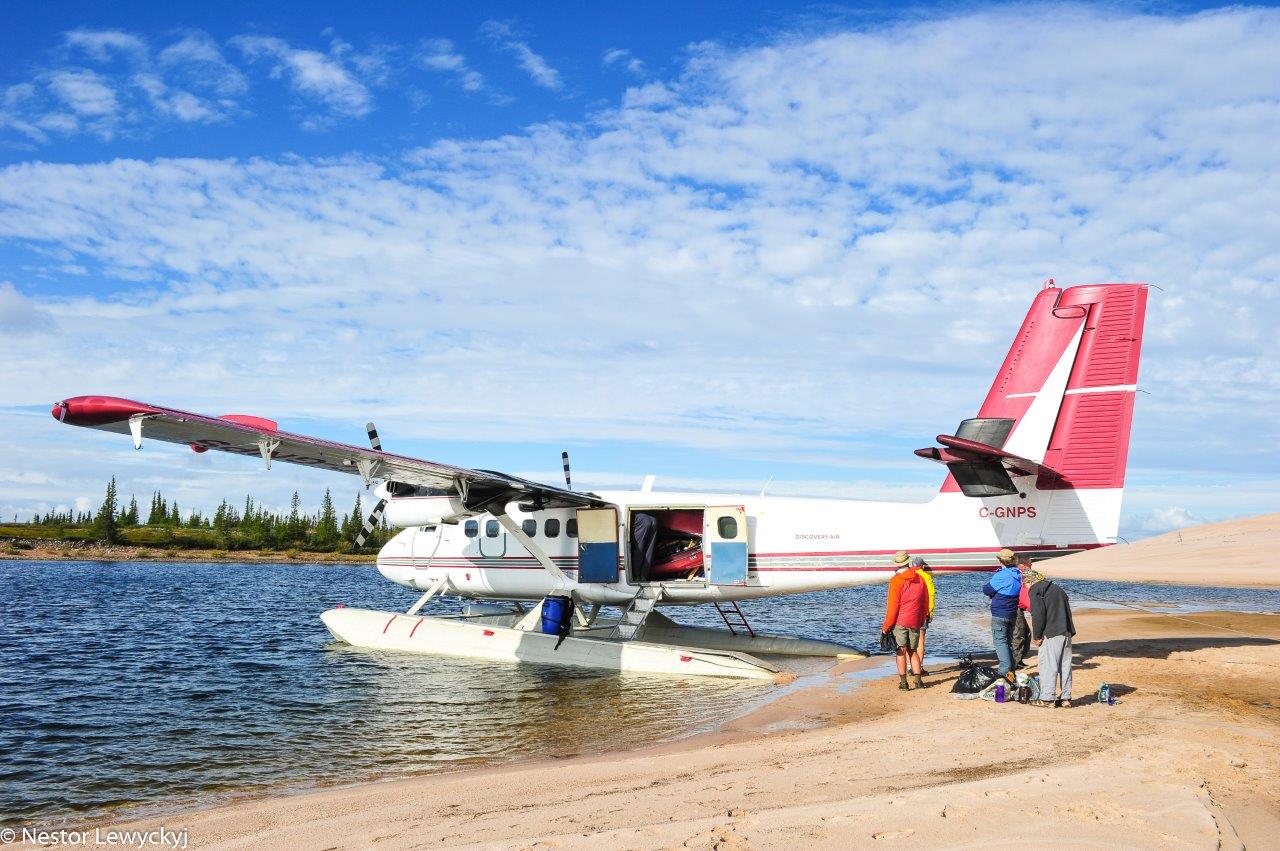 The weather cooperated for the pick up and we had a perfect spot.
Here is a video from a hand held camera of the approach and landing of the Air Tindi Twin Otter on Double Barrel Lake on the Thelon River, our pick up point You Tube video link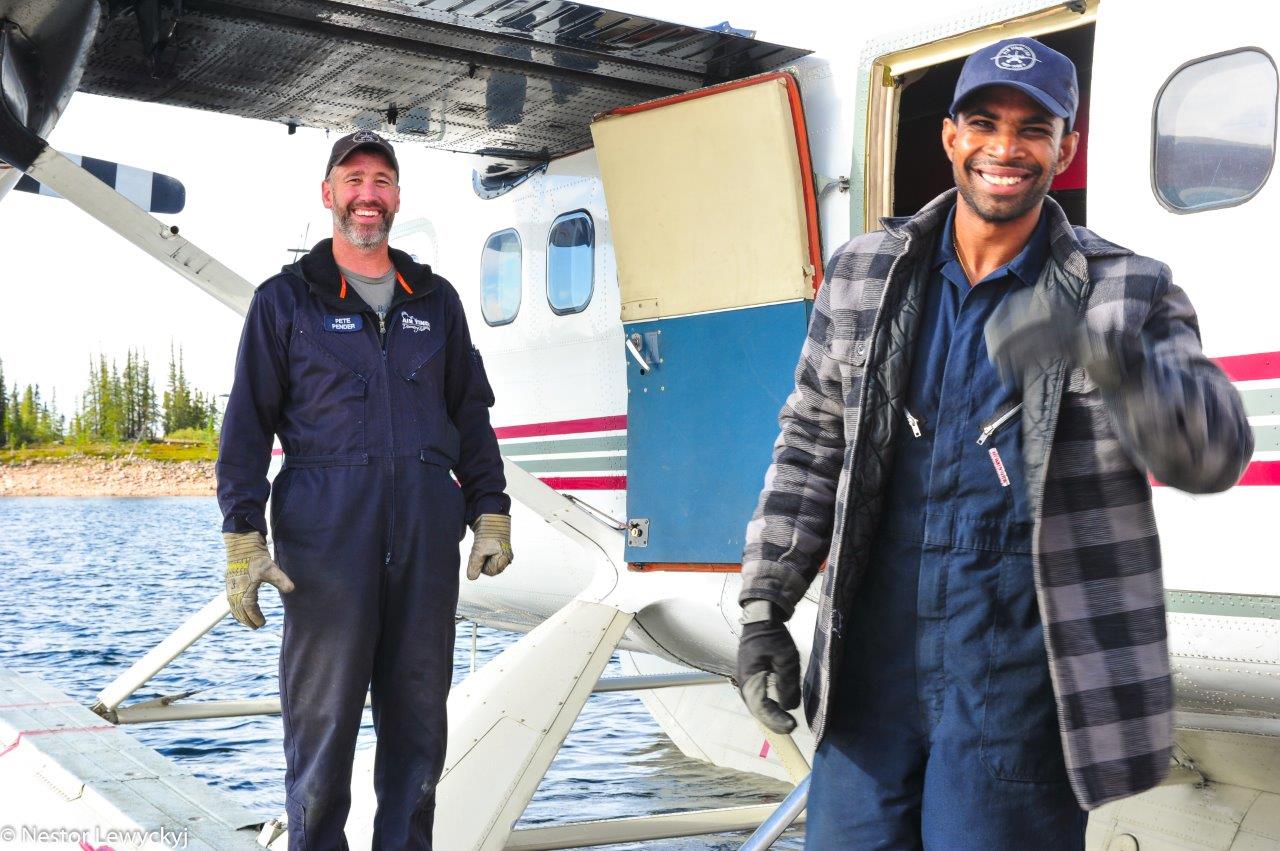 Our flight crew! They were great!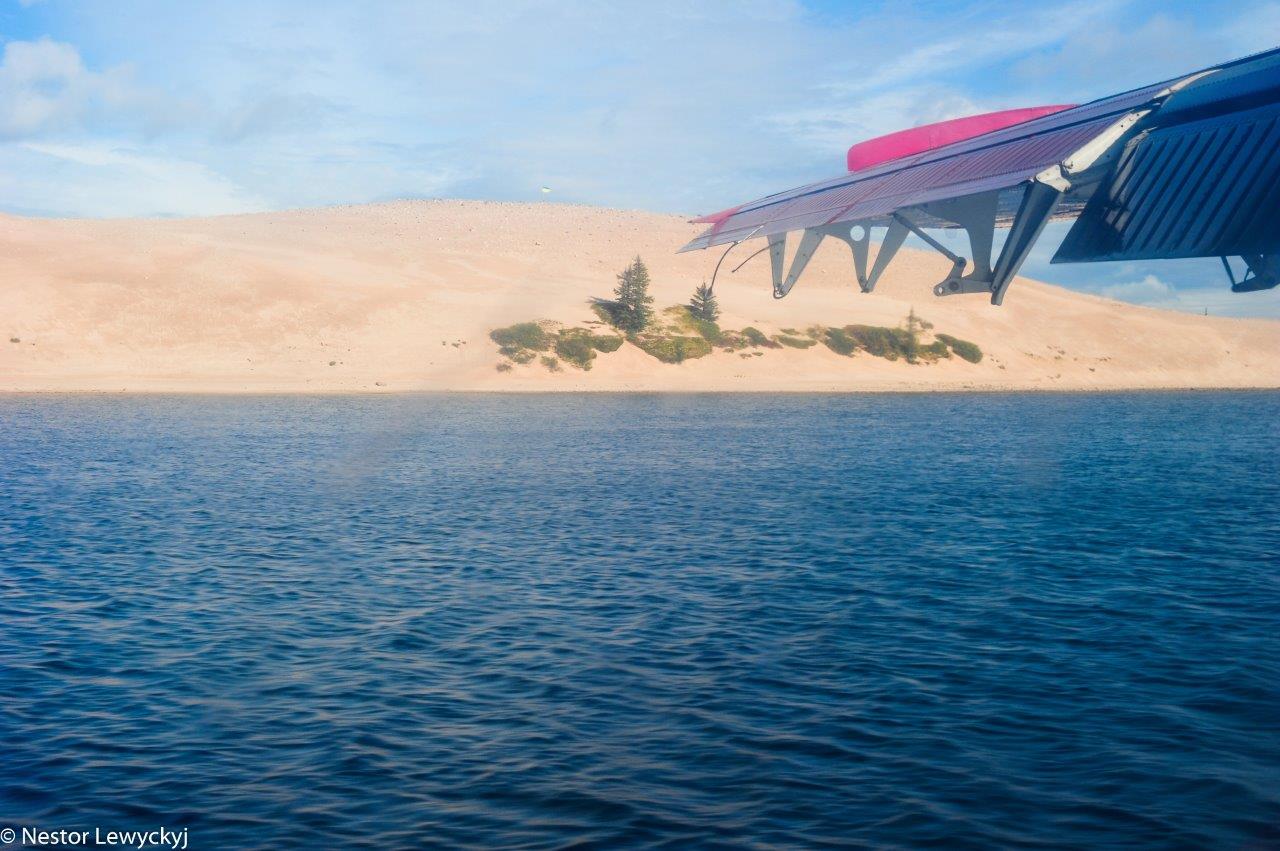 The last sighting of the Ukrainian flag flying over Double Barrel Lake. I wonder if it will survive the winter? Something tells me probably not. The winds can be fierce out there.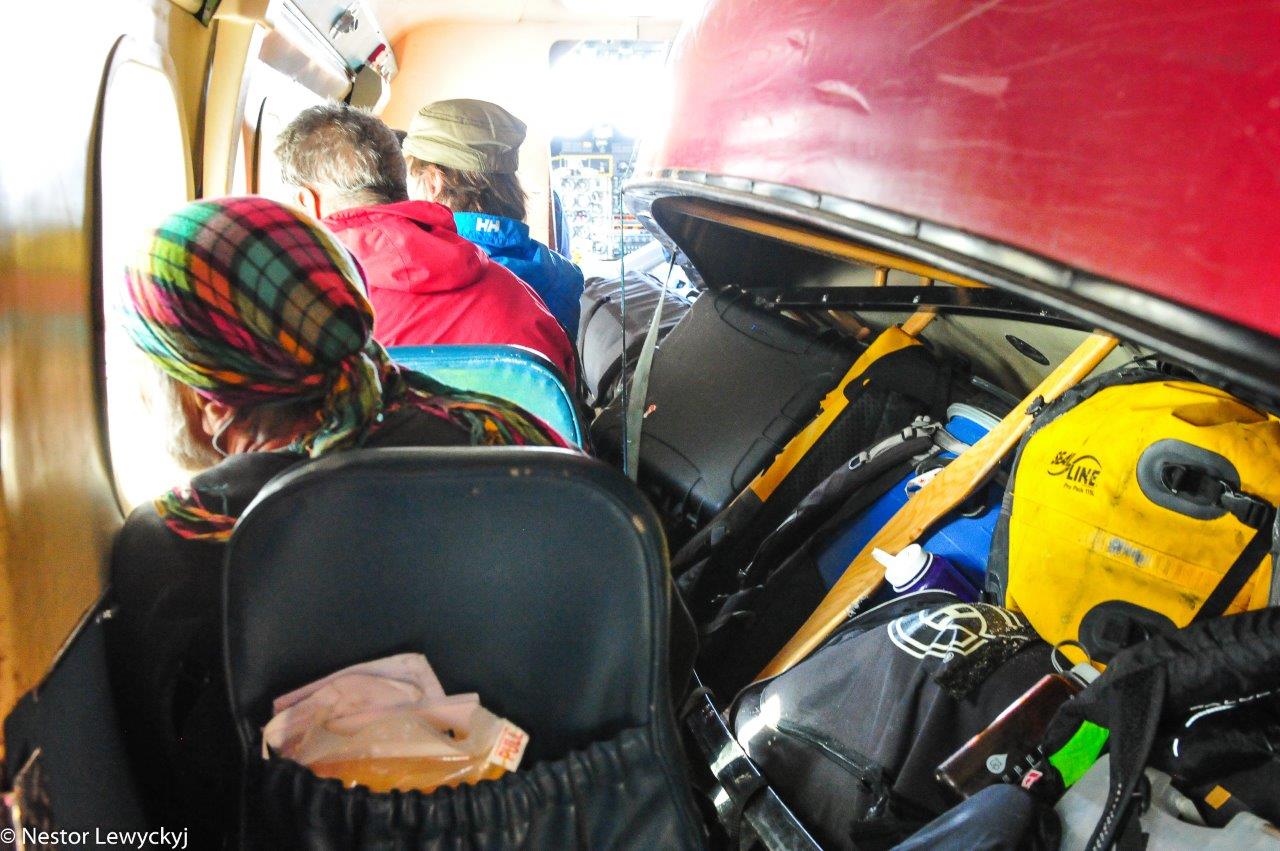 Packed tight again for the flight back to Yellowknife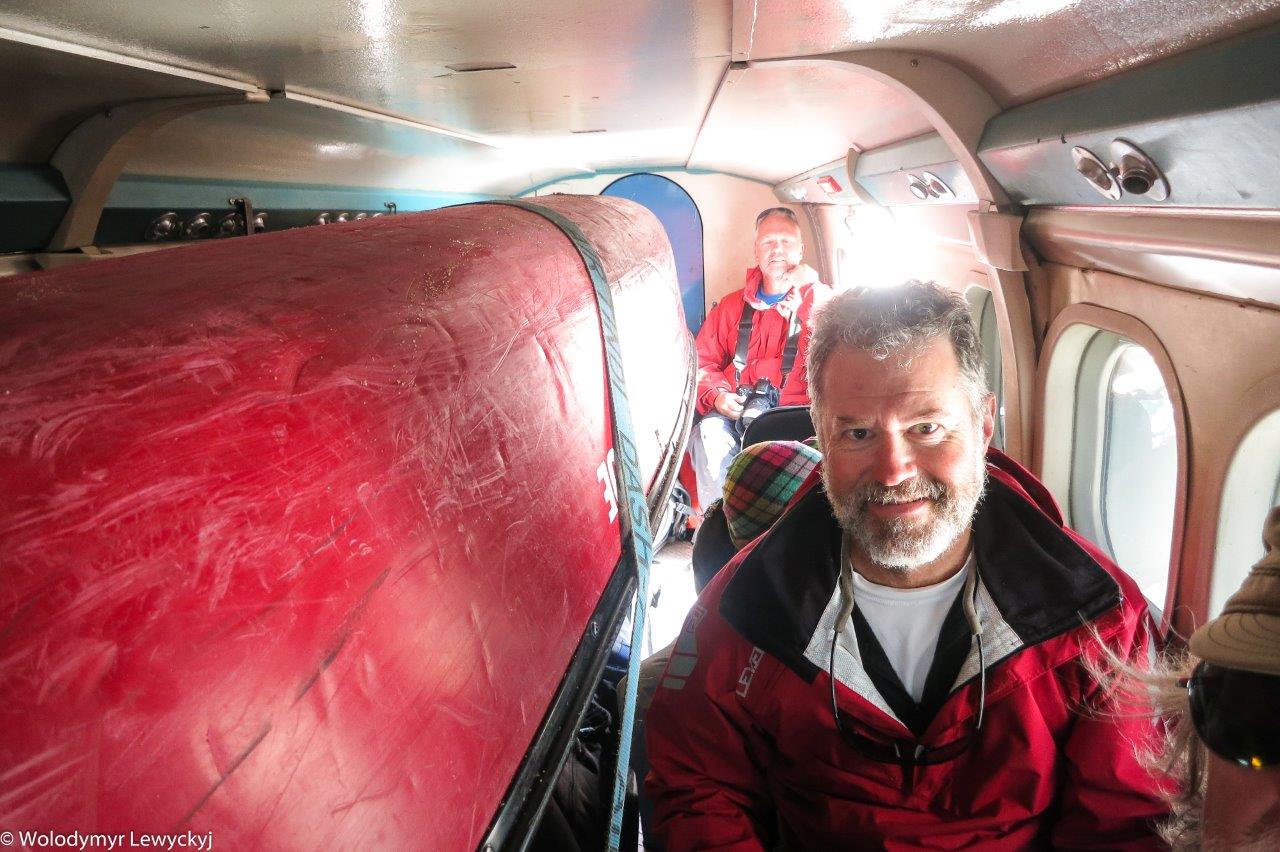 Everyone was glad to be going back, but for the first time, something was pulling me back to the river, telling me not to go. I never had that feeling before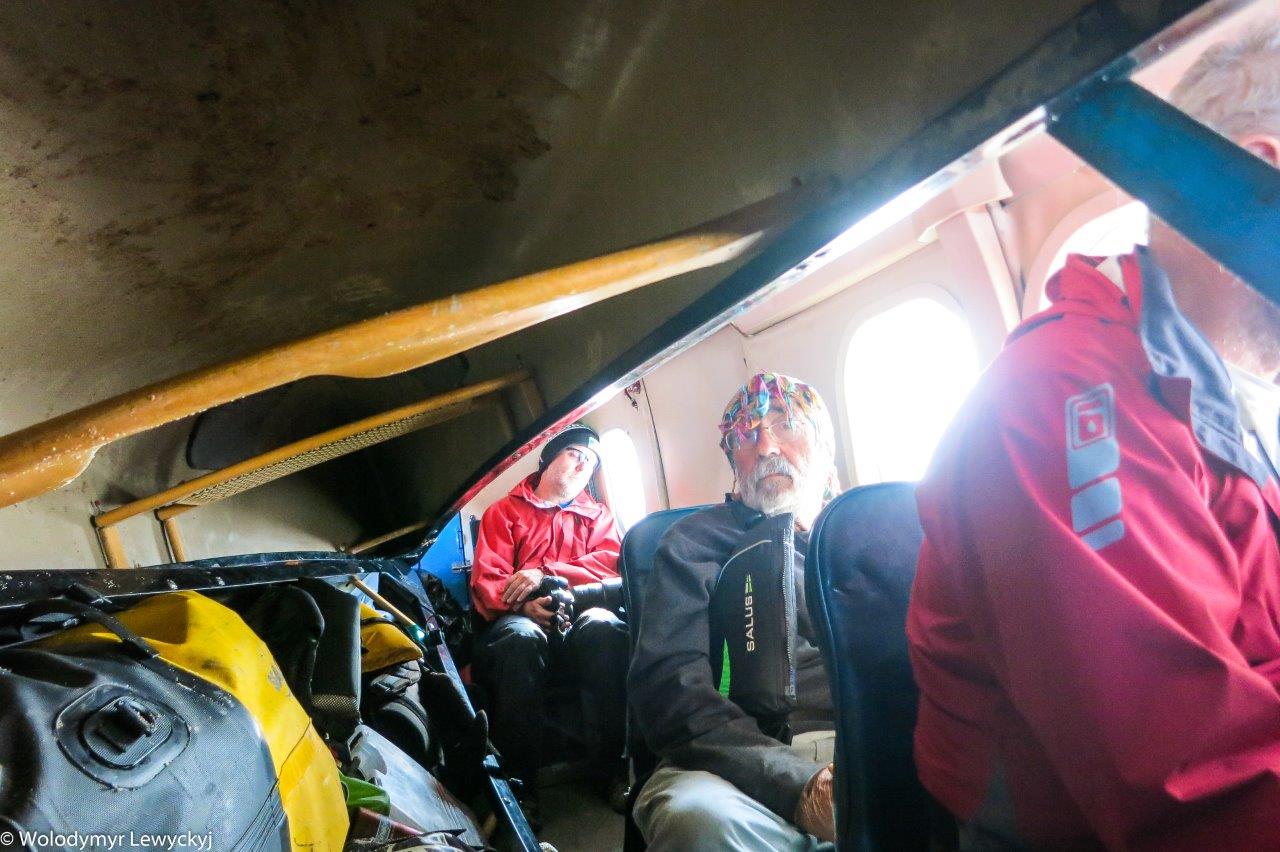 I took over 2 hours to fly back to Yellowknife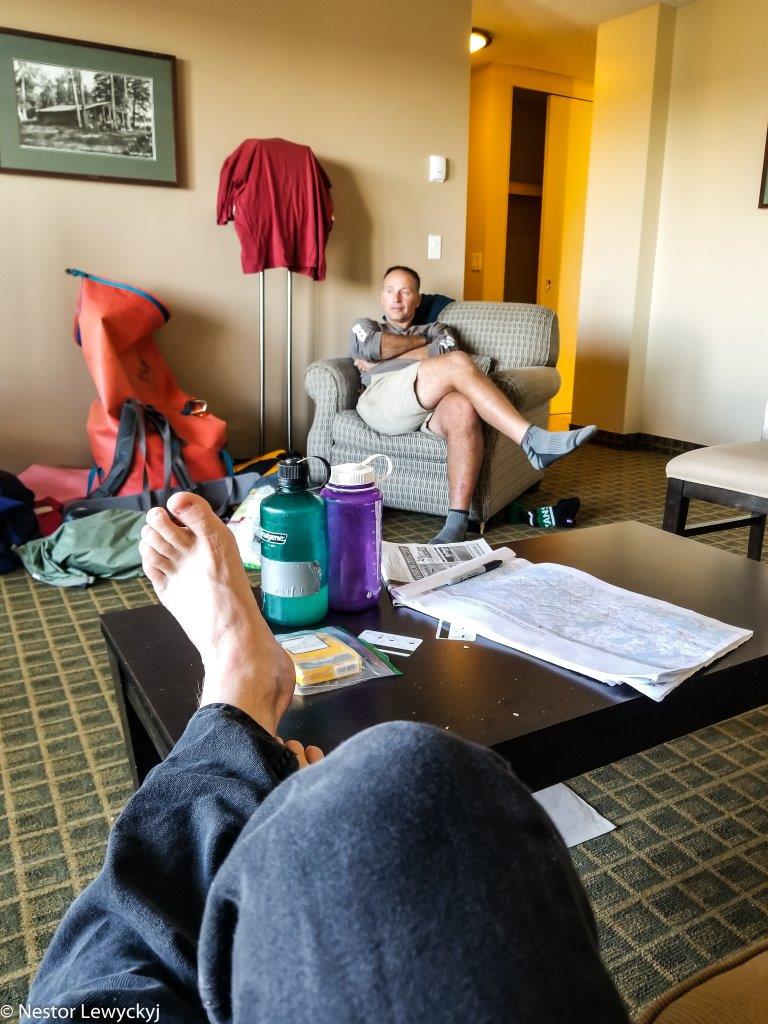 The comforts of the hotel room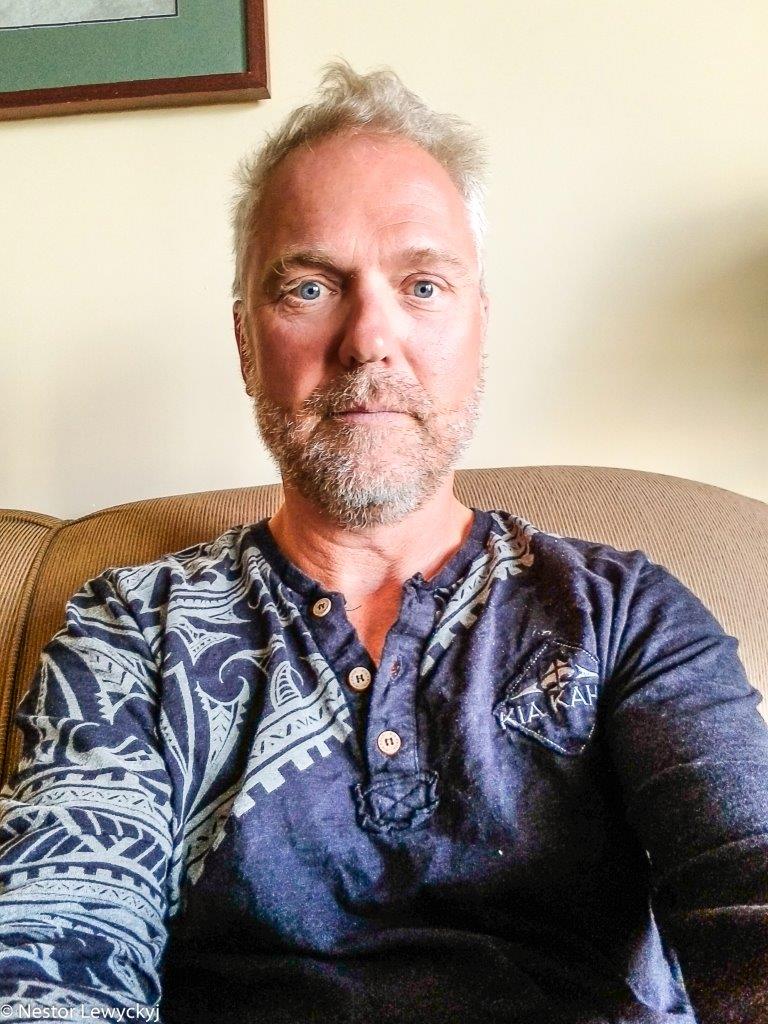 Crazy selfie!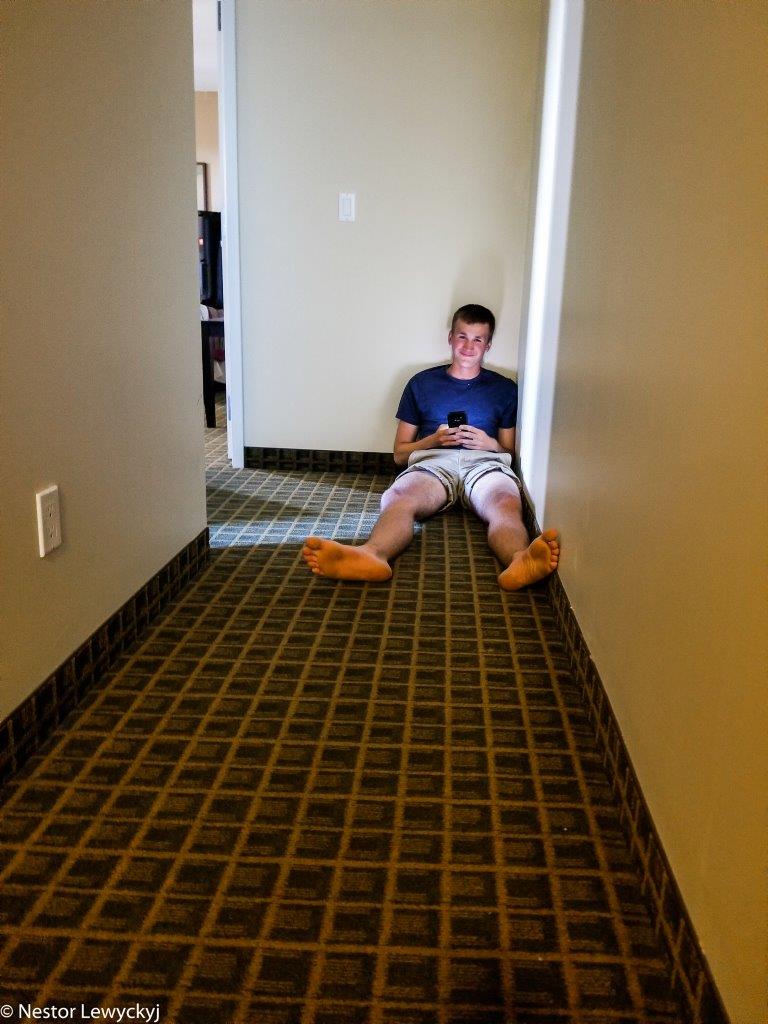 Zachar's iPhone was dead so that was the first order of business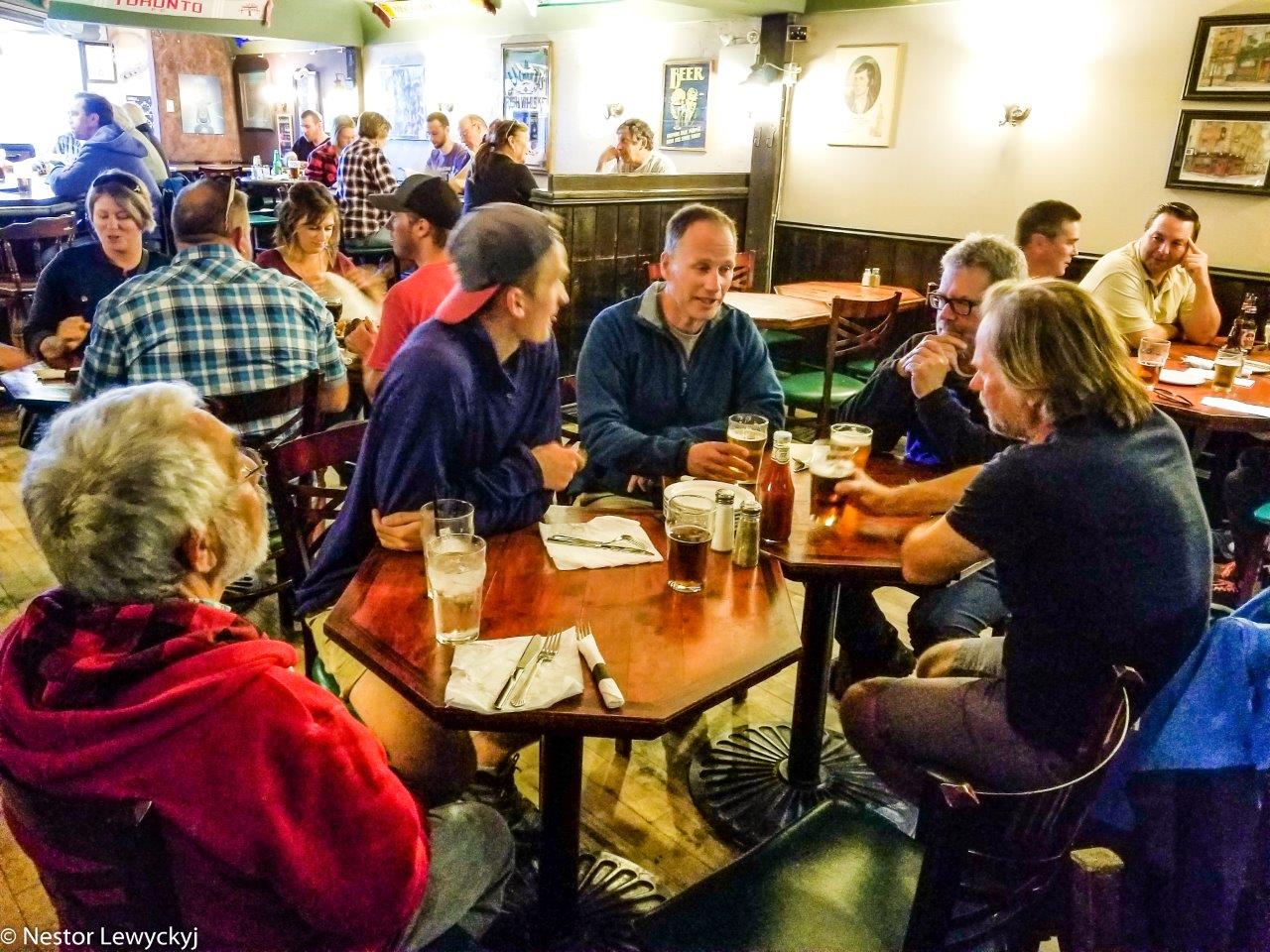 Ah yes! Again at the Black Knight, the best pub in Yellowknife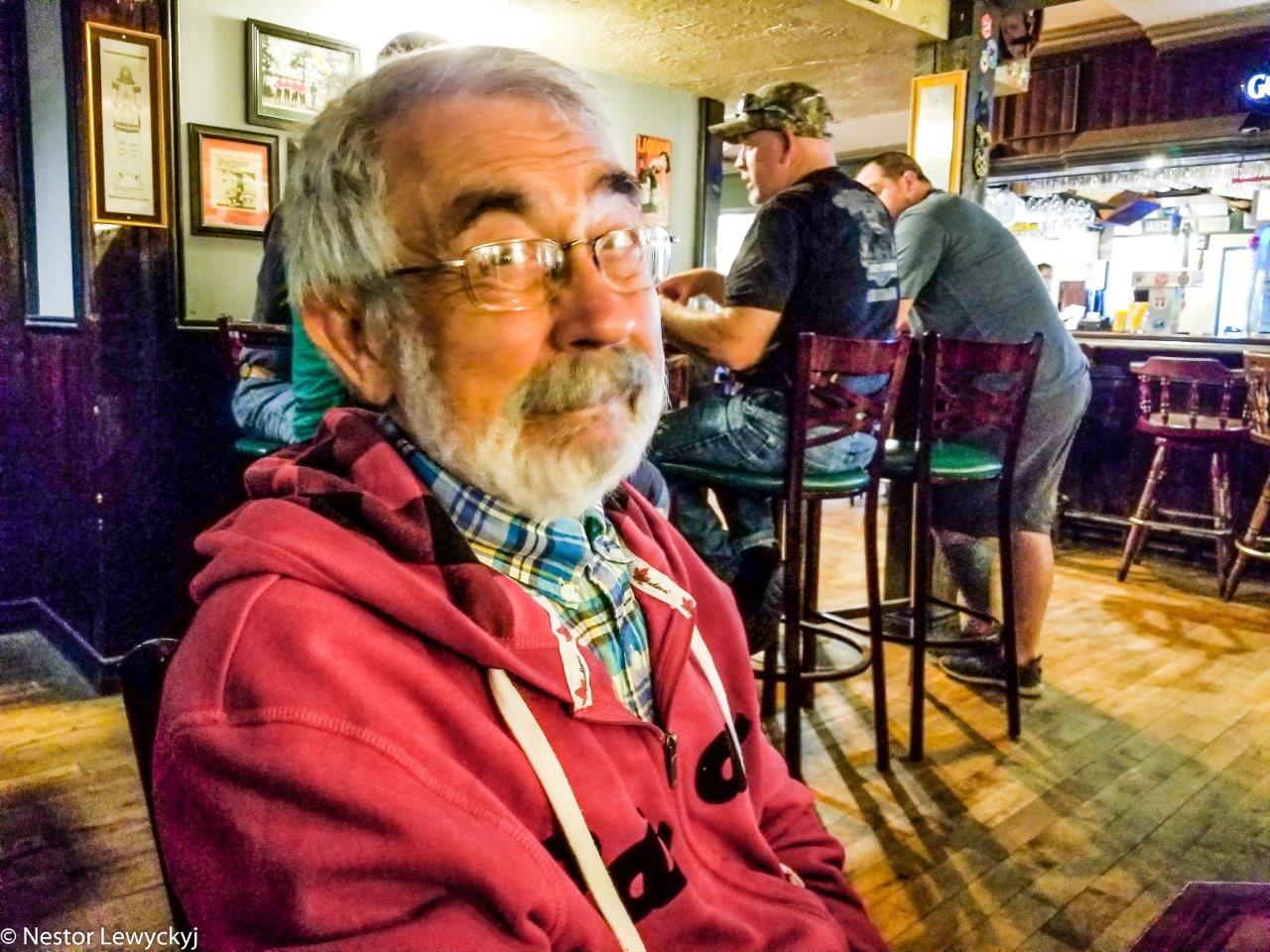 Fedir after a couple of pints
Drop me a line if you are planning a trip to this or other northern area. I am always looking for places to go. I would love to talk to you and see your trip pictures. Email me at webmaster@lewyckyj.com Cheers!
Copyright Nestor Lewyckyj 2018